Odds and Ends — 24 November 2022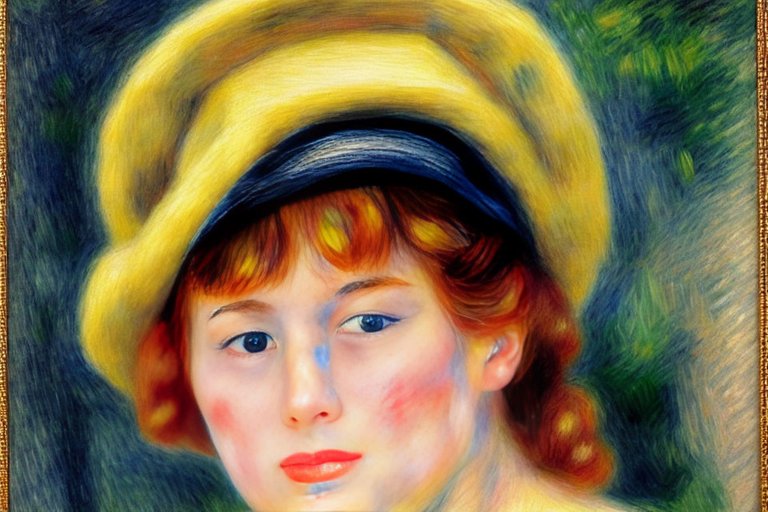 I've been playing around with
DeepDreamGenerator
's newish "text prompt" artificial intelligence image creator. This image was generated from the prompt "Woman wearing a hat, in the style of Renoir."
Cryptocurrency, Investing, Money, Economy, Business, and Debt:
Coronavirus News, Analysis, and Opinion:
Politics:
In a matter of hours Tuesday, former President Donald Trump suffered humiliating defeats in courtrooms across the country that put him on track to have his personal taxes exposed, see his company dismantled, face a trial for an alleged rape, and confront the unencumbered power of the Department of Justice.
It was setback after setback for the former president, who would have struggled to keep up with all the bad news hour by hour—just as journalists struggled to keep track of all the updates and court appearances on Tuesday.
The Justice Department is seeking to question former Vice President Mike Pence as a witness in connection with its criminal investigation into former President Donald Trump's efforts to stay in power after he lost the 2020 election.
Mr. Pence, according to people familiar with his thinking, is open to considering the request, recognizing that the Justice Department's criminal investigation is different from the inquiry by the House Jan. 6 committee, whose overtures he has flatly rejected.
As House Republicans prepare to launch an onslaught of oversight investigations next year, the White House is planning to distinguish between inquiries they deem legitimate and others they view as politically, not legislatively, motivated — with an eye toward minimizing their cooperation with probes they consider improper.
White House officials caution that their decisions about cooperation will ultimately hinge on the nature of the investigations, but their preparations, which have been underway for months, hinge on such a split strategy. The White House is likely to respond to requests for documents and testimony relating to the U.S. withdrawal from Afghanistan, for example, but far less likely to engage with Republicans' investigations into Hunter Biden, the president's son, the people said, speaking on the condition of anonymity to discuss private deliberations.
It doesn't matter if Alito preemptively revealed the outcome in Hobby Lobby. Consider the rest of the story.
Mass shootings are happening so frequently that Republicans barely have time to restock thoughts and prayers.

— Middle Age Riot (@middleageriot) November 23, 2022
By zooming out and looking at the big picture, the question of what causes violence becomes quite answerable.
After just six weeks of intense bombing of energy infrastructure, Russia has battered Ukraine to the brink of a humanitarian disaster this winter as millions of people potentially face life-threatening conditions without electricity, heat or running water.
As the scope of damage to Ukraine's energy systems has come into focus in recent days, Ukrainian and Western officials have begun sounding the alarm but are also realizing they have limited recourse. Ukraine's Soviet-era power system cannot be fixed quickly or easily.
Mr Putin's war is turning Russia into a failed state, with uncontrolled borders, private military formations, a fleeing population, moral decay and the possibility of civil conflict. And though confidence among Western leaders in Ukraine's ability to withstand Mr Putin's terror has gone up, there is growing concern about Russia's own ability to survive the war. It could become ungovernable and descend into chaos.
Serendipity:


Badge thanks to @arcange
---
---