Odds and Ends — 25 November 2022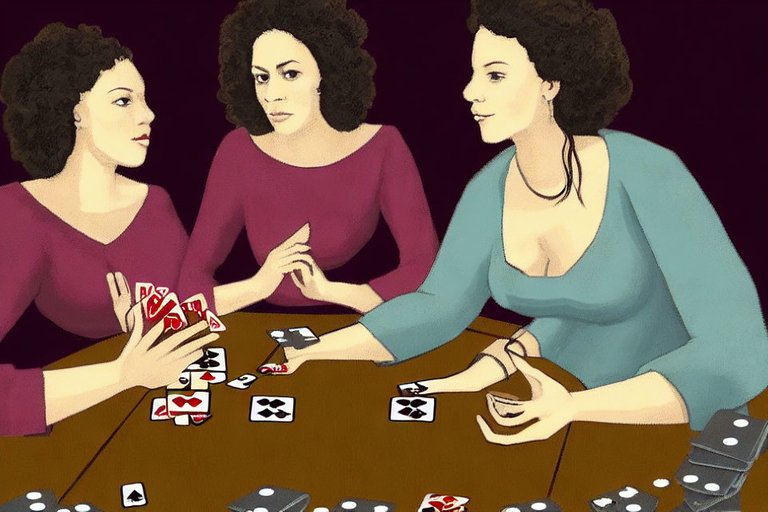 I've been playing around with
DeepDreamGenerator
's newish "text prompt" artificial intelligence image creator. This image was generated from the prompt "Three women playing a card game, in the style of Hector Hyppolite."
Cryptocurrency, Investing, Money, Economy, and Debt:
Bitcoin addresses holding at least 1 BTC close in to a million
Binance to commit $1 billion for crypto recovery initiative
What Do You Really Own in the Ownership Economy?
Coronavirus News, Analysis, and Opinion:
Is Long COVID Part Of The Historically Tight Labor Market? Signs Point to Yes.
Zero-Covid China asks: Is World Cup on another planet?
An art exhibit on the National Mall honors health care workers who died of COVID
Panic-Buying in Beijing as City Adds Quarantine Centers
Politics:
Russia tells its troops there must be 5 million of them for victory
The General Staff of the Armed Forces of Ukraine reports that the military and political command of Russia is spreading a document called "Conclusions of the war with NATO in Ukraine" among the military. It is stated in the document that 5 million Russian troops must be deployed in order for Russia to win.
I have no idea if this is true, but might not Putin have his head on a pike long before that?
Mike Lindell Weighs Run Against Ronna McDaniel
Prominent conspiracy theorist and pillow tycoon Mike Lindell is weighing up a challenge to Republican National Committee chair Ronna McDaniel for leadership of the party following the GOP's underwhelming performance in the 2022 midterm elections.
For Democrats, Lindell is the gift that keeps on giving.
Writer Sues Donald Trump for Raping Her
Brazil Election Agency Rejects Bolsonaro Claim
The head of Brazil's electoral authority on Wednesday rejected the request from President Jair Bolsonaro and his political party to annul ballots cast on most electronic voting machines, which would have overturned the Oct. 30 election.
Postcard from Uzbekistan: Don't mention the war!
With Rep. Mary Peltola (D-AK) confirmed the winner of Alaska's sole House seat, Democrats now control every House seat touched by the Pacific Ocean.
Serendipity:
Emperor Charles V's secret code cracked after five centuries
Gold coin proves 'fake' Roman emperor was real


Badge thanks to @arcange
---
---