Odds and Ends — 27 November 2022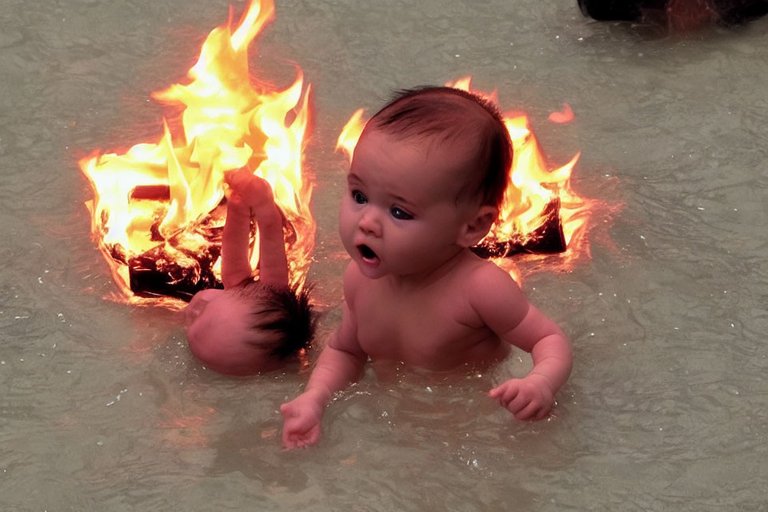 I've been playing around with
DeepDreamGenerator
's newish "text prompt" artificial intelligence image creator. This disturbing image was generated from the prompt "Baby's on fire, better throw her in the water," a Brian Eno lyric:
Cryptocurrency, Investing, Money, Economy, Business, and Debt:
Major Canadian Crypto Exchange Coinsquare Says Client Data Breached
Alexa, how did Amazon's voice assistant rack up a $10bn loss?
Norway Is The Best Country In The World To Retire In, USA Not So Much...
Binance proof of reserves is 'pointless without liabilities:' Kraken CEO
Retailers may see more red after Black Friday as consumers say they plan to pull back on spending – acting as if the US were already in a recession
Coronavirus News, Analysis, and Opinion:
China Xinjiang: Urumqi rocked by Covid lockdown protests after deadly fire
And, taking it up a notch: China Covid: Protesters openly urge Xi to resign over China Covid curbs
Politics:
Since his election loss, Bolsonaro has only addressed the nation twice, to say that the protests are legitimate and encourage them to continue, as long as they don't prevent people from coming and going.
Bolsonaro has not disavowed the recent emergence of violence, either. He has, however, challenged the election results — which the electoral authority's president said appears aimed at stoking protests.
Emboldened Biden, Dems push ban on so-called assault weapons
A weapons ban is far off in a closely divided Congress. But Biden and the Democrats have become increasingly emboldened in pushing for stronger gun controls — and doing so with no clear electoral consequences.
I can't imagine how'd they get to 60 votes in the Senate.
No joke: Supreme Court case could take a big bite out of the First Amendment
The Future of American Warfare Is Unfolding in Ukraine
Aid to Ukrainian forces is achieving more than the long U.S. intervention in Afghanistan did.
Biden gives Chevron permit to restart Venezuelan oil sales
Russia's Great Reverse Migration
Central Asians used to flee the Soviet empire's periphery for Moscow. Russia's mobilization has sent escaping Muscovites in the other direction.
Belarus foreign minister Makei dies suddenly
Oddly, there's no mention of him having fallen out a window.
Japan and South Korea Are Still Haunted by the Past
Confronting a Legacy of Forced—and Failed—Reconciliation
U.S. Soccer Scrubs Islamic Emblem from Iran Flag
The U.S. soccer federation is displaying Iran's national flag on social media without the emblem of the Islamic Republic, saying it supports protesters in Iran ahead of the two nations' World Cup match Tuesday.
The federation said in a statement Sunday that it decided to forego the official flag on social media accounts to show 'support for the women in Iran fighting for basic human rights.'
Oh, Tuesday should be interesting.
Serendipity:
Their children struggled with addiction. Now, they're fighting against the war on drugs
A growing number of parents see the war on drugs as an abject failure that harmed their kids
A new short story about a small-town cop, a murder, and a massive recycling plant.


Badge thanks to @arcange
---
---