Odds and Ends — 30 November 2022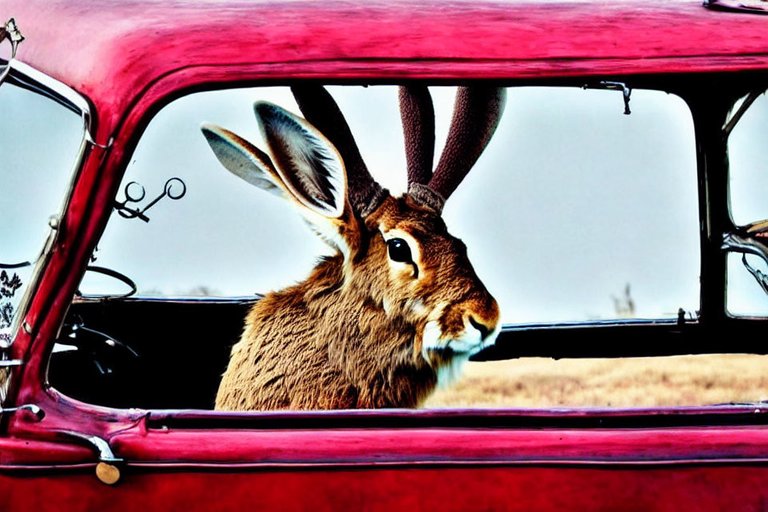 I've been playing around with
DeepDreamGenerator
's newish "text prompt" artificial intelligence image creator. This image was generated from the prompt "A jackalope driving an antique car."
Cryptocurrency, Investing, Money, Economy, Business, and Debt:
The world is emerging from the cheap-money era with a mountain of debt that's now getting painfully expensive. All around the globe, there are borrowers deeper in the red than ever before.
The total owed by households, businesses and governments stands at $290 trillion, up by more than one-third from a decade ago.
Job Cuts Decimate Twitter Team Tackling Child Sex Abuse
Elon Musk has dramatically reduced the size of the Twitter Inc. team devoted to tackling child sexual exploitation on the platform, cutting the global team of experts in half and leaving behind an overwhelmed skeleton crew.
What could possibly go wrong?
Chinese Unrest Threatens to Upend Global Economy
The swelling protests against severe pandemic restrictions in China — the world's second-largest economy — are injecting a new element of uncertainty and instability into the global economy when nations are already struggling to manage the fallout from a war in Ukraine, an energy crisis and painful inflation.
For years, China has served as the world's factory and a vital engine of global growth, and turmoil there cannot help but ripple elsewhere. Analysts warn that more unrest could further slow the production and distribution of integrated circuits, machine parts, household appliances and more. It may also encourage companies in the United States and Europe to disengage from China and more quickly diversify their supply chains.
Coronavirus News, Analysis, and Opinion:
LBRY alleges Apple forced it to censor certain terms amid COVID-19 pandemic
'Died Suddenly' film amplifies false Covid-19 vaccine claims
Immensa lab errors may have led to 23 Covid-19 deaths
Politics:
Ron DeSantis Will Not Wear Well
People who haven't met him think he's a hot commodity. People who have met him aren't so sure.
Stewart Rhodes convicted of seditious conspiracy in U.S. Capitol attack plot
Kevin McCarthy Lies That Trump Disavowed White Nationalist Dinner Guest
Mark Meadows Ordered to Testify in Georgia Probe
South Carolina's Supreme Court has ordered former White House chief of staff Mark Meadows to testify to an Atlanta-area grand jury investigating Donald Trump's effort to overturn the election in Georgia.
New York City Will Hospitalize More Mentally Ill
Well, maybe. Psychiatric wards are typically at or near capacity. And there are bound to be legal challenges.
Federal judge dismisses Trump's claim of 'presidential immunity' in 2020 election civil suit
FACT: The average fart is smarter than Marjorie Taylor Greene. pic.twitter.com/Y8wiLGnV55

— Middle Age Riot (@middleageriot) November 29, 2022
Senate GOP Seek to Tie Budget Cuts to Debt Ceiling Hike
Senate Republicans want to leverage the next US debt limit increase to force cuts in projected federal spending and changes to Social Security and other entitlement programs.
I've said it before and I'll say it again. Democrats need to play hardball and not tolerate blackmail. If they don't use the lame duck session to raise the debt ceiling or eliminate it altogether, they're morons.
Sam Bankman-Fried Secretly Donated to Republicans
Ukraine Should Be Free to Hit Military Targets in Russia, Latvia Says
A not very accurate article. This for instance:
While the US hasn't imposed restrictions on how Ukraine uses weapons, it has so far declined to send weapons with sufficient range to strike inside Russia.
In the north, Ukrainian control goes right up to the border with Russia. They could throw a stone and hit a Russian border guard. So they already have the ability to fire artillery or missiles into Russia if they wanted to.
Serendipity:
Graphene is a proven supermaterial, but manufacturing the versatile form of carbon at usable scales remains a challenge
Will wild coffee go extinct from climate change? Botanists say we can still save this crop


Badge thanks to @arcange
---
---