Reseña: Little // Review: Little

Fuente
Si tuviéramos la oportunidad de volver a ser niños de nuevo, ¿qué haríamos?. Esta cinta trata esta posibilidad de manera cómica, y el resultado es muchas falencias con pocos pero existentes aciertos. Es un título estrenado el 2019, dirigido y escrito por Tina Gordon.
If we had the chance to be kids again, what would we do? This film deals with this possibility in a comical way, and the result is a lot of flaws with few but existing hits. It is a title released in 2019, directed and written by Tina Gordon.
Jordan Sanders tuvo una niñez difícil, siendo rechazada por sus compañeros de clase decidió que cuando fuera adulta sería la jefa. Y eso es lo que ya logró a sus 39 años, pero en un revés de la vida, ella vuelve a tener su cuerpo de 13 años en un momento crítico de su empresa. En esos momentos se apoyará en su asistente April, para buscar una solución a su estado. Durante el filme, ella verá que más que una maldición, su situación es una oportunidad para reconciliarse con su pasado.
ordan Sanders had a difficult childhood, being rejected by her classmates decided that as an adult she would be the boss. And that's what she's already achieved at 39, but in a twist of life, she gets her 13-year-old body back at a critical time in her company. In those moments she will rely on her assistant April, to find a solution to her condition. During the film, she will see that rather than a curse, her situation is an opportunity to reconcile with her past.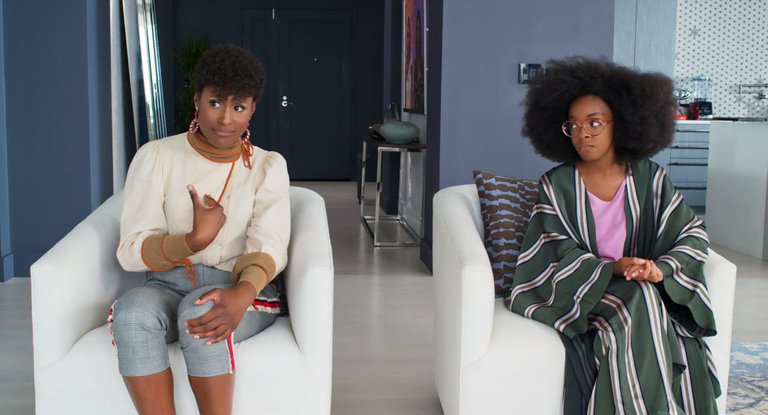 Fuente
Comencemos con lo malo que es bastante, primero partamos que si bien es una cinta cómica, gran parte de la película genera poco o directamente no tiene humor, volviéndose una mezcla de mostrar situaciones patéticas en una empresa o situaciones irreales. Otro punto, es que diversos momentos parecen más un teatro que una película, donde pareciera que los personajes principales estuvieran en otro plano, y los alrededores no existieran. Y ya para cerrar, creo que podrían haberse ahorrado esa escena de canto en el restaurante, sale muy enrevesada.
Let's start with the bad, which is quite a lot. First of all, although it is a comic film, much of the movie generates little or no humor, becoming a mixture of showing pathetic situations in a company or unreal situations. Another point is that several moments seem more like a theater than a movie, where it seems that the main characters are in another plane, and the surroundings do not exist. And to close, I think they could have saved that singing scene in the restaurant, it comes out very convoluted.
Ya con lo anterior podría decir que la cinta ya me había dejado con muchas ganas de pasar de ella, pero es cuando ocurre el cambio y entra Marsai Martin, interpretando a una Jordan de 13 años pero con una mentalidad de 39, que me sorprendo, pues la actuación es de lo mejor. Logra de alguna manera sobrellevar diversas escenas en diferentes escenarios hasta un punto que crees en la existencia del personaje: a su vez, logra crear una buena dinámica con April, dando por fin buenos momentos de humor.
With the above I could say that the film had already left me with a lot of desire to pass it, but it is when the change occurs and Marsai Martin enters, playing a 13 year old Jordan but with a 39 year old mentality, that I am surprised, because the performance is the best. She somehow manages to cope with several scenes in different scenarios to a point that you believe in the character's existence: at the same time, she manages to create a good dynamic with April, finally giving good moments of humor.
He de decir que en general la cinta tiene muchos fallos y salvo te guste mucho este tipo de películas, familiares con bastantes clichés, te recomendaría verla. Es una pena que el buen papel de Marsai vaya a pasar desapercibido para la mayoría.
I have to say that overall the film has many flaws and unless you really like this kind of movies, familiar with quite a few clichés, I would recommend you to watch it. It's a pity that Marsai's good role will go unnoticed by most people.
---
---