Happiness stems from five simple words.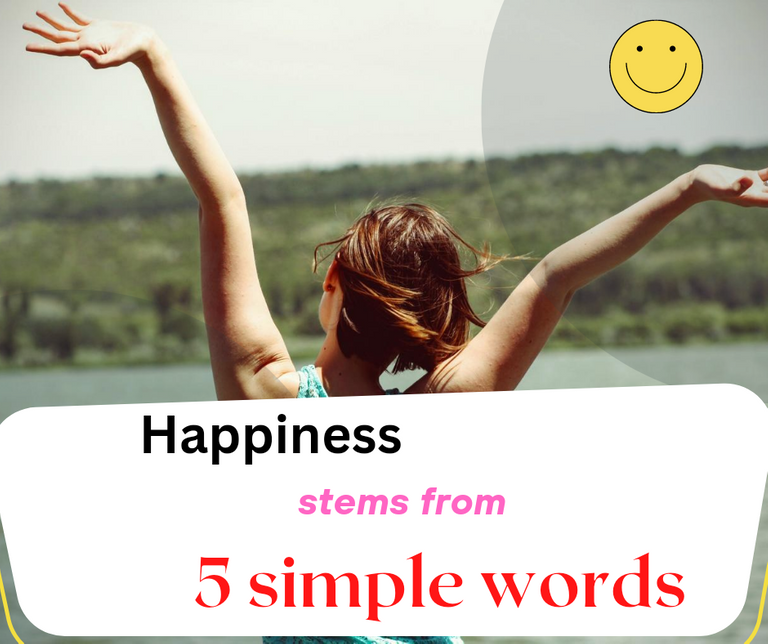 Image from Free-Images designed on Canva
This post doesn't contain information that is just being released, but one that has always been said over and over again, and you should see this as a reminder, including my very self.
Scrolling through my phone some days ago, and I came across an article online seeing the title made me click to read more.
The title says "Your Overall Happiness in Life Comes Down to 5 Simple Words."

Five simple words? What are they and how do they measure up to my happiness? I was curious, which led me to open it for a read.
I believe no one would want to oppose or disagree with the statement that happiness comes from within, and it doesn't guarantee how much money you have in your account because I have seen many rich men and women who are battling with one thing or the other, and to say that the money they had couldn't solve their problems is something strange at first to me since I believe money can do anything. I mean you can buy your way to the top with money and get anything done with it.
After many years, I understood vividly that happiness comes from what you enjoy doing.

Money alone doesn't lead to sustainable happiness when other areas of your life are lurching out of control. According to Warren Buffett from the article, he said the key to your happiness is to "do something you enjoy all your life."
When I was very young, I look at the rich people in our neighbourhood and conclude they do not have anything to worry about because they have everything they ever wanted. If at all, they lack something, money is always there and available to satisfy their desires. I see their children as being lucky while I wish our lives and that of my parents were in absolute luxury because then, I had in mind that if we were to be rich, we won't be sad again.

While growing up, I realize that money alone does not stop that deadly disease that has no cure. I watched a zombie movie some time ago. The man was so rich but unfortunately, he was bitten by a zombie. He pleaded with the nurse on the plane and told her that he would give her money just to treat him so he wasn't infected.
The woman said, "even if you have the whole world's money, it is useless right now because it can't stop this infection." He died eventually.
Reading the article and seeing where it says that happiness is doing what we love, it's not the first time reading such but it made me flash back to memory and how I found happiness in what I love doing.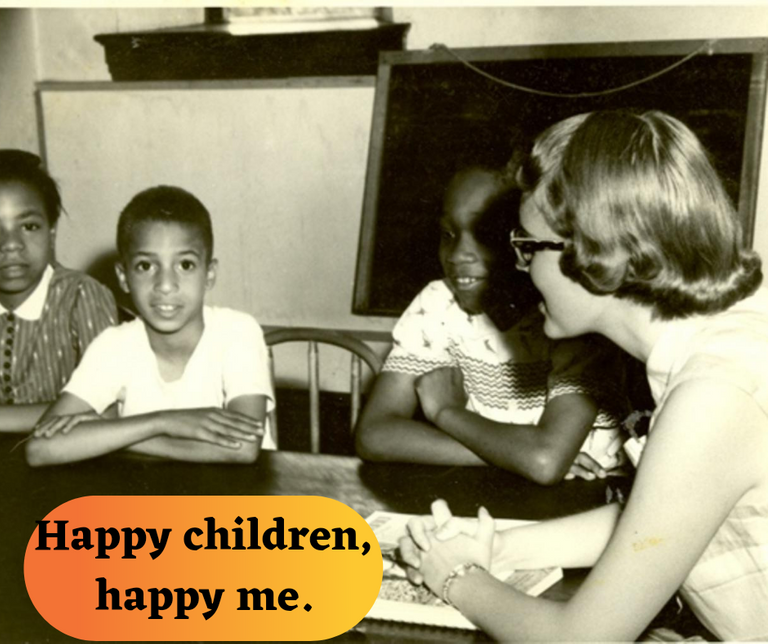 Image from Free-Images designed on Canva
My happiness is being around children. I love them and would always smile when they smile. They are fun to be with. Children are the best people to be around if you need to learn great lessons. Should we talk about forgiveness, free spirit, kindness, non-discrimination, jovial and friendliness? They have all these traits, and many times, I want to turn back to being a child where I see life as being free and wonderful.
I had been a teacher for more than three years and I can tell you, teaching has been extremely fun because of these children. They are wonderful creatures that will teach you about life. They made teaching fun for me and I tell myself that if I'd to come back to this life, I won't look elsewhere but choose to teach.

Do what you enjoy doing. I enjoyed this profession a lot and I never complained or get tired because it's something I loved doing. To me, this is my happiness.
I tried finding a teaching job after I graduated but I couldn't find one. I missed seeing children around me and this made me move closer to a child very close to where I stay. I would buy things for her and whenever I pass through her mom's shop, she would smile at me and I smile back.
Sincerely, she made me remember my love for children. I don't know how she got familiar with my face anytime she sees me coming. Many times, when she sees me from afar, she would run to hug me. My love for children got increased through her and since then, I have been looking for opportunities to teach kids and be around them.

Since I know that is where my happiness lies — teaching kids and telling stories to them just as I have always done, I got a chance to be around them in my church and I felt on top of the world because I will get to be closer to kids again.
I became a children's teacher last year and my time up till now has been amazing with kids. I share stories and the word of God with them. There is a particular girl who is so beautiful and her smile keeps bringing happiness to me. I feel sad when children are sad around me and it makes me feel I am not fit enough to keep them calm. But, when they smile and stay happy, I feel the spirit within me and I bless God for the opportunity.
I know I will keep being around them before I finally go for my service and would meet other children to teach. Teaching is my happiness and I will make sure I excel in this noble profession.
Thanks for your time on my blog.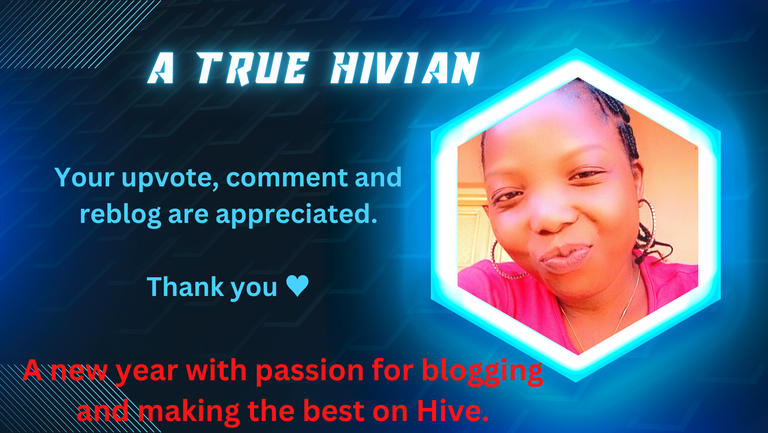 ---
---