HOW TO MAKE GARDEN EGG SAUCE FOR CREATIVE SUNDAY
---
Hi everyone! It's another amazing moment in the Hive Learners community and every Sunday, it's the time when every individual brings their creativity into action. For today's creativity, I will be showing us how to make Garden Egg Sauce which can be used to eat Yam or Rice. This is what I have tasted last week, and I can assure you that the combination was amazing and delicious.
---
Someone said she hasn't heard of this sauce before, but I want to believe this delicious meal is common, even though I ate it last when I was in secondary school. Making this meal last week made me remember my mom (may her soul keep resting in the Lord). It was my mom who made me know about garden egg, and it was twice she cooked it for us. Since then, I never tried it again until recently, when I decided to make my own version. I went to look up a video on YouTube, and I found out that it wasn't even difficult. Just a few ingredients are required and voila! Your garden egg sauce is ready.
---
But before, I proceed into teaching us how to prepare it, wouldn't it be nice if I talk a little bit about Garden Egg? How would you feel if you got to know some interesting facts about this fruit?
---
Garden Egg is a fruit if you must know!
Garden Egg is a fruit that contains great vitamins like Vitamin B1, B6, potassium, folate, magnesium, copper, and other amazing nutrients.
Some of the benefits are;
It helps in losing weight. This is because it contains low carbohydrates and calories which are essential for weight loss.

It contains some powerful antioxidants which help to protect the body from diseases and it also protects the liver from toxins which makes it a home remedy for liver issues.

It controls blood sugar levels and it's a great dietary option for those with diabetes.

It's healthy for pregnant women
It helps in food digestion.
---
Welcome back from the short break...Kikikikikiki
---
With all being said, let's now move further to the next agenda which is getting to know how this great sauce is being prepared. And so, it is with great pleasure welcoming myself as I would take my audience to the process. Before that, I will be listing the ingredients, as that is the first thing to do so that we would know what we are getting at the market.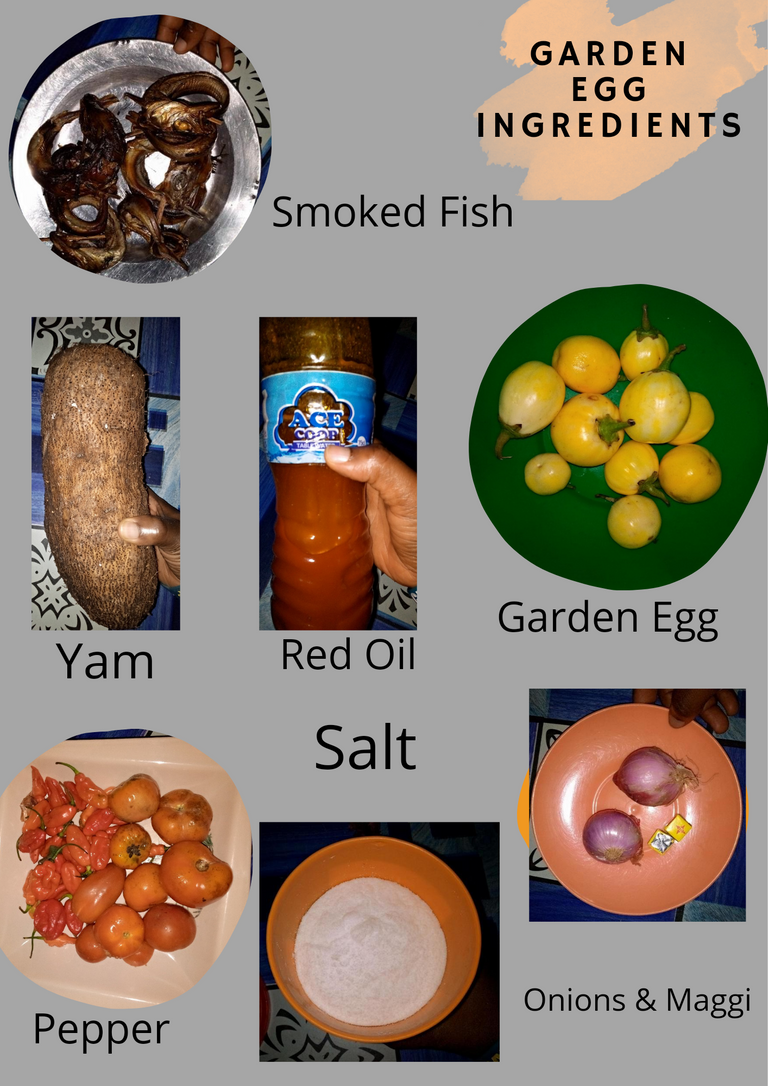 (Image designed on Canva)
INGREDIENTS FOR GARDEN EGG WITH YAM
Garden Egg
Smoked Fish
Red oil
Onions and Maggi
Salt
Pepper (Tomatoes and Scotch Bonnet)
Crayfish. This isn't included here but as you read, you will see it.
Yam
How do I prepare the sauce with these ingredients?
Since we are done with the first step by introducing the ingredients, the next thing is for me to get everything done and prepared before cooking. I love getting all done, so I wouldn't start finding what isn't lost, but to have them intact and ready to pick up whenever I need them.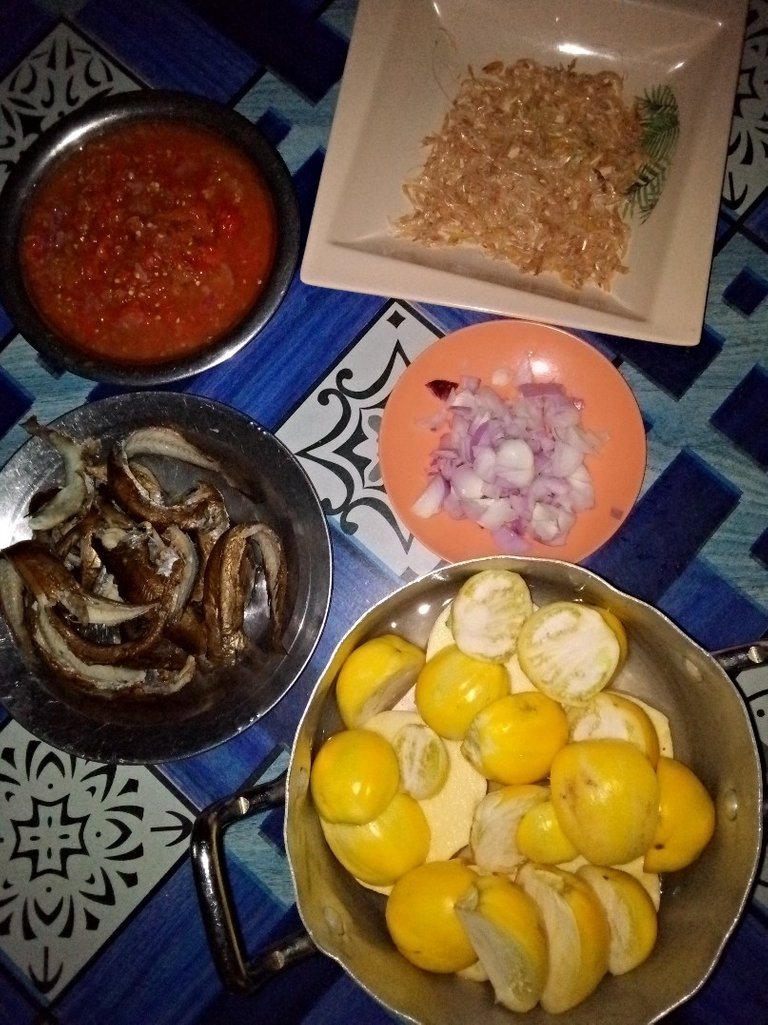 The second image is where I have gotten everything ready. What have I done here?
I used hot water to remove the bones from the smoked fish and divide them into two pieces each.

I grated the pepper with my hand grater, including an onion.

I peeled my yam and rinsed. Then, I washed the garden egg and cut it into two for each of them. It makes it faster when I boil it together with the yam to save the gas too. You know, filling gas is expensive right? So, you have to use wisdom at this stage 😉

I sliced two onions and set them aside.
---
Okay, we are done with the process and it's time for the main work.
The first thing now is to get your Garden Egg cooked till it's soft and this is when you cooked both of them (Yam and Garden Egg). This didn't take me 15-20 minutes which I placed them down after making sure, they are soft enough for me.
I placed my pot on the gas to get dried and I went on to add some Red Oil. At this point, we aren't bleaching the oil, but a medium heat. After then, I added the sliced onions, which you can see here.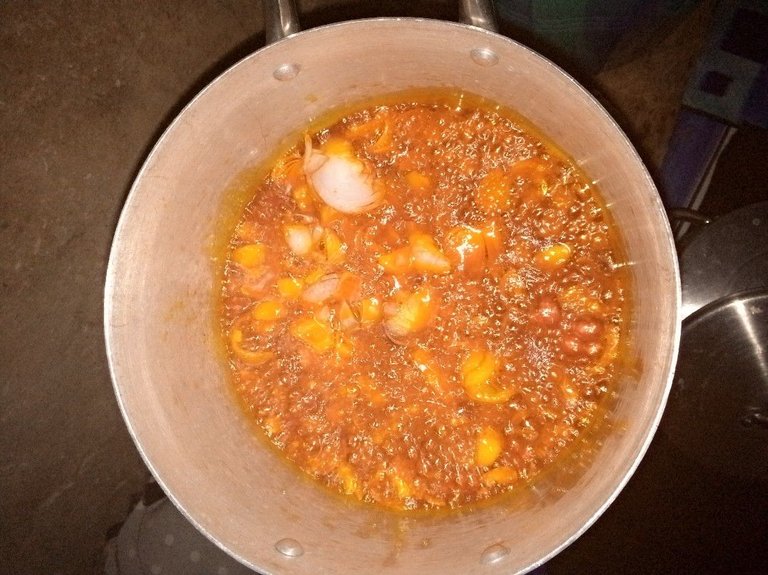 A little tip here. Adding onions to red oil makes the meal scent and have a sweet aroma. I love doing this method whenever I want to fry my stew for Rice, Beans or Yam. So, make sure you do not leave it there without stirring, or else, you just ended up burning your onions and making them turn brown.
---
While doing the above process, I put my Garden Eggs inside a small mortal and crunched them into particles until they are almost smooth.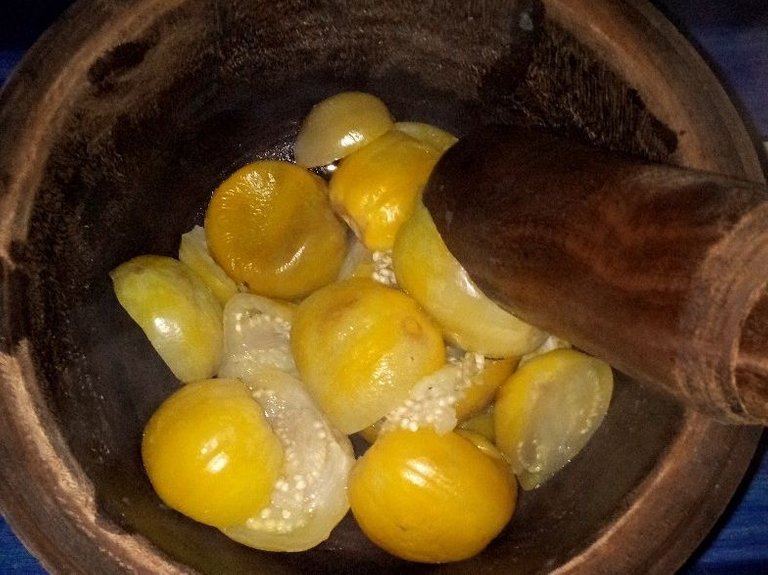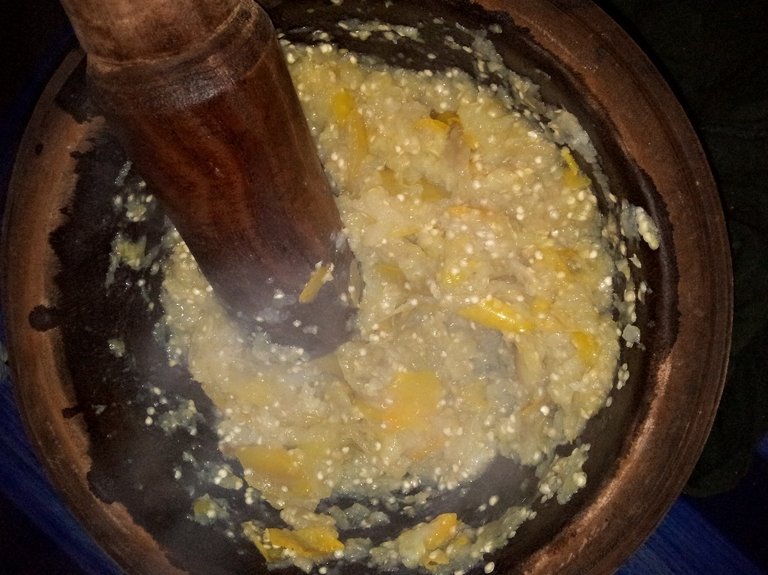 Some people use an electric blender but make sure you aren't blending to make it smooth. At least something like the above image would be better. Don't go and make something different from the garden Egg at the end 😅
Remember, my stew is still heating up? Then, I added other ingredients including the crayfish into the stew and stirred for a while. I covered for a few minutes (at least, 10mins). Then, I poured the mashed garden eggs into the stew and continued stirring. After a few minutes, it was ready to be served with my hot yam.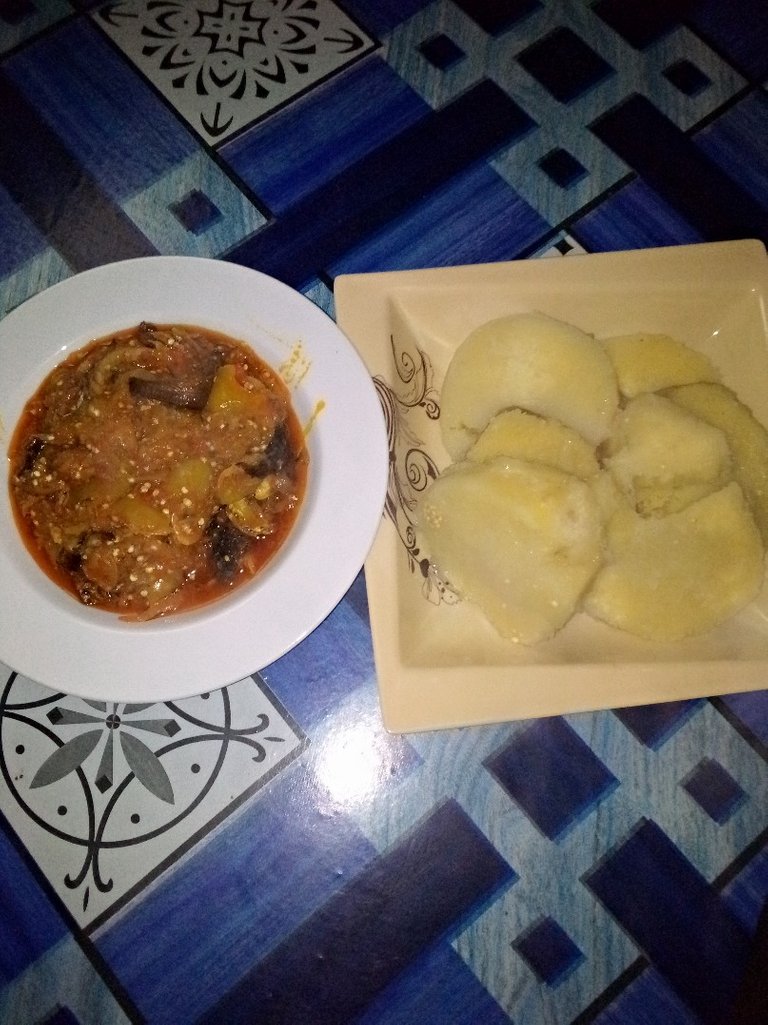 Thanks for your time
All images are taken with my Infinix Smart 5 phone.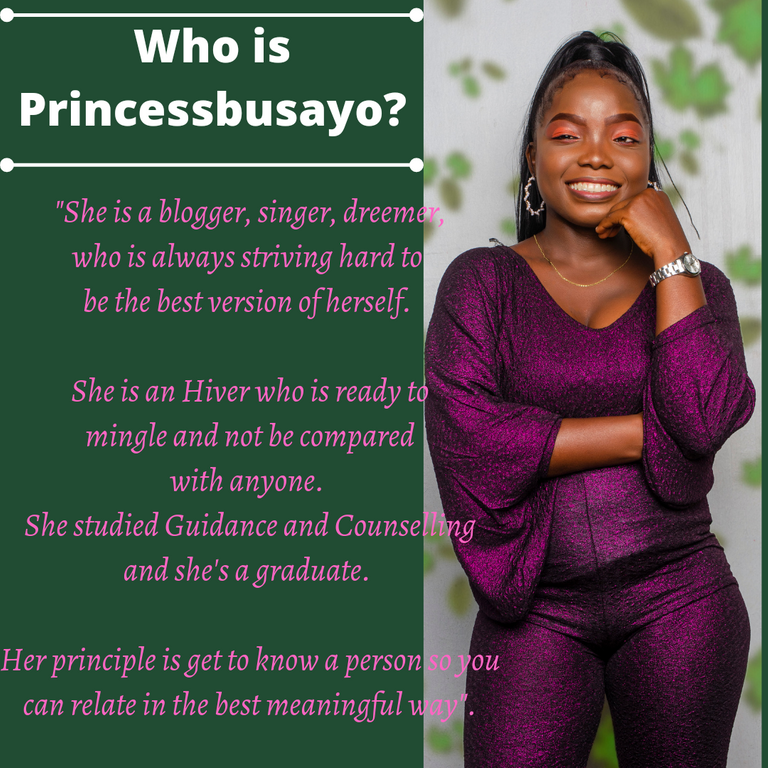 ---
---