Programming Language :Starting with HTML.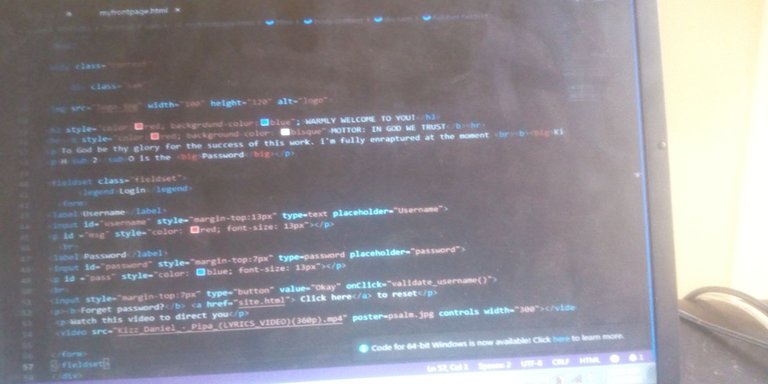 In the world today, we have different people that are into programming and everyone is either good in one programming aspect like python, Java, c++, html etc. Most experts are good in all, of which I believe some day with my level of consistency, I will be an expert.
In the first day it wasn't an easy task to do. It was just too complicated, though I read computer science in university but I didn't practice often, so I forgot most easily.
I had to come back to it and start afresh for proper understanding. I'm so lucky to have a friend that knows much better than I do recently.
If you want to build a website, the first language that you need to learn is HTML how true it is? Yes it is very true because I believe HTML is the simplest compare to C++. To start with, someone need a guide from friend(s) or anyone that knows much better than you do and also guide of video Tutorial to see how others does there's.
For instance, when my friend started with the introduction, he didn't mention of some tags in HTML, could you believe we have alot of tags in HTML? yes we have, some that are important excluding the importance tags like html> tiltle> head></head
body></body. There are other tags like meta name="viewport" content= "width=device-width, initial-scale=1.0">
meta name =" Author" Content="Psalm111">
meta name ="keyword" Content="HTML, Tutorial, Hive" >
HTML, which stands for Hypertext Markup Language, is a pretty simple language. It consists of different elements which we use to structure a web page of which CSS beautify it. And also Javascript is used. I do face some challenges sometimes and the challenges is that, Sometimes I do feel like giving it up because little error can take me two to three days before I could resolve and is frustrating. Lack of electricity also made me to forget the new thing have i learnt. Previously, the light can be off for 2days.
I understood that the programming is not what you do and stop, it a continuous accessment, you keep coding and the more you code the more you matter, every day you gain new thing.
---
---