Psyber-X: Would You Wake Up Early For This? I Had a Meeting You Might Want to Know About...And FREE CRATES
Listen UP!
I'm not one to blow smoke up anyone's skirt. As a matter of fact, I'd rather just throw a jolly chimp in your direction and let it clang the fear into your brain before your guts spread across the alley walls. Ok...that's a little too graphic maybe. It's a Psyber-X thing...
I had a meeting this morning with the leaders of a Spanish speaking gaming guild with over 10,000 members. I'd say it was productive. I had to wake up early for it, but when you're working with people from around the world, it's ok to sacrifice a little time for the good of our Hive and Gaming communities...and especially, for Psyber-X. If all goes according to plan, we should see multiple worldwide guilds coming to play Psyber-X. I have another one planned for Monday morning. I also just got pulled into a group with an influential member of the YouTube/Twitter community just this afternoon. They're getting excited about Psyber-Decks, too. Why do I mention this?
Here's the Scoop...
We have a limited number of Psybercrates. In some cases, we give them away to various community members who spread awareness in a more efficient way than others. Sometimes, we just give them away to give them away. Right now, for every 200K LVL you hold up to 1M LVL, we are giving away a Psybercrate per 200K LVL. That means if you have 523,000 LVL, you would get 2 crates...assuming that's how many you had in combination between what's in the Liquidity Pool and in your Hive wallet. That's pretty amazing, if you ask me...I don't know how long we can do this, but we plan on doing it for a couple months...unless our supplies run out.
Free crates
Here are the folks we gave crates to for holding LVL either in their wallets or in the Liquidity Pools in January. We took the snapshot very late in the month so that as many people could get them as possible. If you see someone taking advantage of the system, you as a community can shame them...lol...then kill them in the game.
The names with higher numbers at the bottom are because they had more LVL in the Liquidity Pools than in their wallets...so it just calculated out that way...no biggie.
In some cases, you may see Psyber-X owned accounts...we have removed those from the crate distribution. I was just too lazy today to take them out of the list. Cry me a river. 🤣
If You're Ready...
In the next week or so, we will announce the opening of our flagship, Psyber-X to everyone. This means you will no longer need a pass to play. We said from the beginning that this would be a free-to-play game and we meant it. We have given our founders and pass holders exclusive access for over a month now and we know they have enjoyed getting the practice.
When we announce the ability to download the game for free...you know...without a pass, we will still require you to request a key to download the game. We will give those away in various ways. The easiest way for us is to give it to you via the Psyber-X Discord. We may drop one within the comment section of our posts, too, though that requires Resource Credits that we have been building up for giving out Hive accounts to new players we onboard. So, if you're ready to play and you really want a key, help us out by going to our Discord and requesting one...after we announce it. We have one more update to make within the next few days. Once it goes through without a hitch, we'll be announcing the dropping of the janitor's ring of keys...
This is where you should get excited...
So What Happens With the Passes?
The Bronze, Silver and Gold passes mentioned below are still for sale and will remain for sale for a limited time only after we open the download of the game to the public for free. They'll still be available to purchase because they have consistently held more value as a package deal for picking up crates, extremely limited edition weapons, and characters. If you want an Overlord NFT, the fastest way to get it is by buying the Gold pass. Legendary weapons are also up for grabs via the passes. Once the passes are taken down from our partner sites, the supply of NFTs that come with them will be locked in. Ever heard of supply and demand? I'd recommend you go do the math...
Psyber-Decks
While it hasn't been released yet, we are finishing up the last bits to make it the incredible game you expect of us. It is an alpha version of course, but we are already recording transactions for the game on the Hive blockchain. If you know where to look, you'll find them easily, especially with the screenshots we've posted on Discord...shhhh...get your crates while they're still only $5 USD equivalent...
DappRadar
Right after being added to play-to-earn.net, we just got added to DappRadar's list: https://dappradar.com/hive/games/psyber-x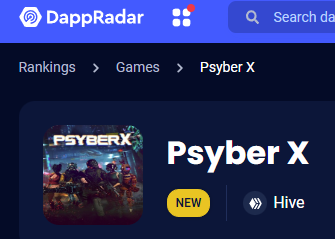 Does it feel like we're making some traction? Oh it's happening...some key points to remember before I finish this off...
Key Points:
There are only 500,000,000 LVL available. Of those 500M, 400M have already been sold the community. We will not be producing more LVL.

LVL is the token for all games produced by the Psyber-X team. By the end of the year 2023, we plan on having 3 games out with a 4th potentially out by the end of the year as well. That's 500M LVL between 4 games...not 9 Quadrillion, Trillion, or even Billion...just 500 Million.

Each NFT that Psyber-X develops is useful in all games Psyber-X makes. Don't forget land...we haven't.

When you play Psyber-X right now, you get to play with all available NFTs in game. Once it is in Beta, you will only be able to play with the items found inside the game or the NFTs you load out with. Getting crates now helps you load up on the NFTs you'll want to hoard or rent out to others to decimate their enemies. Anyone say supply and demand?

We will not be doing any re-releases of the NFTs found in the current Psybercrates. This is a benefit of finding us now vs 6 months or a year from now.
Do you need any more points to know whether it is time to buy a Psybercrate (http://psyberxmarket.com) or LVL? If so, hit up anyone in our Psyber-X Discord. We'll be glad to share our opinions with you. We don't give financial advice and we don't mean to make any forward-looking statements. We just say how we see things as they are now. If you're coming for financial advice, stop now. Turn back. Never buy anything. Don't leave your house. Grow a garden and get off the internet. You're in the wrong place. We're just here to kill or be killed in Psyber-X...
Good luck...
---
---
Are You Ready to Play?
If you're ready to play Psyber-X, there are 3 passes that will allow you that privilege currently. They are the Bronze, Silver, and Gold passes. With the help of @psyber-sects, you can use $Hive to buy 2 of the 3 passes (Gold and Silver). See the details about using $HIVE HERE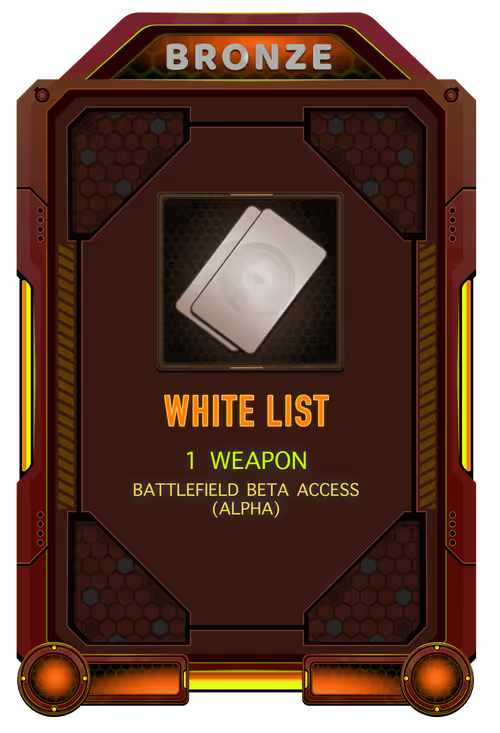 The Bronze pass is 1.5 avax to mint. It comes with a Legendary weapon and access to the pre-alpha/Alpha. There are a limited number of these passes, but this is a guaranteed way to get a Legendary NFT. @bobthebuilder2 bought one just for the weapon.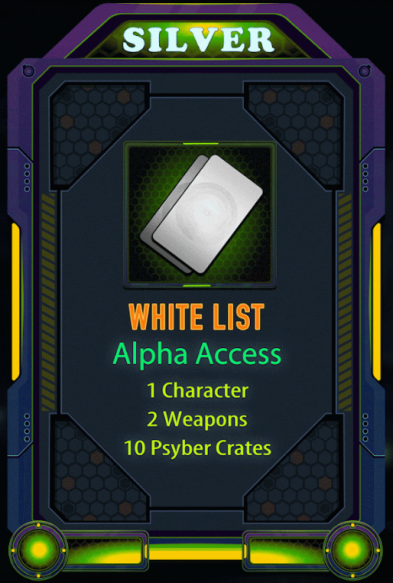 The Silver pass is 0.05 Eth and comes with 10 Psybercrates (During the current sale: $50 value), 2 Legendary Weapons (value depends on market), 1 Character (value depends on market), and access to play the pre-alpha/Alpha.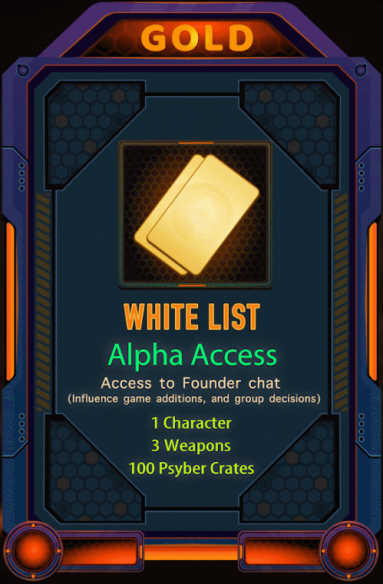 The Gold pass is 0.3 Eth and comes with 100 Psybercrates (During the current sale: $500 value), 1 Character, 3 Weapons, and access to play the pre-alpha/Alpha and recognition as a Founder.
Once purchased, notify us on Discord and we'll give you the instructions on how to download and play Psyber-X. We look forward to playing with you! If you are not able to buy any of the passes, LVL is available on the Hive Engine and in both the LVL:Swap.Eth and LVL:Swap.Hive Liquidity Pools.
---
The price is temporarily reduced from $20 USD equiv to $5 USD equiv.
See details here.
---
---
Notable Posts:
Official Lore Stories
Informational:
---
---
Financial Links
Buying Level 1 (LVL)
Hive
Buying NFTs
Myria Passes
Avax Passes
---
---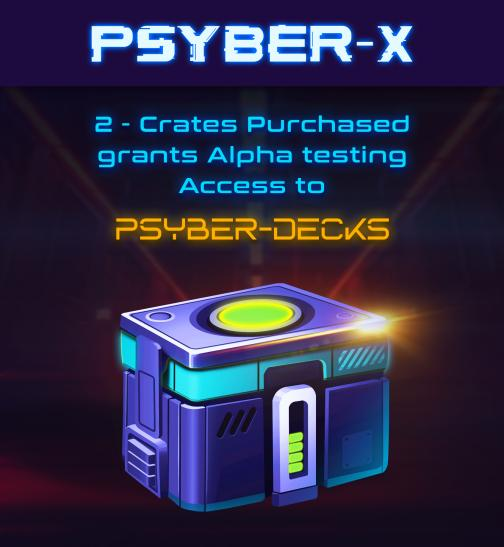 Psyber-Decks is a mini-game being developed to use Psyber-X NFTs. If you'd like to be able to play the game before anyone else, you simply need to buy 2 Psybercrates at http://www.psyberxmarket.com for the Alpha testing access.
---
---
Social Links
---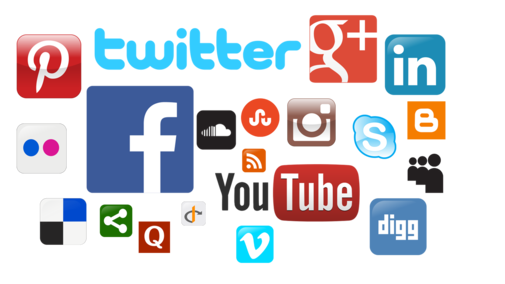 Psyber-X on Pimp Media

PsyberX on 1UP Zone

Hive account @psyberx

Twitter account psyberxofficial

Official Psyber X Discord Chat

Official Youtube account Psyber X

Official Facebook page Psyber X

Our Instagram account PsyberXofficial

The official Psyber X TikTok

Telegram Chat Invite
The Gaming Studio Royal Reptile Twitter

NftShowroom Psyber X Collection

Psyber X Blog on Reddit

Official 3Speak PsyberX Account

Whatsapp Chat Invite

Line App Chat Invite

Cast.Garden Channel (Think Hive YouTube)
---
*There is nothing in this post that should be construed as financial advice. If you are looking for financial advice from a blog post, you're looking the wrong place. Talk to someone who has a fiduciary responsibility to look out for you if that's what you're looking for. Be responsible!
---
---
---