Tag A Friend, Huge Challenge & Hive Onboarding
🎁 EXCITING GIVEAWAY ALERT! 🎉
We're thrilled to announce the ultimate giveaway brought to you by Royal Reptile Game Studios! 🎮🔥 Get ready to win big and level up your gaming experience.
We're giving away a whopping 10,000 DBLN to EACH of our 10 lucky winners! 💰💎
Participating is as easy as 1-2-3:
1️⃣ Follow @psyberx & @masterrpgbot on Hive.
2️⃣ Reblogg this post to spread the word about the giveaway!
3️⃣ Tag a friend in the comments below and challenge them to join the fun!
🌟 Increase your chances of winning by tagging multiple friends up to 10 🌟
DBLN, our newest in-game currency, can unlock exclusive features, power-ups, and customization options in our incredible game Serfdom & Sorcery. Whether you're conquering castles, battling opponents in Psyber-X, or strategizing in Psyber-Decks, DBLN & LVL will take your gaming experience to the next level.
The giveaway ends on August 5th, and the winners will be randomly selected and announced shortly after. Don't miss out on this incredible opportunity to win 10,000 DBLN and enhance your gaming adventure!
Let the gaming frenzy begin! 🎮💥 Good luck to everyone, and may the RNG gods be with you! 🍀✨
🌐 Visit our Zealy Quests to earn rewards while you learn more about our games and explore the thrilling games we've created. Head over to Zealy by clicking this link & joining our next Sprint launched today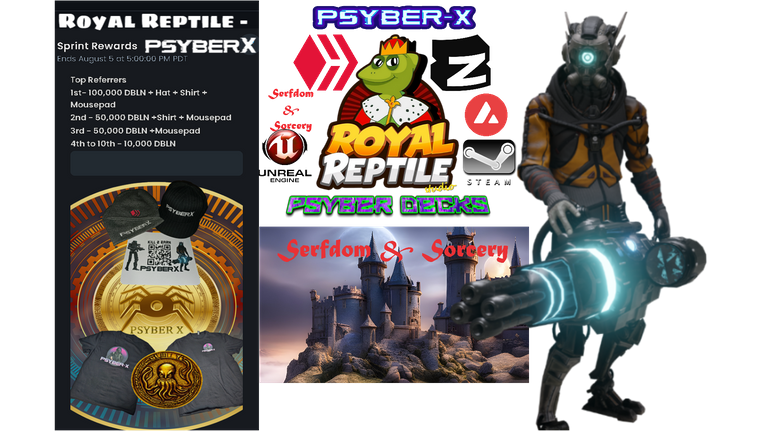 Hive Onboarding
Boost Your Community's Engagement and Growth!
Is your online community in need of a game-changing addition to drive engagement, growth, and retention? Look no further! Royal Reptile Game Studios is excited to introduce our Hive Onboarding secret, offering the opportunity to add Serfdom & Sorcery to your Discord server.
By integrating Serfdom & Sorcery into your community, you unlock a whole new level of excitement and interaction for your members. Witness instant and proven results within just one month of implementation. Here are some insightful examples:
📈 Increased Engagement: Experience a surge in member participation as they immerse themselves in the captivating world of Serfdom & Sorcery. From giant monster sieges to dragon raising, the game offers countless opportunities for your community to bond and collaborate.

🚀 Rapid Growth: Watch your community flourish as Serfdom & Sorcery becomes the talk of the block. The game's appeal will attract new members, eager to join in on the medieval adventures and contribute to your vibrant community.

💎 Enhanced Retention: Keep your members engaged and excited for more with Serfdom & Sorcery's rich gameplay and regular updates. The dynamic features, quests, and rewards ensure that your community remains active and invested for the long haul.
Don't miss out on this exclusive opportunity! Request to be added to the waiting list today and secure your spot for Serfdom & Sorcery integration into your Discord server. Our team will work closely with you to ensure a seamless and tailored experience for your community.
Unlock the potential of Serfdom & Sorcery and witness the transformative impact it can have on your community's growth, engagement, and retention.
To request access and learn more about the Hive Onboarding program, visit our Community Discord, it's free!
Join the ranks of thriving communities that have already embraced Serfdom & Sorcery. Take your community to new heights with the power of gaming!
Note: Limited spots are available, so act fast to secure your place in the Hive Onboarding program. Terms and conditions apply.
Discord Insights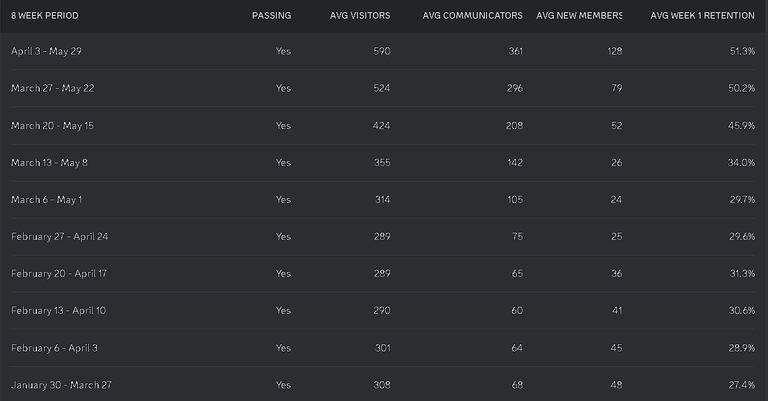 ---
---