Fungi Friday " Besides Having The Beauty Of These Two Mushrooms Are Also Useful In The Medicine Industry "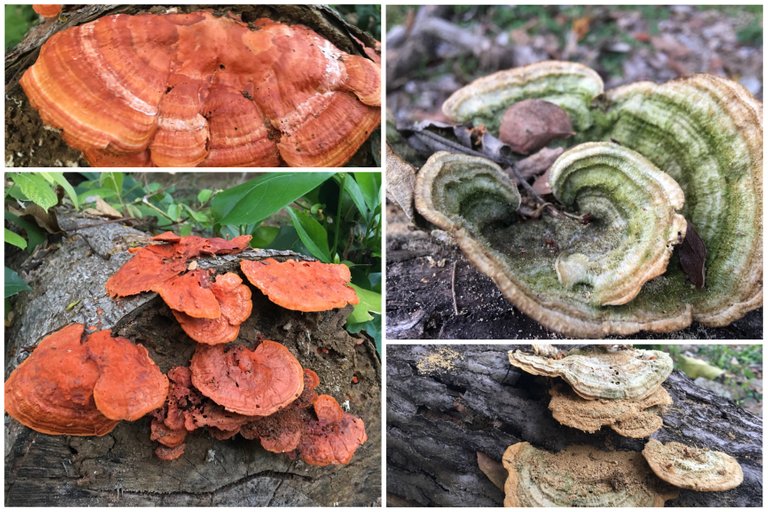 MUSHROOMS
---
Good evening community friends, tonight I have prepared some mushrooms that I have photographed. I saw mushrooms in the afternoon when I went to one of the small forests in my area. This mushroom looks so beautiful that it sticks to rotten wood so I'm interested in sharing it with the #FungiFriday community held by @ewkaw , I hope this mushroom is better than the previous mushroom. Every Friday we always see beautiful mushrooms in our beloved community, and I am very entertained with all of my friends with some pictures of mushrooms that you share. Then I also have mushrooms to entertain you all, hopefully Malian can be entertained by the mushrooms that I share.
I have found some pictures of mushrooms growing on rotten wood, I see these mushrooms can thrive, with beautiful shapes and very attractive colors. They clung to the wood, it seemed they were pressed firmly against it. I think they can grow well because in the past few weeks it has rained a lot and lots of moist containers for them all. Let's see Some pictures of mushrooms that I have prepared.
---



MUSHROOMS
---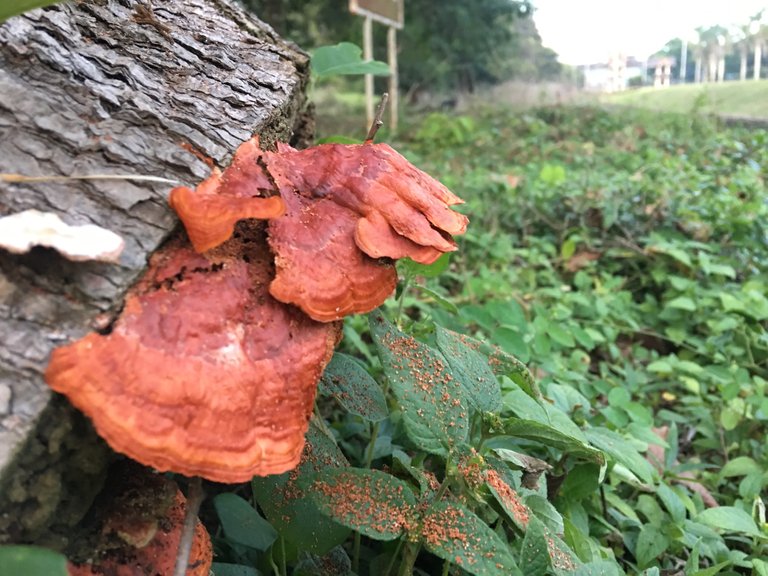 MUSHROOMS
---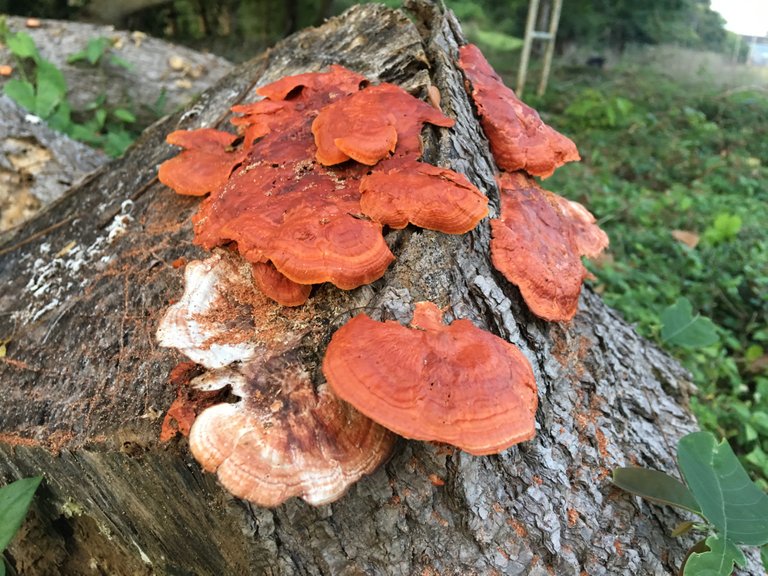 MUSHROOMS
---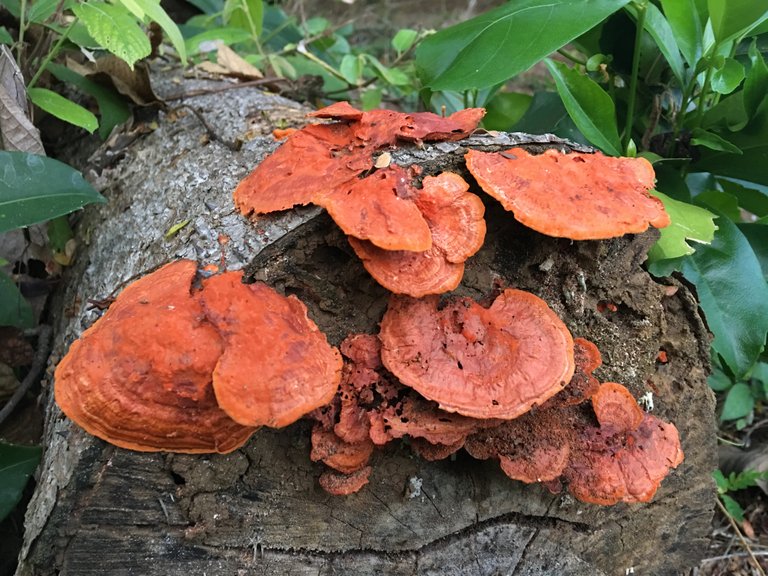 MUSHROOMS
---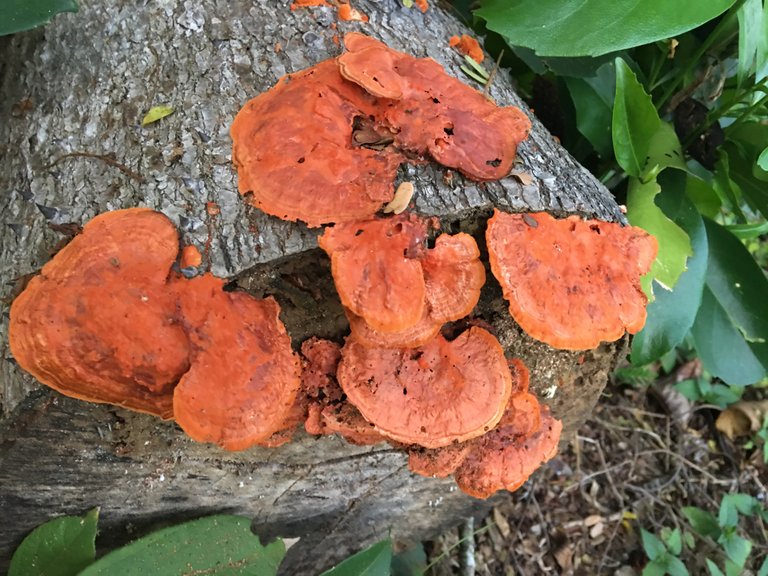 MUSHROOMS
---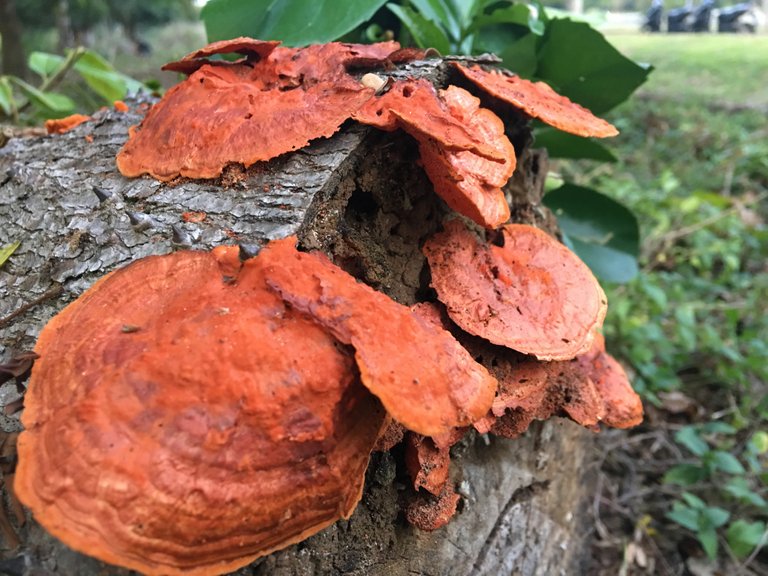 MUSHROOMS
---
Mushroom Pycnoporus sanguineus
This fungus grows on rotting wood trees, this fungus can also grow at higher temperatures than other mushrooms. This mushroom is also known as a saprobic mushroom, which can be used as an industrial ingredient in medicine. And some people also use this mushroom as a very powerful traditional medicine. So this mushroom plant has benefits in human life. In my area this fungus is very easy to find in various places, as I found this is in a forest around our village and there I saw many trees that had been cut down which had rotted on the ground so that a lot of mushrooms were overgrown -this mushroom.
---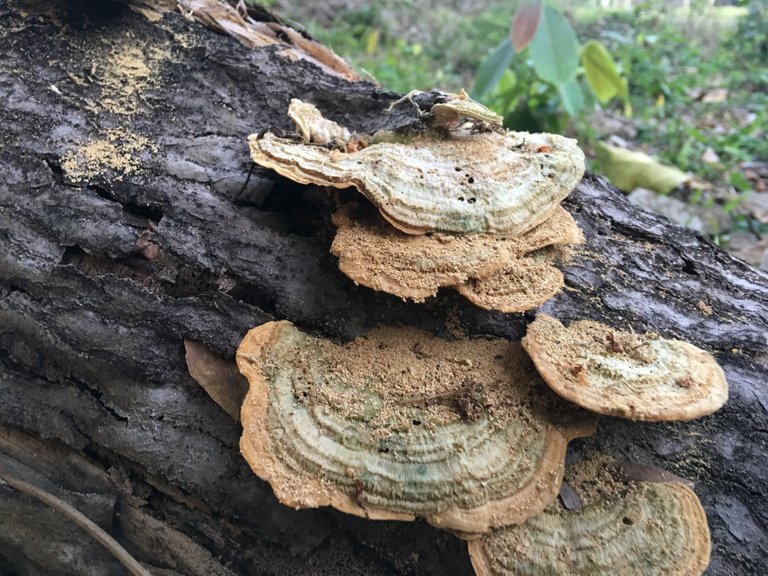 MUSHROOMS
---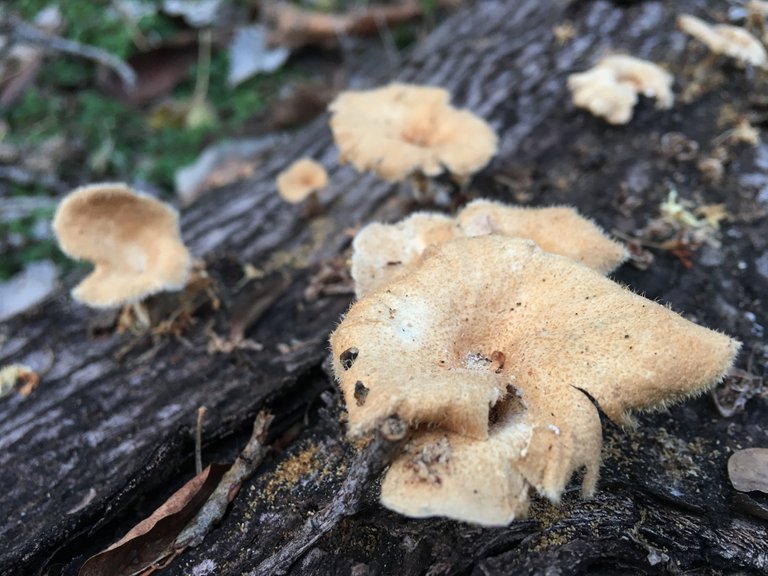 MUSHROOMS
---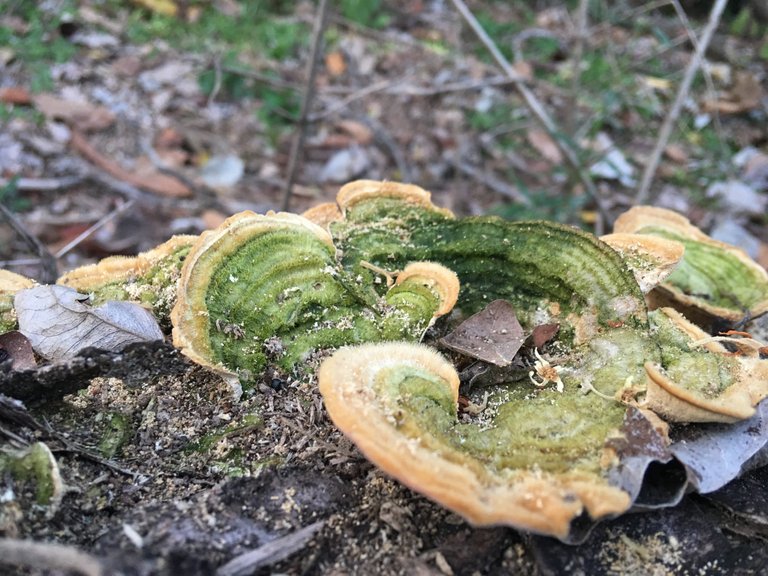 MUSHROOMS
---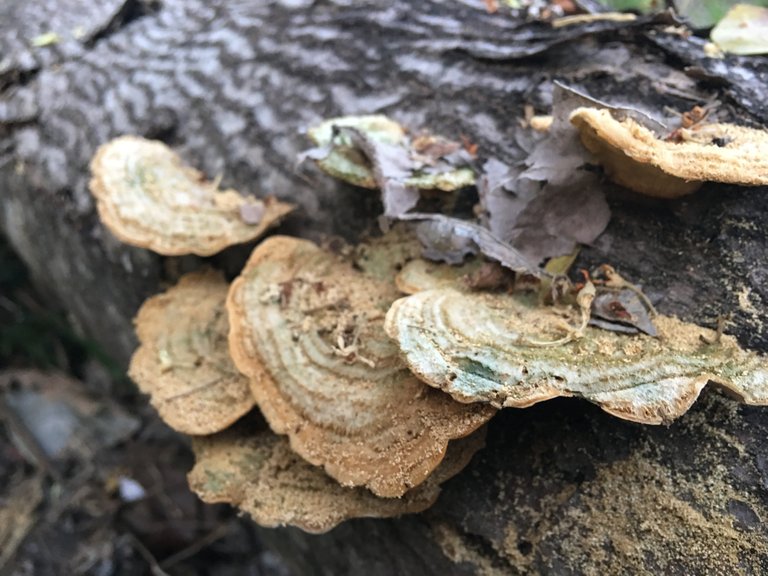 MUSHROOMS
---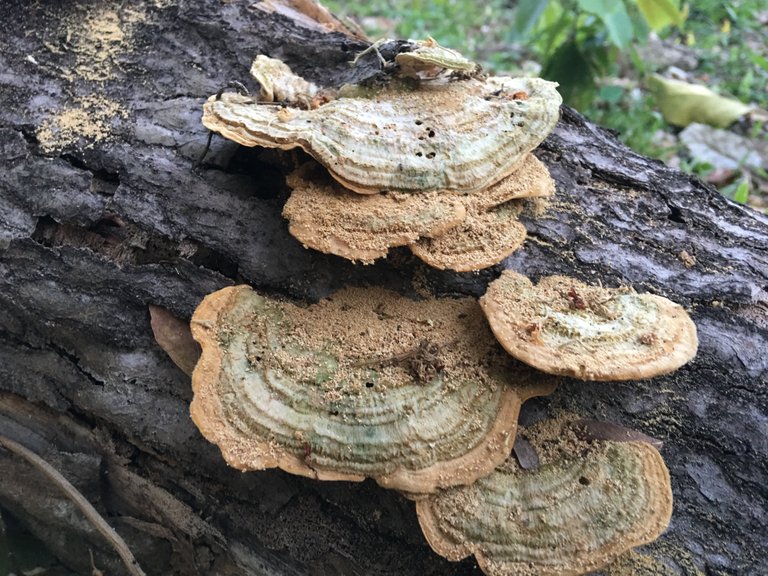 MUSHROOMS
---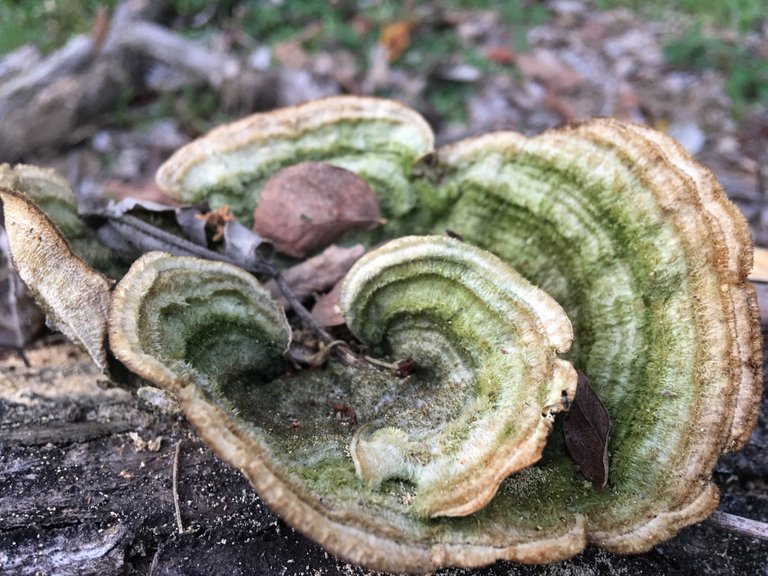 MUSHROOMS
---
Trametes versicolor mushroom
This fungus is a common polypore fungus that we can find in various places. So these mushrooms they have a lot of colors but the shape is the same they just have different color variations. Then these mushrooms, from their youth to mushrooms that look old, they also have different colors, as in the mushrooms I share, they seem to have started to turn green and cover the white color. This I think they have had a very long time compared to the white mushrooms that do not yet have a greenish color. Even in some countries this mushroom can be used as a cure for cancer or other therapeutic drugs used by humans.
---
Of the two types of mushrooms, they are also considered as processed in the world's medical industry. They not only grow in the forest but they also have tremendous benefits for humans. To consume directly I do not know whether it can be consumed or not these two types of mushrooms. But what I have read, as I have written, is that this mushroom has benefits as a medicinal product. So I found this mushroom in the same place but in a different container. I took pictures of some of these mushrooms using my smartphone because the first time I saw these two types of mushrooms I was very attracted to their beauty because they have such beautiful colors that grow on weathered trees that stick very strongly.
Maybe those are just some pictures of mushrooms that I have prepared on this very happy Friday, hopefully with some pictures of mushrooms can make community friends entertained and also useful for all of us. A big thank you to @ewkaw's friend who has developed this community so that it is very useful for all of you and thanks also to other friends who have supported me. Sorry if there are wrong words because in this writing I use my own language then I was assisted by Google to translate into English. Thanks .
---
| Photography | Mushrooms |
| --- | --- |
| Camera Used | Smartphone |
| Photographer | @putroe-hive |
| Location | Aceh |
---
---