Walk in Riverside Park to Nghinh Luong Dinh Pavilion
It was monsoon raining last week in Hue. It made our mood wet like the rain in this city. Actually, I get used to this kind of rain which can last few weeks to few months. It was rainy and cold so it was hard for my mom to pull me out of my bed when I was little. However, climate is changing a bit here when we have a shorter rainy season and get some dry days randomly.
Today is one of them. Although the sky is gray and cloudy but my daughter wants a walk so I took her to the riverside park. She has been indoor for a while when her kindergarten has been closed due to Covid-19.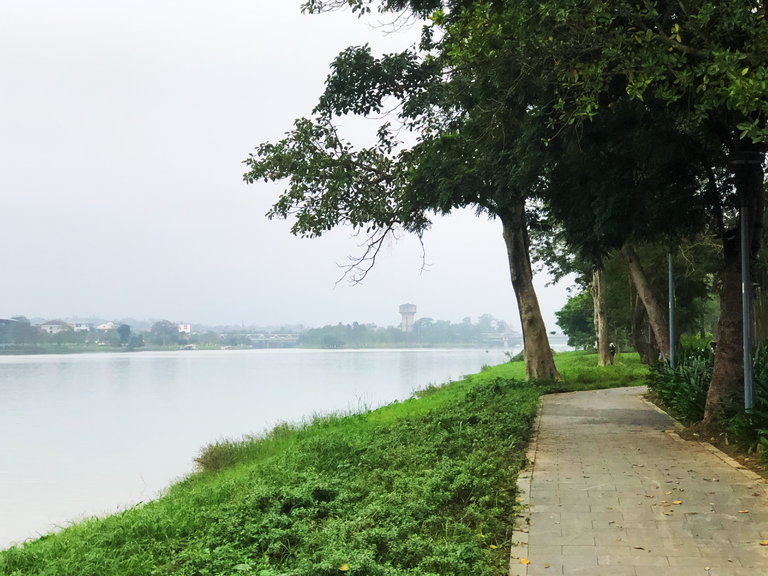 The park is in the city and it is along Huong river which has grassy riverbanks and a little forest. When I was little, I often went there to play with my friends so it is great for me to see it is renovated by local authority with sidewalk, lights and cyclist lane.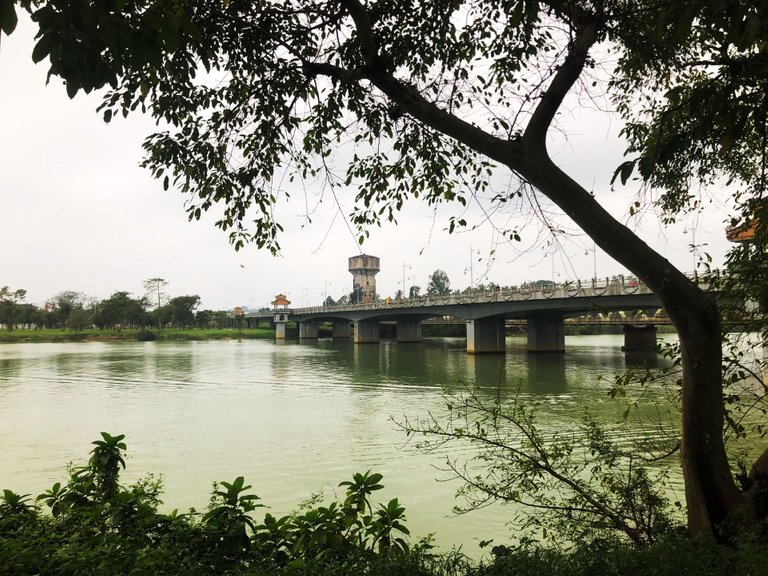 We start to walk near the White Tiger bridge. From this view we can enjoy river breeze and look over the islet where stand the city water tank. The islet was used to organize tiger fighting under Nguyen Dynasty.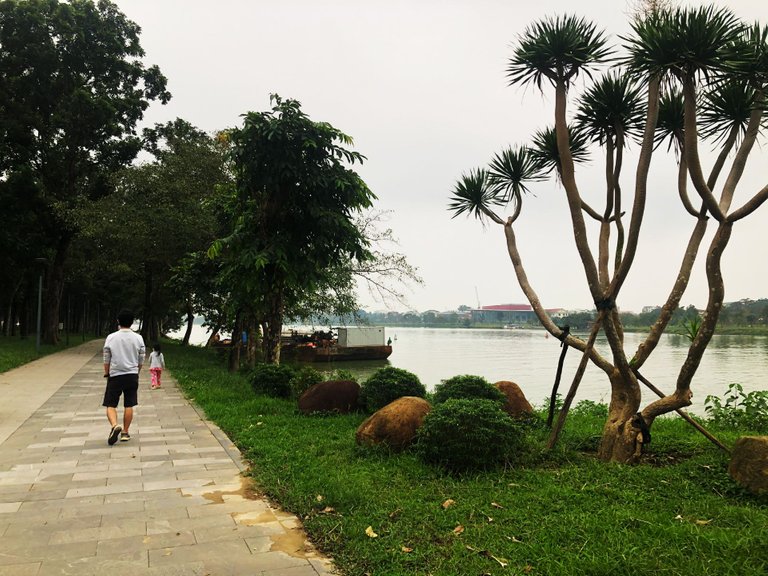 Walking with a kid is never easy when she wants to run rather than to walk. However, the experience with her is always amazing to me. I feel that I am bigger and more responsible. I know that in next 20 years, I would be her small world but I appreciate this moment with her. The weather is not too cold without strong wind so it is perfect for a slight walk.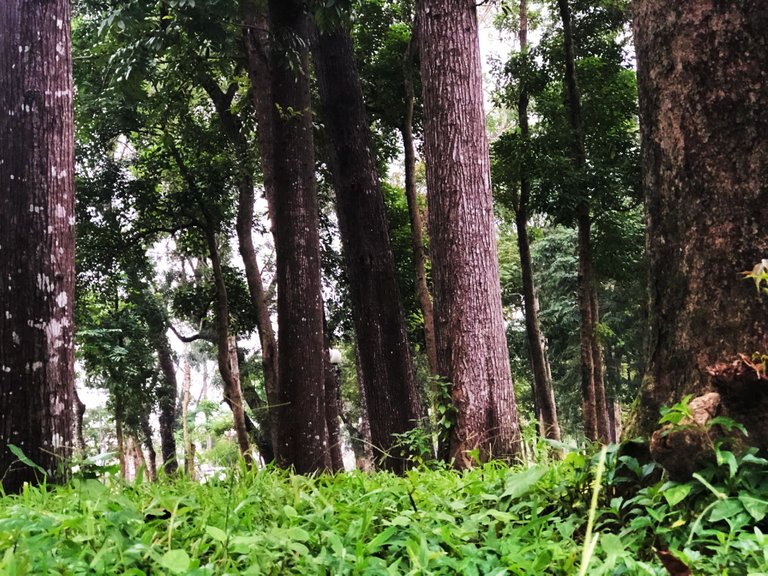 The park is not wide but long. It is about 2 kilometers long with many trees. Most of them are old trees which provide good shades and I feel like they hug me. Sitting underneath the green canopy to tell some stories to my daughter would be a great memory that I may love for life.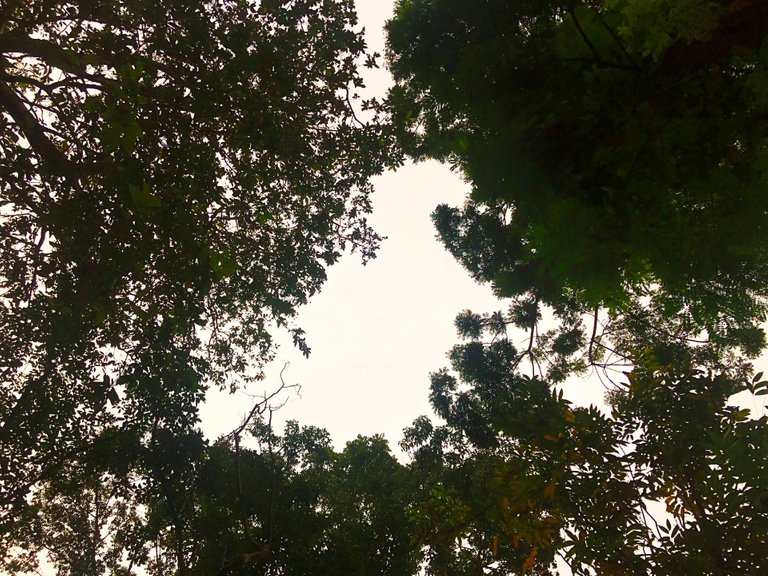 After walking for a while, we arrived Nghinh Luong Dinh pavilion. It was built in 1852 under reign of Tu Duc Emperor and it was renovated two times later. It was a place for Emperors to cool down and relax in summer time.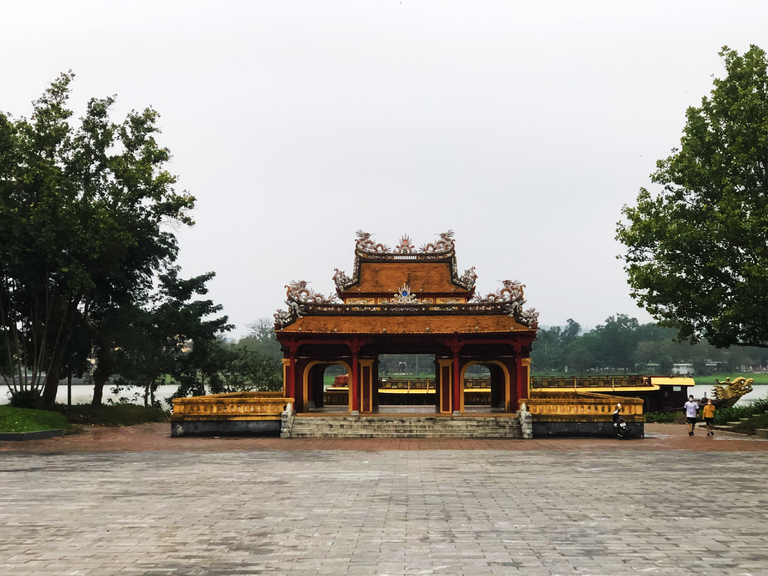 Nghinh Luong Dinh Pavilion
Its view over the river is gorgeous so I am not surprised that the majesty built it along with flag tower, Phu Van pavilion, Huong river and Ngu Binh mountain on an axis facing to the Southeast.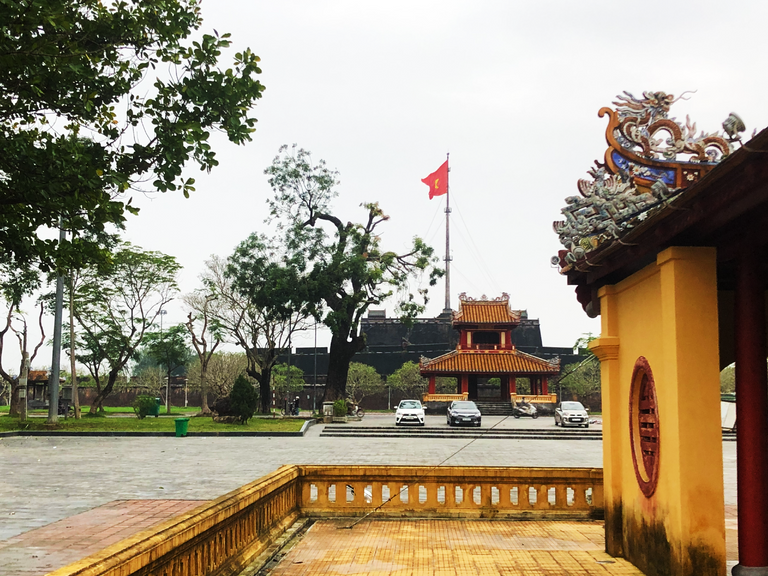 Flag tower, Phu Van Lau pavilion viewing from Nghinh Luong Dinh pavilion
Although it is rather small comparing to enormous construction around it. Nghinh Luong Dinh has its own great details that reflect the good eyes and clever hands of the old days. Ceramic mosaics on holy animals which are made on the roof, along with yellow color of the tiles prove the importance of this construction to Hue citadel as well as their old owners.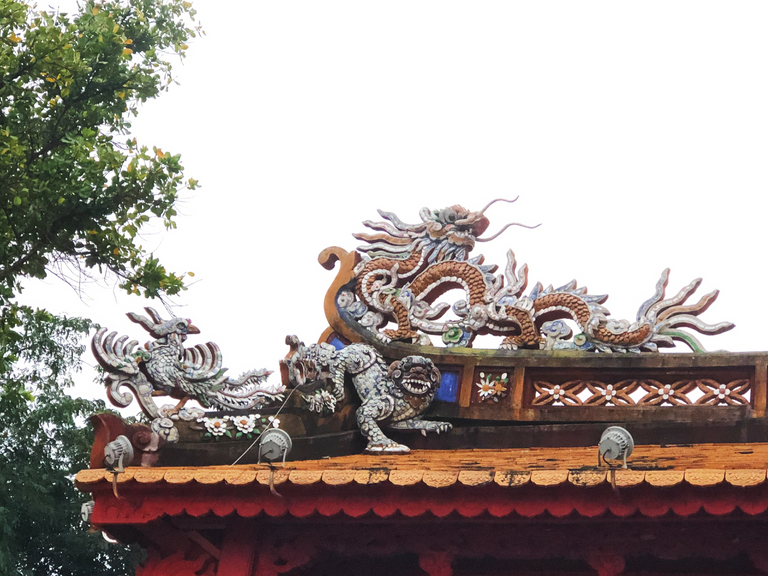 Holy animals made of ceramic mosaics of roof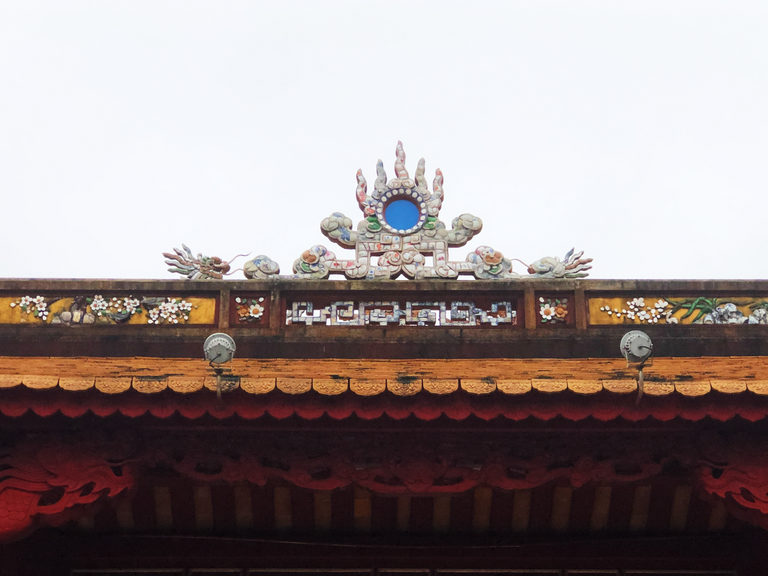 The sun made of ceramic and glass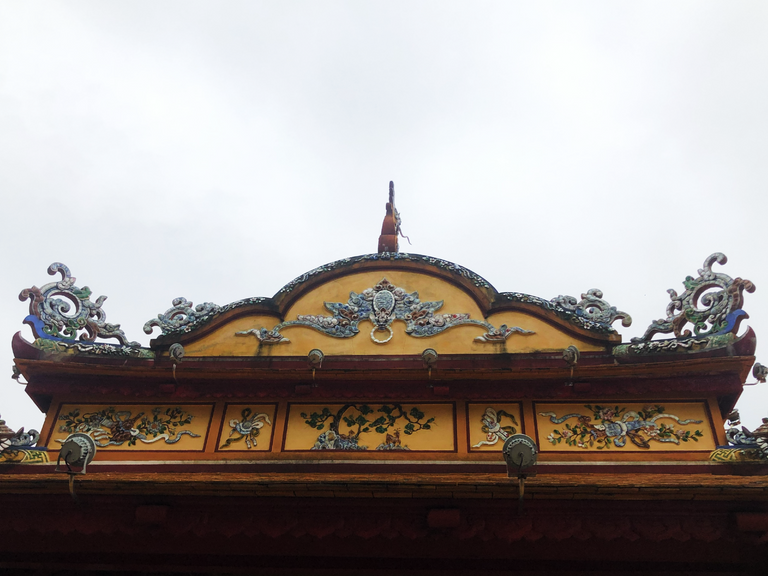 Image of a bat symbolizing for happiness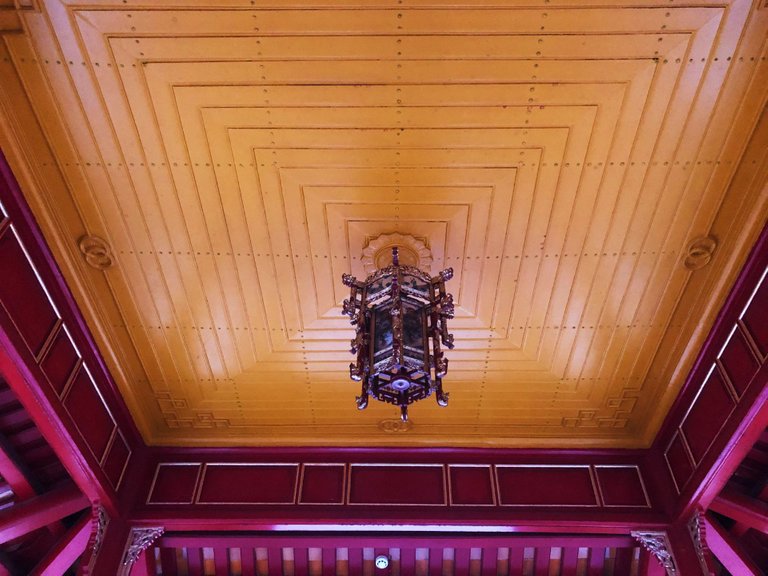 Yellow ceiling with a lantern
Standing next to the pavilion, I can look over the river. Huong river divides Hue city into North and South banks. In which, the North is traditional with the citadel while the South is modern with concrete buildings.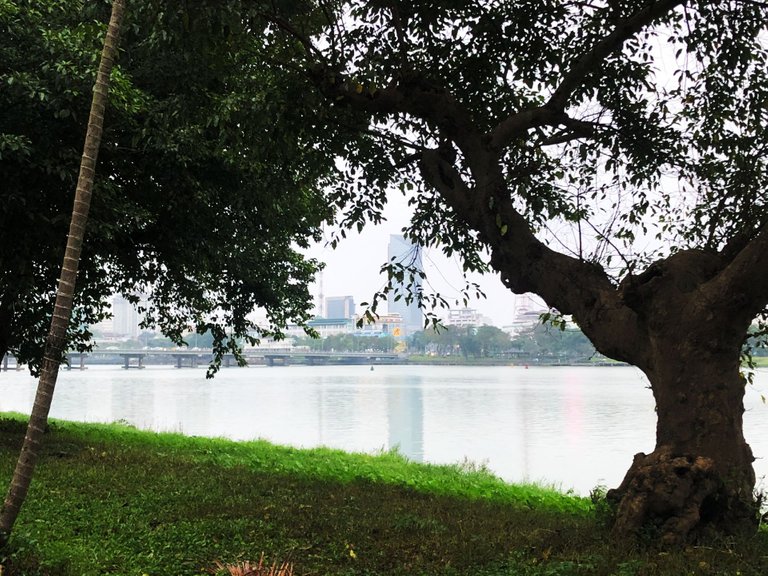 Looking over the South with high rise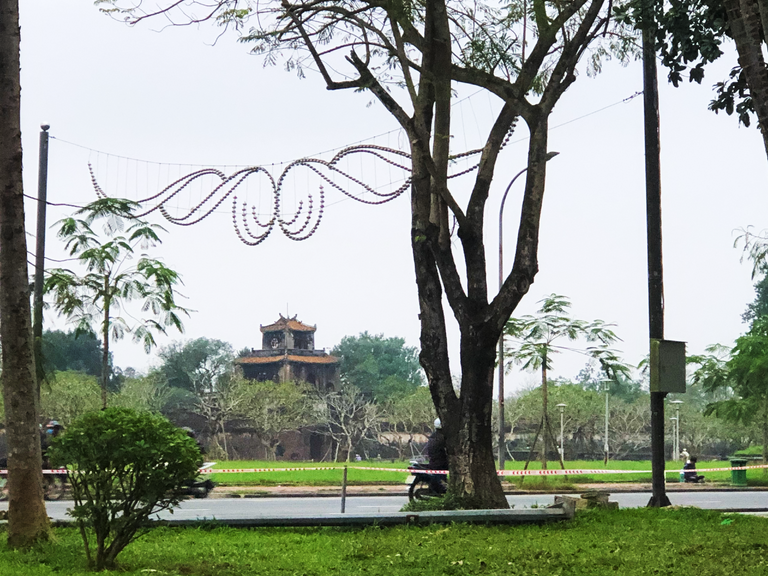 And the North with citadel gate
I am in the middle of old and new, thinking of the past and the future; but in the suffering world of pandemic, appreciating the present is the best way to overcome it.
I and my daughter play in the yard, and I think she loves my stories. I hope in the future, she will tell me her stories which she experiences and grows up. She can share with me like a friend, a friend who she can trust and tell her secret.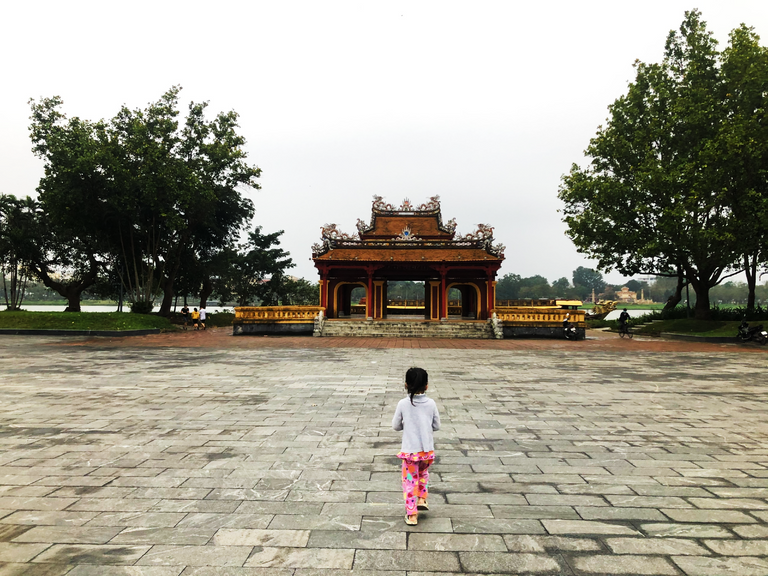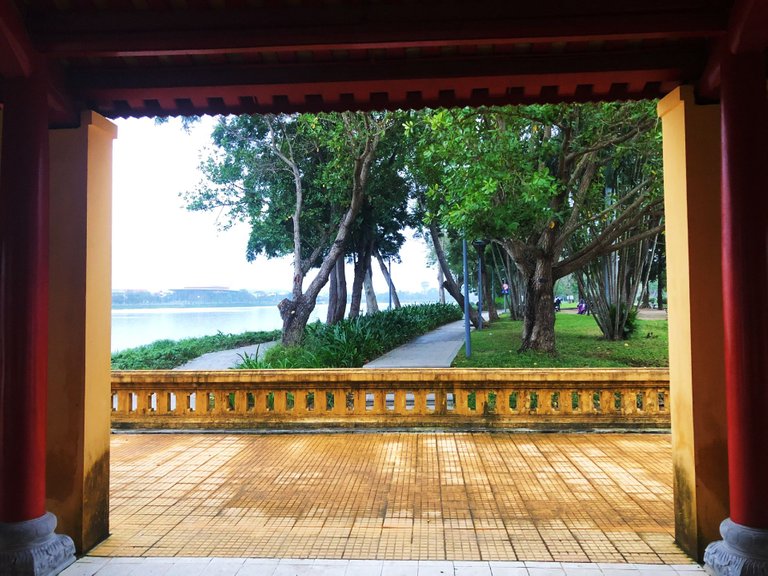 From Nghinh Luong Dinh to look out the park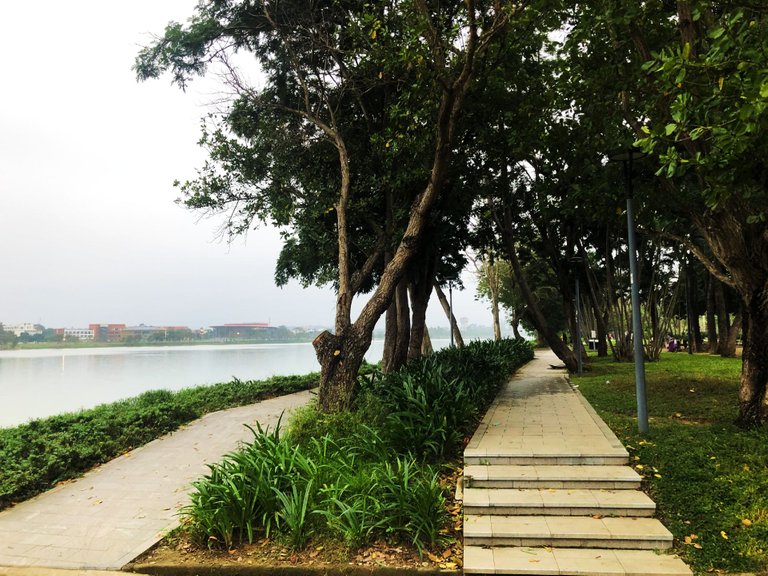 The park with lanes for cyclists and pedestrians
We looked over the flag tower with some canons on it. My daughter wanted to see those canons fire but it stops firing since new wave of epidemic hit my hometown last year. Wish everything will be better soon and my daughter can go to school again, and watch the firing canons as I promise her.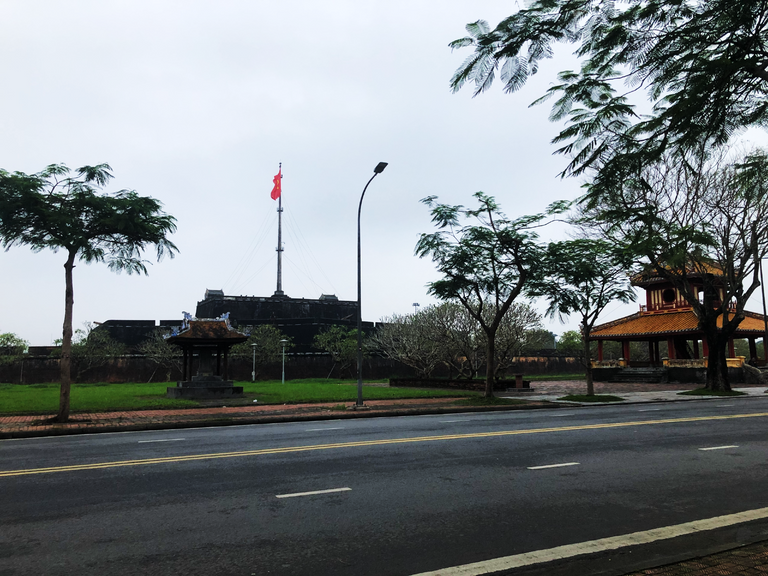 Flag tower, from top you can see Thuan An beach which is about 15 km from here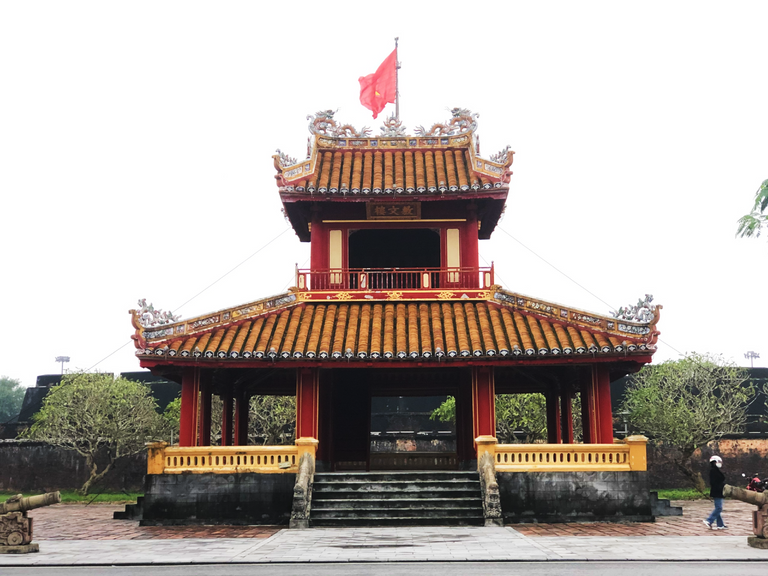 Phu Van Lau pavilion - where Emperor and officials could talk about poetry. This and Nghinh Luong Dinh both appear in 50,000 dong money note of Vietnam
When I write this. I am writing to share to you about my walk and this destination. However, I feel like I am writing it to myself or a letter to my daughter. Hope it does not bother you. I watch people playing petanque on the ground. To them, the life is still fun and they seem not to care of the pandemic. So I have learnt. Let the life go its way and live happily.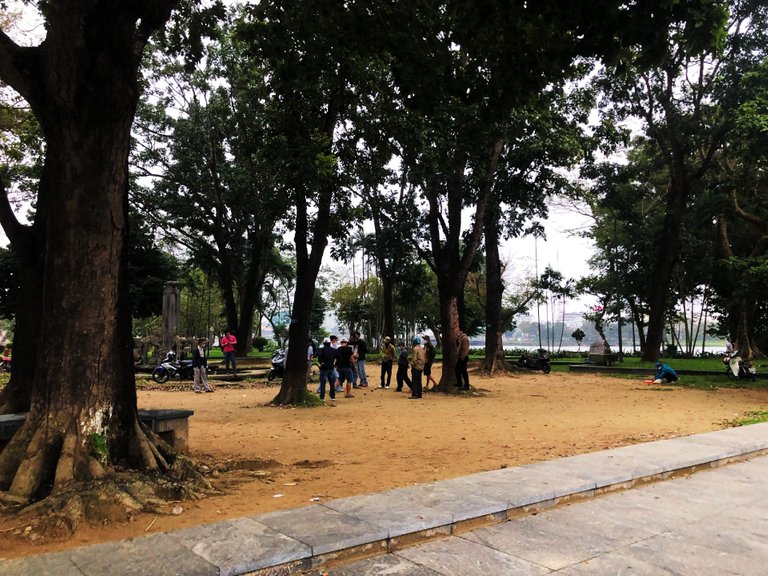 People playing petanque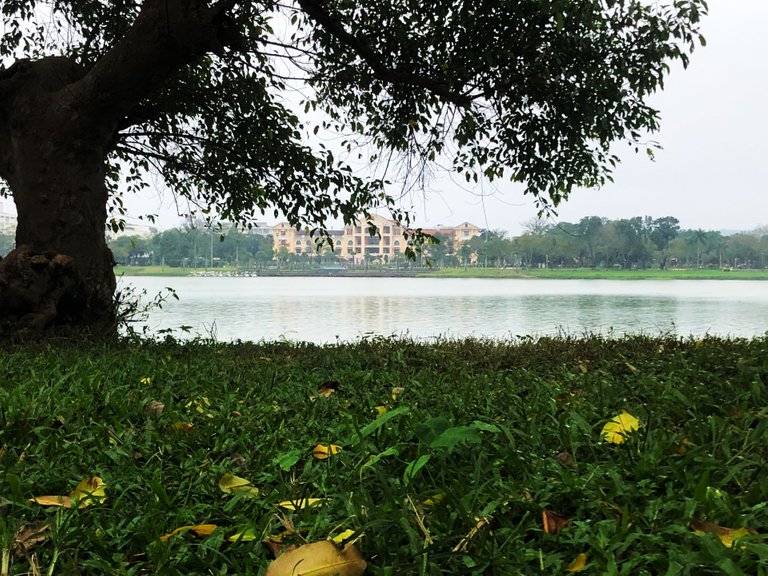 @tungphong
[//]:# (!pinmapple 16.464814 lat 107.581465 long d3scr)
---
---