30 Day Declutter Challenge : Day 30
This challenge has come to an end today with a positive note for me. If you had been following I hope I was able to spark something in you to maybe start your own declutter challenge. Perhaps you were able to gain some insights and ideas or realized on your own about how we people consume and accumulate things. What are the underlying motives or factors that lead to such clutter and what are we doing as individuals or community to better the situation.
Welcome to the 30 Day Declutter Challenge. This challenge will help you get started with that long and overdue goal of yours to minimize your material possessions or clutter sitting around your house or place of work. There could be some setbacks or hesitations just thinking about it but with this challenge I am sure that anyone can accomplish that goal.
So, how do we start? Simple. Get rid of one item on day 1, then two items on day 2 and 3 items on day 3 and so on until you are done with all the days of a given month. It is a fun and encouraging idea but by now you could be wondering on how difficult it would be when you reach day 20...hmmm hope you will carry on and commit.
Day 30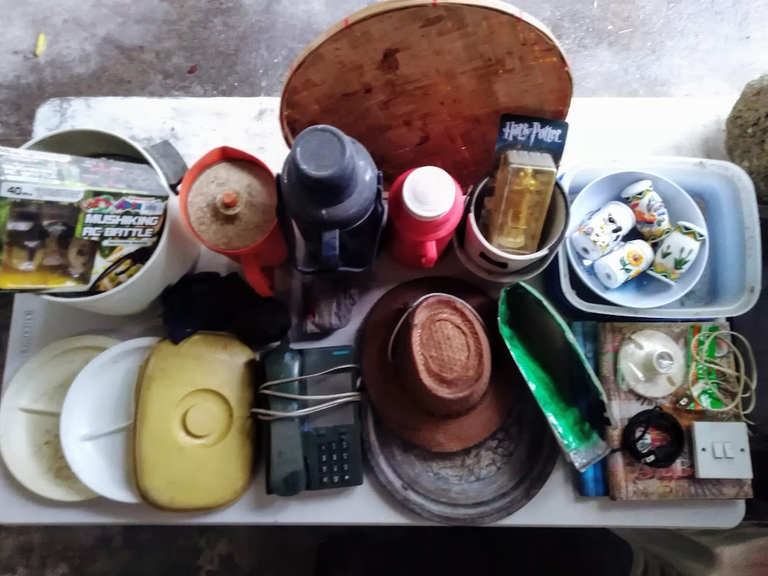 I have 30 items on this photo some are on top of the others so they would fit in the frame. From rice cooker to photo albums that is the range of items I have for today which is the last day of this declutter challenge. I wanted to include more items to better represent what my current situation is. Here you can tell it is mostly about kitchen and some electronic items. If there is one item that I would keep, it would be the Siemens land line unit. The younger generation of today may not have seen one that is why I wish I can keep this for them. I need to turn a blind eye though for the sake of this challenge and that is what my intention is from the very beginning which is to make a decision and stand firm otherwise the clutter will proliferate like crazy.
I know I had completed the numbers and the days but it feels like there is more to declutter and do after this 30 day challenge has ended. I want to dispose more items but being extra careful and mindful if I decide to make another round. Again thank you for all your support and for reading.
If you feel like doing this challenge, go ahead and make a post about it and let your friends know so they too may be encouraged to do it.
---
---