NEOXIAN WORD POEM🐉🐲🐉
There is no greater joy than to see yourself shining and prospering in something you just newly learnt, I meant something you don't know about but because of constant participation and motivation then boom there is turn around in that field...
Some months ago, I went to my blog to complain about my poor grade in writing poems, I was so unhappy but I was so determined to learn how to become a good poet, then a friend of mine taught me some tricks on how to go about it and after several trial and error method, it started looking different and for the first time I participated in the DRAGON'S 🐉🐉 poem giveaway and guess what???
I won his 100 percent vote and it was then I realized I was now getting good at it, I remembered he told me the ultimate cheat to learning how to become a good poet is to learn how to play with words and rhymes...

The first poem giveaway, I tried to do that and before I knew it because of the key words of the poem, everything was just coming out of me and it was making sense and before I knew it, it was a poem in my front and that was how I won the poem giveaway that day and ShraziMcHappy won the 40 percent vote which was later switched to 100 percent Because it was also outstanding 😂❤️....
Tonight was another POEM GIVEAWAY and due to my lateness, my poem wasn't counted but it was appreciated by many including the DRAGON 🐲🐲🐉🐲🐉, I am going to share the poem giveaway below and the poems of the winners of the poem giveaway:

The above picture contains all the keywords which our poem must posses, failure to put all, you might not win🐲🐲🐲🐲..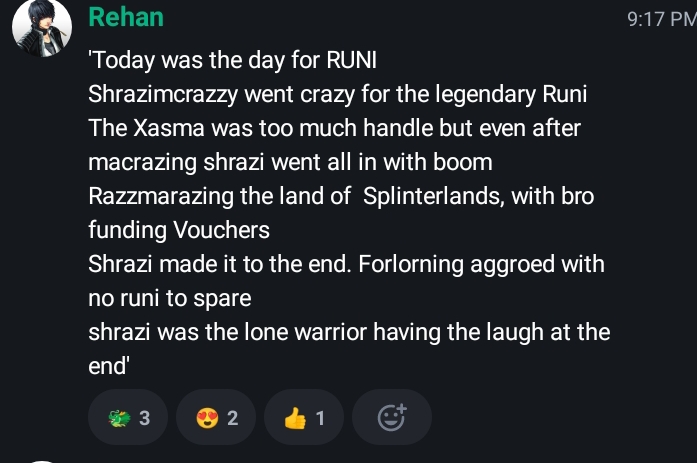 After the 15 mins was up and the 🐉🐲🐉 had to digest everyone's poem, some participants left some keywords out while some added all beautifully...
Rehan was the ultimate winner, his poem was selected among the best and he won the DRAGON'S 🐉🐉 100 PERCENT vote...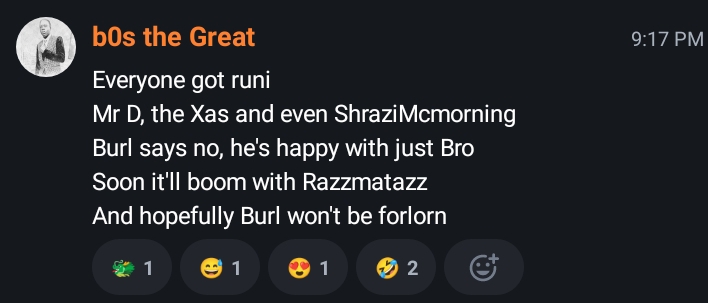 This post was found outstanding after rehan's poem, we call him "bos the great "
He is our city greeter 💎💕, he got the DRAGON'S 🐉🐉 40 PERCENT vote after his poem was the next best the dragon chose...
All the poems were beautiful and as usual the dragon just need two winners which is sometimes difficult because all are outstanding but he has to pick the best....
As you all know I was late to submit my post but I still did the poem which made me happy because it's a newly discovered talent 💎💎💎💎...
This is my poem below based on all the keywords to be used:
"Runi who came into the Neoxian city to 
 boost the energy of the SPLINTERIANS 
 and to put a smile on the face of many 
 eheheh...

 Shrazimcmorning who is always up 
 and down about eating his ECR while 
 playing the Neoxian sport. Heheh 🤣

 The Xas of the Neoxian city, one is a 
 complainer, they are both gamers 
 and the other one is a genius in 
 puzzles and always on a puzzler 
 mistake lookout hehehehe..

 Boom the runi has arrived and 
 everyone is happy about it that the 
 dragon did a runaway.. hehehehe 🤣

 Razzmatazz is the Neoxian city 
 because of it's genius people
 feeling folorn is not welcomed here...

 Bro is what keeps the Neoxian fox alive and now it is 
 boosting up and now he is sad"...

The above is my POEM for the giveaway but unfortunately I was late and for my reward I asked the dragon to give me a change of name from FOX THE DIPPER to FOX MCLATELY hehehehehe 😂😂😂...
In summary, don't underestimate the power of the brain, it is meant to accumulate more things than the phone memory can occupy, you just need to build it up to that standard and that is what the Neoxian city is going to help you with...
You will learn to utilize your inner talent and if you don't have, you will have to birth one and utilize it perfectly...
In conclusion, I have seen progress in my poem unlike some months ago which was so different, now I have started doing it and I am sure I will improve more with time....
  THANKS FOR READING ❤️❤️
NB: THE ABOVE PICTURE ARE A SCREENSHOT OF MINE 💥💥....


---
---