SUPER CHIMNEY WALLSTOP, 11 MELEE ATTACK

~ Hello Splinterlands Lovers ~
Welcome back to my blog,
@queen-silvia
, In this Battle weekly Challenge, I am going to share to all of you about one of the interesting recent brawl match where we can see super Chimney Wallstop with 11 Melee attack, 4 armour and 14 health point. Maybe some of you will wonder, how come a gladius monster with 1 speed only can kill so many monsters and increase all of his stats (attack, armour and health) from 5 melee attack into 11 melee attack? Let's find the answer in this article.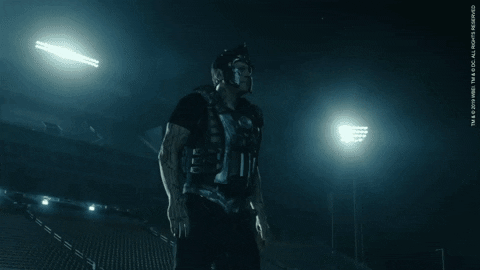 GIF Source : https://giphy.com/gifs/DCUTITANS-titans-dcutitans-dcu-TJOPvosBWk3Nz8LK8d

This article will explain about some of the following topics :
Chimney Wallstop Overview
Battle Link
Line Up Preview
Battle Analysis
Opinion about Chimney Wallstop

- CHIMNEY WALLSTOP OVERVIEW -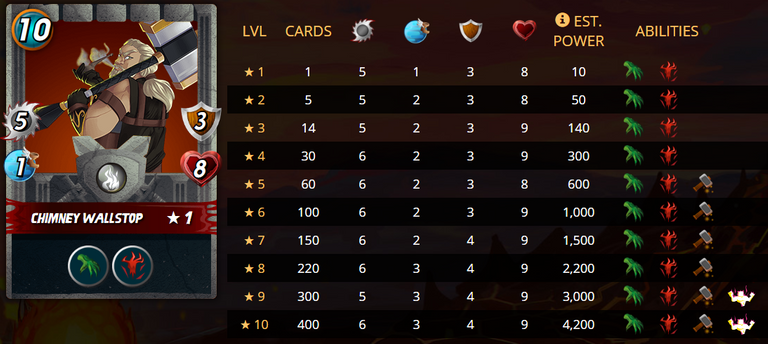 Started from Lv.1 until Lv.4, Chimney Wallstop has 2 abilities, reach and Bloodlust which makes him always being placed in 2nd position as he can attack in that position. Since his speed is just 1 only, I would suggest to keep him at Lv.1 until we get 30 BCX to increase his level into 6 as he has 6 melee attack and 9 health point.

At level 5, He has another ability, repair. This ability helps him to restore 2 armour of the friendly team whose their armour is broken the most. If he is the only monster who has armour then he can repair his amour by himself. The last ability is strengthen which can be activated started from level 9. This ability will add 1 health point to all friendly monsters in the battlefield.

- BATTLE LINK -
https://splinterlands.com/?p=battle&id=sm_5NXhhO5LZPD9vdJEhm8e

And the rulesets are.... Weak Magic and **Reverse Speed**, ha ha ha. If some of you guessed that the ruleset is reverse ruleset, yes. You are right. Every monster with 1 speed is very strong in reverse speed as they always attack the opponent first compared to other monsters with higher speed.
| Icon | Ruleset | Explanation |
| --- | --- | --- |
| | Weak Magic | Magic attacks hit Armor before reducing Health. Protect, Repair, Rust are useful in this ruleset. Beware the opponent could choose only Melee and Ranged monsters as magic is weak, so keep a tank with Shield. |
| | Reverse Speed | Monsters with the lowest Speed attack first and have the highest chance of evading attacks. Try to pick monsters with 1 speed because they have the best chance of evading Melee and Ranged attacks. |
Source of Picture : https://www.splintercards.com/rulesets.php?rs=22

- LINE UP PREVIEW -
Summoner
Tarsa
I used this summoner because she gives additional 1 melee attack to all of melee monsters and 1 health point to all of friendly monsters. I was intended to use Grum Flameblade, Chimney Wallstop and Radiated Scorcher, they are all melee monsters who has super slow speed so Tarsa is the best summoner for them. Additional 1 health point will make all monsters survive longer in the battlefield.
---

Monster
Grum Flameblade
Alright, I chose this monster in reverse speed ruleset because he has 1 speed and 5 melee attack (after gaining additional 1 attack from tarsa) which allow him to attack first with huge attack to the opponent. Regarding defence, he is a beast too. He has 5 armour and 10 health point. The Void armour will make the magic attack hits his armour first instead of health point. As a summary, Grum Flameblade is the best monster as well as Tank in the reverse speed ruleset.
---

Chimney Wallstop
The second monster is Chimney Wallstop. He has the same statistic as Grum Flameblade as his speed is 1 only (which makes him a beast in reverse speed ruleset) and 5 melee attack. With the help of Tarsa, the melee attack will be 6. This deadly melee attack can kill so many opponent's monsters in battlefield. We can put him in the second position as he has reach ability. In terms of defence, he has 3 armours and 8 health points so he is a giant who can endure lots of enemies attack.
---

Radiated Scorcher
And... the last monster is Radiated Scorcher. I have 2 reasons why I put him in the last position. First reason is for the sacrifice to protect Chimney Wallstop from opponent's sneak monsters. So he took the role a sacrifice monster. The second reason is he will be an alternative monster in case of Grum Flameblade and Chimney Wallstop die in the battlefield. So we can say that he is the last hope in the match (In case there is no sneak monster in the opponent's line up.

- BATTLE ANALYSIS -
Round 1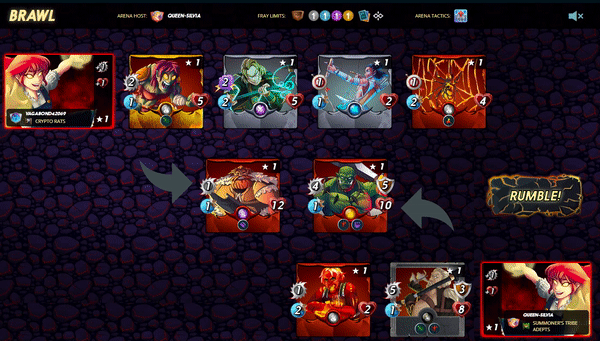 In the first round, Tusk the Wide got hit by 11 melee attack as Grum Flameblade has 5 melee attack and Chimney Wallstop has 6 melee attack. and his health point is just 2 left, He will be died in the second round. In the other side, all vagabond's monsters are attacking Grum Flameblade and make his health point become 7.
---

Round 2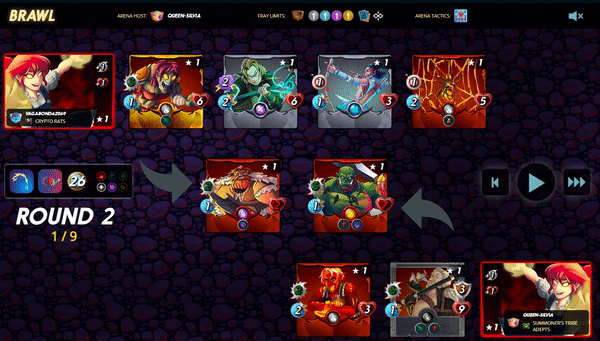 In round 2, Chimney Wallstop has successfully killed Tusk the wide, and it makes all of his stats increased by 1 except his speed since the ruleset is reverse speed. This is how the bloodlust works in reverse speed ruleset. In this round, vagabond's team has successfully killed Grum Flameblade but in the next round, they have to deal with Chimney Wallstop who has 7 melee attack and 1 speed.
---

Round 3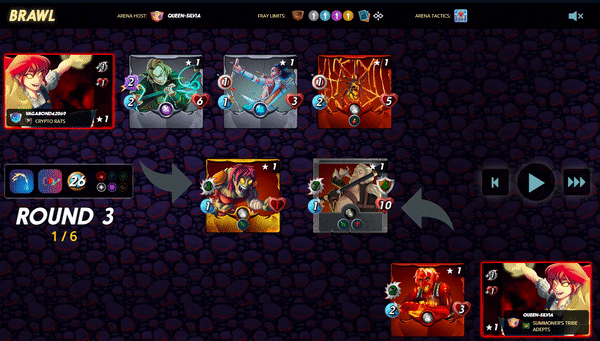 In this round, Chimney Wallstop has killed Radiated Brute and again all of Chimney's stat increased by one except his speed. Now, he has 8 melee attack. 5 armour and 11 health point. if we look at what the Vagabond's team are doing to Chimney, it looks like a pointless attack since weak armor make all attack is just hit the Chimney's armour.
---

Round 4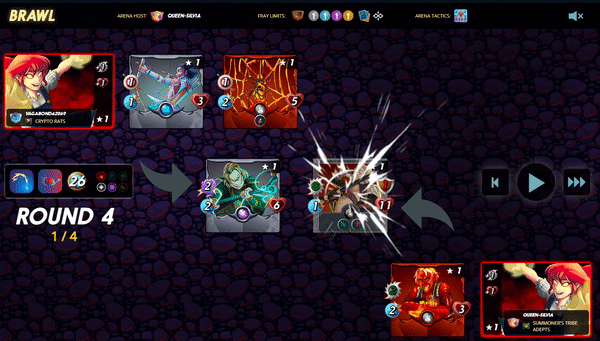 In this round, Magi of Chaos has killed by Chimney and it makes Chimney's stats increased again by 1. Now he has 9 melee attack. In Vagabond's side Xenith Archer could not attack since she is a ranged attack-type monster. Lava Spider tried to attack Chimney but due to difference in speed, the attack was missed.
---

Round 5 - 6
In the last 2 rounds, Chimney Wallstop killed 2 monsters, Xenith archer and Lava Spider. his last stats is 11 melee attack, 4 armours and 13 health points. such an amazing stats for gladius card. The bloodlust ability is always make the gladius cards become game changer in the brawl matches.

- OPINION ABOUT CHIMNEY WALLSTOP -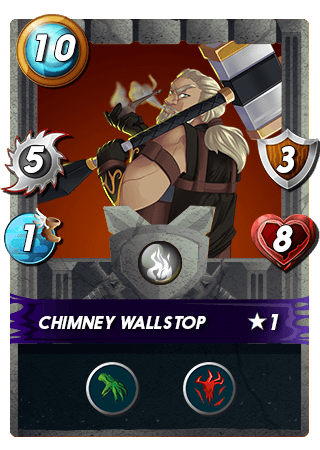 Chimney Wallstop is always become my favourite choice when I saw the ruleset is reverse speed and fire splinter is available in the match. we could have high winning probability using this card in those condition. 3 armours and 8 health are also a good stats to make him endures the enemies attack. Putting monsters who have repair ability such as Scavo Hireling will make him even stronger.

Alright, that's the end of this article guys, Thank you for visiting my blog. See you in the next article and giveaway. Take care~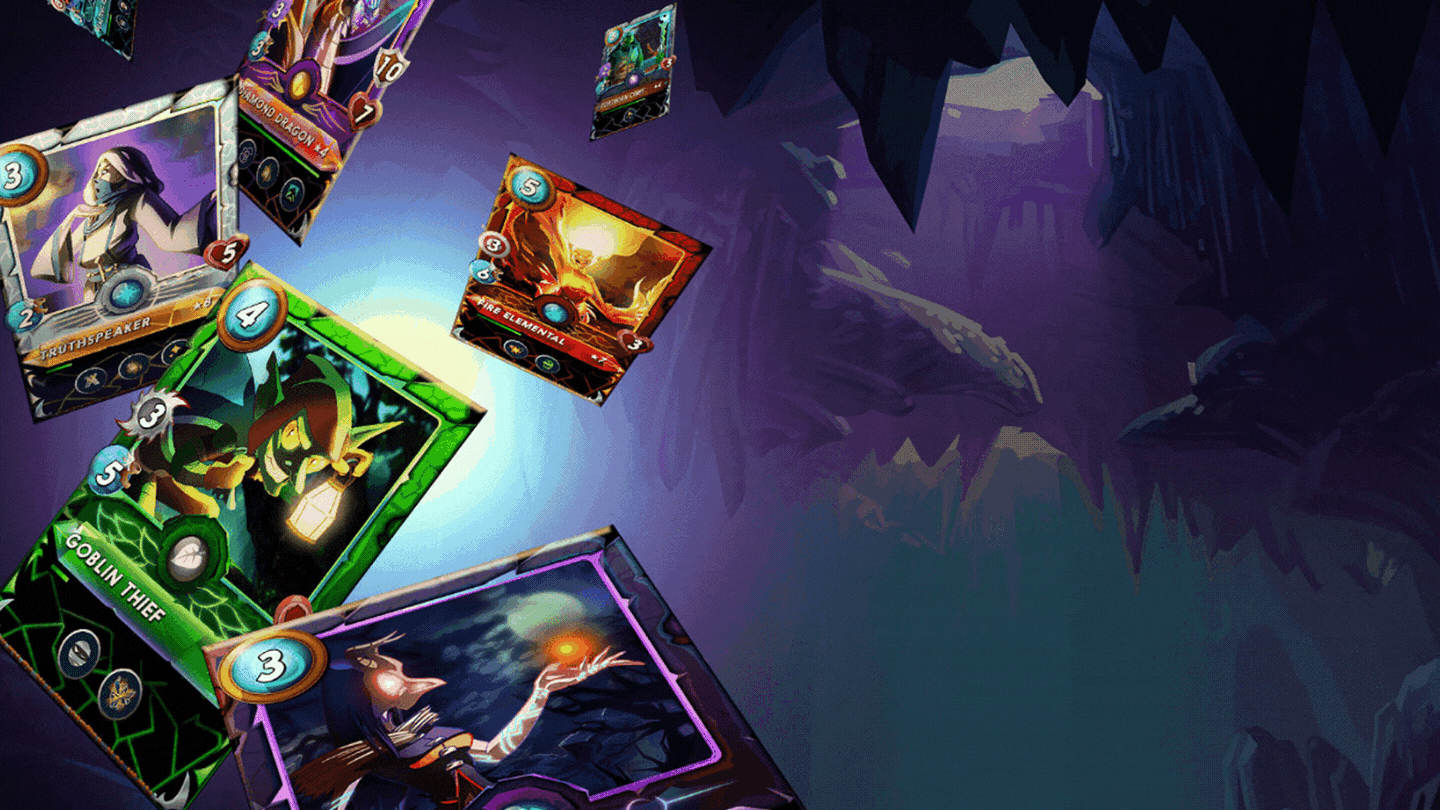 Source of picture :
https://defiance.games/games/play-to-earn/splinterlands/
---
---