🌱HAPPY dCROPSGIVING : WHY WE LOVE CORN [ +🎉PACKS GIVEAWAY🎉]

---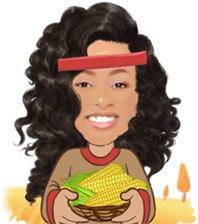 🍷Happy dCropsgiving Hivean!
A cozy welcome to my Farm on dCrops. Queenstarr, it's me again, your friendly neighbor. It's that time of year again when we're thankful for what we have, regardless of the dreadful bear market😅.
You're probably wondering from where I got these delectable-looking fresh corns, want some?🙃
Thanksgiving is a worldwide Celebration, and we all know that Thanksgiving is incomplete without corn🌽.
Although It's 🍁Autumn now, I'm glad my crops are doing great. This season, I planted both Alpha seeds, and seeds from the Beta edition.
I had the opportunity to plant Raspberries too. This is a Legendary seed with the unique ability to produce all season and mature in only 3-days, so expect delicious raspberries at the farmers market towards the end of the season. I also planted lots of sweet Pumpkin, and we'll be making Pumpkin soup and Raspberry smoothie from these. Absolutely dope!
PUMPKIN SOUP: This is of the RARE
type and a Recipe NFT card from
the Beta Edition by dCrops. Soon
we will be Cooking and perfecting
our recipes while earning Shares
DETOX SMOOTHIE: This is of the COMMON type
and a Recipe NFT card from the Beta Edition
by dCrops. We will be Cooking and perfecting
our recipes while earning Shares
now waiting for Autumn crops to mature, may the Lord of the Harvest bless us with bountiful 3-star⭐️⭐️⭐️ crops. I humbly request that you join me for a Thanksgiving meal and I'll tell you all about Corn & my buddy Mr. Tilly? 🙃I'm sure you're craving some tasty home-cooked Thanksgiving corn.

🌽IT'S CORN O'CLOCK WITH MR. TILLY🌽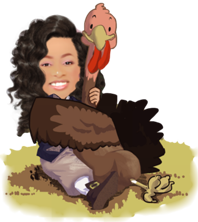 This is Mr. Tilly, better known as Mr. Lurkey due to his habit of lurking and sneaking up on me. I've had him since I started farming on dCrops.
When Mr. Tilly is up to the job, who needs a scarecrow? with him there, I don't have to worry. You're probably thinking why I'm friendly with a potential Thanksgiving? Mr. Tilly and I have a pact, that I'm either a vegetarian or a beef eater😂.
O dear! excuse the gist about my farm pet; I simply wanted to take advantage of the fact that we are only a few feet away from my farmhouse.
If you've been following my postings, especially the most recent one on Top 3 reasons why dCrops is the most profitable game🌱 then you're off to a solid start. Here's a fast guide on How to get Started on dCrops🌱.

🌽CORN is an amazing Beta Edition NFT card to own. A well known fact about Corn is that it is A VEGETABLE, FRUIT AND GRAIN. This NFT is so priceless, it was an airdropped promo-card during the presale. If you bought 100 or More packs, you were guaranteed this Legendary card. But this isn't all there is to Corn, let's have a proper look at it's stats;
| | DCROPS NFT/ASSET | SEASON | QUANTITY CROP PRODUCED | 1⭐️ CROP SHARES | COST PER SEED |
| --- | --- | --- | --- | --- | --- |
| | CORN | SUMMER & AUTUMN | 2 | 32 | 97 |
---
✅🌽Corn Takes 6days to mature and be ready for harvest. Unlike some seeds, this one has a Special Ability to keep producing until season ends. Implying, no cool-downs, it Auto-replants itself and because of this, instead of getting only

32 shares in a season, you get a whooping

64 shares per season. Even more shares

monies

if you get a 2⭐️⭐️ or 3⭐️⭐️⭐️ crop upon Harvest.
---
✅🌽Corn also has something Unique to it and this is why all dCrops player wanted to play their hands on. It is both a

Summer and 🍁 Autumn crop. Unlike some seeds where you have to wait for 45 days when in season again, with 🌽Corn you keep producing seeds for 2 whole seasons. How cool it that yah?! so cool!👊
---
✅Another thing to note is that 🌽Corn is a ONE TIME PURCHASE ONLY NFT. Implying, You can/will always use/replant/reuse once it is in season to keep yielding same shares every two seasons. You can easily buy this Legendary NFT via https://www.dcrops.com/market.
---
✅Goodnews!!! If you missed presale airdrop, you can now Pull this amazing card NFT from opening

Beta Packs. To do that, simply Login to dCrops then navigate to https://www.dcrops.com/packs and voila!!! All the information detailed out plus you can pay using HIVE, HBD, SWAP.HIVE, CROP TOKENS, & SWAP.BUSD.
---
---
I explained in my previous article how I SOLD MY HARVEST SHARES & EARNED

45.54 HIVE, which will be more now that

1hive is at 0.35

, making me very pleased. Not to mention post rewards for extra drops of earnings, which you may withdraw or reinvest in the game until a season's harvest can earn you a lot.
🤣Mr. Tilly got a taste of his own Lurkery, sneaking up on up him for a change, really gave him a scare. But nothing to worry about, the pact still stands, we all good [for now]😂. Woot! That will be it on 🌽CORN🌽 , I hope you consider not missing out on this NFT before it get's scarce and selling for 500+ Hive, GET THAT CORN NOW! It's now time to eat and show some Love.

🎉ITEM 7 ON THE MENU : dCROPSGIVING O'CLOCK🎉

Thanksgiving will not be complete without a dCropsgiving. I was pleased to become an official partner of dCrops, and this partnership is intended to offer you a head start on dCrops. Because this is my first official dCrops giveaway, we will be awarding 1 dCrops pack each to 5 winners, and the rules are simple:
3. You Must Comment under this post !Happy dCropsgiving to register your interest as a participant😊
---
⏰Giveaway deadline is Saturday 26th - November - 2022⏰
---
✅Participation Rules will be verified and Winners announced Sunday 27th-November-2022. It is Worthy to note that winners of this giveaway will be announced via twitter and also future giveaway & announcements will either take place here or Twitter or Twitch, hence it will be easy to get 🛎Notified🛎 if you're following. In light of this, 👉Follow me on Twitch - DqueenStarr. I am super excited to see the winners who will emerge from this, go go go!!!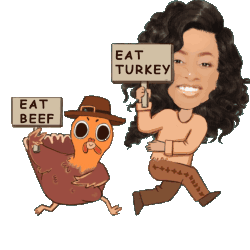 Alrighty, that will be all for now. I hope you enjoyed my little insight to Corn and, more importantly, that it inspires you to acquire the NFT. If this post piques your interest in the passive game, I'd be delighted to serve as a guide and companion.
🥂Cheers to the Game Developer @scriptkittie, Landlords and Players who all together shoulder the responsibility of keeping this game Awesome⚡️
Worthy Notes:
All the images are taken from my in-game on dCrops, you can Register Using My Referral Link - https://www.dcrops.com/?ref=queenstarr
Cover edited in Photoshop with image from Pixabay artist dandelion_tea
Click to Join the Dcrops Discord server for game support.
Click to Join the Hive Gaming Community to have fun and discuss with other Hive gamers.

Click to join Hive's House of Help community THE TERMINAL

😊Until next Dcrops Update, Hive, Vibe & Be Lucky🍀
All content is mine unless otherwise Noted
queenstarr ©2022
---
---