Beats For Monday: Four Electronic Records From The Collection

Today I share with you some records from the electronic section of my library, bringing you some 90s and early 2000s sounds, ranging from the danceable and contemplative to the more "out there" and abstract electronics, but everything has some rhythm to it- we're not taking you THAT far out... not today, anyway.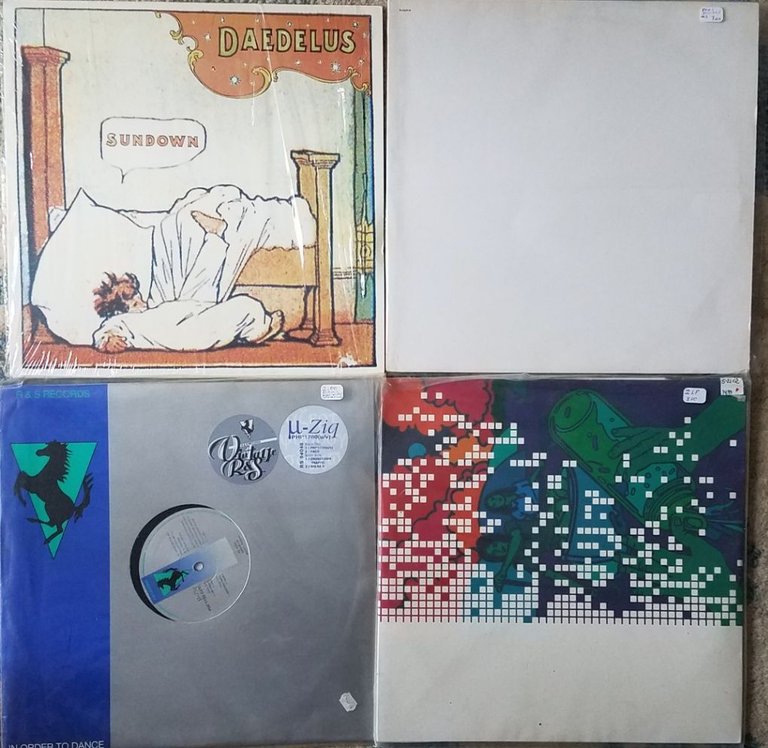 Daedelus
"Sundown"
2006

Daedelus is a west coast producer, having worked on records with mf doom and busdriver, among others. He has been on labels such as mush records and ninja tune. I saw him once in concert 10 or 15 years ago-he had a laptop and some weird controller called a monome, which is just a box with a bunch of push buttons. It was great, but I can't say that I've heard more than a few of his records.
Autechre
"Peel Sessions 2"
1999

Legendary avant garde beat and noise makers autechre, with their second peel sessions EP. This is some middle era autechre, with this being pretty lo-fi and perhaps tame compared to some of their other works. These two are always up to something new and exciting- like having song titles you cant type. I guess they lost the track titles for this release, so they had a contest and they picked the best suggestions submitted by the fans. That or Peel named them himself - I'm getting conflicting opinions from wikpipedia and discogs, so go figure. What are the winners, you ask? why it's Gelk, Blifil, Gaekwad and 19 Headaches-ah, too bad- I submitted "Merhai" and I never heard back from them. They're probably saving it for a real good song I figured.
u-ziq
"Phi*1700 (u/v)

here's another British producer with a lengthy discography- most notably with releases on Virgin, Astralwerks and his own Planet Mu label. This artists style would evolve with the times over the years and this looks to be the first single, actually. Sorry, I can't spell it with the mu symbol - the u is the best i can do - pronounce it "music" or"musique."
Dino Felipe
"Flim Toby"
2001
https://dino-felipe.bandcamp.com/album/as-flim-toby
Here's another release on the schematic label known for its glitchy beat sound. here's an early album from Dino Felipe- for some reason its not on YouTube, I guess you'll have to listen on bandcamp. I don't know much about this dude, other than he's from Miami. He doesn't have a wikipedia entry, but he's listed at celebnetworthinfo as being worth 100k-1million dollars! Making that big Schematic/No Fun money!...How does a middle time act get on such a list anyway? What is reality?
Thank you for reading...I hope you liked my post!


---
---