Four Mid-80s Electronic Dance Pop Records
Today i share some 80s electronic dance pop records you get yr groove on!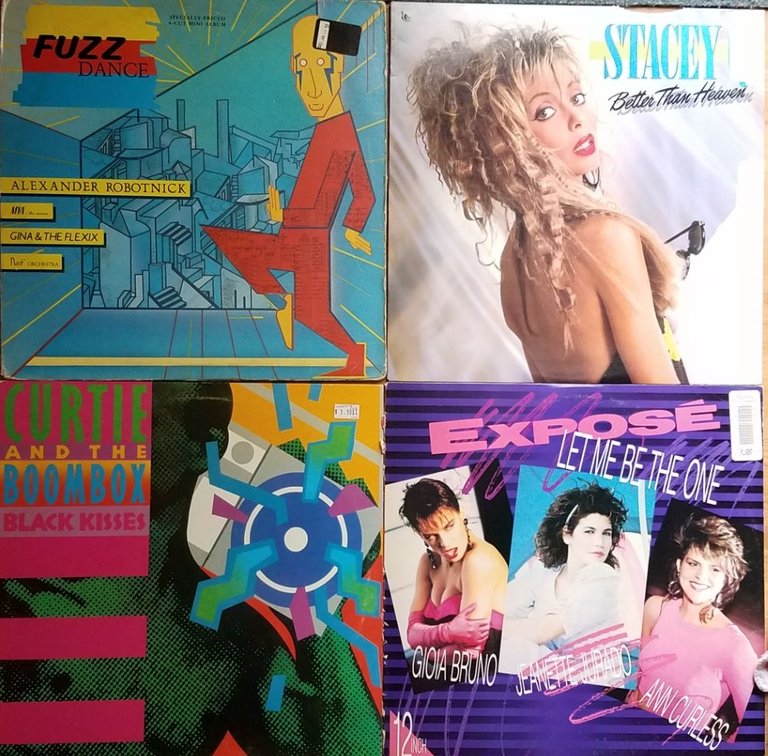 Stacey Q
"Better Than Heaven"
1986

Here is a HOT jam from Stacey Q from the mid 80s. apparently, she has quite the track record- acting, radio, and even as a circus performer!? i think i first heard this song on this "ladies of the 80s" compilation i have, although i do also have the record of her early 80s synthpop group, SSQ. i don't think that i have ever seen this video before...in the 80s, big hair=big sales!
Various Artists
Fuzz Dance
1985

Here is a mid-80s EP of some mildly obscure avant techno pop. I've had this one so long that it still has the $.25 bin sticker on it! my favorite cuts are the Alexander Robotnick and Naif Orchestra tracks.
Curtie And The Boombox
"Black Kisses"
1985

I can't find much info about these Dutch ladies, but i am a big fan of this song, Black Kisses (Never Make You Blue). Here i found this funny 80s "live" performance from some tv show. .. they definitely didn't have the choreography of today's pop stars! classic song, though.
Expose
"Let Me Be The One"
1987

Here's a slow jammer off the first Expose album. apparently, they are the 8th most successful all - time girl group according to billboard magazine... if that is still around, anyway😁. this one may not be as much of a heavy hitter on the dance floor, but is still catchy in it's own right.
thanks for reading, i hope you liked my post!


---
---