Discover an interesting cafe in Vietnam - Be Ba 1987 cafe
Hello everyone!
Today it's me again. I am Quyet.
How are you all these days?
On weekends, people often go out to explore nature or go to resorts to relieve stress.
As for me, when I don't have much time, the weather is bad or I don't want to go far, gathering with friends at coffee to talk, I think it is a great and safe choice.
It was fortunate and unexpected because after the epidemic, a new cafe was opened near where I live. So I went with my friend to try it out on last sunday in the morning. Mostly out of curiosity, as you will be attracted by its quaint and vintage style.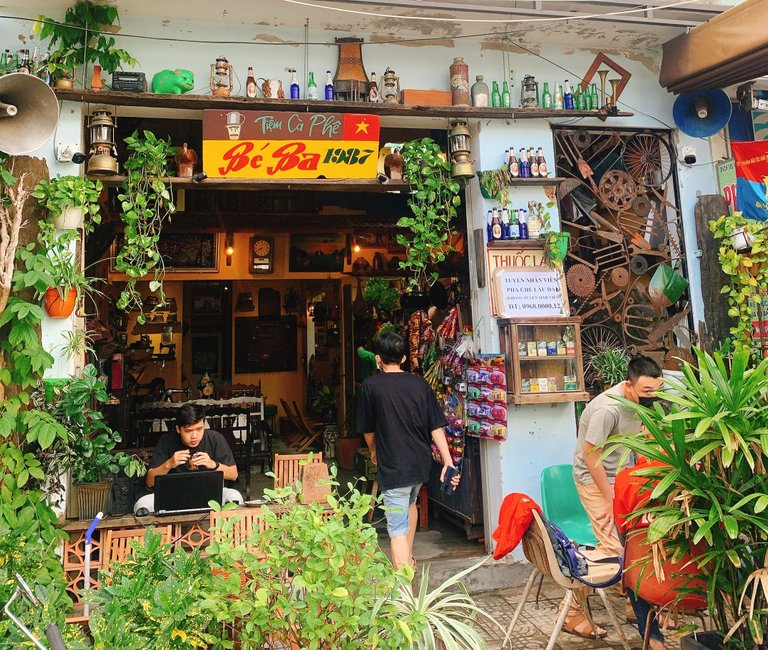 As you can see, there are many trees in front. I like green plants.
The shop's name is Be Ba 1987. I think the name of the shop may have been named after someone and 1987 is the year of birth of that person.
There are many decorative objects on the outside. They are attached very tightly, so don't worry if you are afraid they will be blown away by the wind.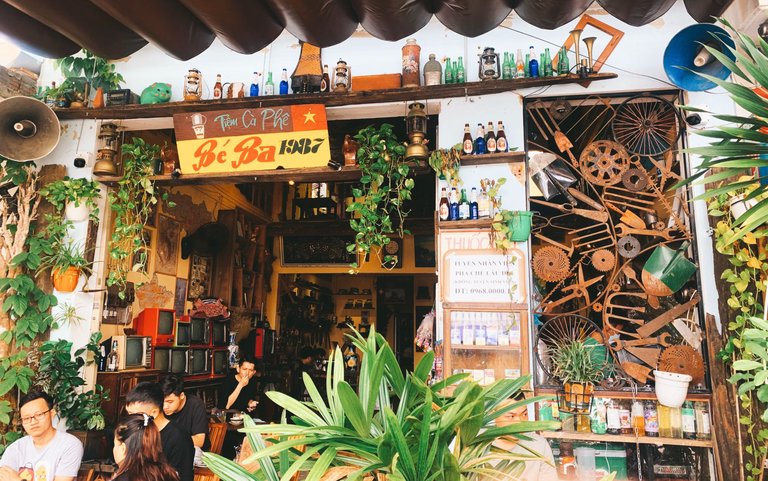 Since I returned to Vietnam, I realized that many young people are increasingly loving the vintage style. Not only limited to architecture, contemporary design but also fashion, accessories... I also see weddings becoming famous and admired by everyone thanks to being organized in an old-fashioned style, like their parents and grandparents. And of course, many vintage cafes are opened in Danang. But this shop I find quite special.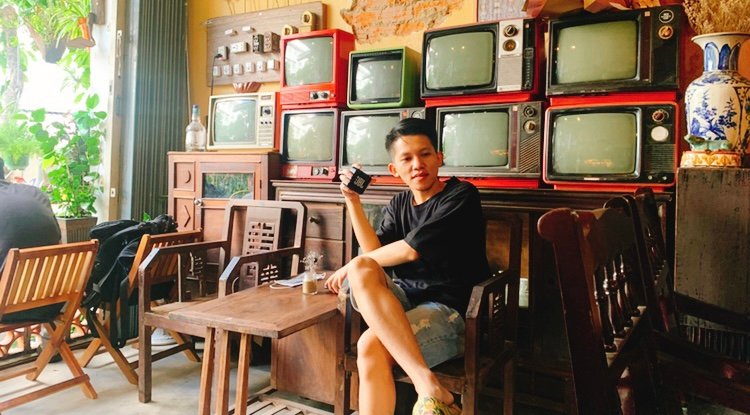 This is my friend! he looks so handsome and cool right? His name is Duy and he is the same age as me. Behind him there are many more televisions. If there were many televisions in my house in the past, that would be great. Everyone in the family didn't have to compete with each other to watch their favorite shows.
My friend is also a very funny person. We've been friends since high school.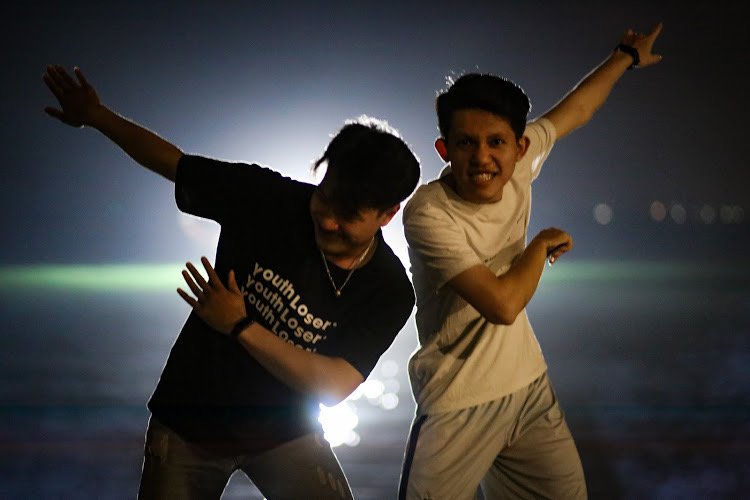 And this is me.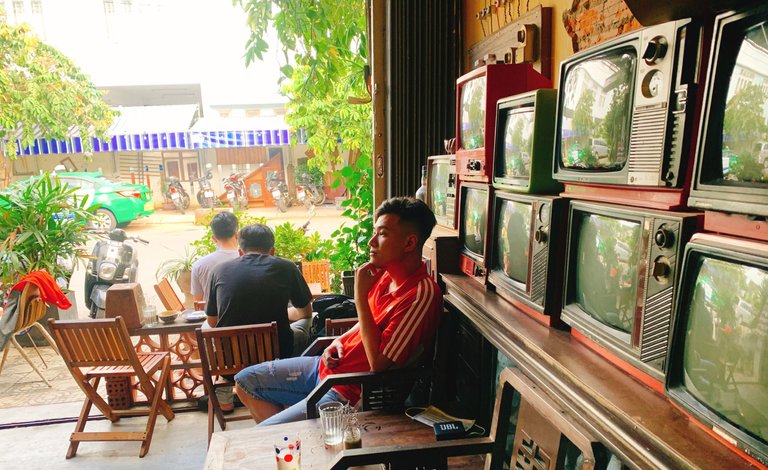 I look like I'm really thinking about something. Maybe I'm thinking about what I'm going to eat for lunch today. I guess so. Because if you sit there you will see a lot of food in front of you.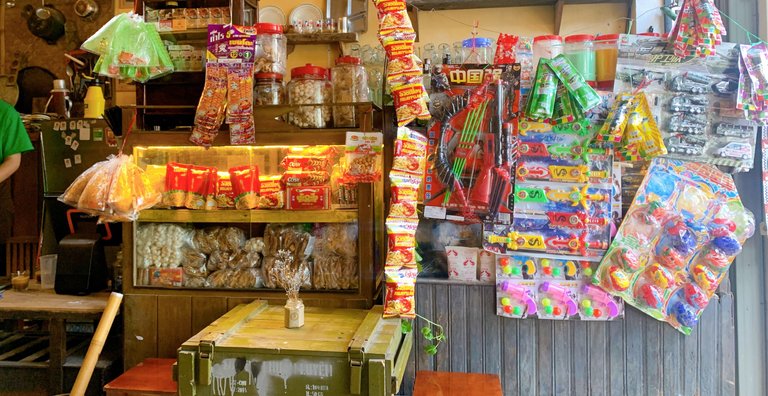 You see a lot of food right?
But unfortunately they don't sell them because they are just for decoration. And I think their taste will not be good because they may have expired. These are the foods that we used to eat when we were kids, maybe 12, 13 years ago. Some are no longer manufactured and sold. Oh! I miss my childhood so much.
Of course, the important thing in a cafe is the drink, right? Let's see what's here.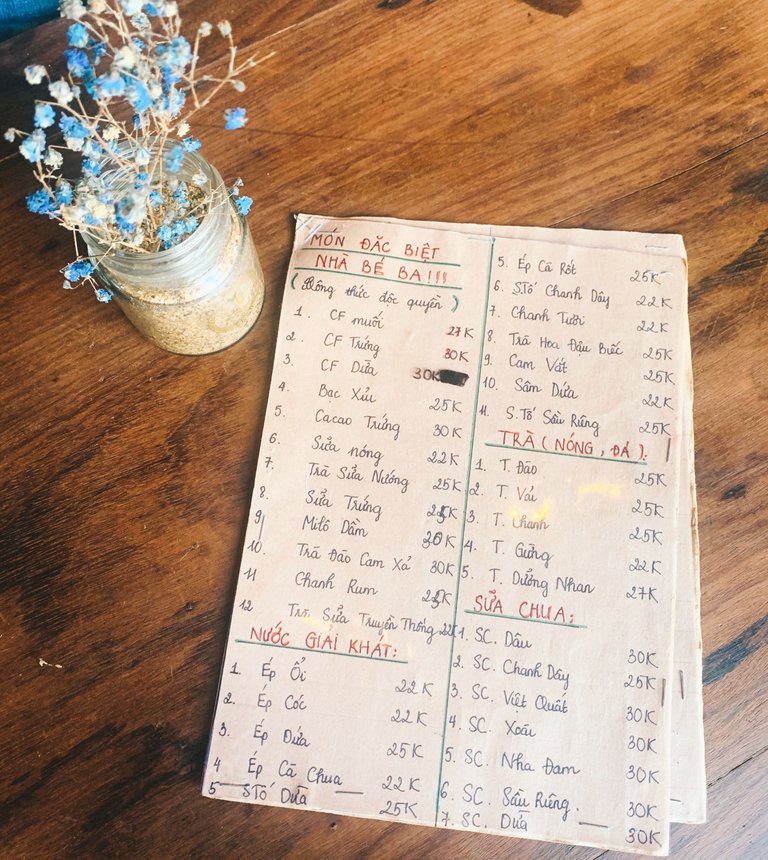 Everything is pretty cheap. all for about 1 dollar. You will have a lot of options such as coffee, tea, smoothies, juices, milk tea and yogurt… and of course, filtered water is free.
After thinking for a while, we decided to choose salted coffee.
In other cafes I usually choose peach tea or hot cocoa.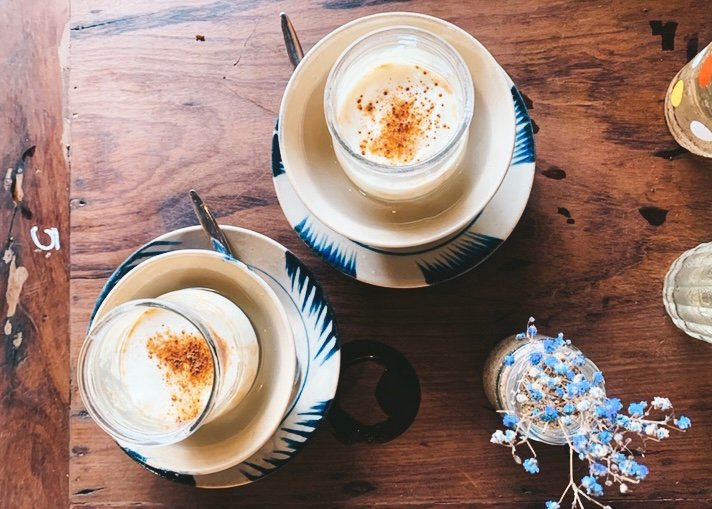 Looks great, doesn't it? I'm not a coffee expert so I won't comment much. But for me, it tastes pretty good.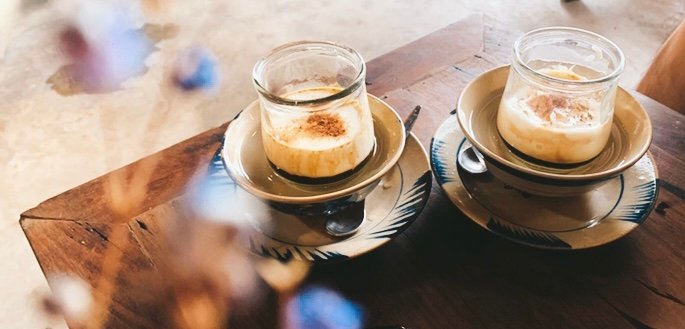 I went around with my friend, we found something special here!
This is the interior space of the cafe. It has a very warm tone.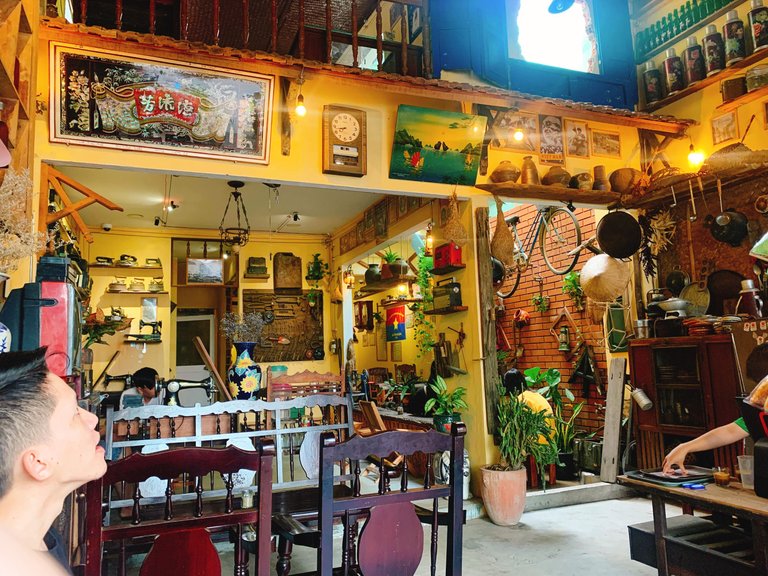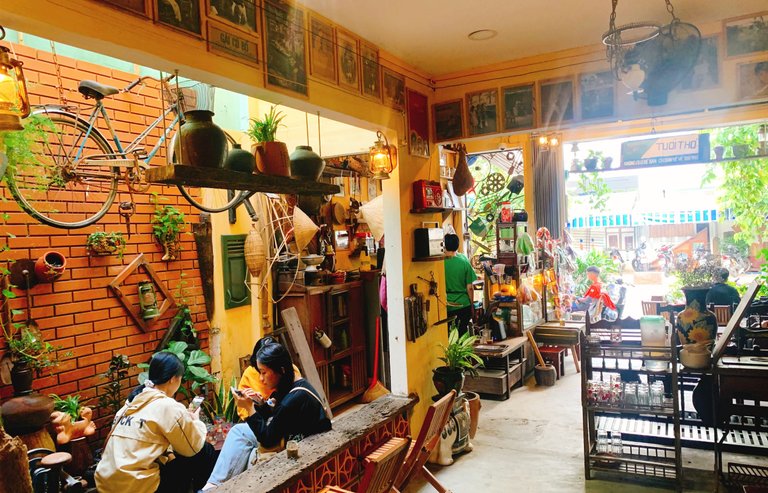 Luckily they didn't mind me taking pictures 😂.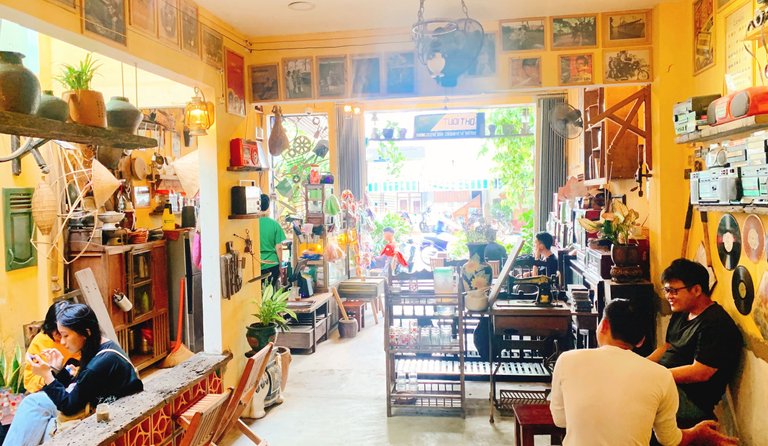 The cafe space is decorated with objects from the past. Do you recognize any objects?
Here we have a lot of bottles, food containers, water bottles.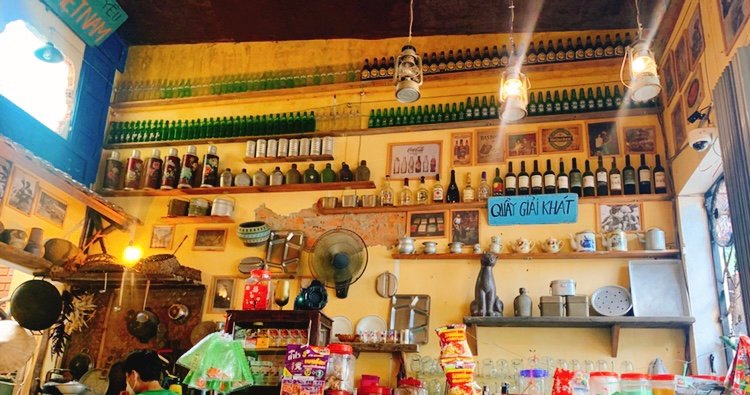 There is also a collection of repair tools.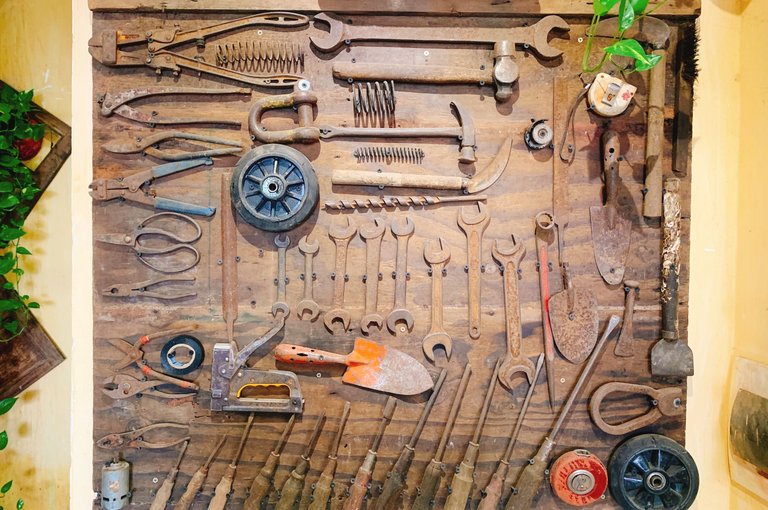 There are a lot of tapes, cameras, and radios here.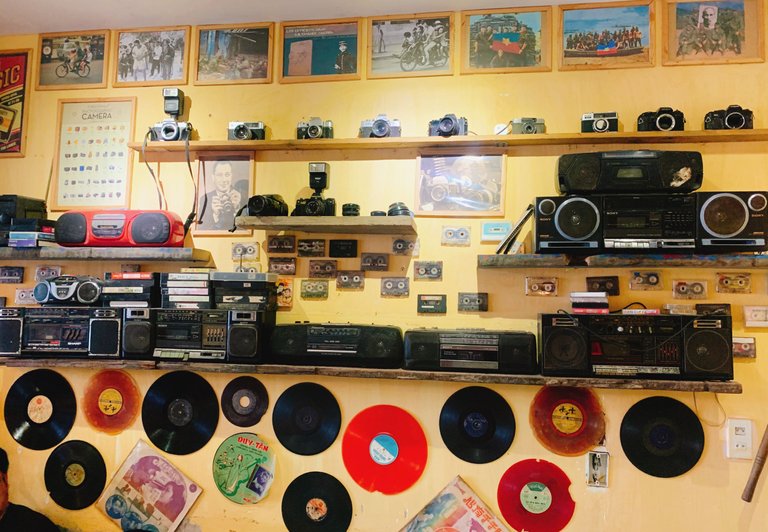 There's an iron and a sewing machine over there.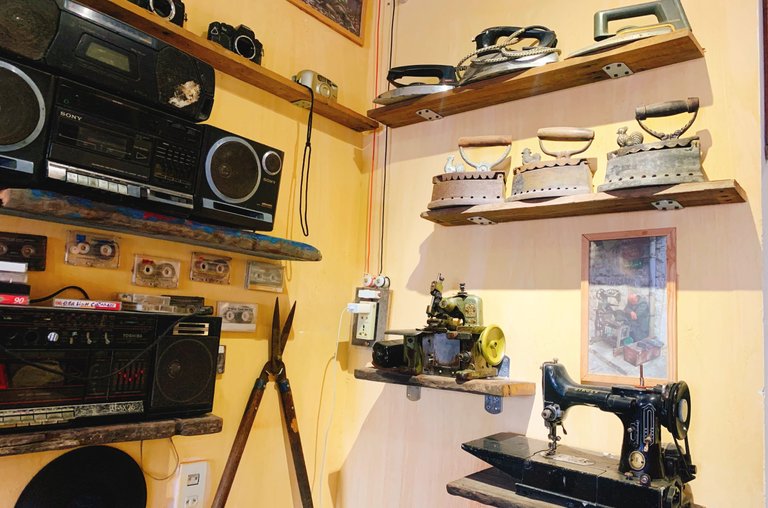 There are clocks and a Vietnamese flag too.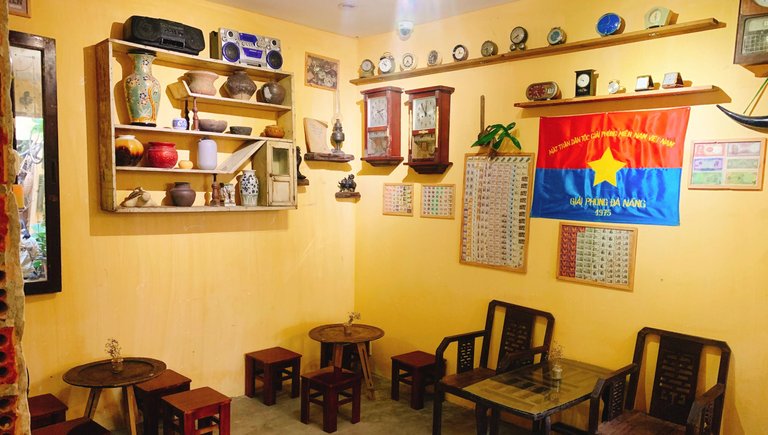 For those who don't know, you can see that the Vietnamese flag is a bit different now. The current Vietnamese flag has only red and yellow colors. The old flag was also green. That was the flag before 1976, at that time Vietnam was not yet fully independent. The red upper half represents the independent North. The blue half represents the South that is still fighting for freedom. It's interesting to see it in a cafe, isn't it?
Let's explore further,
If you go deeper into the shop, you will find a secret bookcase here too.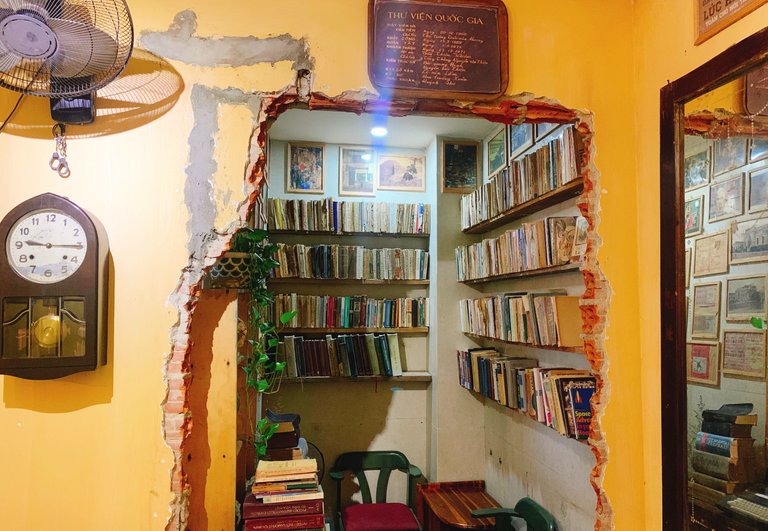 I even saw a picture of Albert Einstein.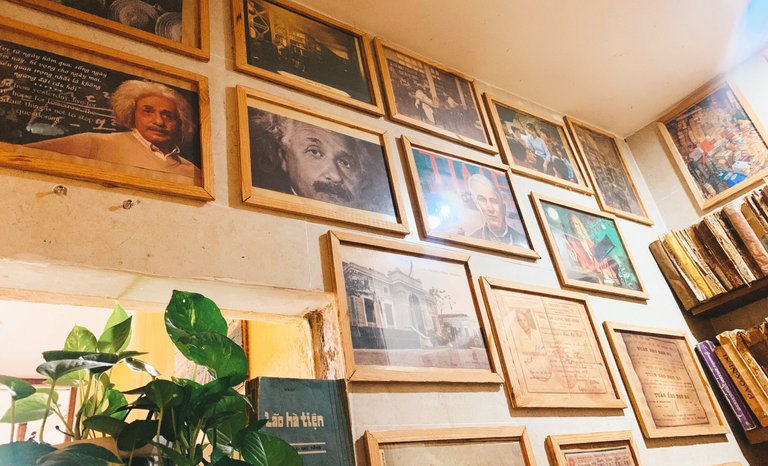 Because it's beautiful, I took a picture of this tree too.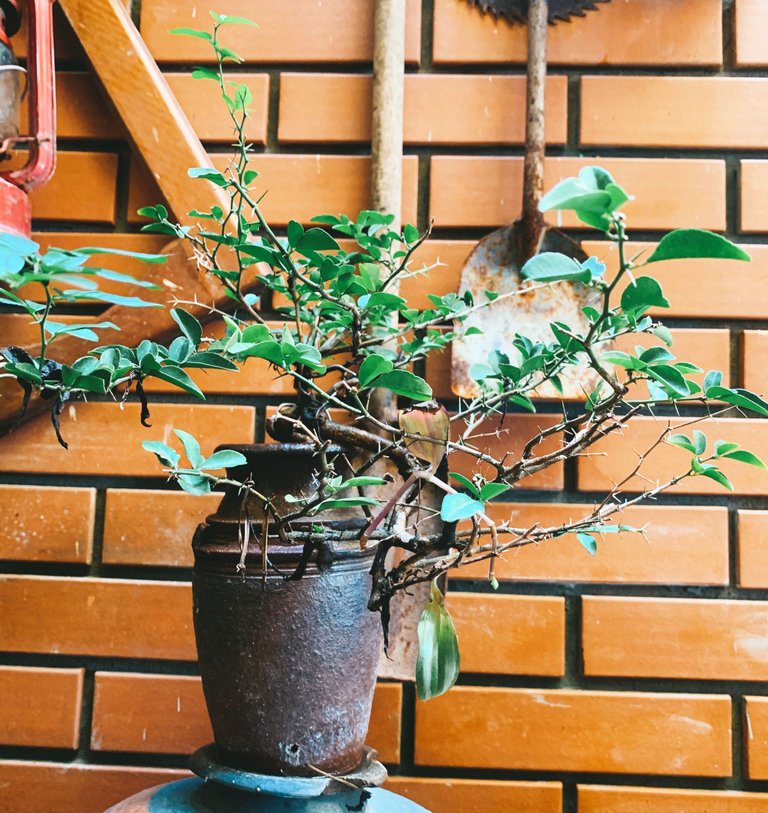 I'm really not good at taking pictures, and all the pictures I took were with my mobile phone. I hope that I was able to help you feel the atmosphere and image here.
It's great if on the weekend or free time, you go to coffee with friends. Looking at things from the past and telling each other stories of the past? It will be a new and exciting experience.
I talked with my friends about the past very happily.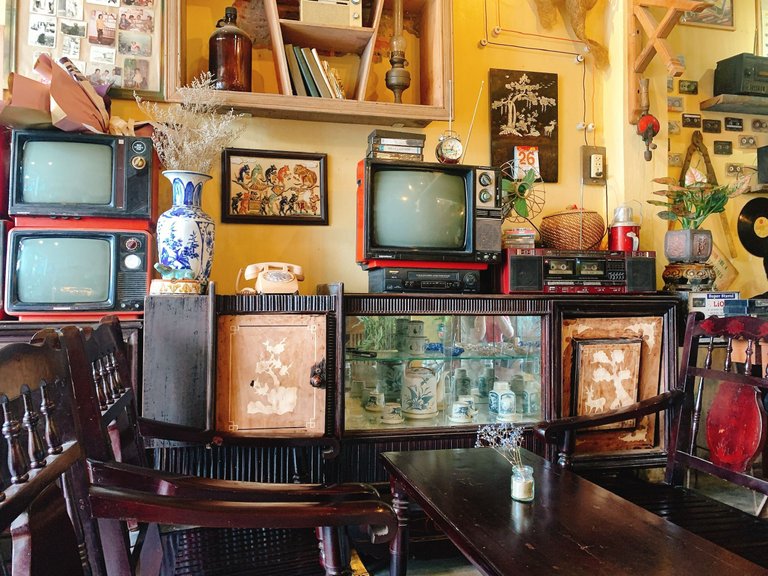 I am truly one of the lucky ones to have known this place when it was not famous. I think in the future there will be a lot of guests coming and not enjoying this atmosphere anymore. So please try to come early 😄
In case you want to come here to experience it, please see below, I will write its address here:
06 Ngo Si Lien, Lien Chieu, Da Nang, Vietnam.
I think sometimes you don't have to go far to find joy. Joy is always near us and let's enjoy everything around you.
Wish you have a nice weekend 😍.
---
Thank you for reading the article ❤️.
---
---