winter fungi encounter (13 foto)

It was a while I did not share my fungi macros.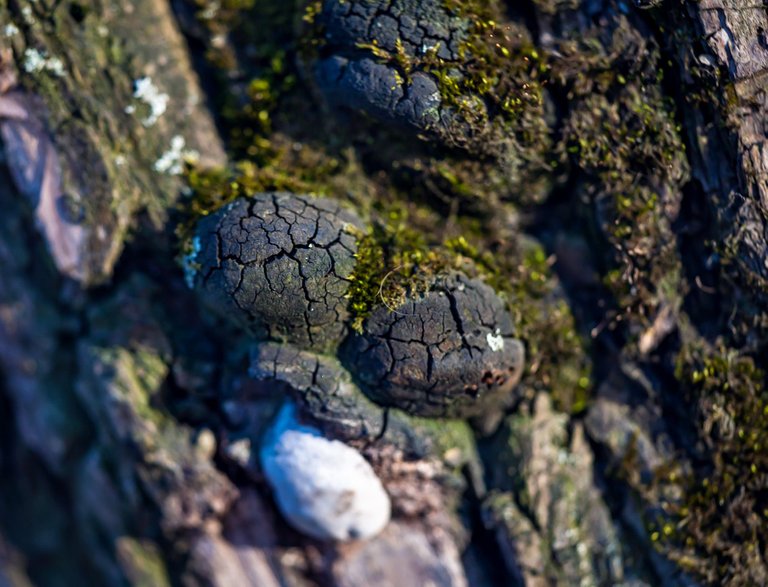 I used to celebrate #FungiFriday, and now I do not any more. I am not allowed to mention and use it, you know. Copyright issues.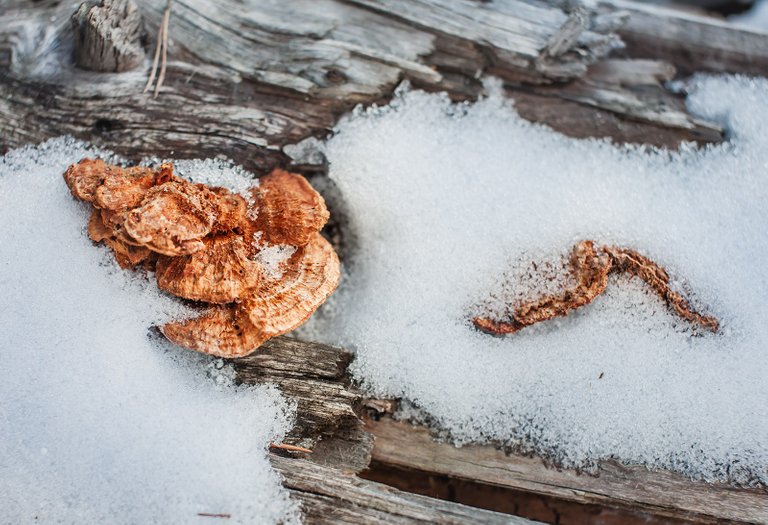 Perhaps that is one of cerebral reasons... or maybe not. Its hard to explicit exactly stuff like that.
What I can tell for sure is that, in wintertime, I did not shoot mushrooms, did not go out for hunting, and thus, did not think about them... figuratively speaking, "I looked in the other direction" and did not even try to dig through my photo archives.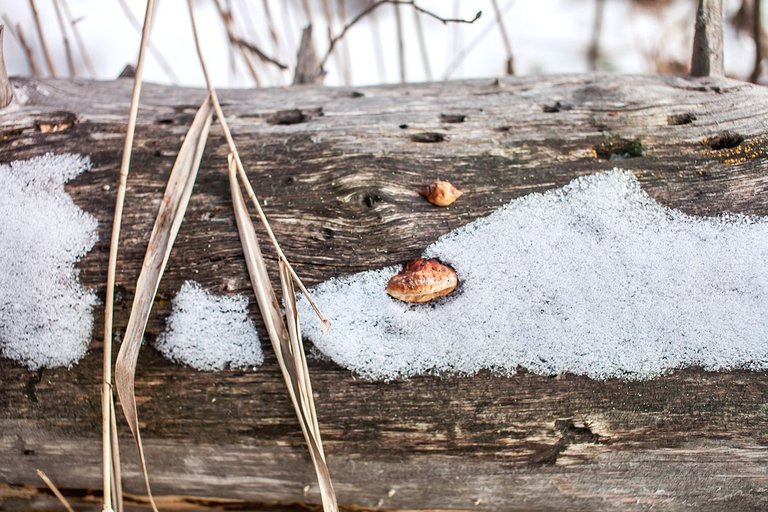 But in April I had some luxurious photo walks, photographed the awakening nature, and came across some mushrooms! Therefore, I want to show you some fresh stuff (and whatever you would say, it is Friday today!)
My family's friend invited to celebrate his birthday outdoors, outside of the city. My wife was not able to join, so my daughter and I took part. We took a two hours train trip to Karelia, than walked by foot deep into the pine forest, until we found a great spot for the fun: the bank of a frozen lake. I had three lens with me (50mm, 16mm fish eye and 50mm) but actually had no time to walk around and enjoy the forest pleasures: I had a lot of camp work to do, including making and keeping fire, preparing the mulled wine (I am an expert in those things, hehe) and shooting pictures of our company.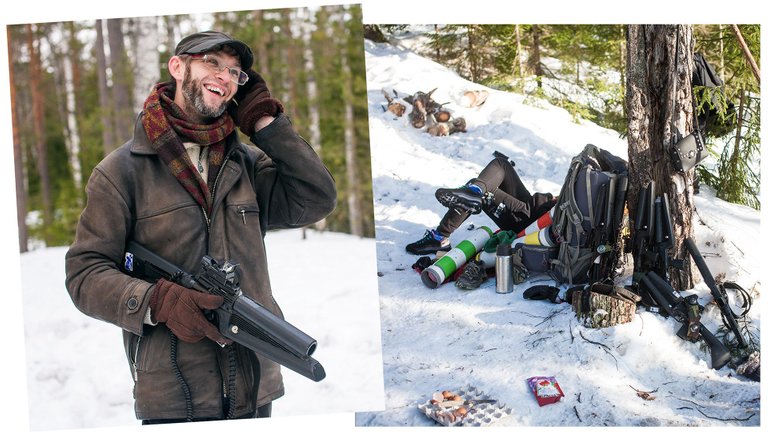 We had a two-teams Lazertag war game. Check the picture above: its me with the lazer gun on the left photo, and our team's gear (everybody is taking their meal...)
Below, right: our camp and the fireplace (heavy cast-iron brazier we brought with us).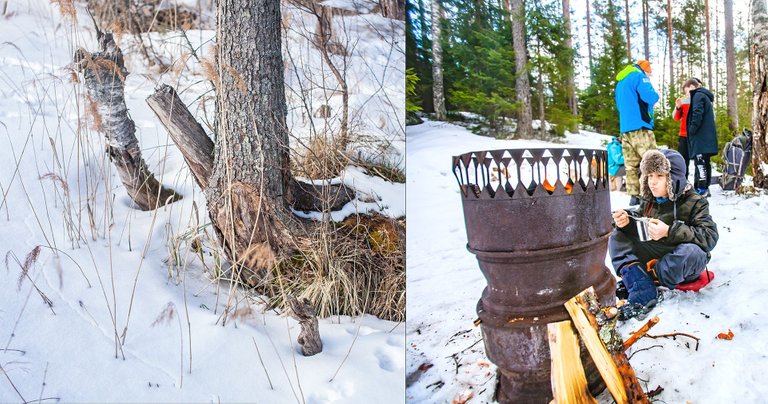 So, I had to run a lot with a rifle. I ran with a rifle in one hand and a camera in other hand - this way it was even harder! and when it was necessary for me to stop and rest, to catch my breath, I put away the rifle and took up the camera, and used this time to look around and take a few photos. During one such stop, I made a small circle around the camp, and of course, I FOUND MUSHROOMS! Winter mushrooms...
...я бегал с винтовкой в одной руке и камерой в другой руке - так было еще тяжелее! когда мне было необходимо перевести дыхание, я убирал винтовку в сторону, осматривался по сторонам и брал в руки камеру. Во время одной такой остановки я сделал небольшой круг вокруг лагеря, и конечно же, НАШЕЛ ГРИБЫ! Зимние грибы...
---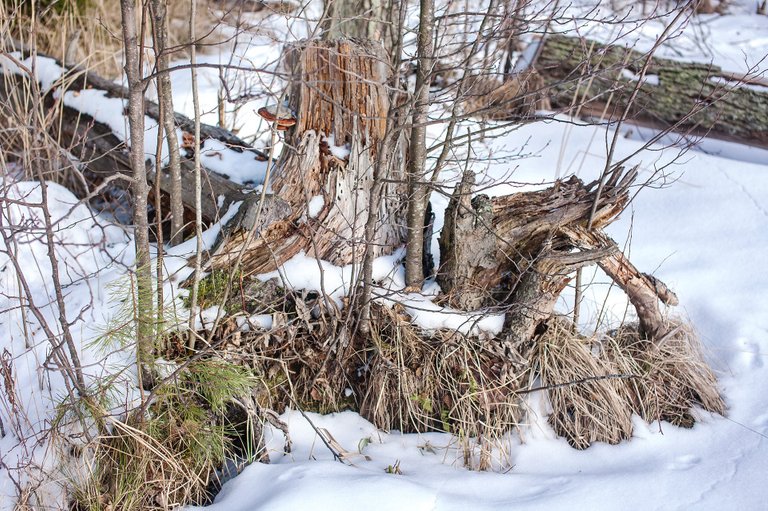 I will surely share the rest of the photos from this trip (when I retouch them) - in a appropriate niche community. In the meantime, enjoy the rest of winter mushrooms!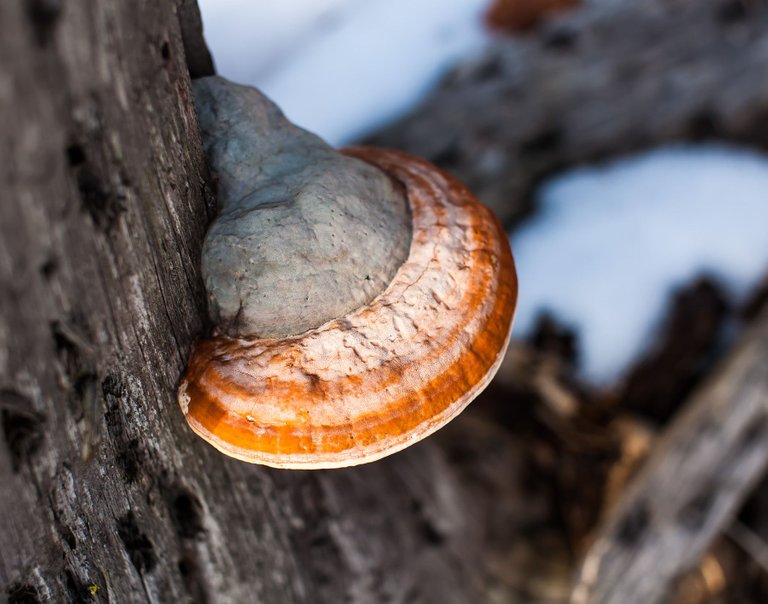 So, the photos were not in the priority. Unfortunately I did not use my time to search more and take more pictures... those mushrooms looking from the snow always very touchy. And I made this captures with my universal 50mm lens. Pretty sadly, considering that I had my dedicated 150mm telephoto lens in the rucksack. Some of those mushrooms simply required a macro lens... But, you know... one cant get everything, right?
---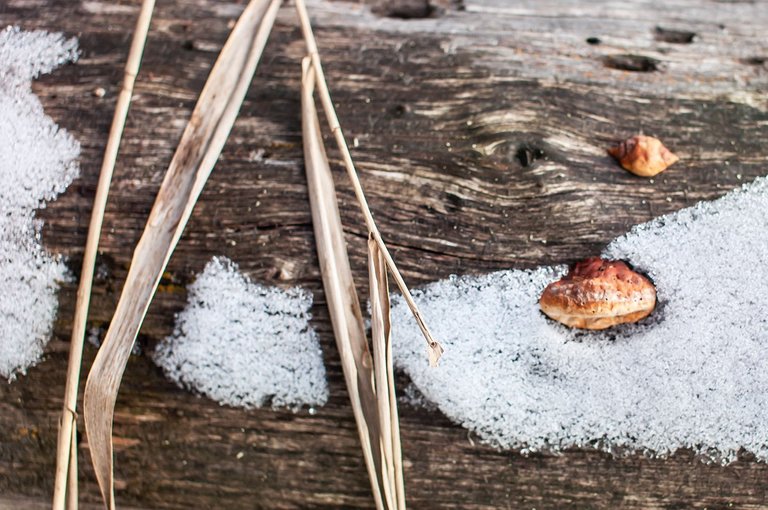 A rotten tree trunk, marked with numerous holes like combat bullet holes... like infested with an army of carpenter beetles, illuminated by the setting sun, a faded neutral color of dead wood - it was a splendid, stunning texture. Unfortunately, I was not able to make worthy of it, the very few shots I took I used 50mm, dedicated 150mm macro lens would work much better for the tiny objects.
Трухлявый ствол дерева, отмеченный многочисленными дырками как боевыми пулевыми отверстиями... как населенный армией жуков-древоточцев, освещенный закатным солнцем, выцветшего нейтрального цвета мертвой древесины - потрясающая текстура. Но, к сожалению, мне не удалось сделать достойных ее кадров, увы.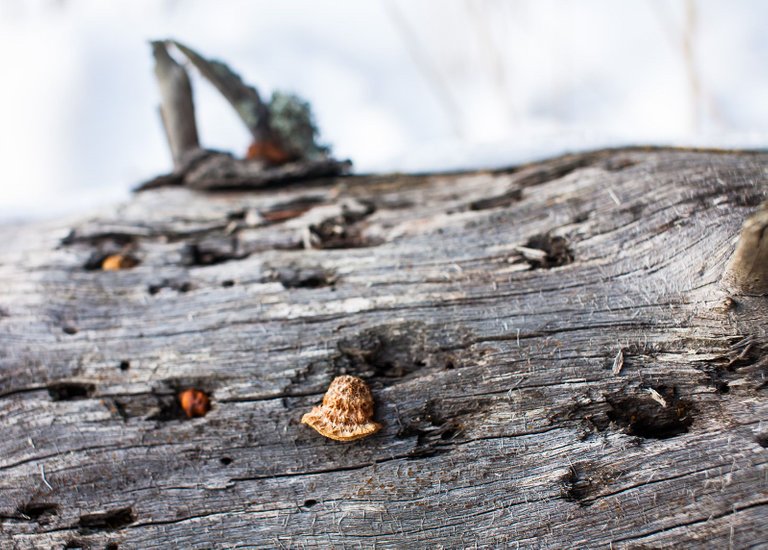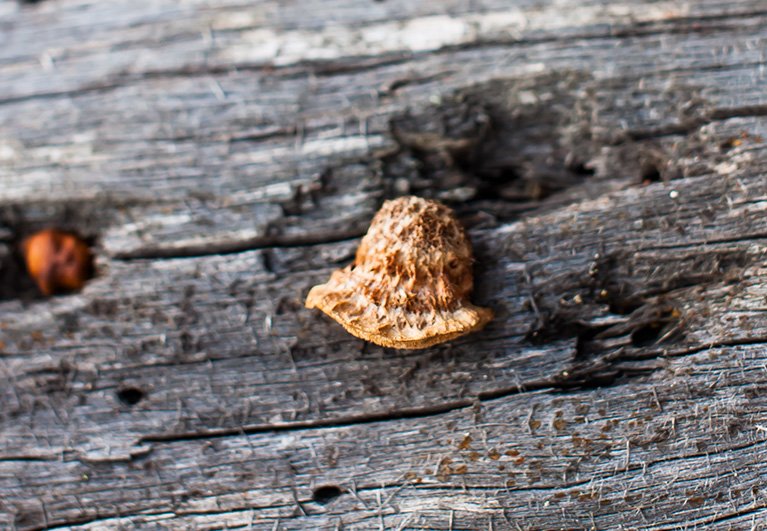 I especially would love to make a macro close-up of this one... kneeling in front of it, I enjoyed it visual look-up so much! and clearly imagined the resulting frame... but alas :)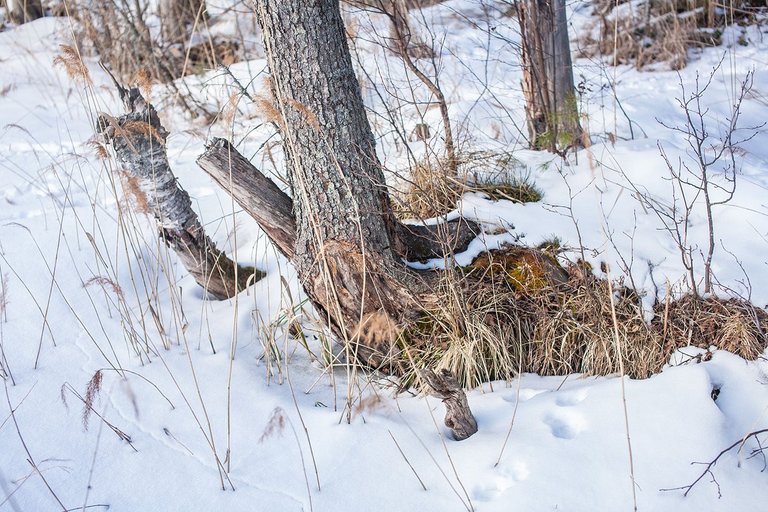 The event took place 3 weeks ago, the forest was full of snow. By now it is all gone, at least in the city, now its time for morels! But I do not know of the places you can find them, hehe. Ok, let me round up at this point. Hope you enjoyed my visuals and the story, see you next time, and --

All images taken by me, copyright (c) @qwerrie
Thanks for visiting my blog!
---
---