wednesday walk at St.Petersburg - 22 foto .:. EN/RU

This is a post to go with #WednesdayWalk challenge by @tattoodjay
Today I share the pictures from my yesterday's notable photo walk around the city center. I have equipped the camera with a wide angle lens and all the pictures are taken by my wonderful 16-35mm 2.8L. We started in the Art Nouveau district, on the Petrogradskaya side, walked along the embankment, the rowing canal, and ended our evening in one beautiful loft ... but, in order.
Вот вам картинки с моей вчерашней фотопрогулки по центру города. Я оснастил камеру широкоугольником объективом, и все фотографии сделаны моим замечательным 16-35мм 2.8Л. Мы начали в районе модерна, на Петроградской стороне, прошли вдоль набережной, гребного канала и закончили наш вечер в одном прекрасном лофте... но, по порядку.
---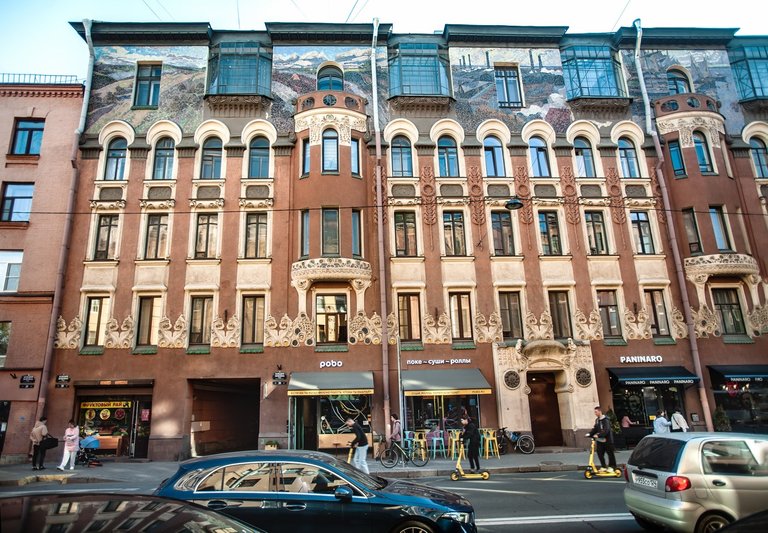 One of the most interesting and unique in its design in the "modern" style buildings of the city of St. Petersburg (Bolshaya Zelenina street, 28). Fanciful, unique, unlike anything ornaments and decorations, as well as a huge mosaic, covering the entire upper floor. I still try to take good photos to show this beauty as convincingly as possible.
Одно из интереснейших и уникальных своим дизайном в стиле "модерн" зданий города Санкт-Петербурга (улица Большая Зеленина, 28). Причудливые, неповторимые, ни на что не похожие орнаменты и украшения, а также огромная, во весь верхний этаж, мозаика. Я все еще пробую сделать хорошие фотографии, чтобы показать эту красоту максимально убедительно.
---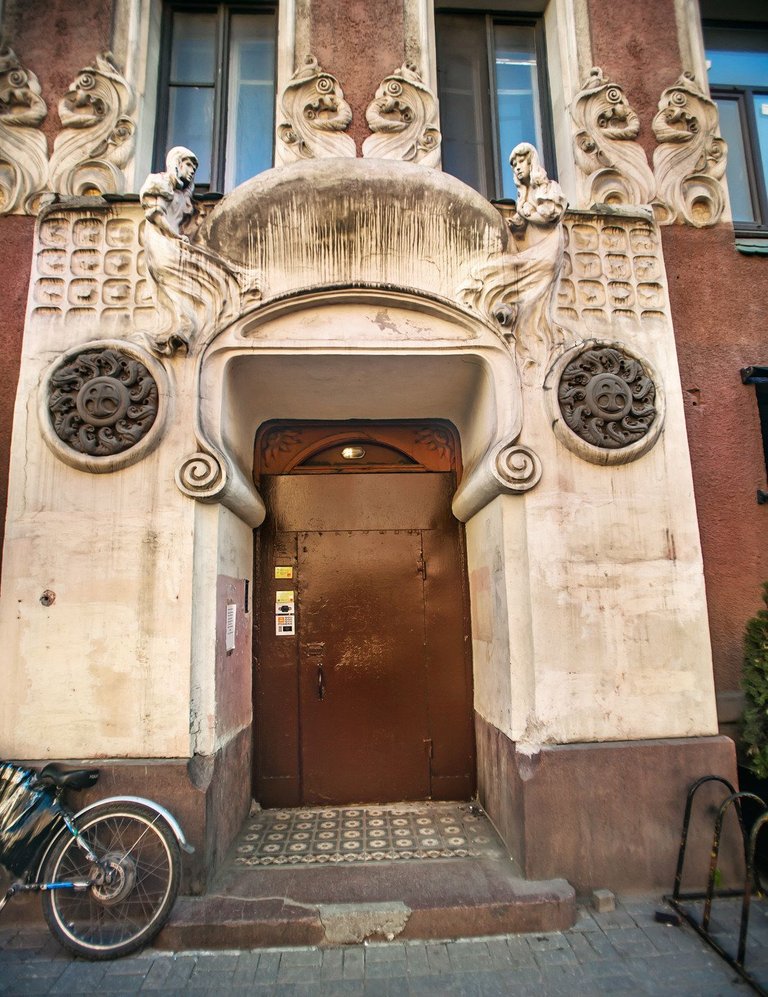 ---
Frankly, I would really like to live in this (or similar) house, to meet such beauty every day. But alas, I was not lucky to be born in different family and generally in another city. I can only admire from afar... sometimes.
Не скрою, мне бы очень хотелось жить в этом (или похожем) доме, каждый день встречаться с такой красотой. Но увы, мне не повезло родиться в другой семье... и вообще в другом городе.
---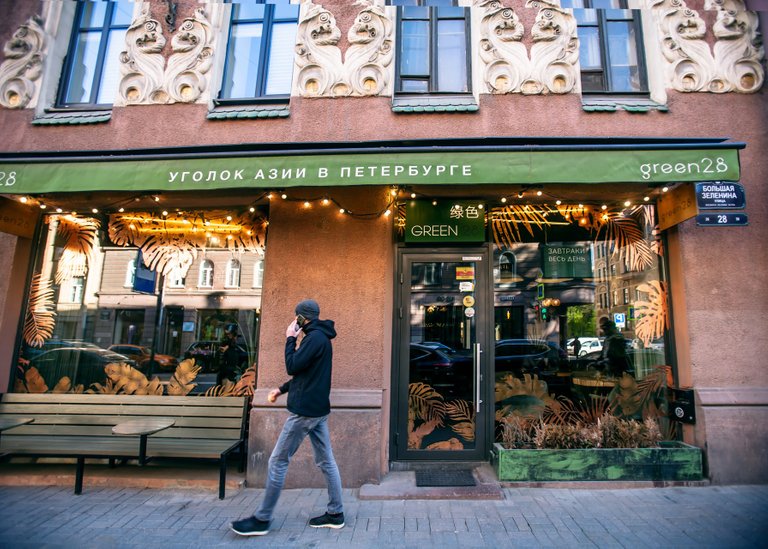 The first floor is now occupied by some attractive tavern called "The Asian spot at St.Petersburg." Funny enough! But I admit, the design looks quite appealing. We didn't explore it from the inside, not this time.
Первый этаж сейчас занимает какая-то притягательно харчевня, под названием "Уголок Азии в Петербурге". Смешно! Но признаю, дизайн выглядит весьма привлекательно. Мы не стали обследовать его изнутри... не в этот раз.
---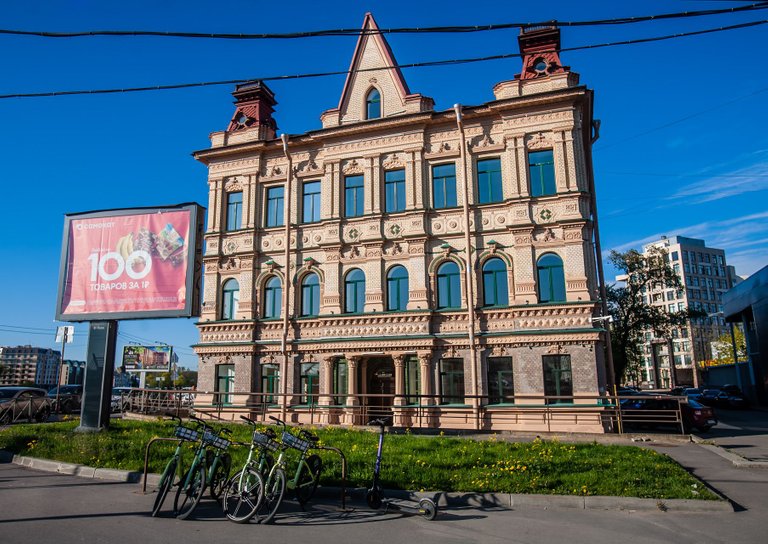 We arrived at the embankment. There stood another interesting building that cannot be passed by with closed eyes. I don't know anything about it, but judging by its appearance, this is a clear eclecticism and the end of the 19th century, exactly what was rejected and was changed during modernity.
Мы пришли до набережной. Там стояло еще одно интересное здание, которое нельзя пройти мимо закрыв глаза. Мне о нем ничего не известно, но судя по внешнему виду - это явная эклектика и конец XIX века, именно то, что было сменено во время модерна.
---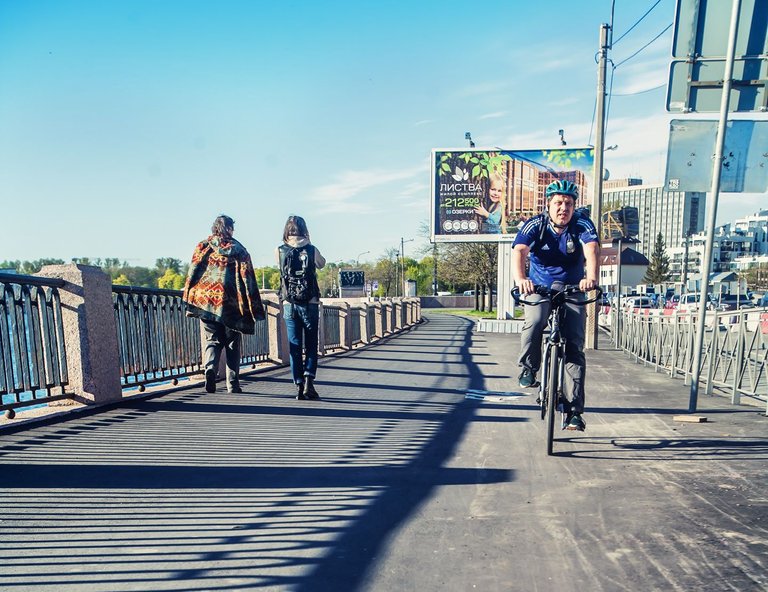 We ended up on the Admiral Lazarev embankment, and found a luxurious bike path. Luckily, cyclists have left some space for pedestrians :)
Мы оказались на набережной Адмирала Лазарева, и обнаружили роскошную велодорожку. К счастью, велосипедисты оставили немного места пешеходам :)
---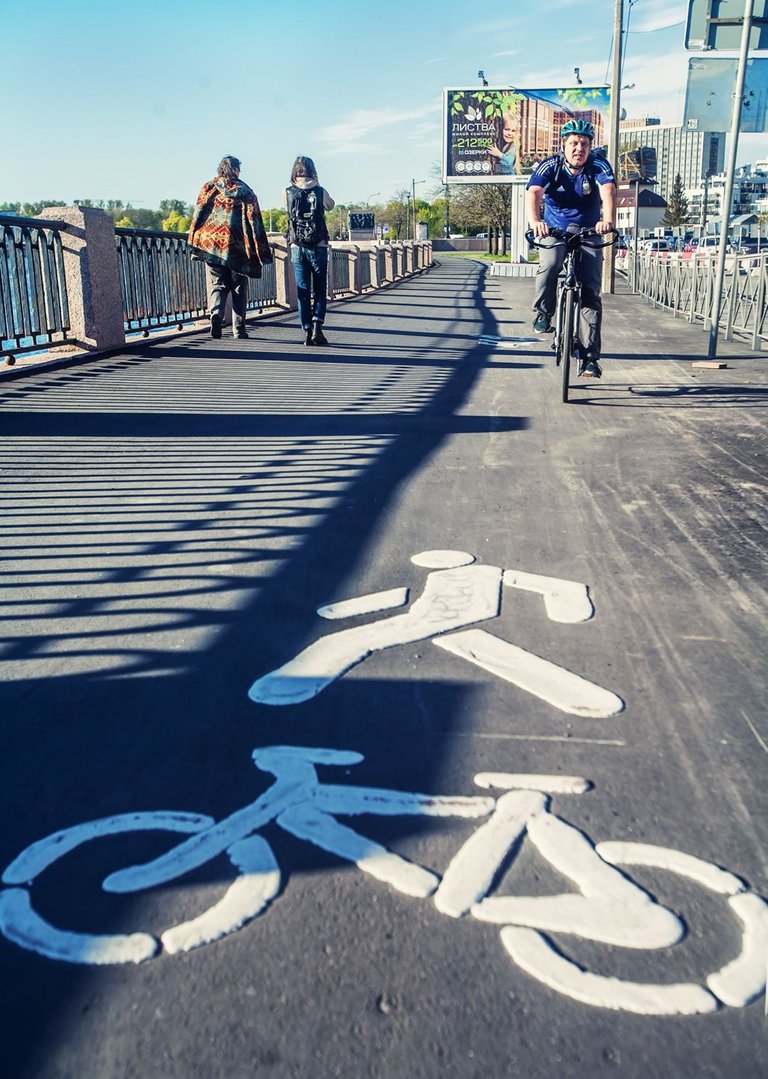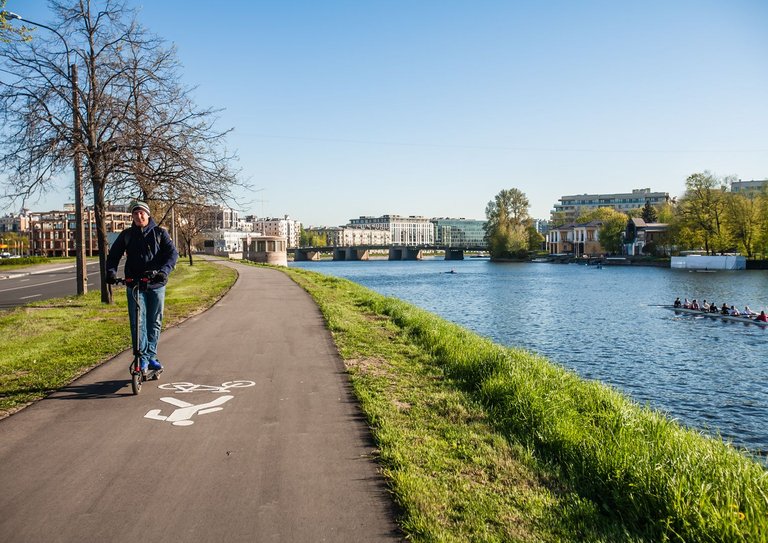 At the moment, there are 94 rivers, channels and canals in the city (with a total length of about 300 km, including about 20 artificial canals). The main river is the Neva. And in this frame, one of its channels is Malaya Nevka.
В городе на данный момент можно насчитать 94 рек, протоков и каналов (общей длиной около 300 км, в том числе есть около 20 искусственных каналов). Главная река - Нева. А в этом кадре один из ее протоков - Малая Невка.
---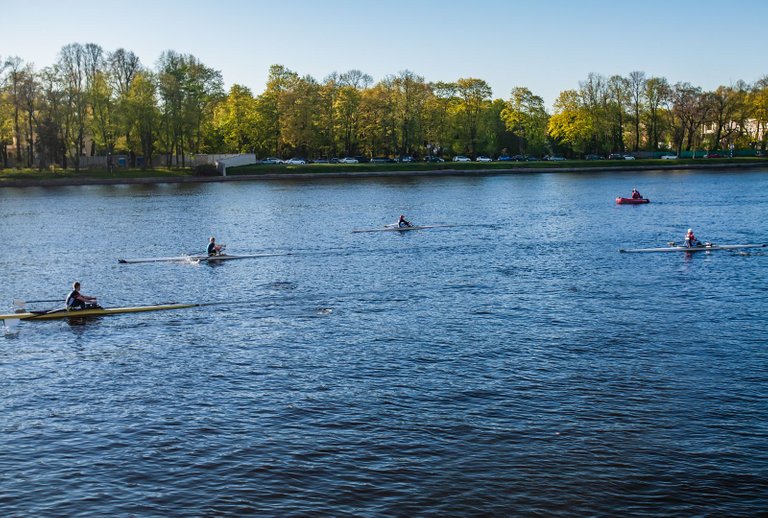 When we were walking, the river housed rowers training.
Когда мы гуляли, поблизости происходили тренировки гребцов.
---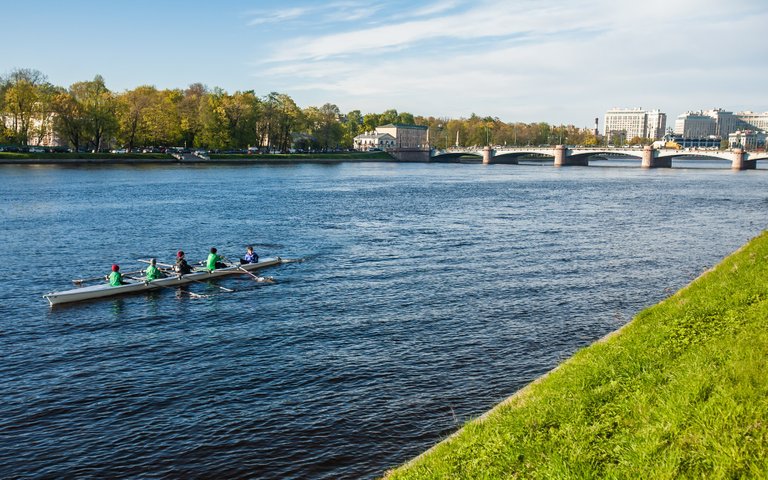 Yes, today's walk definitely dont like my usual routes. I rarely walk around the historical part of the city ... especially in the cold season. But now the season is open! More walks will come, I hope.
Да, сегодняшняя прогулка определенно не была похожа на мои обычные мершруты. Просто я редко гуляю по городу... особенно в холодное время года. Но теперь сезон открыт!
---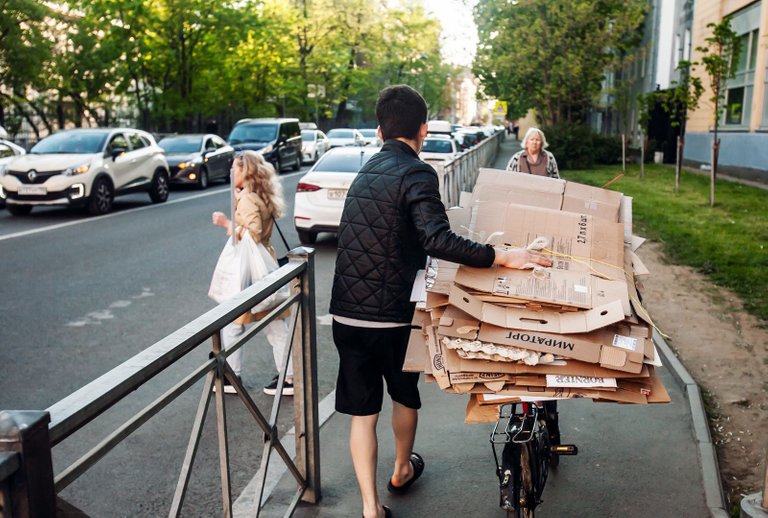 After we finished the embankment, we found ourselves in a rather industrial area of the city; at least, this was an industrial district in the past, so the architecture here is not fascinating. I made some #streetphoto.
После того как мы закончили набережную, мы оказались в скорее индустриальном районе города; во всяком случае, в прошлом здесь были промышленные кварталы, и архитектура здесь немного скучная. Немного стритфото.
---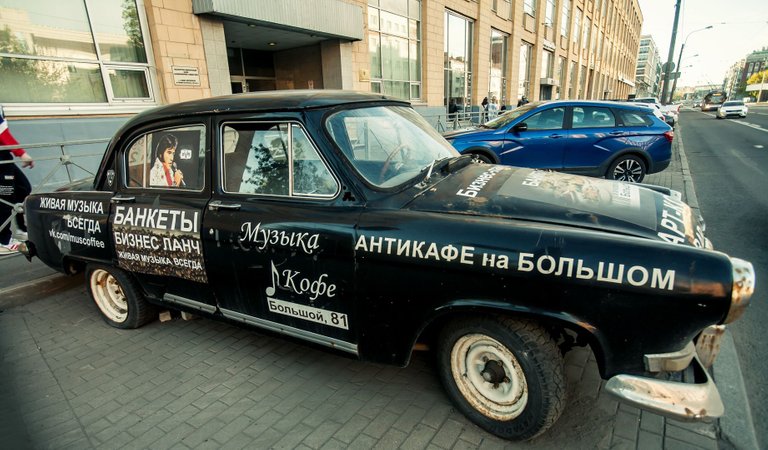 But look what I got here at a crossroad!! it is exactly the joy of such interesting encounters, that makes one fond of photo-walks across the city, exploring its nooks and crannies so much. This is an old model of a Soviet car named "Volga", this one no longer can drive... but 146% it attracts attention with its thoroughbred contours and retro style.
Но смотрите, что мне встретилось!! ради таких интересных встреч и хочется гулять, исследуя городские закоулки. Это старая модель советской машины типа "Волга", которая уже не ездит... зато 146% привлекает внимание своими породистыми обводами и ретро-стилем.
---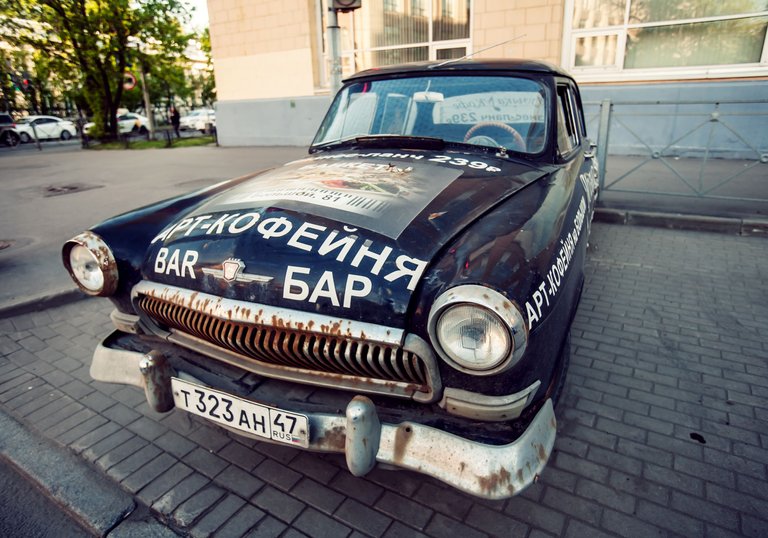 Now the car serves as an advertisement for the local anti-cafe.
Машина служит рекламоносителем местного анти-кафе.
---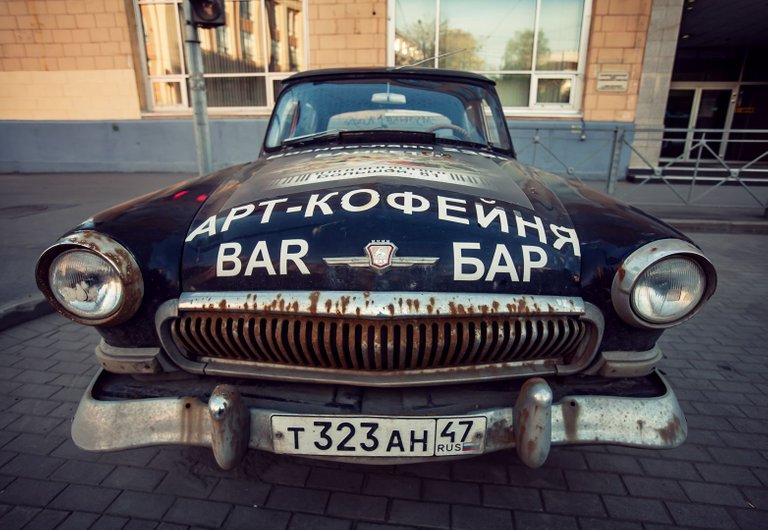 I took 20 photos from different angles (and even from inside, blindly, 16mm allowed me this) -- and realized that I just can't take myself away from this object, and just repeat myself, I take exactly the same identical photos. Only by an effort of will I tore myself away from the wonderful retro car :)
Я сделал 20 фотографий с разных углов (и даже изнутри, вслепую, 16мм позволил мне это) и понял что просто не могу отовать себя от этого объекта, и просто повторяюсь, делаю точно такие же одинаковые фото. Только усилием воли оторвал себя от чудесной машинки :)
---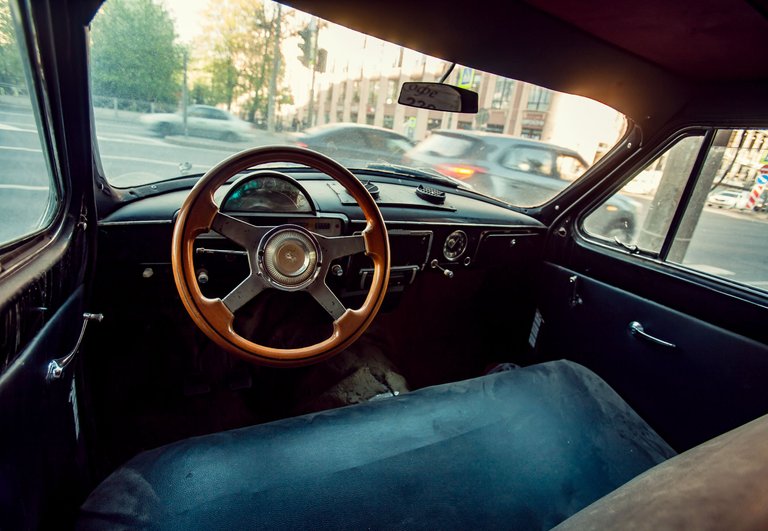 Here's what it looks like from the inside... By the way, you can see that I added a bit of "vintage look" to the photo with the help of x-processing. My usual trick... not sure if it is a bad habit or not.
Вот как она выглядит изнутри... Кстати, вы можете заметить, что я добавил в фото немного "винтажности" при помощи кросс-процессинга.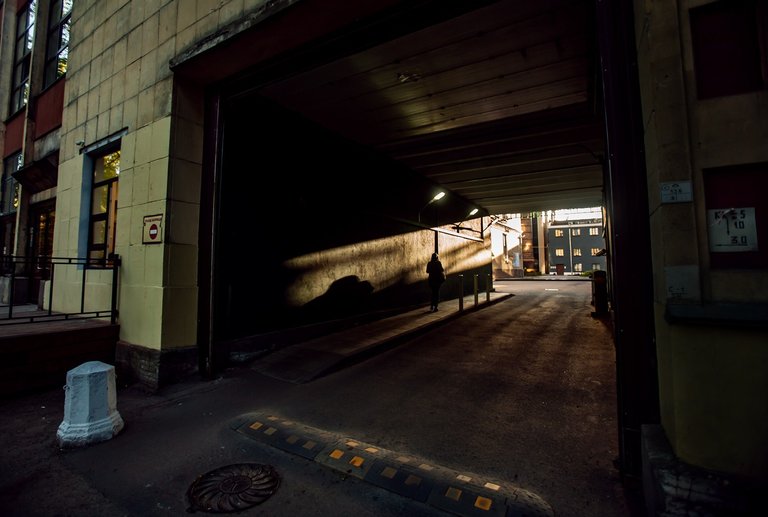 Soon after that, our walk ended - simply because we reached the point of our destination: a loft on the territory of the former 'Lenpoligraphmash' plant. This loft housed a beautiful art space, but more importantly, it housed an outstanding coffee spot worthy of being added to the @pinmapple map. And I definitely will tell you the rest of the story in another post, in another community dedicated to coffee. (Hello, @millycf1976!) In the meantime, a couple of pictures and the finish line of our walk.
Вскоре после этого наша прогулка прекратилась -- просто потому что мы приблизились к конечному пункту месту нашего назначения: лофту на территории завода Ленполиграфмаш. Оный лофт скрывал в себе красивое арт-пространство и выдающееся кофейное место, достойное быть на карте @pinmapple! И я обязательно расскажу о нем подробнее в другом посте, в другом, посвященном кофе сообществе. А пока, пара картинок и финиш.
---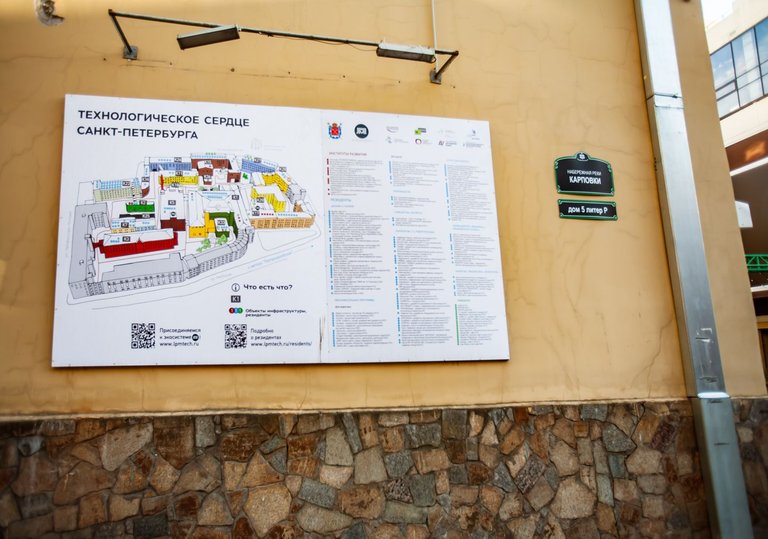 Actual address: embankment of the Karpovka River, 5. The real place is not on the surface, I would even say that it is so hidden that it cannot be found without special instructions ... So the pictures should help.
Фактический адрес: набережная реки Карповки, 5. Реальное место лежит не на поверхности, я бы даже сказал что оно так запрятано, что без специальных инструкций не найти... Так что картинки должны помочь.
---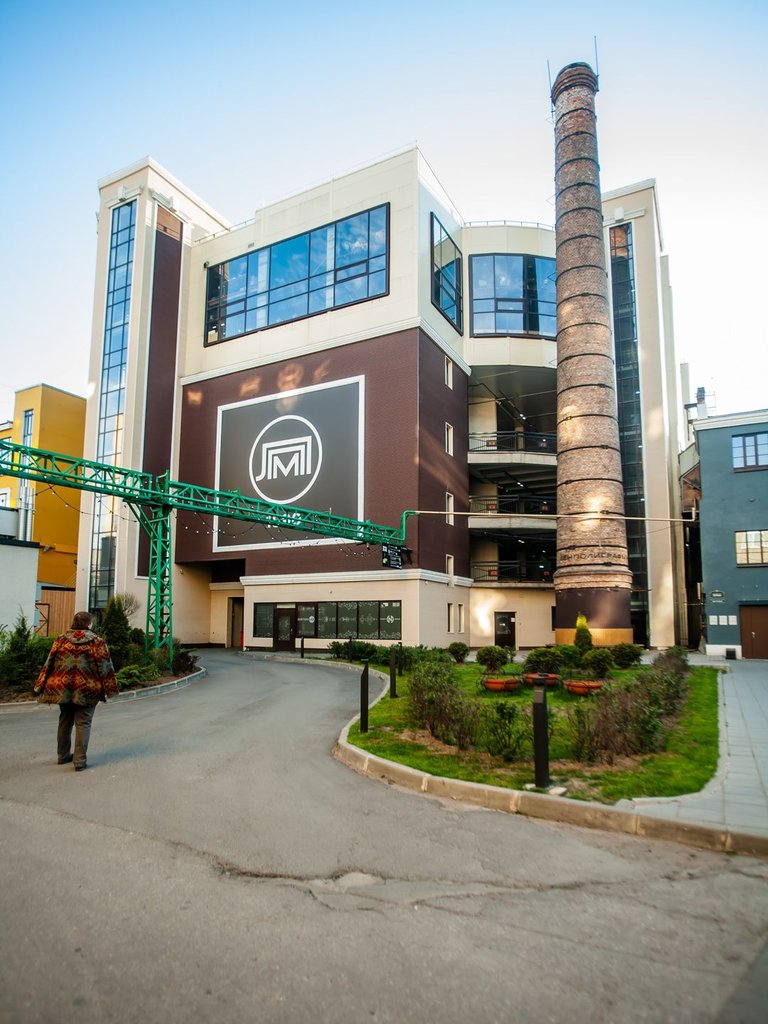 From this spot - to the left. The plant's pipe serves as an excellent mark.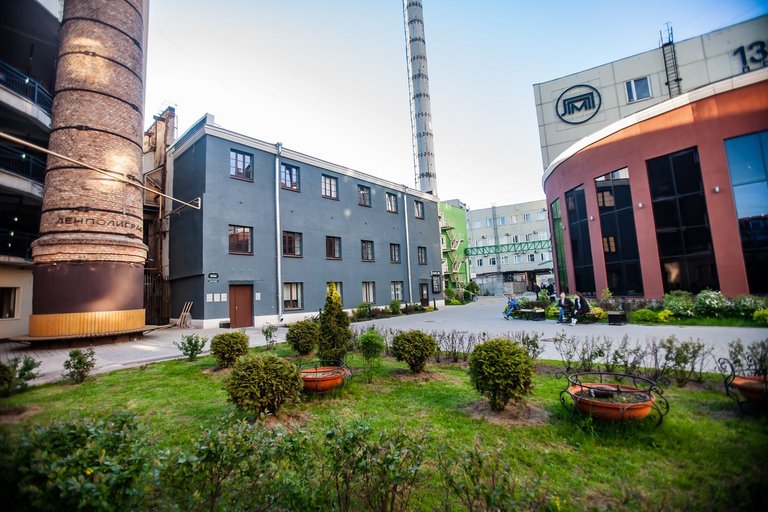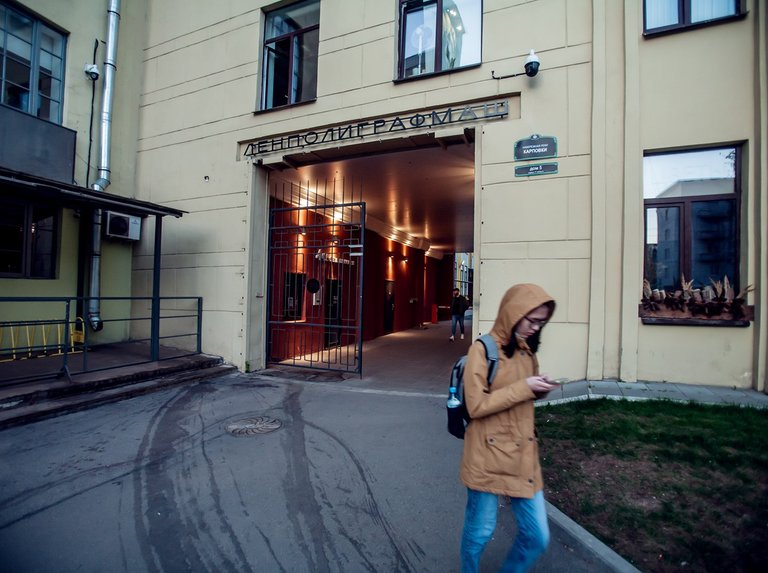 Ok, this is where you have to head to, after you enter this yard you cant miss it.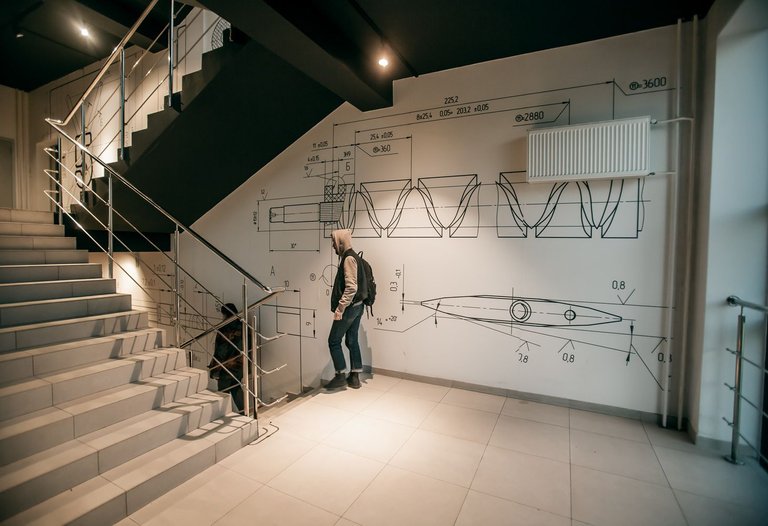 I adore so much my 16-35mm lens - it can do a hard job even in very poor lighting conditions (and ofc it does the job in the packed room!)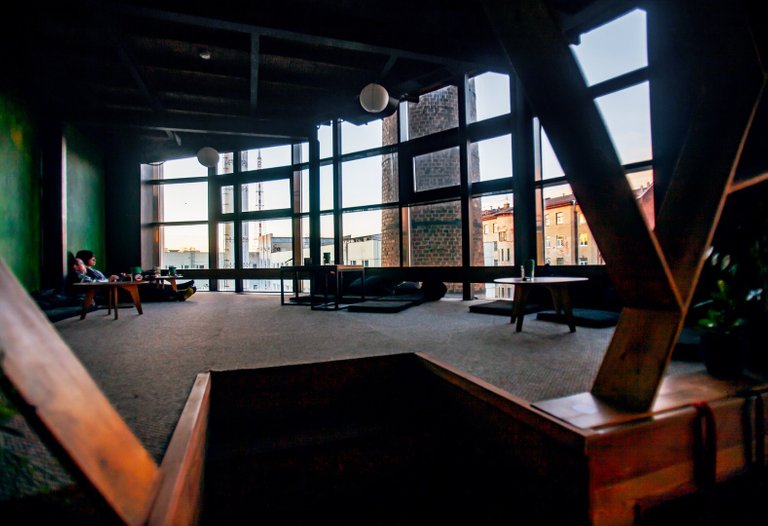 It has a nice view over the roof cityscape (tho remember it is industrial zone...) But that is not what this place holded my heart for. Ok, ok, just one more photo, the final one. Does this place look like a coffee shop at all? Splendid and artsy, isnt it? Part two with our coffee and dishes will follow soon.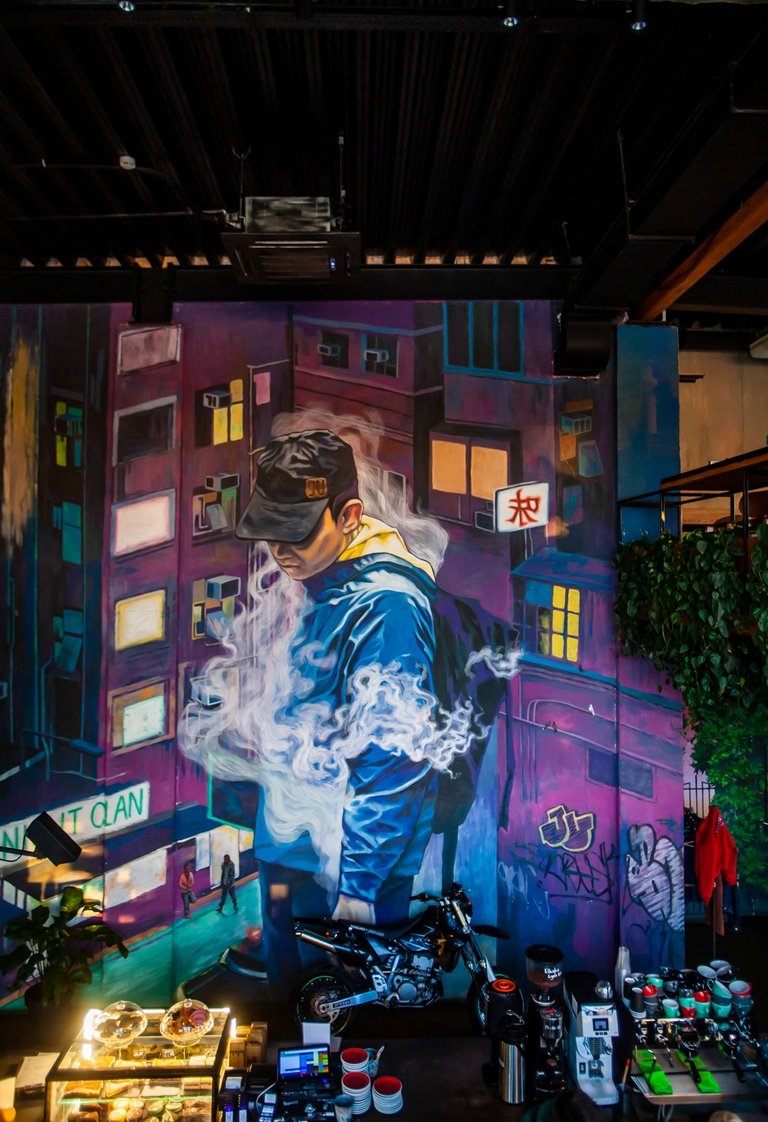 | | | | |
| --- | --- | --- | --- |
| location: | St.Petersburg, Russia | May 2022 | natural light |
| camera/lens: | Canon 5D | 16-35mm 2.8L | raw-conv |
Thanks for walking with me, see you next time. Надеюсь, вам было приятно прогуляться со мной по улицам Петербурга!

All images taken by me, copyright (c) @qwerrie
Thanks for visiting my blog!
---
---