My Hive stats : I am good for my goal and prepared for HPUD(Hive Power Up Day)

My Hive stats : I am good for my goal and prepared for HPUD
For December month Hive Power Up Day , I was planning for some nice powerup 1000 HP so that I can get the Power bee badge for me and I am happy that I have now more then 1000 liquid Hive available with me in my Hive account. I converted my swap.hive to Hive already , in order to avoid and liquidity crunch or issue that can occur on HPUD day that can crush my plan of powering up Hive on that particular day. So now I am just eagerly waiting for December 1 on the UTC time (or in Hivebuzz clock) to do the power up.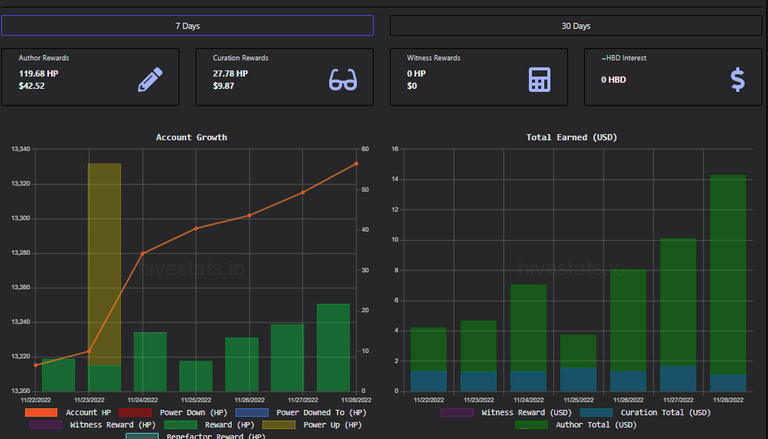 My Hive stats of the last week also look solid as I am accumulating more Hive then my weekly goal of adding 125 Hive power minimum per week. Accumulating more Hive by authorship and curation will allow my other earnings (like P2E and trade) to do big powerup on specific days. With 119 HP as author rewards and 27 HP as curation rewards, my total become 146 HP which beats my minimum HP powerup requirement by 21 HP.
My current HP goal for the week ended was 13375 HP and I am powering up 20 Hive today to meet this goal as my current HP stands at 1355 Hive Power. Since I will powerup 1000 Hive in HPUD, my next week goal will be now 14500 Hive power and it will help me cross 14K HP milestone too.
Mission 15000 HP before end of the year.
At the start of the year when I was in 5000 HP, I never thought that I will be able to reach 15000 Hive power before this year end and my goal for this year was 12000 HP only that I already completed on month of September. If I go with my weekly calculation, I will reach there at January 2, but I guess I will complete 15K milestone on January 1 or may be sooner.
Hope to see you again in Hivepud with my milestone.
Posted Using LeoFinance Beta
---
---