Splinterlands Art Contest! -- Week 203 --Thaddius Brood

Hey hello again, today I bring a post that I've been looking forward to for a long time, almost since I started on the platform I enjoy and share the content of different artists in the -Splinterlands Art Contest- developed by its own community @splinterlands even @not-here himself had given me details of the game in question and the contest a while ago, so after so much postponing I finally decided to participate, I just had to read the rules and put my hand loose, if more here you have the creative process of my fan art of Thaddius Brood, a peculiar character, because I also decided to give the game a chance to soak a little more of the matter as not.
Ey hola de nuevo, hoy traigo un post al que le guardaba ganas ya desde hace tiempo, Pues casi desde que empece en la plataforma disfruto y comparto el contenido de diferentes artistas en el -Splinterlands Art Contest- desarrollado por su propia comunidad @splinterlands incluso el mismo @not-here me había dado detalles del juego en cuestión y del concurso hace un tiempo, así que después de tanto posponerlo al fin decidí hacer mi participación, basto con leer las reglas y poner la mano suelta, si más aquí tienen el proceso creativo de mi fan art de Thaddius Brood, un personaje peculiar, pues también decidí darle una oportunidad al juego para empaparme un poco más del asunto como no.

CHARACTERS AND REFERENCES
💀
PERSONAJES Y REFERENCIAS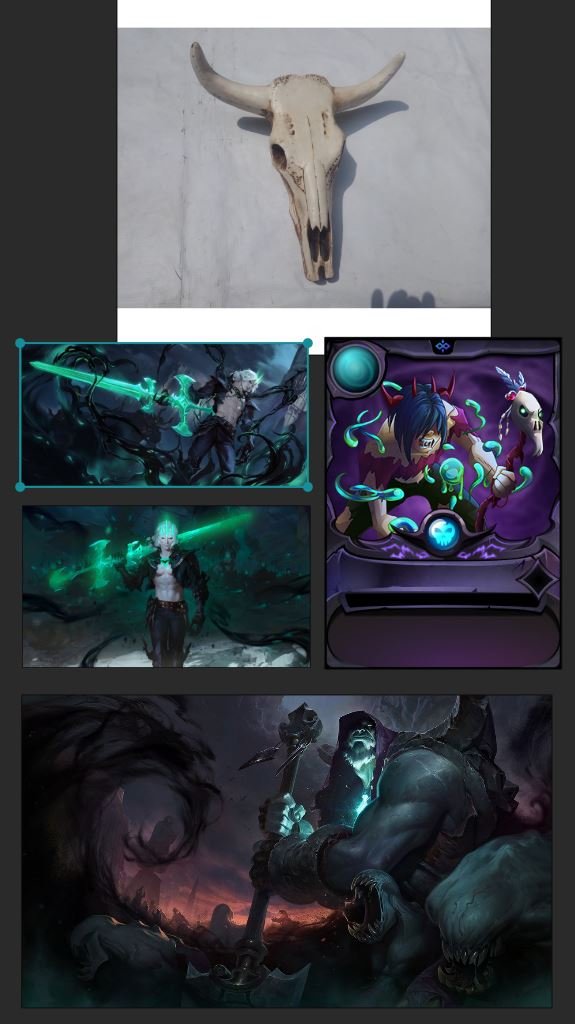 Source 🔗 Fuentes
After my first victory in the game, which was the second game played, because in the first one I was beaten without any contemplation xD, my winning character called my attention, because I could relate him directly with other characters from other games and I knew that if I used those references well I could get something cool. These characters were Yorick from League of Leyends and Viego from Legends of Runeterra. Their splashart reminds me a lot to the Thaddius character, so I took some basics from them, and well the real cow skull to represent their totem which is not exactly that, but I liked the idea of representing him like that.
Pasada mi primera victoria en el juego, que fue la segunda partida jugada, pues en la primera me dieron una paliza sin contemplación alguna xD, Mi personaje ganador llamo fuertemente mi atención, pues pude relacionarlo directamente con otros personajes de otros juegos y que sabía que si utilizaba bien esas referencias podría salir algo cool. Estos personajes fueron Yorick de League of Leyends y Viego de Legends of Runeterra. Sus splashart me recuerdan bastante al personaje de Thaddius, así que tome ciertos fundamentos de ellos, y bueno la calavera de la vaca real para representar su tótem que no es eso exactamente, pero me agradaba la idea de representarlo así.
---
AIR TRACES 🌫 TRAZOS AL AIRE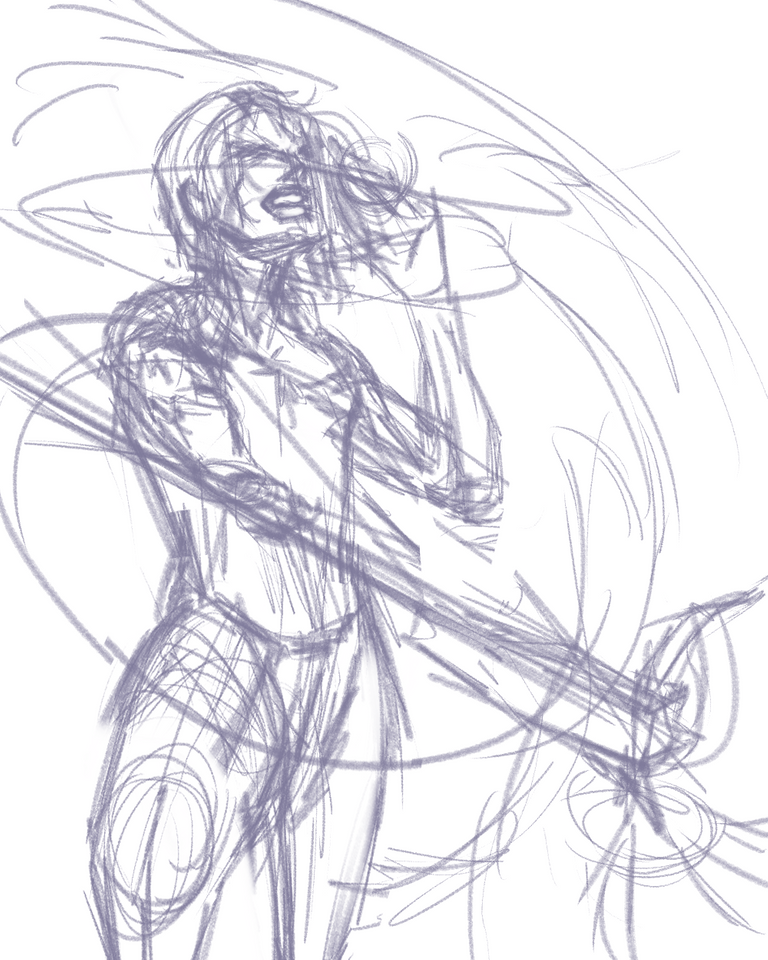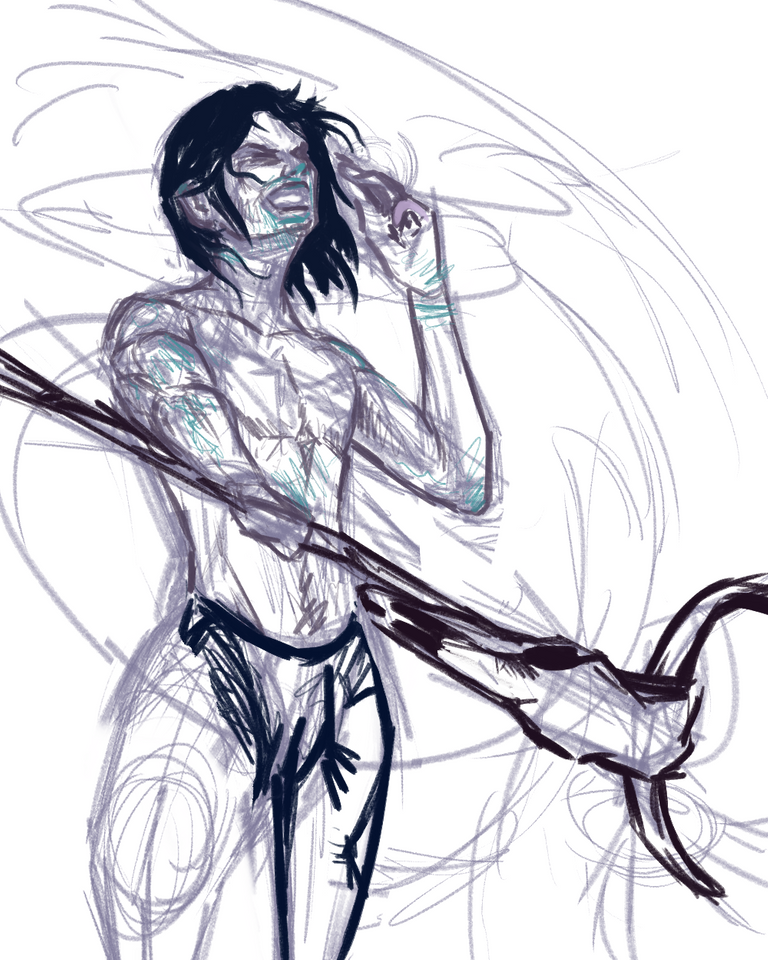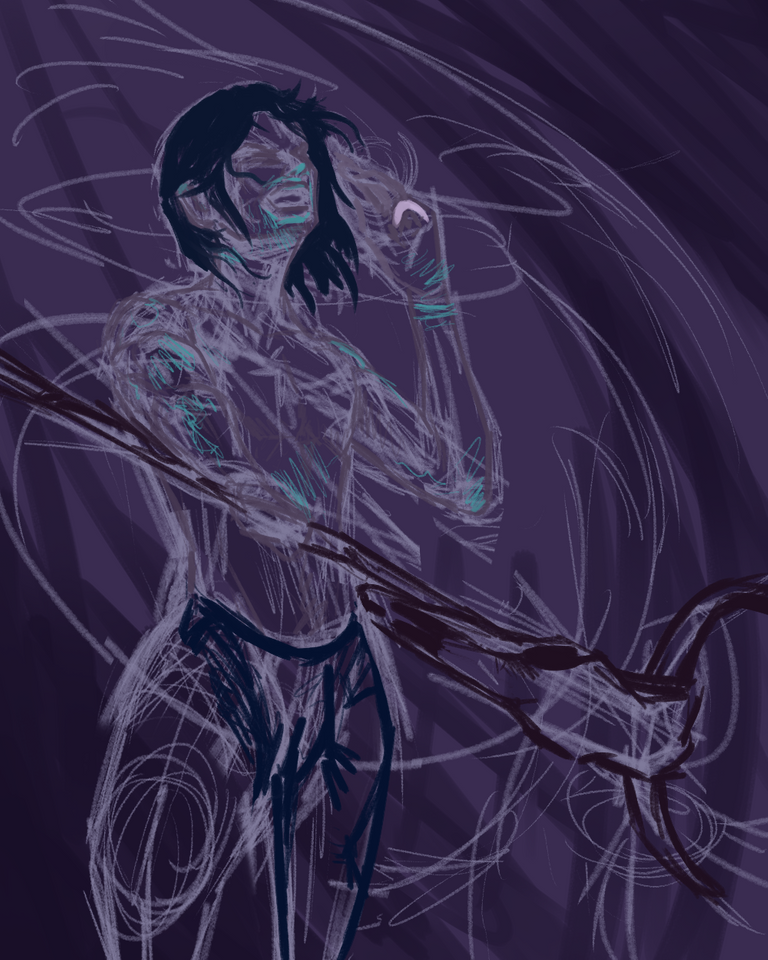 I went directly to the sketch with certain things clear, obviously to define the character in an imposing posture, and to define the atmosphere that the illustration should have in general, which I let mutate as I went along.
Fui directamente al sketch con ciertas cosas claras, obviamente a definir el personaje en una postura imponente, y definir la atmosfera que debía tener la ilustración en general, la cual fui dejando mutar al avanzar.
---
CHAOS FROM THE BACKGROUND
☁️
CAOS DESDE EL FONDO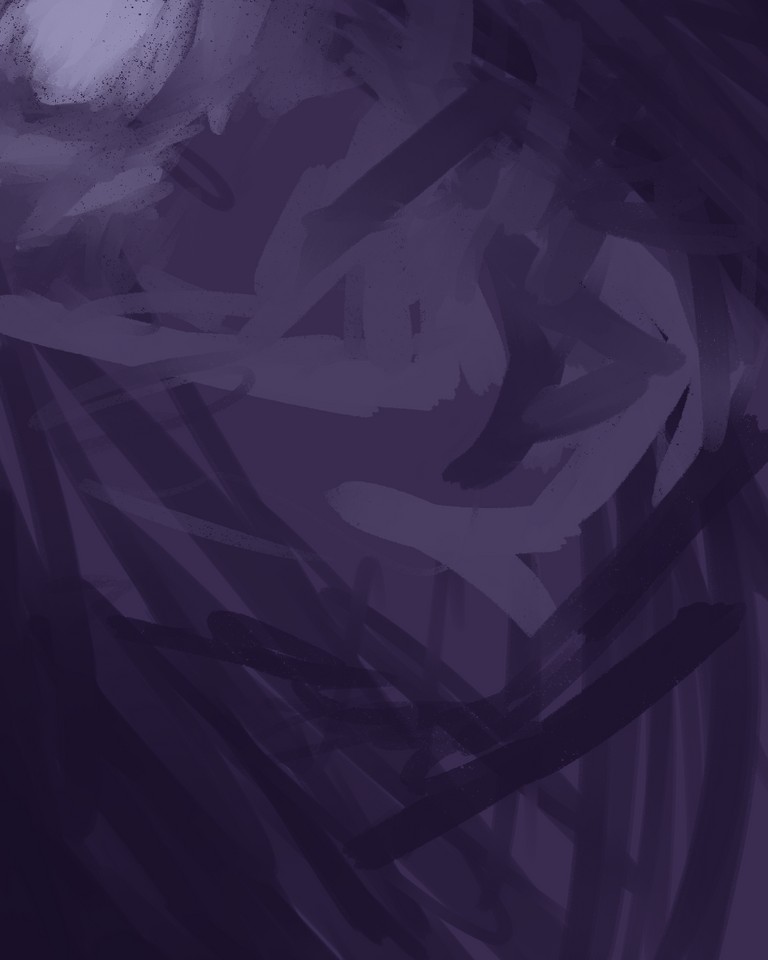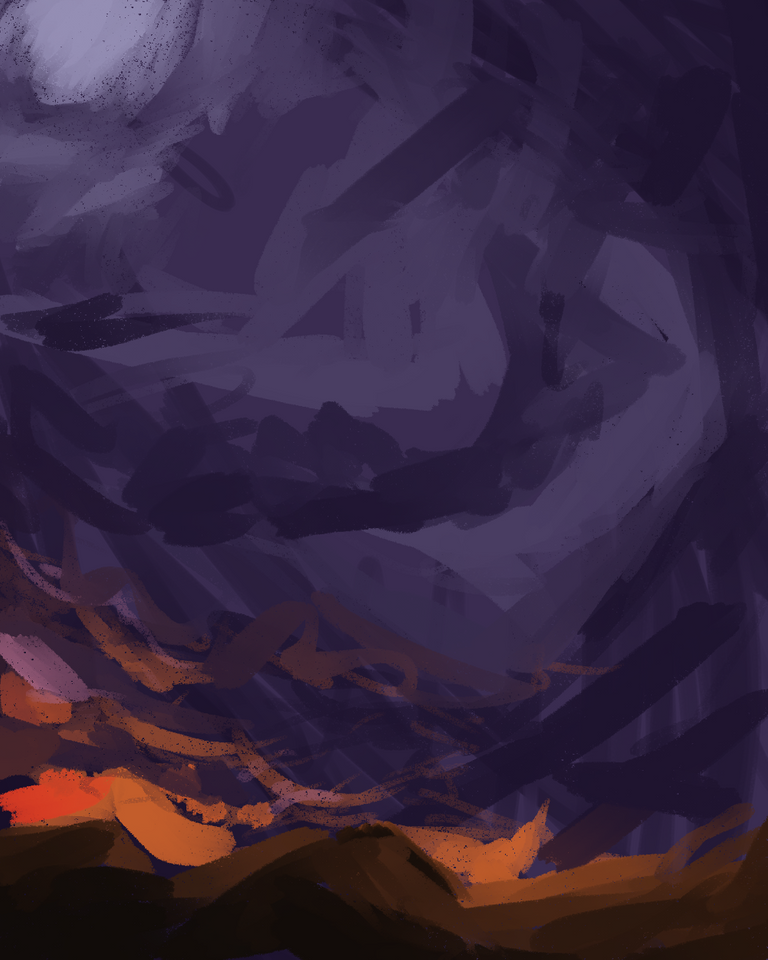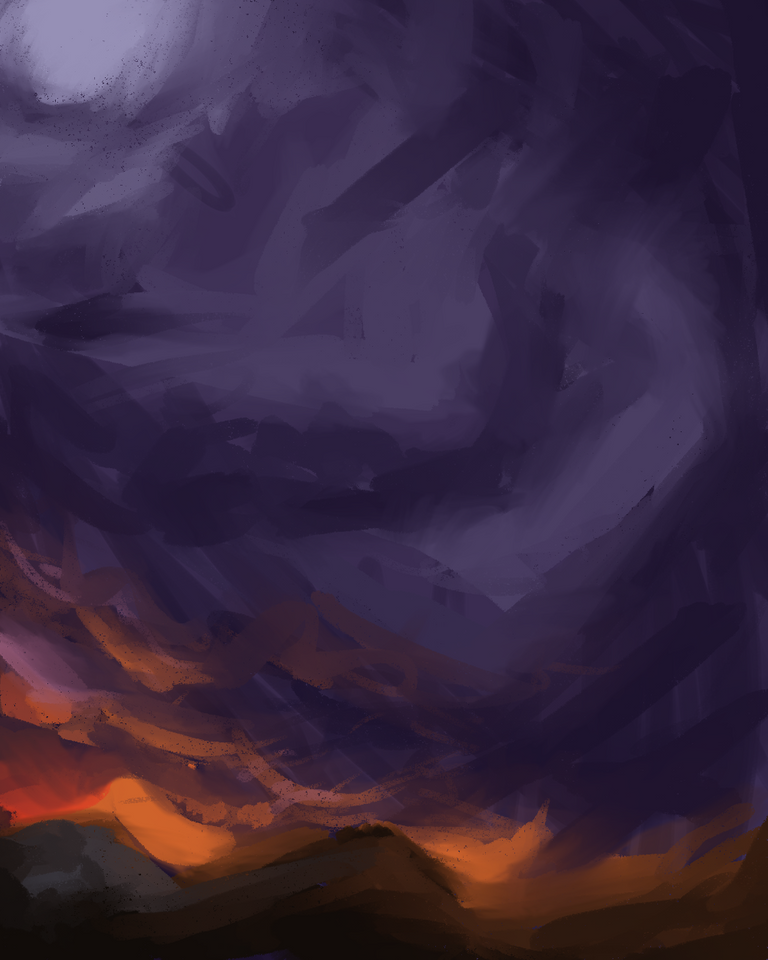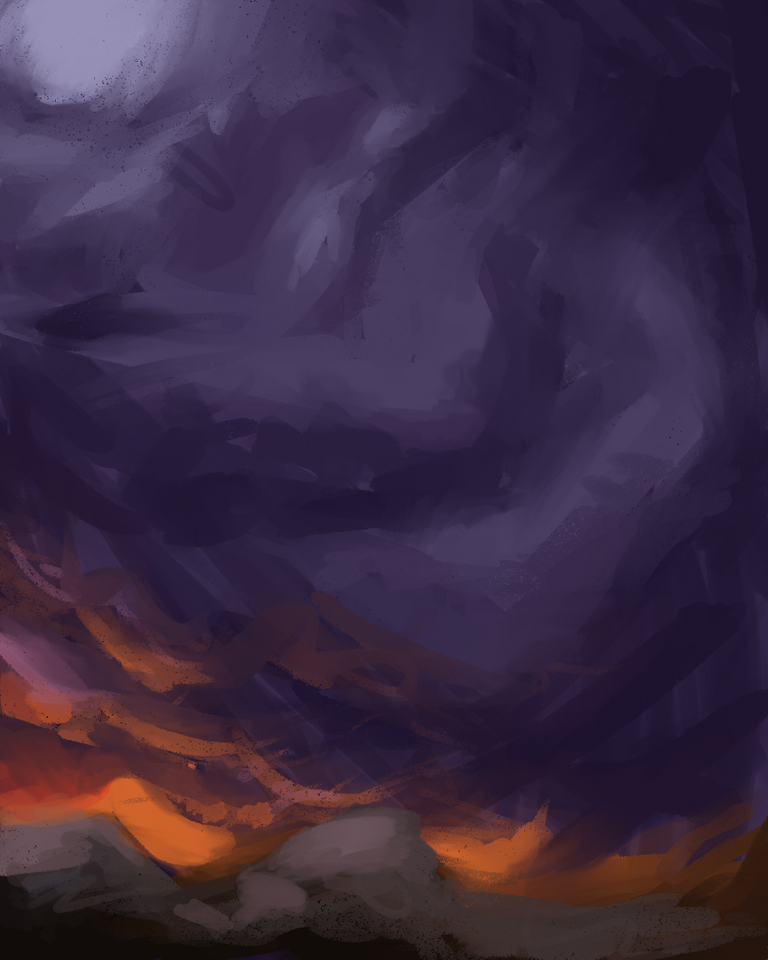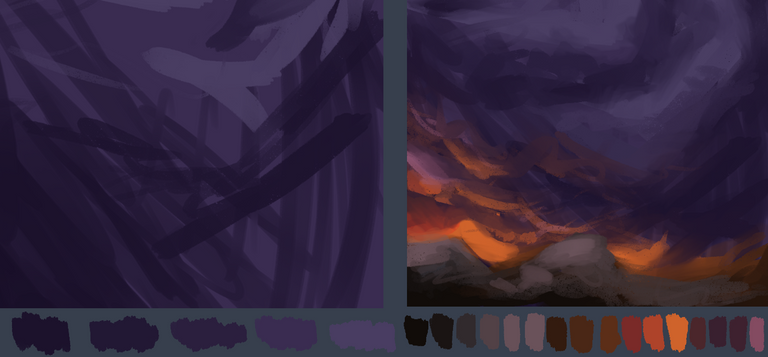 I wanted to be faithful to the atmosphere of the card and that purple was an important base in it, applying some subtle clarity, giving shape to a stormy sky, and taking from Yorick's splashart the effervescent horizon that poses with warm lights giving play to mix with earth tones and propose a sufficiently solid environment but with a good proposal of contrast.
Quise ser fiel a la atmosfera de la carta y que el morado fuera una base importante en él, aplicándole algo de claridad sutil, dando forma a un cielo tempestuoso, y tomando del splashart de Yorick el horizonte efervescente que plantea con luces cálidas dando juego a mezclarse con tonalidades tierra y proponer un ambiente suficientemente sólido pero con una buena propuesta de contraste.
---
CHARACTER LAYERS 🤺 CAPAS DEL PERSONAJE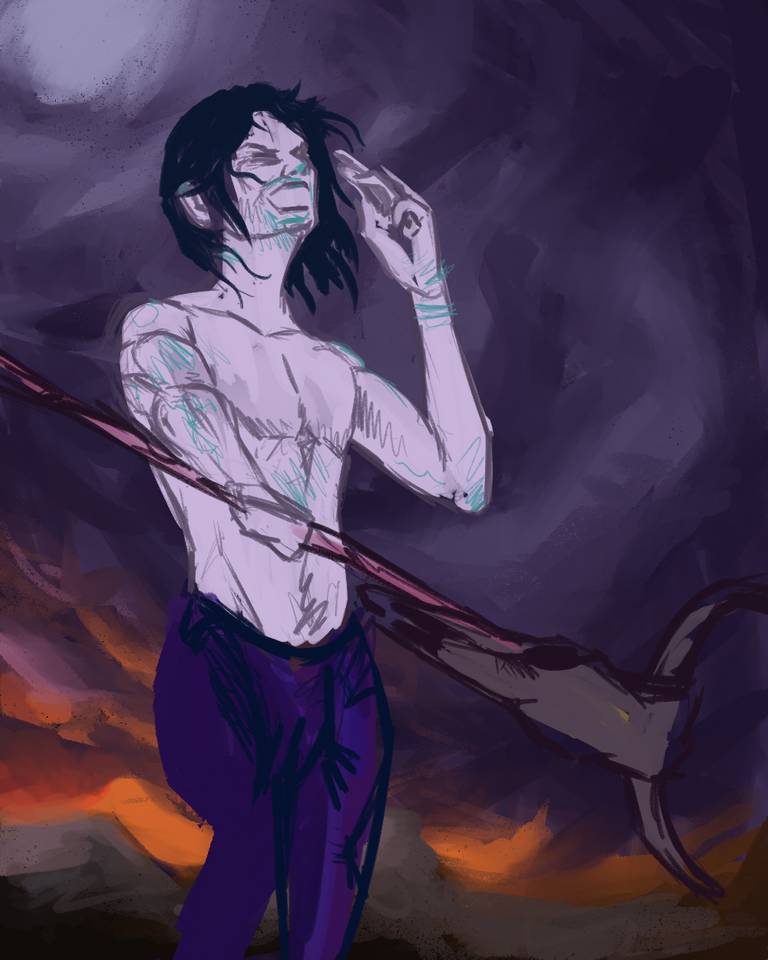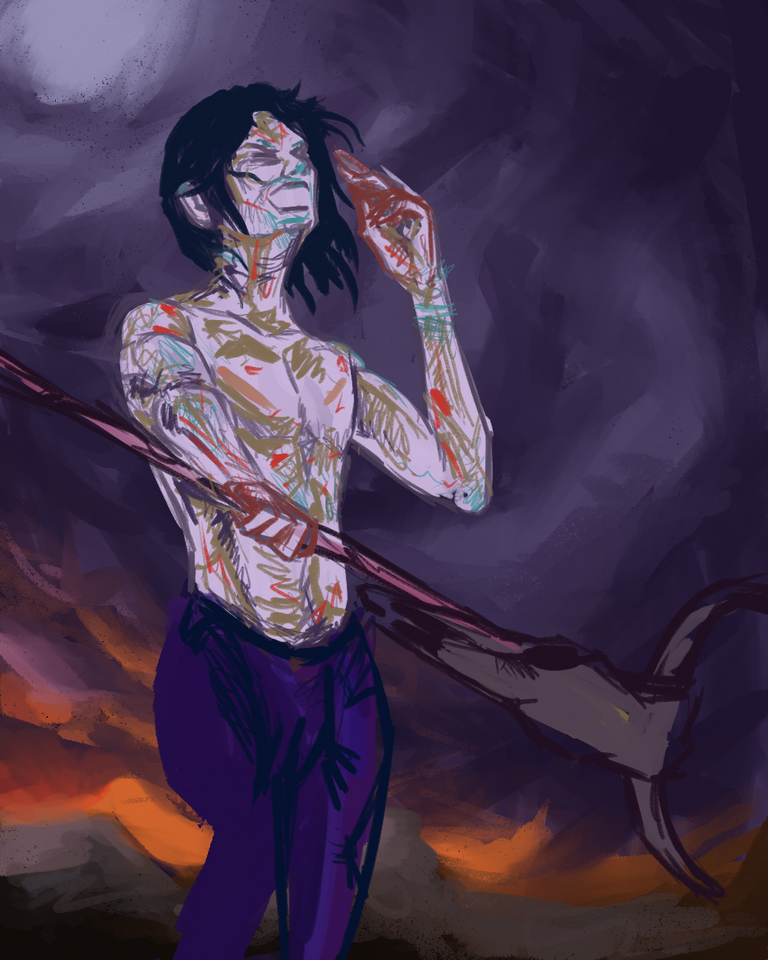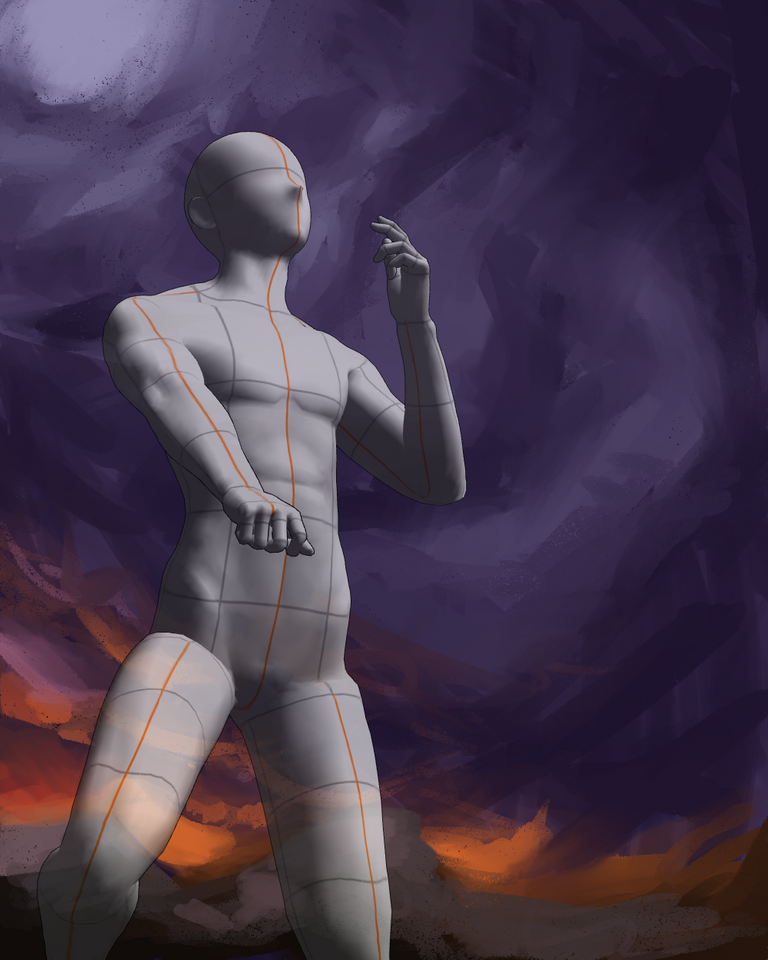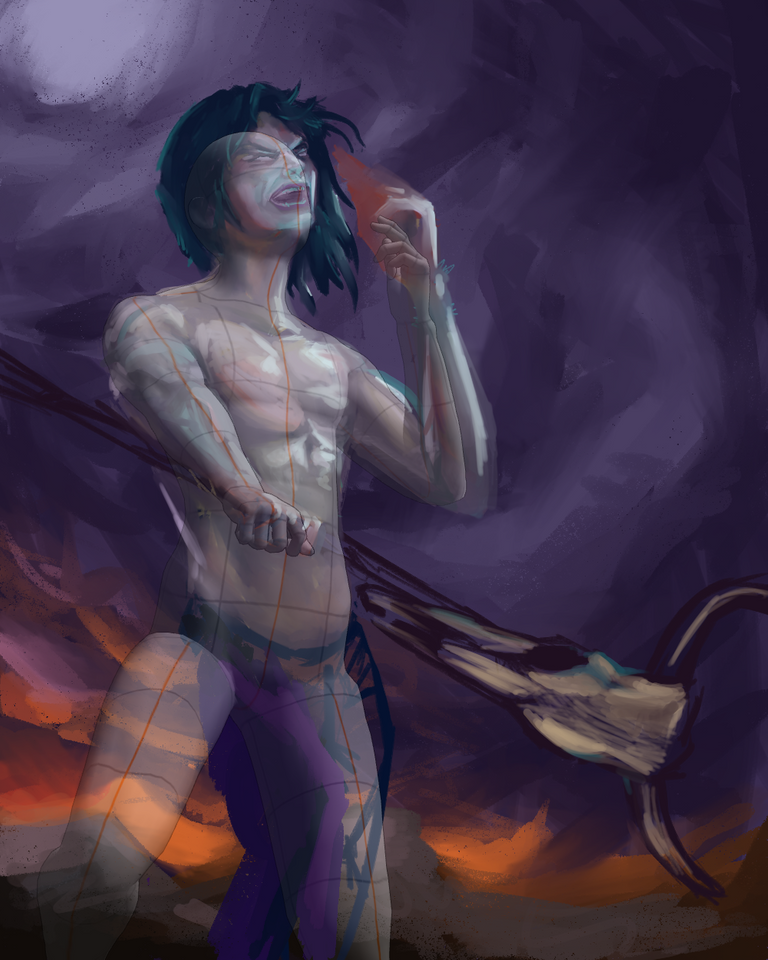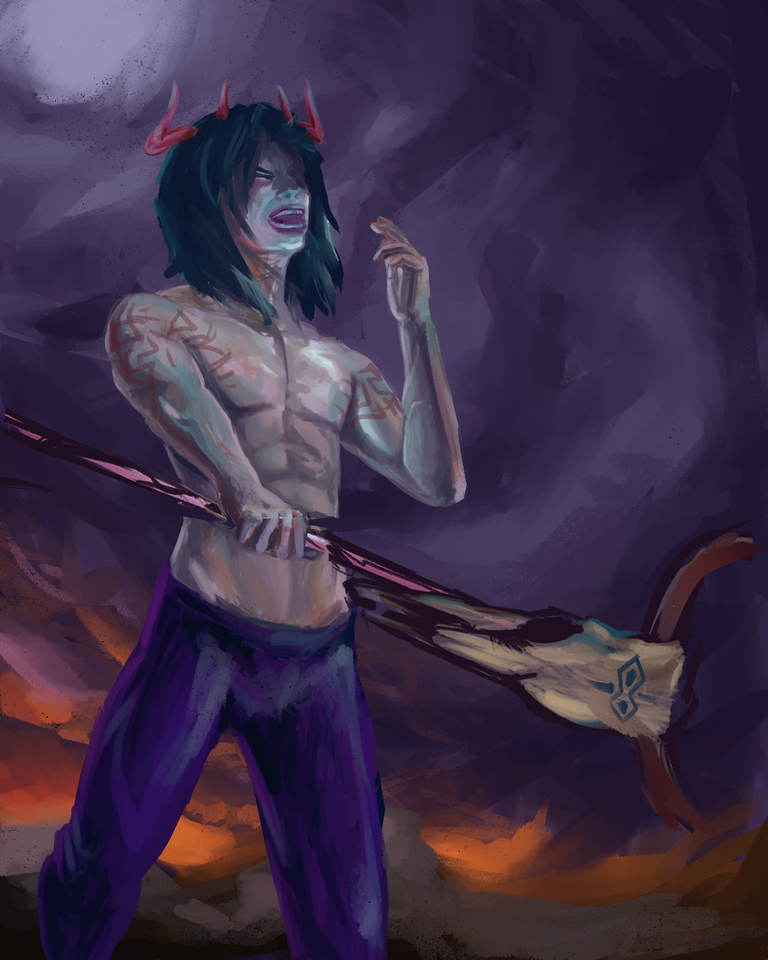 I was building the character devising shades that were consistent with the temperature that already exists, but there was some visual discomfort present in the posture of the character that still did not quite fit, so I resorted to the basic male 3D model to give a little more realistic pose perhaps, a tool that can really make a very positive difference if you ask me. With that applying the correction was managed while modeling the integrity of the character, where using tools such as the color mixer and the density game in the brushes was crucial, moving from one stage to another, for example applying a base of spots, adding or defining the sources of light and dark to then apply the blending and re-emphasize with the solid density brush as needed.
Fui construyendo al personaje ideando tonalidades que fueran coherentes con la temperatura que ya existe, pero había cierta incomodidad visual presente en la postura del personaje que aún no terminaba de cuadrarme, así que recurrí al modelo 3D masculino básico para dar con una postura un poco más realista quizá, una herramienta que en verdad puede hacer una diferencia bastante positiva si me preguntan. Con ello aplicación de la corrección se fue gestionando mientras se modelaba la integridad del personaje, donde utilizar herramientas como el mezclador de colores y el juego de densidad en los pinceles fue crucial, pasando de una etapa a otra, por ejemplo aplicar una base de manchas, agregar o definir las fuentes de luz y oscuridad para luego aplicar el mezclado y volver a acentuar con el pincel de densidad sólida lo que fuera necesario.
---
THE POWER OF THADDIUS ♨️ EL PODER DE THADDIUS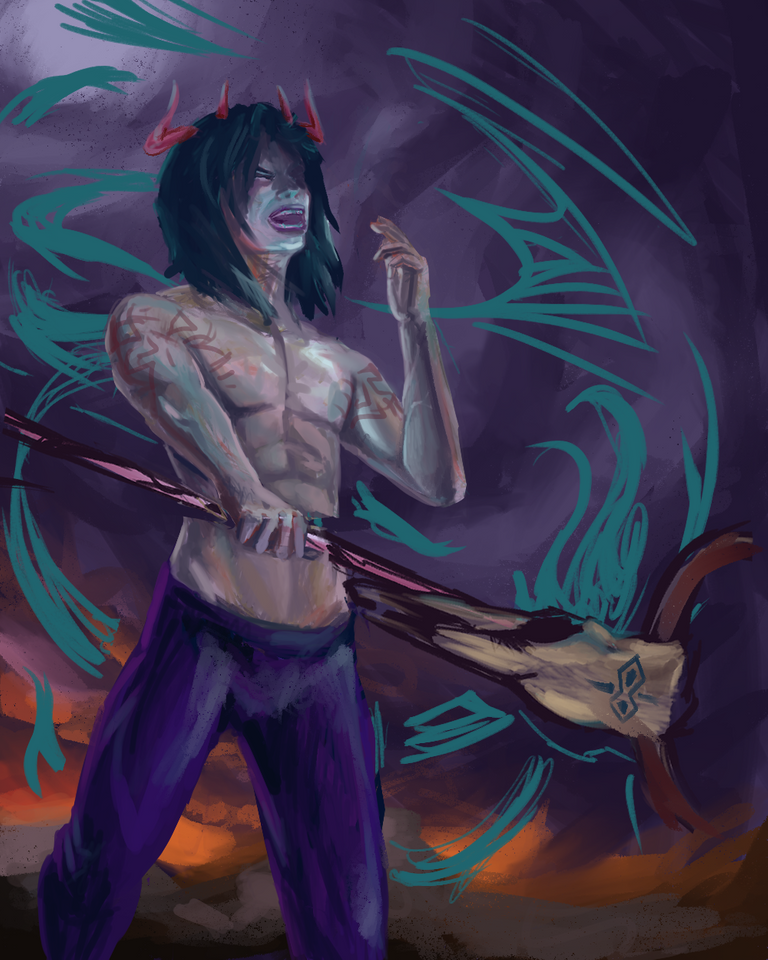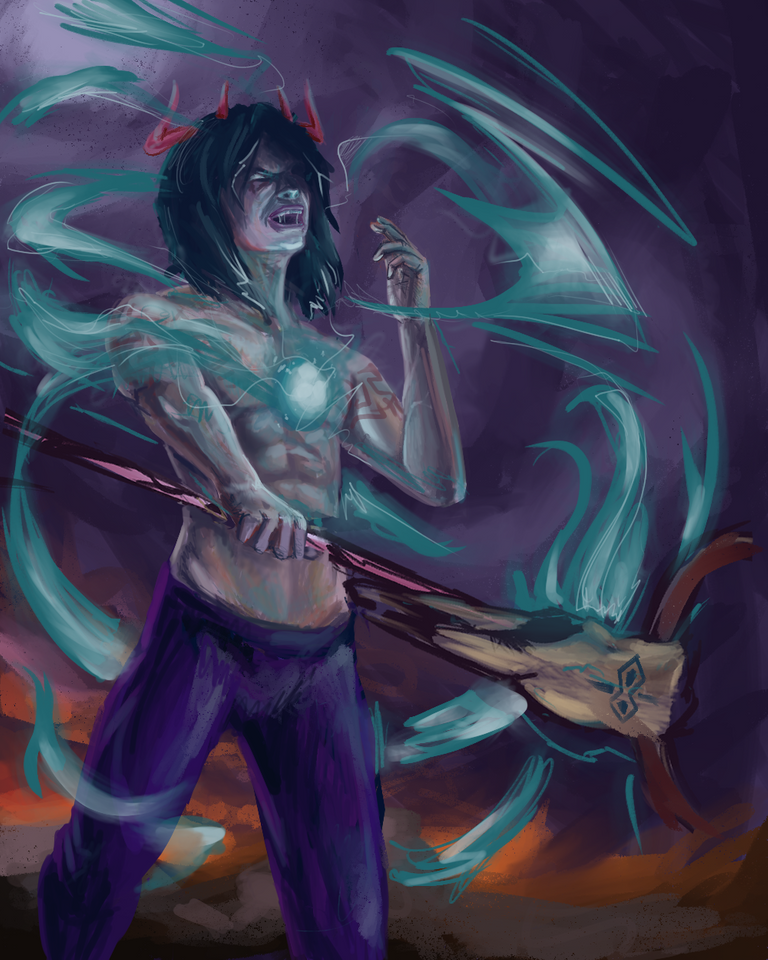 This was my favorite part of the work, because a very important element to represent were the irregular shapes of strident green that surround Thaddius, and although I wanted to emulate a little the brightness that I saw in the references of similar spectral elements, I wanted to play with white strokes that communicate the energy of the character, but the most delicate of all this was to develop the interaction of the character with this itself, I also took the liberty to edit a little the original design of the character turning his upper garments directly tribal of the same color of the clothes.
Esta fue mi parte favorita de la obra, pues un elemento importantísimo a representar eran las formas irregulares de color verde estridente que rodean a Thaddius, y aunque quise emular un poco el brillo que vi en las referencias de elementos espectrales parecidos, quise jugar con trazos blancos que comunique la energía del personaje, pero lo más delicado de todo esto fue desarrollar la interacción del personaje con esto mismo, también me tome la libertad de editar un poco el diseño original del personaje volviendo sus vestiduras superiores directamente tribales del mismo color de la ropa.
---
SPELL COMPLETED ❇️ HECHIZO COMPLETADO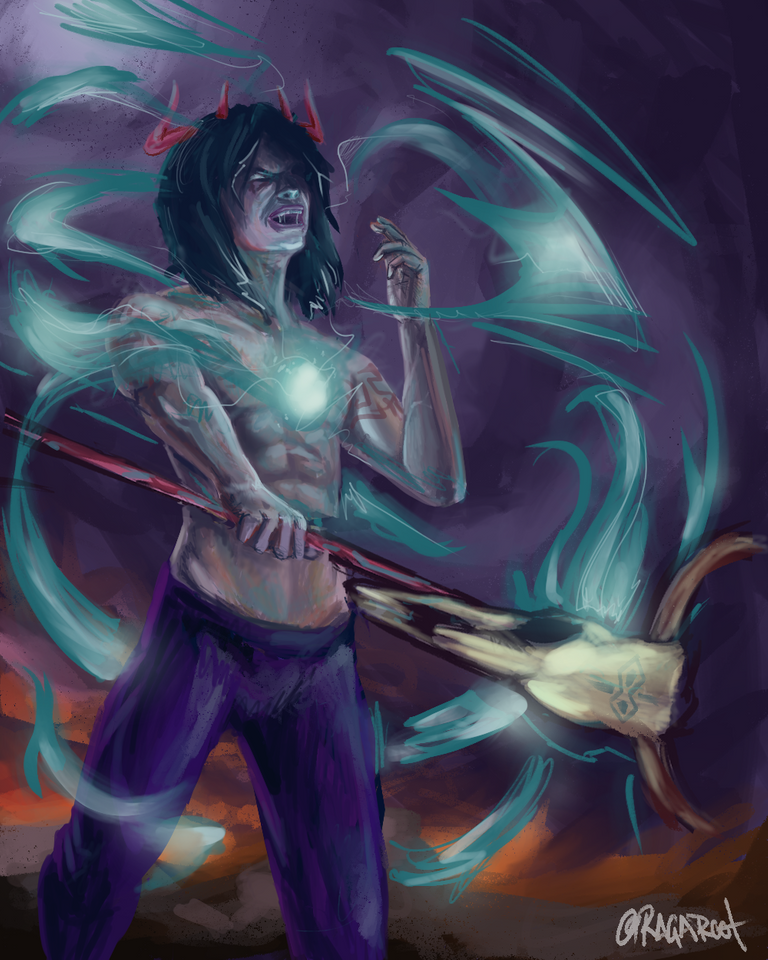 We close the process with a little airbrush to raise the brightness and we finish this fan art. I really enjoyed this work, it was an excellent creative exercise. Thank you very much for your time here, if you have any opinion or something to share don't hesitate to do it and see you next time hiver. Ragaroot out
Cerramos el proceso con un poco de aerógrafo para alzar el brillo y damos por terminado este fan art. Sí que disfrute de esta obra, la verdad fue un excelente ejercicio creativo. Muchísimas gracias por tu tiempo acá, si tienes alguna opinión o algo que compartir no dudes en hacerlo y hasta la próxima vez hiver. Ragaroot fuera

---
爱
---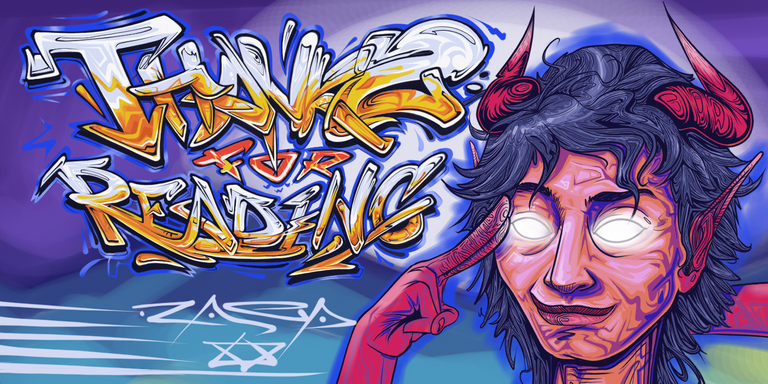 Translation made with deepl.com/ Traducción realizada con deepl.com ©Copyright @ragaroot 2022. / ©Derechos reservados de @ragaroot 2022.
---
---