Desnuda 🍒 | Rainer Miller | Reseña Personal ✍🏻 | [Spa|Eng]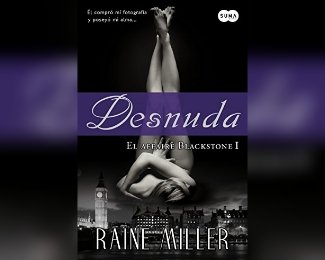 Portada
¡Hola mis queridos Hivernautas de la lectura! 🤓📚 Espero la estén pasando bien, pero si están un poco desocupados y lo que quieren es matar el aburrimiento o los tiempos libres, les traigo un estupendo libro.
Desnuda es un libro de la escritora Raine Miller, que nos relata la vida de dos personas en dos mundo muy diferente pero con cicatrices que les ha marcado lo que llevan de vida.
Para empezar, amo los libros que desde el comienzo logran captar tu atención, ya que me ha pasado que he comenzado a leer un libro y este no me ha parecido interesante al principio.
Así que decido seguir leyendo el primer capítulo a ver si consigo algo que me llame la atención, sino desisto de leerlo.
Desnuda es todo lo contrario a esto último que acabo de decir, Desnuda es el libro que desde su portada te engancha porque sabes que vas a leer algo muy bueno.
Hello my dear Hivernautas of reading! 🤓📚 I hope you are having a good time, but if you are a bit disengaged and what you want is to kill boredom or free time, I bring you a great book.
Naked is a book by the writer Raine Miller, which tells us the life of two people in two very different world but with scars that have marked them what they have been living.
To begin with, I love books that from the beginning manage to capture your attention, as it has happened to me that I have started reading a book and this one did not seem interesting at first.
So I decide to keep reading the first chapter to see if I get something that catches my attention, otherwise I stop reading it.
Naked is the opposite of the last thing I just said, Naked is the book that from its cover hooks you because you know you are going to read something very good.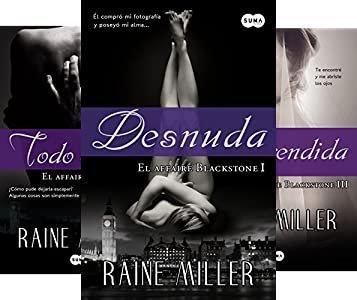 Imagen
Es un libro con una historia muy directa que sin rodeos ni tantas vueltas te lleva a conocer y sentir la vida de Ethan y Brynne, resumida en su amorosa relación entre el amor, la atracción y el sexo.
Por su puesto que es un libro erótico con mucho drama histórico y personajes de ficción que amarás desde el momento en que comiences a leer su historia.
Raine Miller se encargó de escribir una trilogía llamada El Affairé Blackstone #1 (Desnuda), #2 (Todo o nada) y #3 (Sorprendida), que va directo al grano, directo a la historia que esperamos desde el primer momento en que comenzamos a leer este libro.
Por su puesto que los personajes tienen grandes secretos pero nada que nos haga sentir incómodos al leerlos, nada de rollos existenciales exagerados de esos que abarcan más de un capítulo completo.
De hecho, en esta primera saga esos grandes secretos están en segundo plano y es por eso que terminando el libro aún queda mucho por descubrir, lo que lo hace fascinante y despierta mucho la curiosidad por saber en qué termina todo.
No son historias comunes, no es nada comparado con la saga de Cincuenta Sombras de Grey, que sí me lo preguntan, me voy por Raine Miller en cuanto a novelas eróticas.
Son historias cortas pero profundas, esta primera saga de Desnuda es un libro corto que te comerás rápidamente y te hará entrar al siguiente sin ningún problema.
It is a book with a very straightforward story that takes you to know and feel the life of Ethan and Brynne, summarized in their loving relationship between love, attraction and sex.
Of course it is an erotic book with lots of historical drama and fictional characters that you will love from the moment you start reading their story.
Raine Miller took it upon herself to write a trilogy called The Blackstone Affair #1 (Naked), #2 (All or Nothing) and #3 (Surprised), which is straight to the point, straight to the story that we expect from the first moment we start reading this book.

Of course, the characters have big secrets but nothing that makes us feel uncomfortable reading them, nothing of those exaggerated existential rolls that take up more than a whole chapter.
In fact, in this first saga those big secrets are in the background and that is why at the end of the book there is still much to discover, which makes it fascinating and arouses a lot of curiosity to know how it all ends.
These are no ordinary stories, it's nothing compared to the Fifty Shades of Grey saga, which if you ask me, I go for Raine Miller when it comes to erotic novels.
They are short but deep stories, this first Naked saga is a short book that you will eat up quickly and get you into the next one without any trouble.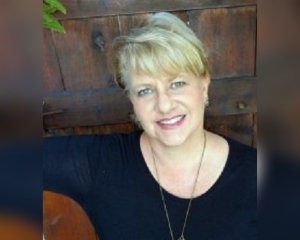 Raine Miller - 2013
Para hablarles un poco sobre los personajes, Brynne es una joven americana que decide vivir en Londres, comenzar desde cero y terminar sus estudios allá, el arte que es su pasión.
Para conseguir un poco más de dinero y aprovechando que tiene un gran amigo que es fotógrafo, hace pasatiempos como modelo y así logra conseguir un extra para sus estudios.
Pero es obvio que la chica viene huyendo de un oscuro pasado que aún la aterra. Un vídeo prohibido, peligroso, un político sucio, un misterio que la amenaza y la hace huir de toda una pesadilla.
Por otro lado, Ethan" es un ex militar, quien trabajo en las Fuerzas Especiales, estuvo en la guerra en Irak y tuvo una oscura vivencia que lo dejó marcado, después de eso, decide crear su propia empresa de seguridad privada.
Un hombre empresario y millonario, encargado además de los juegos Olímpicos del año 2012, año en el que está ambientada la novela.
El encuentro entre estas dos personas no es nada inusual, pero sí algo que puede suceder fácilmente, no son entrevistas casi imposibles, no son conexiones entre conocidos, es una total y obsesiva casualidad.
El libro es tan profundo como la atracción y magnetismo que ambos personajes derrochan entre sí, así que te dejará con pelos de punta desde comienzo a fin.
No existen capítulos medios, todos los capítulos traen mucha intensidad, mucho amor, sexo, posesión, atracción, locura y dolor.
To tell you a little about the characters, Brynne is a young American girl who decides to live in London, start from scratch and finish her studies there, art which is her passion.
To get a little more money and taking advantage of the fact that she has a great friend who is a photographer, she does hobbies as a model and thus manages to get some extra for her studies.
But it is obvious that the girl is running away from a dark past that still terrifies her. A forbidden, dangerous video, a dirty politician, a mystery that threatens her and makes her run away from a whole nightmare.

On the other hand, Ethan is a former military man, who worked in the Special Forces, was in the war in Iraq and had a dark experience that left him marked, after that, he decides to create his own private security company.
A businessman and millionaire, he is also in charge of the 2012 Olympic Games, the year in which the novel is set.
The meeting between these two people is nothing unusual, but something that can easily happen, they are not almost impossible interviews, they are not connections between acquaintances, it is a total and obsessive chance.
The book is as deep as the attraction and magnetism that both characters squander on each other, so it will leave you on edge from start to finish.
There are no middle chapters, every chapter brings a lot of intensity, a lot of love, sex, possession, attraction, madness and pain.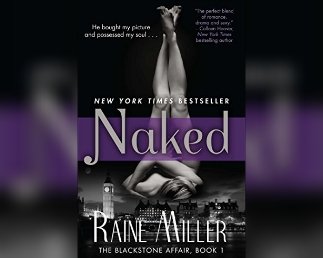 Imagen
Qué más sube y baja que esto, para leer. Sin duda una tormenta de sentimientos y emociones que te va a dejar desorientada o desorientado jajajaja 😂.
No sentirás aburrimiento y además te aseguro que nadie lee la primera saga de esta trilogía sin leerlas todas y aún así querer leer más.
Si está primera parte de deja con los pelos de punta al ser narrada por la misma Brynne, la segunda parte te dejará con la boca abierta y más enamorada que nunca al ser narrada por el mismo Ethan, quien amarás desde el inicio.
Amo Londres, aunque no he tenido la oportunidad de ir, este fue el primer motivo por el cual me comenzó a dar curiosidad está novela.
Aunque el simple título y la portada me convenció más de leerlo. Luego no pude parar, así que ésta es una advertencia por si aún no has leído está increíble trilogía.
Aunque no estoy segura, creo que ya Raine Miller ha sacado un cuarto libro sobre esta historia titulado Algo raro y precioso, lo que seguramente puede ser cierto y bueno, ya que Desnuda fue un libro del año 2012 y ya han pasado varios años desde su publicación.
La recomiendo mucho, de hecho, en una oportunidad, en mi entorno de trabajo de aquel entonces, leía el libro en mi trabajo y la sola portada llamó la curiosidad de dos compañeras de trabajo.
Me había tardado tres días en leerlo, pues en ese entonces casi no tenía tiempo de nada más que de todo lo que ya tenía programado en el día. Así que esos tres días estuve leyendo el libro en el trabajo.
What more up and down than this, to read. Without a doubt a storm of feelings and emotions that will leave you disoriented or disoriented hahahahaha 😂.
You won't feel boredom and also I assure you that no one reads the first saga of this trilogy without reading them all and still wanting to read more.
If this first part leaves you with your hair standing on end as it is narrated by Brynne herself, the second part will leave you with your mouth open and more in love than ever as it is narrated by Ethan himself, who you will love from the beginning.
Love London, although I have not had the opportunity to go, this was the first reason why I started to get curious about this novel.

Although the simple title and the cover convinced me more to read it. Then I couldn't stop, so this is a warning in case you haven't read this amazing trilogy yet.
Although I'm not sure, I believe Raine Miller has already released a fourth book on this story titled Something Rare and Precious, which surely can be true and good, since Naked was a 2012 book and it's been several years since its publication.
I highly recommend it, in fact, on one occasion, in my work environment at the time, I was reading the book at my work and the cover alone caught the curiosity of two female co-workers.
It had taken me three days to read it, because at that time I had almost no time for anything but everything I already had scheduled in the day. So those three days I was reading the book at work.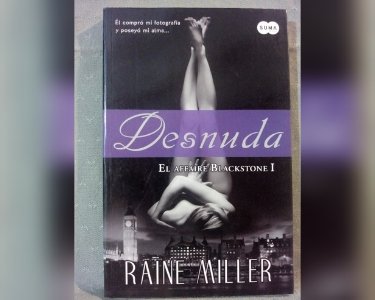 Imagen
Mis compañeras esperaron dos días para leerlo pues al primer día ya les había llamado la atención. No les contaba nada, ni si quiera les decía sobre qué iba la historia.
Eso les alimentaba más la curiosidad. Cuando por fin se los presté, comencé a buscar los otros dos por la aplicación de Play Story de libros, pues tenía solo Desnuda en físico.
Evidentemente que mis compañeras de trabajo quedaron con ganas de más, así que no se aguantaron e hicieron lo mismo que yo y continuaron con la saga.
Luego de varios años, volví a prestar el libro y nunca más me lo devolvieron, eso me dolió mucho porque quería coleccionar la trilogía completa, en físico.
Cuando un libro es muy bueno, me gusta tenerlo y leerlo o releerlo en físico.
Pero aún no pierdo las esperanzas de tenerlo en mi biblioteca, aunque ya han pasado varios años desde su publicación, no deja de ser una trilogía que deje de encantarme, algún día tendré mis tres libros en físico que por su puesto no volveré a prestar jajaja.
De hecho, es una de las razones por las que ya no presto libros, ese libro me dolió mucho perderlo, más aún la forma en que jamás me lo devolvieron, así que desde entonces, solo recomiendo los nombres de los libros y sus autores.
Por ahora, no puedo contarles más sobre esta primera saga, ya que me emociona mucho y temo terminar contándoselas toda, así que, por los momentos espero les haya gustado leer esta reseña personal y que se animen a leerla.
Si ya la han leído, me gustaría saber sus experiencias. Espero estar en una próxima breve lectura con ustedes, mis lectores favoritos. 🤗🤓📚📖
My classmates waited two days to read it because it had already caught their attention on the first day. I didn't tell them anything, I didn't even tell them what the story was about.
That made them even more curious. When I finally lent it to them, I started looking for the other two through the Play Story book app, since I only had Naked in physical form.
Evidently my coworkers were left wanting more, so they couldn't resist and did the same as me and continued with the saga.
After several years, I lent the book again and never got it back, that hurt me a lot because I wanted to collect the complete trilogy, in physical.
When a book is really good, I like to have it and read or reread it in physical.
But I still don't lose hope of having it in my library, even though it's been several years since its publication, it's still a trilogy that I don't love anymore, someday I will have my three books in physical that of course I will never lend again hahaha.

In fact, it is one of the reasons why I don't lend books anymore, that book hurt me a lot to lose it, even more the way it was never returned to me, so since then, I only recommend the names of the books and their authors.
For now, I can't tell you more about this first saga, because I'm very excited and I'm afraid I'll end up telling you all about it, so, for the moment I hope you enjoyed reading this personal review and that you are encouraged to read it.
If you have already read it, I would like to know your experiences. I hope to be on an upcoming short read with you, my favorite readers. 🤗🤓📚📖

Separator Blog

Todo el contenido de esta publicación son de mi propiedad excepto las imágenes con fuente y el separador de Blog. | All contents of this publication are my property except for the images with source and the Blog separator.

---
---