"Pseudo-flexiones en casa"💪//"Pseudo-push up at home"💪 (ESP/ENG)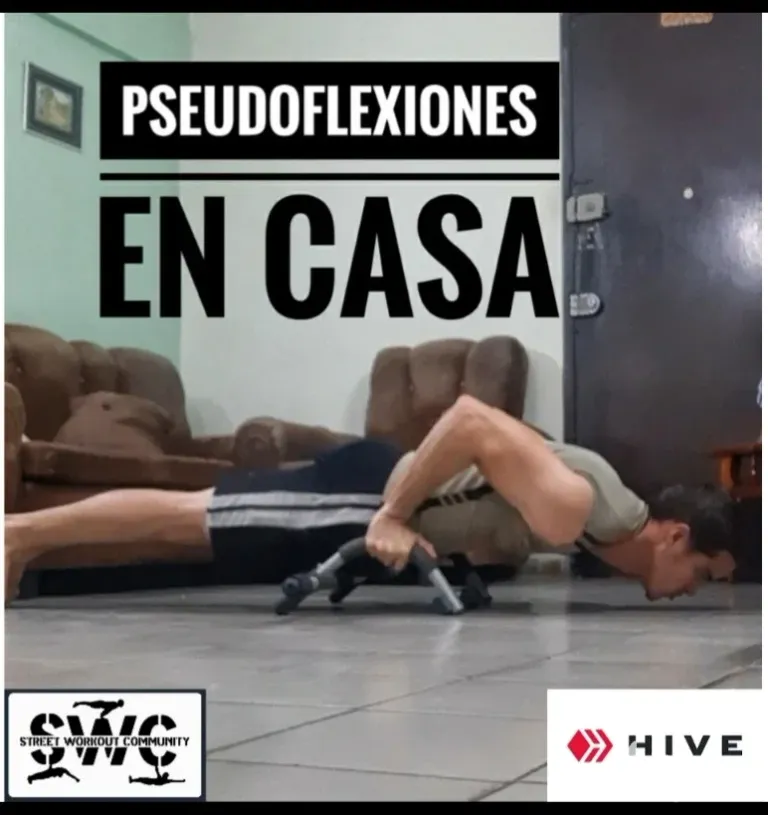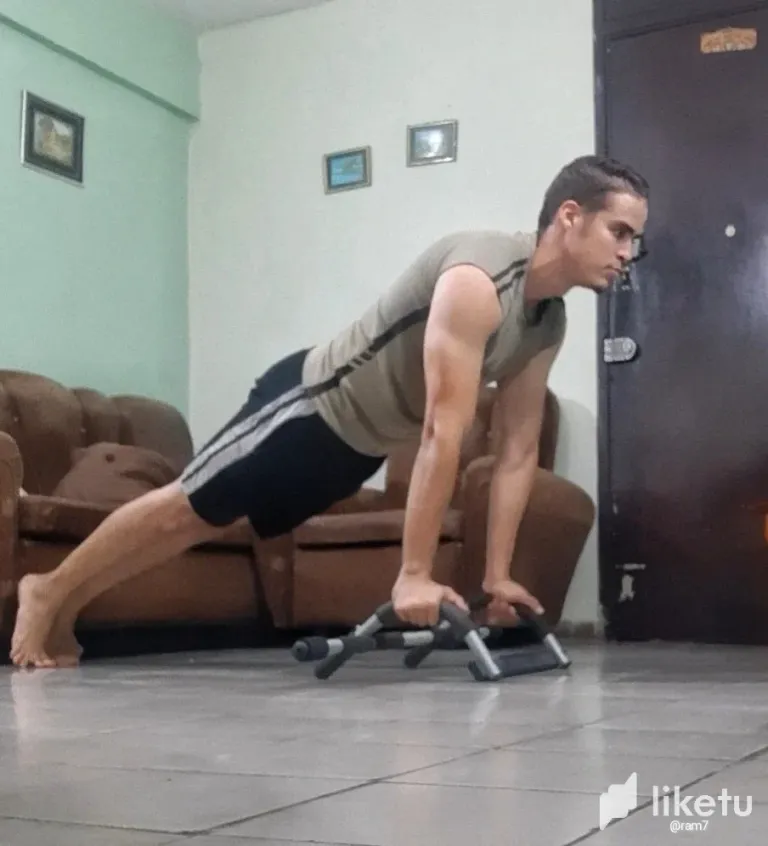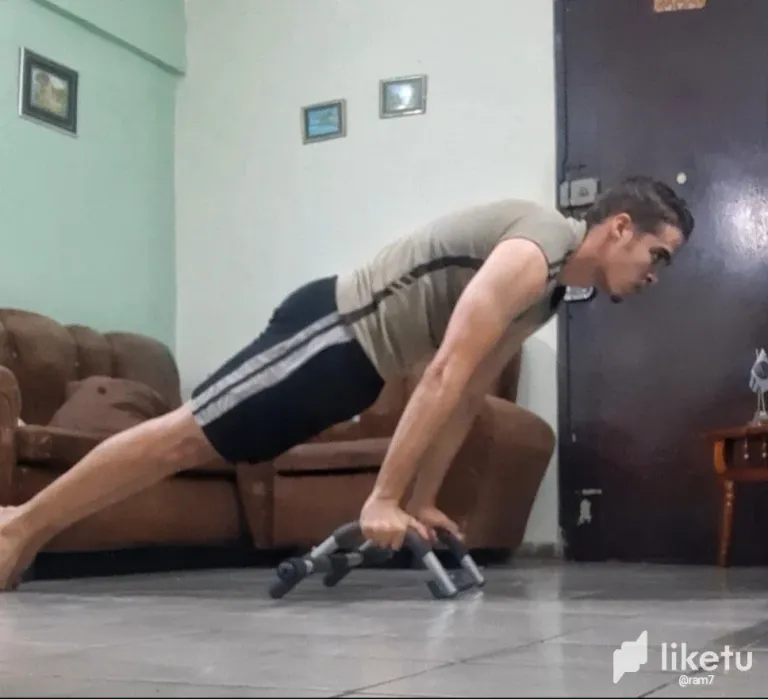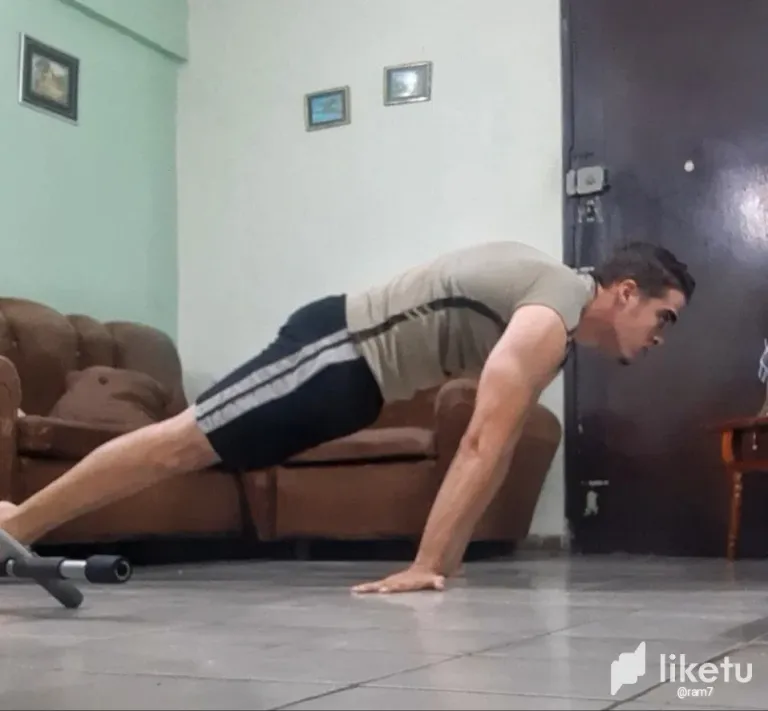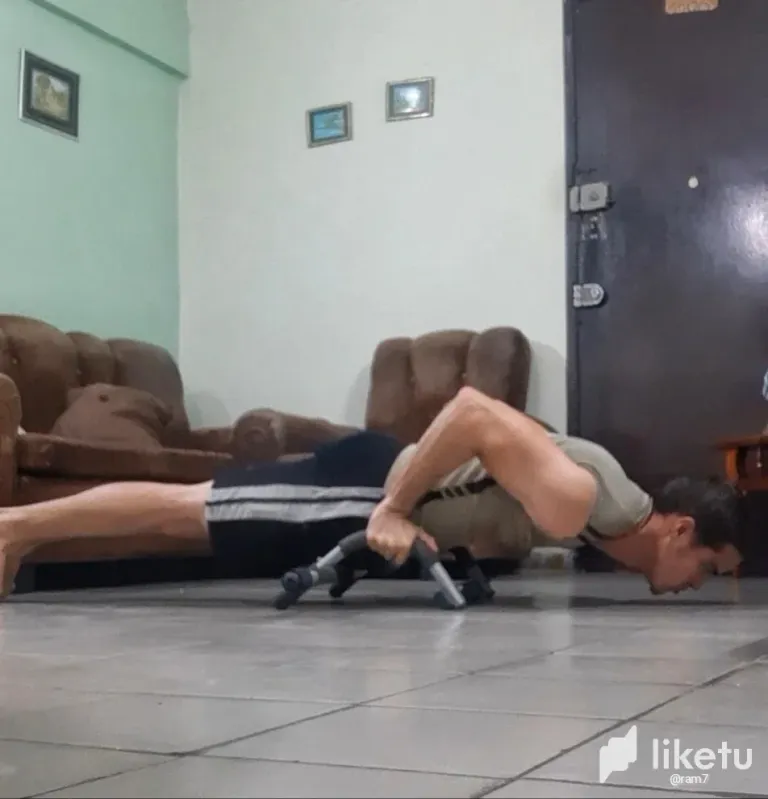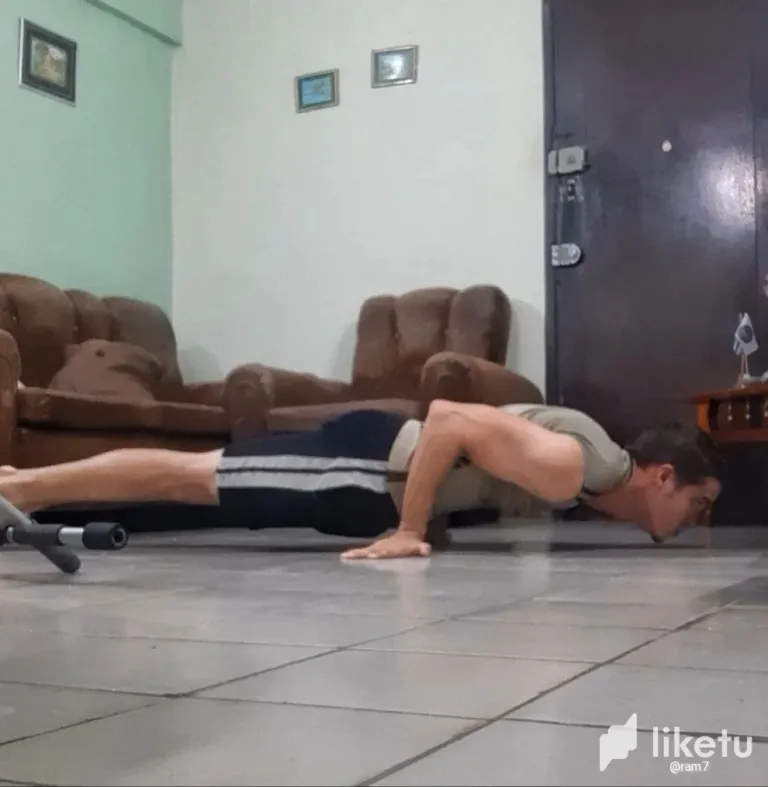 "Pseudo-flexiones en casa"💪
"Pseudo-push up at home"💪
Realizando pseudoflexiones en casa desde miniparalelas y desde el suelo
Performing pseudo-push up at home from miniparallets and from the floor
---
---
Saludos calisténicos! En el día de hoy les quiero compartir algunas imágenes que tomé de mí mismo mientras realizaba pseudoflexiones (tanto en miniparalelas como desde el suelo) como parte de mi entrenamiento con peso corporal para tren superior.
Las pseudoflexiones son un gran ejercicio que requieren de mucha fuerza de empuje, por lo cual es indispensable tener una buena base previa para su ejecución.
Su principal diferencia con respecto a una flexión tradicional consiste en que el empuje del cuerpo se realiza desde la línea de la cintura y aplicando retracción escapular, por lo que las manos deben ir hacia la cintura lo más posible (si se realiza en el suelo con las manos apuntando hacia afuera para no sobrecargar las muñecas), e inclinar el tronco hacia delante manteniendo las escápulas retraídas. Por ello pone mucho énfasis en los deltoides posteriores y la zona pectoral. Pero además trabaja tríceps, bíceps, trapecios y la zona del core, haciendo de él un ejercicio muy completo.
Este ejercicio es ideal para construir masa muscular y para la ganancia de fuerza necesaria para progresar hacia variantes más complejas en aras de lograr la flexión en full Planche.
Y bien, que opinan entonces de este gran ejercicio? Leo sus comentarios💪
Greetings callisthenics! Today I want to share with you some images I took of myself performing pseudo-push up (both in mini-parallel and from the ground)as part of my upper body weight training.
Pseudo-push up are a great exercise that require a lot of pushing strength, so it is essential to have a good previous base for its execution.
Its main difference with respect to a traditional push-up is that the push of the body is performed from the waist line and applying scapular retraction, so the hands should go towards the waist as much as possible (if performed on the floor with hands pointing outward to avoid overloading the wrists), and tilt the trunk forward while keeping the scapulae retracted. It therefore puts a lot of emphasis on the posterior deltoids and pectoral area. But it also works triceps, biceps, trapezius and core area, making it a very complete exercise.
This exercise is ideal for building muscle mass and for the strength gain necessary to progress to more complex variations in order to achieve the full Planche push up.
So, what do you guys think about this great exercise? I read your comments💪
---
****
| Herramientas de edición y Producción | Editing and Production Tools |
| --- | --- |
| Traductor: DeepL | Translator: DeepL |
Tamaño de la fotografía 📷 4:3 (24 MP)
Photo size📷 4:3 (24 MP)
---
Todas las imágenes son de mi propiedad, capturadas con la cámara de mi teléfono móvil Samsung Galaxy A7.
All images are my own, captured with the camera of my Samsung Galaxy A7 cell phone.
---
---
For the best experience view this post on Liketu
---
---