Hit the Armor and Health at the Same Turn with Double Arrow | Splinterlands Weekly Battle Challenge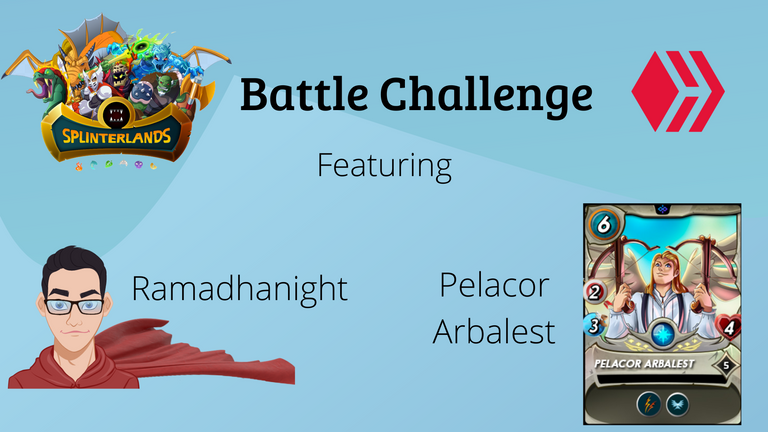 Hello guys, welcome back to Ramadhanight's Hive Blog on Splinterlands Weekly Battle Challenge's Session. For this week Battle Challenge, Splinterlands have picked Pelacor Arbalest as the Weekly Monster, this is one of have monster on modern format, let's see how it goes!
~Lore of The Pelacor Arbalest~
Before we start taking about the battle, let's talk about the monster first. For those who loves a story, i bring you the lore of the Pelacor Arbalest
Pelacor Arbalests are armed with powerful crossbows enchanted to fire bolts at extremely long distances. They are trained to wield a crossbow in each hand and can fire both simultaneously with deadly accuracy. Compounded with the Pelacor's excellent eyesight and nimble dexterity, these sharpshooters are extremely useful as snipers on the battlefield.
But des she realy have the deady accuracy ? i don't think so because her speed is kinda low (sorry splinterlands 😅 )
Source: Splinterlands.com Lore
General Information About Pelacor Arbalest
Now that we knew about the lore of the monster, let's have a look at his stats and abilities. The information about this monster's stats and abilities are shown below

As you can see at picture above, this monster have double attack since first lv which makes her a deadly monster to land massive damage. Combined with the summoner that give +1 range attack, she could give 6 damage in total on each turn, and the damage is splitted so won't get nerved by forcefield ability, and didn't blocked by a single armor because the first arrow might break enemies armor. At lv 5, she got flying ability to help her survive by evade the attack and escaped from the earthquake ruleset. At lv 7, she got 3 base range attack, that could helped her to reach 8 damage on each turn. Her speed is kinda slow, started with just 2 speed, this monster really need team speed buff or slower debuff for enemies to make sure her arrow hit enemies. She also got pretty low health with just 2 health at lv 1 and maxed out at 5.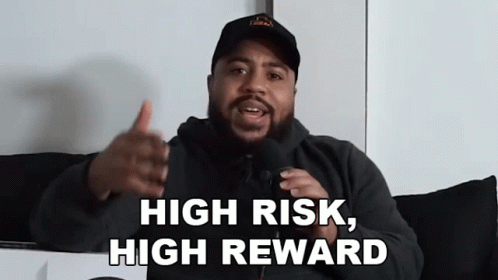 Source : media tenor
Formation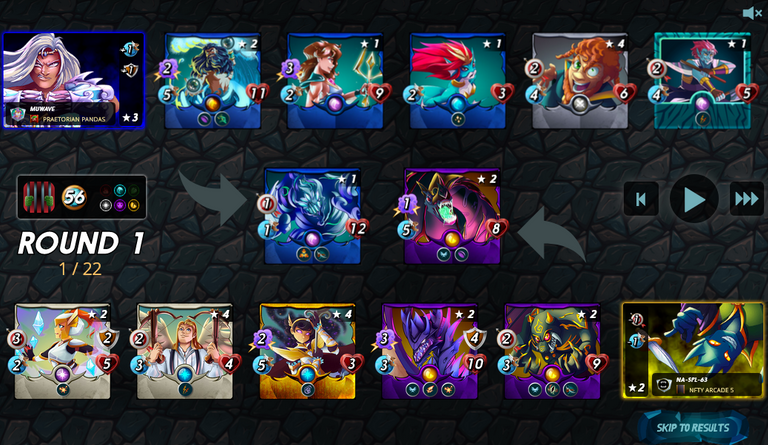 Battle Link: https://splinterlands.com/?p=battle&id=sl_694a4c76b1058f61572191754448e1b6
---
My Lineup's Explanation :
Rules :

Before we discuss about the formation, here is the rules for this match
Keep your distance : Melee monster are unavailable
Splinter available : Water, Life, Death, and Dragon.
| Position | Card | Ability | Strategy |
| --- | --- | --- | --- |
| Summoner | | -1 Range attack and -1 Speed | -1 Range attack is very crucial on no melee ruleset as enemies only have a choice of range attack and magic attack. I choose to nerve the range attack and get void dragon to nerf enemies magic attack and bring more opportunity with dragon monster |
| Tanker | | Void and Flying | High speed, Fying, and Void. Perfect as the tanker for this match to evade enemies range attack and nerf enemies magic attack. Suit arbalest for giving more time landing damage to enemies |
| 2nd Monster | | Flying, Close Range, Charge | Main damager with charge ability, could landed 6 damage every 2 turn. Got close range so could attack at first position if tanker is fallen. Flying will helped this monster to evade range attack. Fit arbalest to deal high damage after enemies armor is stripped by arbalest double attack. |
| 3rd Monster | | Flying, Scattershot, Blast | Damage dealer for enemies backliner with the scattershot that could hit anyone and with the blast he could attack 3 enemies at 1 turn if it landed on the right monster. High health, armor, and flying ability for surviving longer. Fit arbalest for eliminating enemies |
| 4th Monster | | Slow | Could helped all teammates especially those with high speed and flying ability to evade enemies attack, and help all range attacker to hit enemies, one of them is of course pelacor arbalest |
| 5th Monster | | Double attack | Main monster for this week. His double attack could hurt enemies hard, and if they got armor, he would easily stripped them |
| 6thMonster | | Blast | Another blast monster, but this one is for enemies front monster. Fit arbalest for eliminating enemies. |
Does My Strategy is Worked ? :
If you want to watch the battle, please click the link i've mentioned above.
The battle scene are shown on gif below: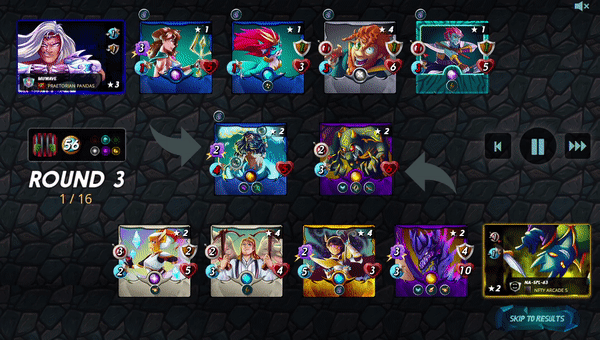 My enemies are using water splinter with 2 magical attack and 3 range damager. My summoner nerf is worked well as enemies got axemaster just like pelacor arbalest that got his attack dropped into just 1. Everyting worked very well and i could win the match with 4 monster left.
Discuss About Pelacor Arbalest :
---
What i like about Pelacor Arbalest:
What i like about Pelacor Arbalest is her high damage potential. With double attack and 2 base attack, she could land 6 damage on each round, and could more with blast ruleset. She also got flying ability later for earthquake ruleset .
---
What i don't like about Pelacor Arbalest :
Behind those high damage potential, this monster have very weak defense. Low speed, low health, no armor, what could be worse ? Yeah she got the fly ability later, just wished enemies assasin won't caught her.
---
When to Use Pelacor Arbalest :
I suggest you to play this monster on medium mana cap, where her mana would suit. I also recommend use this monster on equal health to help her survive longer, and on no sneak ruleset to prevent her getting assasinated by enemies sneaker.
---
When to Avoid Pelacor Arbalest:
It is clear to avoid this monster on low mana cap because you will waste your mana for this monster. I also don't suggest you to use this monster if enemies are historically using assasin due her low health and speed. Unless you have taunt for help and great support for it
Conclussion
Pelacor Arbalest got high damage potential, yet have very low health and speed which cause her easy to killed. You need to use her properly with right rules and formation to get her potential out, or you will just wasting your mana for easily killed monster.
Final Words
If you haven't play
#Splinterland
(the greatest battle card game), you can start join this
#Play2Earn
game using my referral link below to get a 60 Dec Bonus and A simple guide to start gain earn from this game with those DEC. (Just Dm me 😉 ).
Set beneficiary to @indonesianhiver for all Indonesian hiver development
Credits
splinterlands for the cool game and weekly challenge
peakd for the very useful blog and community platform
peakmonster for the cool card rent platform
Kyo Gaming for the cool dividers
Mrs. carrieallen for the very useful ULTIMATE Markdown Tutorial
all curators for the upvotes!
marianaemilia , archange , fengchao for keep supporting my post
oadissin for reblogging my post
Canva and Photopea for the free photoshop
Ezgif.com for the free video to gif converter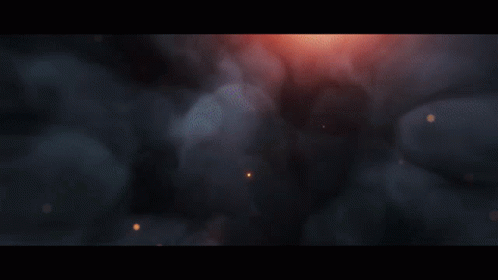 ~Thank You~
---
---