And the Award Goes To... - Marvel's Spiderman.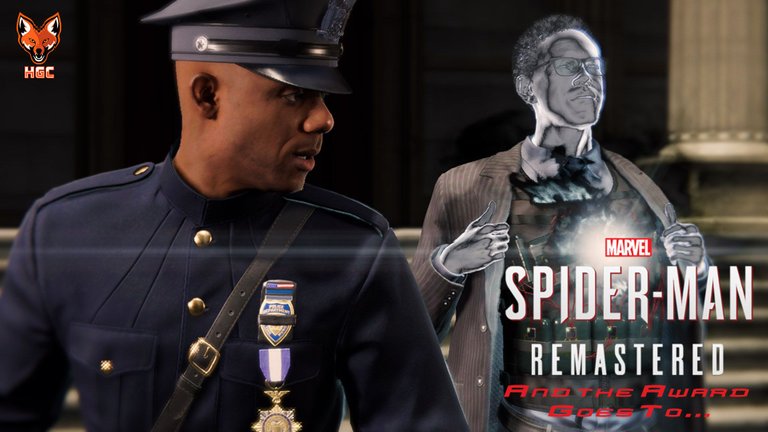 Logo for the thumbnail.
Let's watch me swing as spiderman and finish another mission that I've successfully finished and uploaded the gameplay in YouTube.
Mission Overview: If anyone deserves a medal, it's officer Davis. Spiderman hopes the ceremony hasn't started yet...
YouTube Link:

The legend of Miles Morales continues in this mission and you'll likely to know him better after reading this post of watching the gameplay above.
Jefferson was talking about a ceremony in the previous mission when he was in a phone call with Spiderman. Now its about that ceremony. And the ceremony is about honoring Jefferson Davis for what he's done for the city fighting the Demons.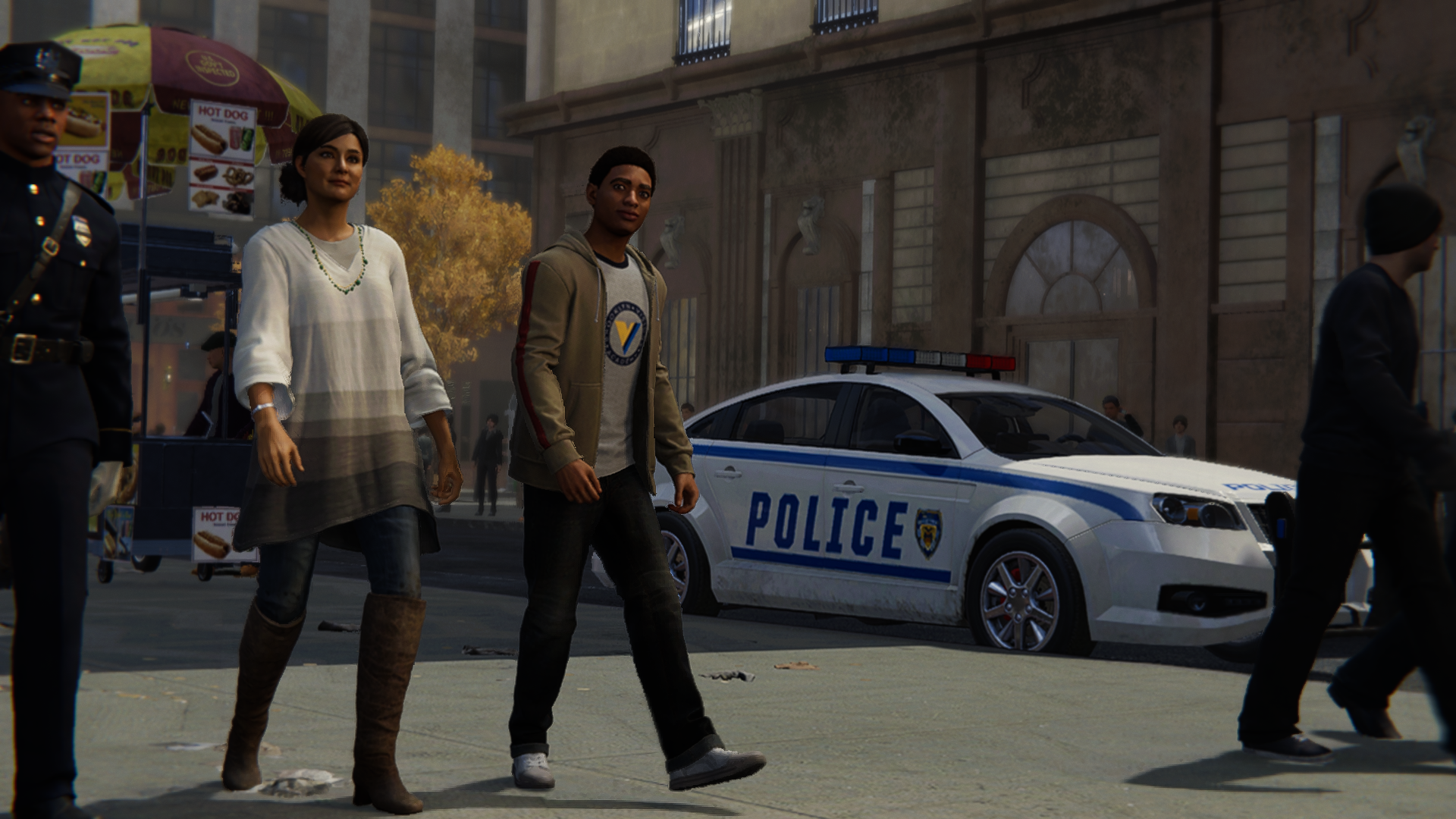 Jefferson Davis with his family, Rio (the wife) and Miles Morales (the son) came to the ceremony to get awarded by the mayor of this city and yeah the mayor was Osborn.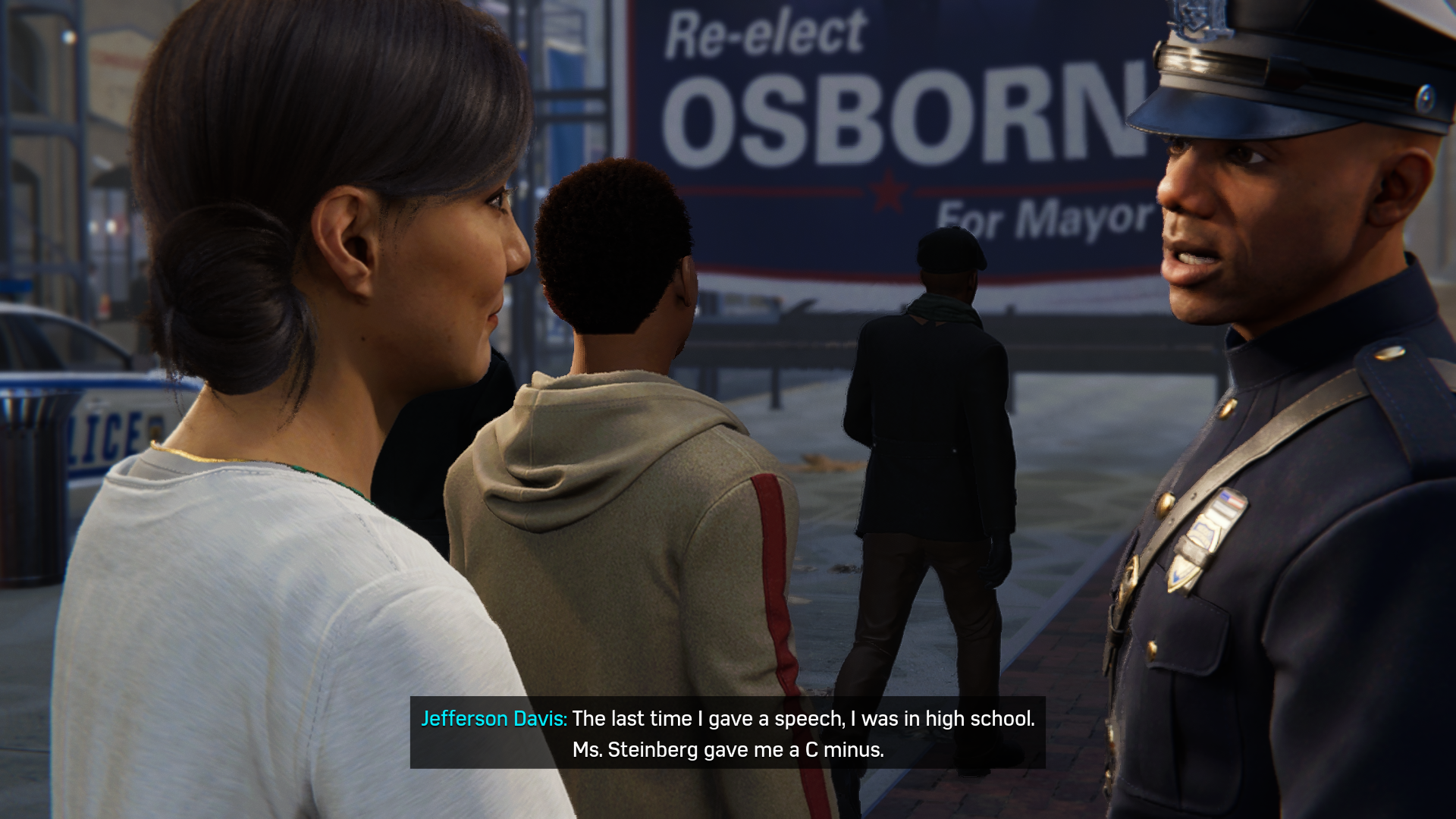 Before getting to the stage, Jefferson was talking about his last time speech with his wife and it was in his high school life.
Jefferson was a little confused so his son Miles cheered him up saying, " You saved Spiderman and I'm pretty sure that makes you an official super hero".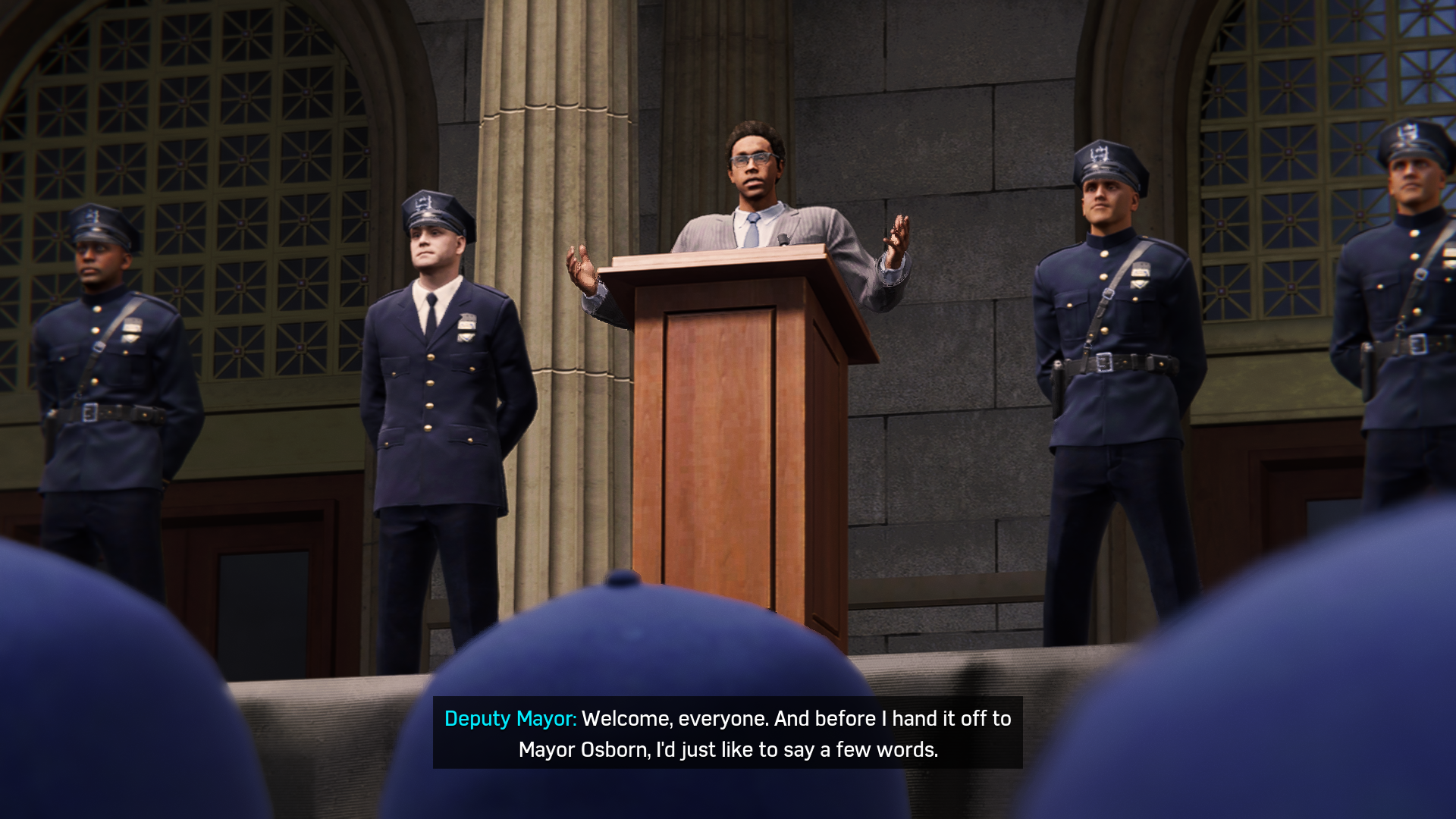 There was the Deputy Mayor started talking on the stage before he hand it off to Mayor Osborn and he was praising the citizens.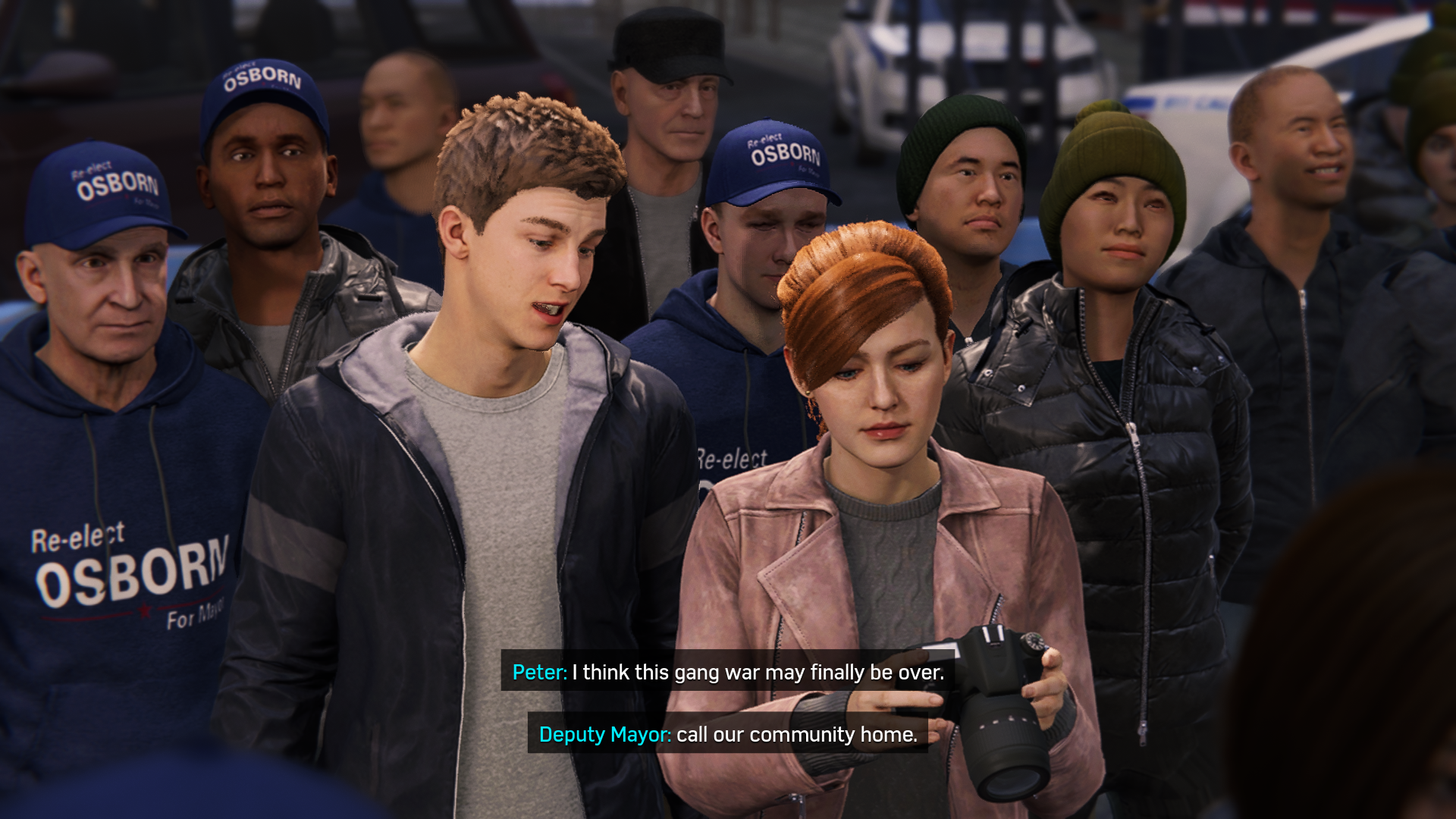 And look who were there. Peter and MJ really looks perfect and every time I see them, I just think about it. So they were there to attend the ceremony as well although Peter is not disguised as Spiderman this time.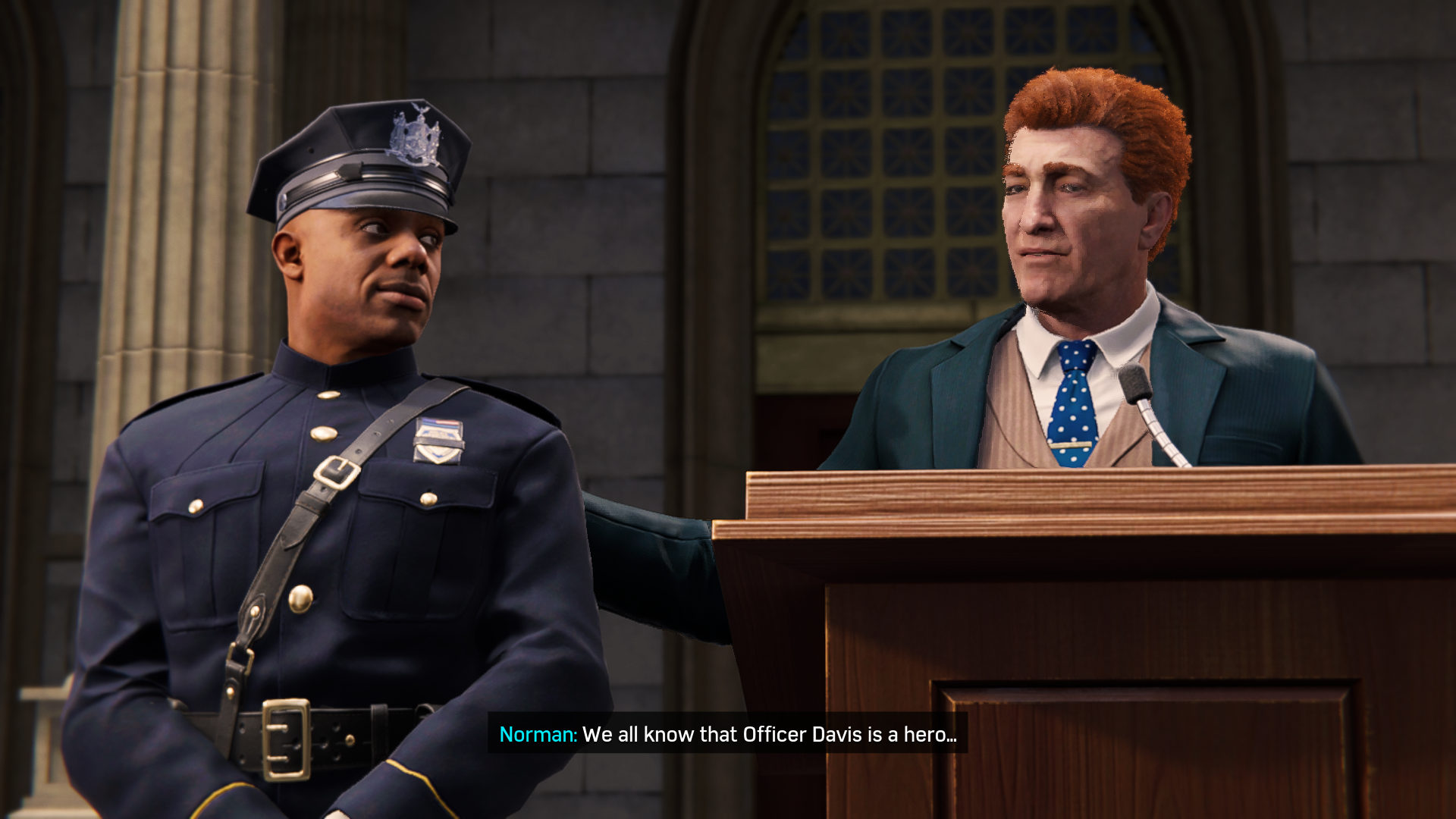 Then Mayor Osborn and Jefferson Davis came forward on the stage and Osborn was saying such nice words about Jefferson Davis.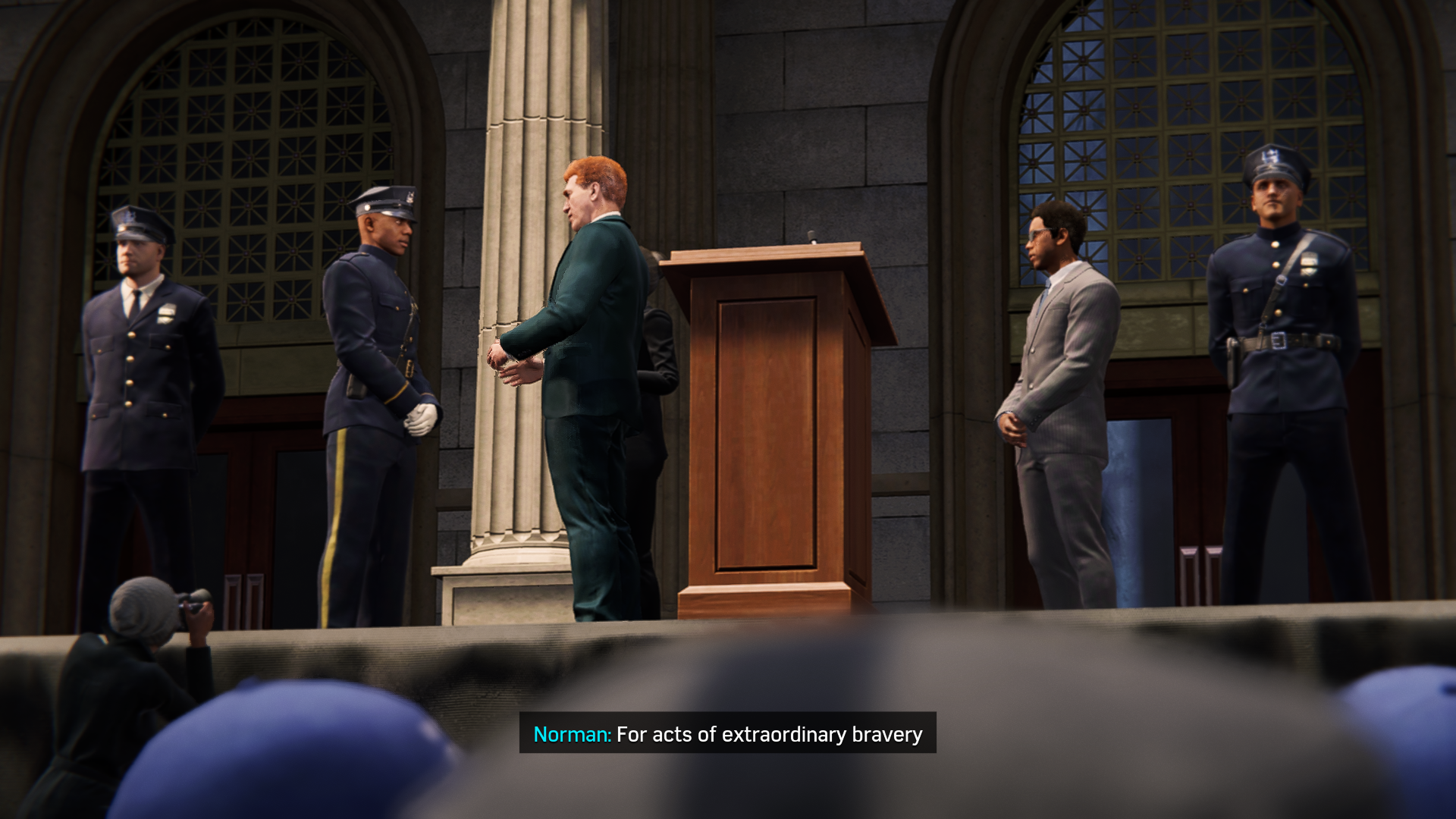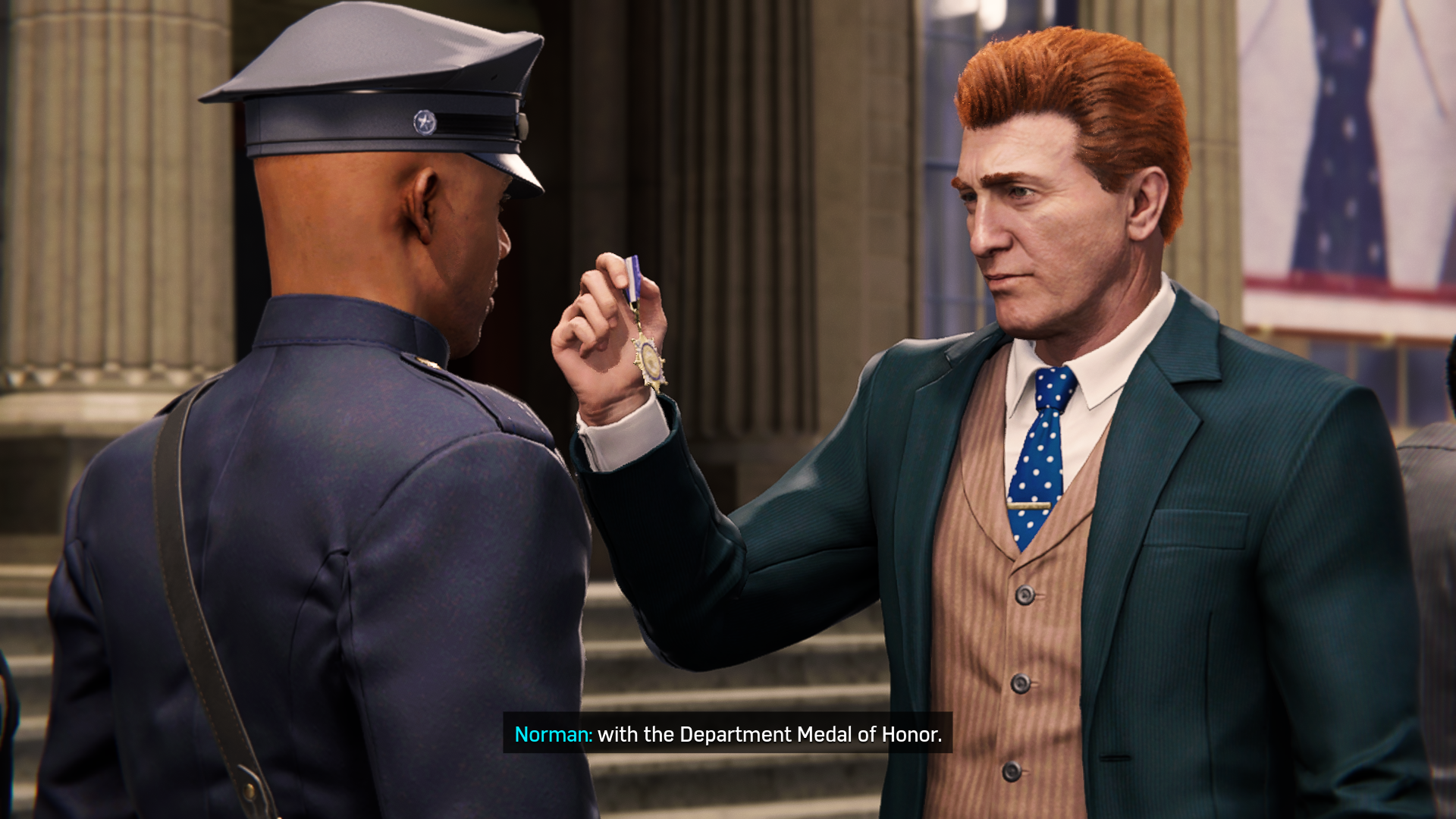 Now its time to honor the hero with the Department Medal of Honor.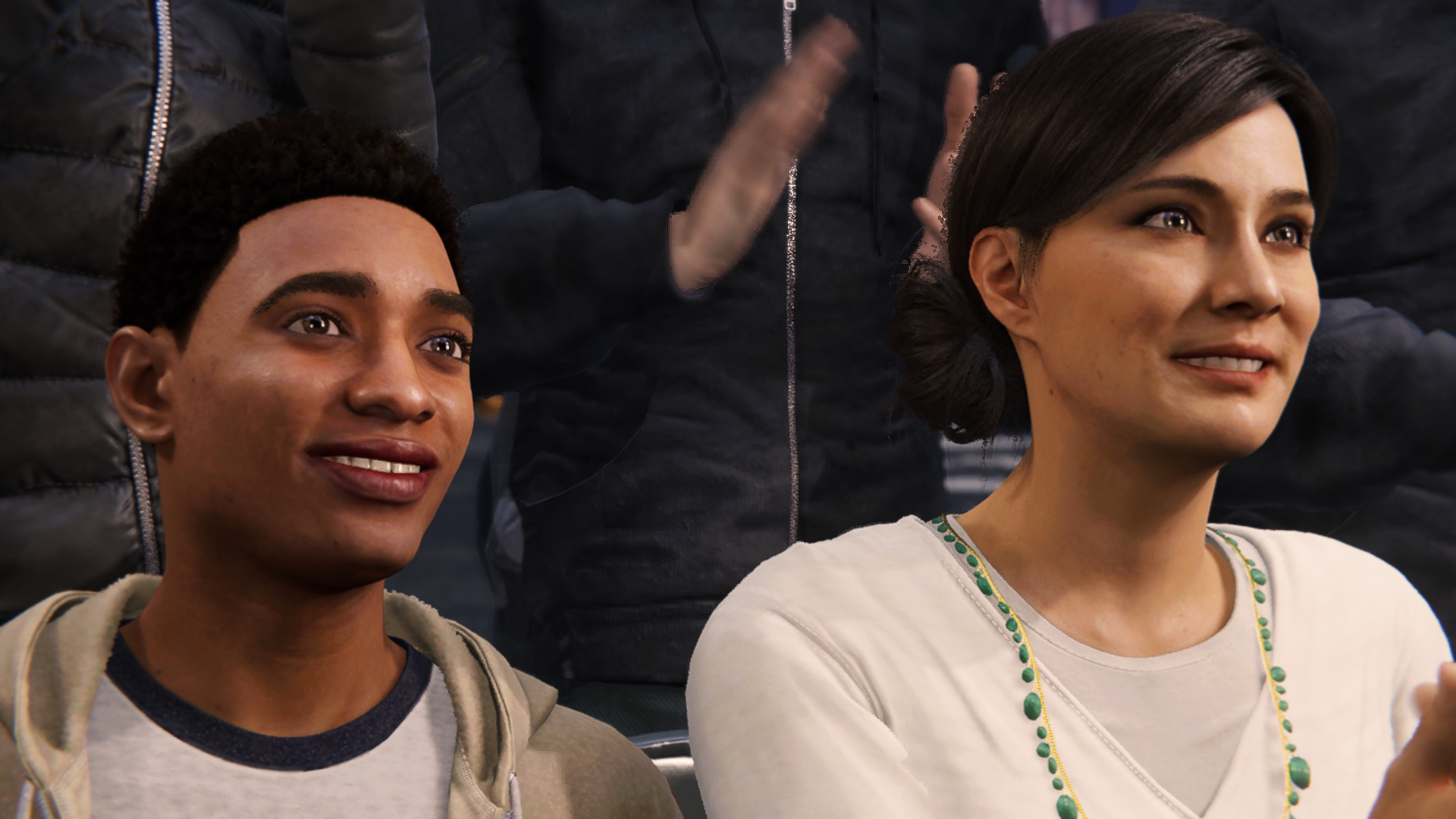 Miles Morales and Rio looked happy seeing Jefferson Davis getting the Medal.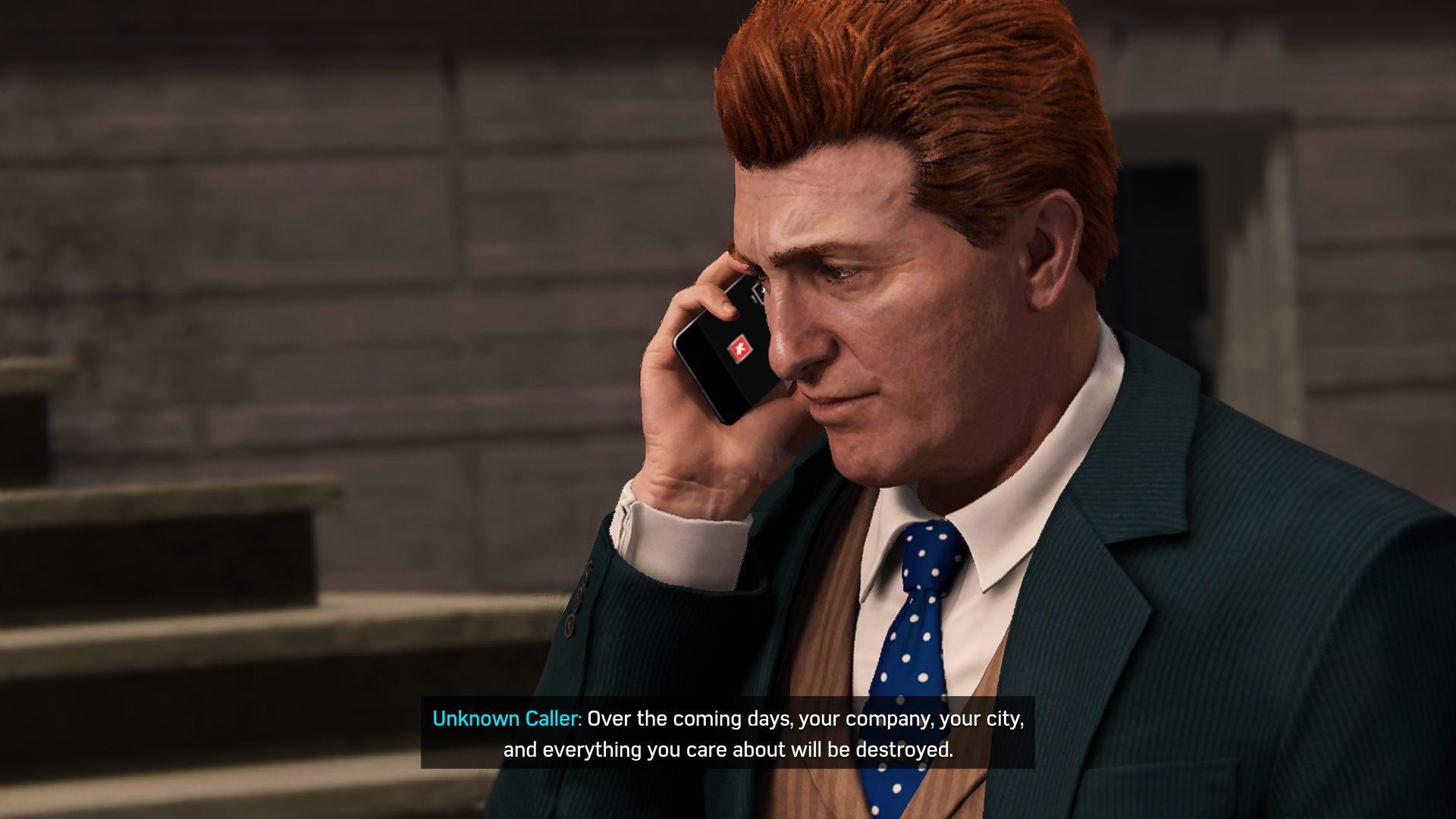 While honoring Jefferson Davis, Osborn got a phone call and Deputy Mayor was saying that its urgent. So giving Jefferson Davis the stage to leave speech, Osborn left the stage to take the phone call.
And it looks like an unknown caller called him to threat him about destroying his company, his city and everything he cares about.
While Jefferson Davis was giving he speech...
Suddenly Peter Parkers spider sense was activated and both of understood that something dangerous is about to happen there.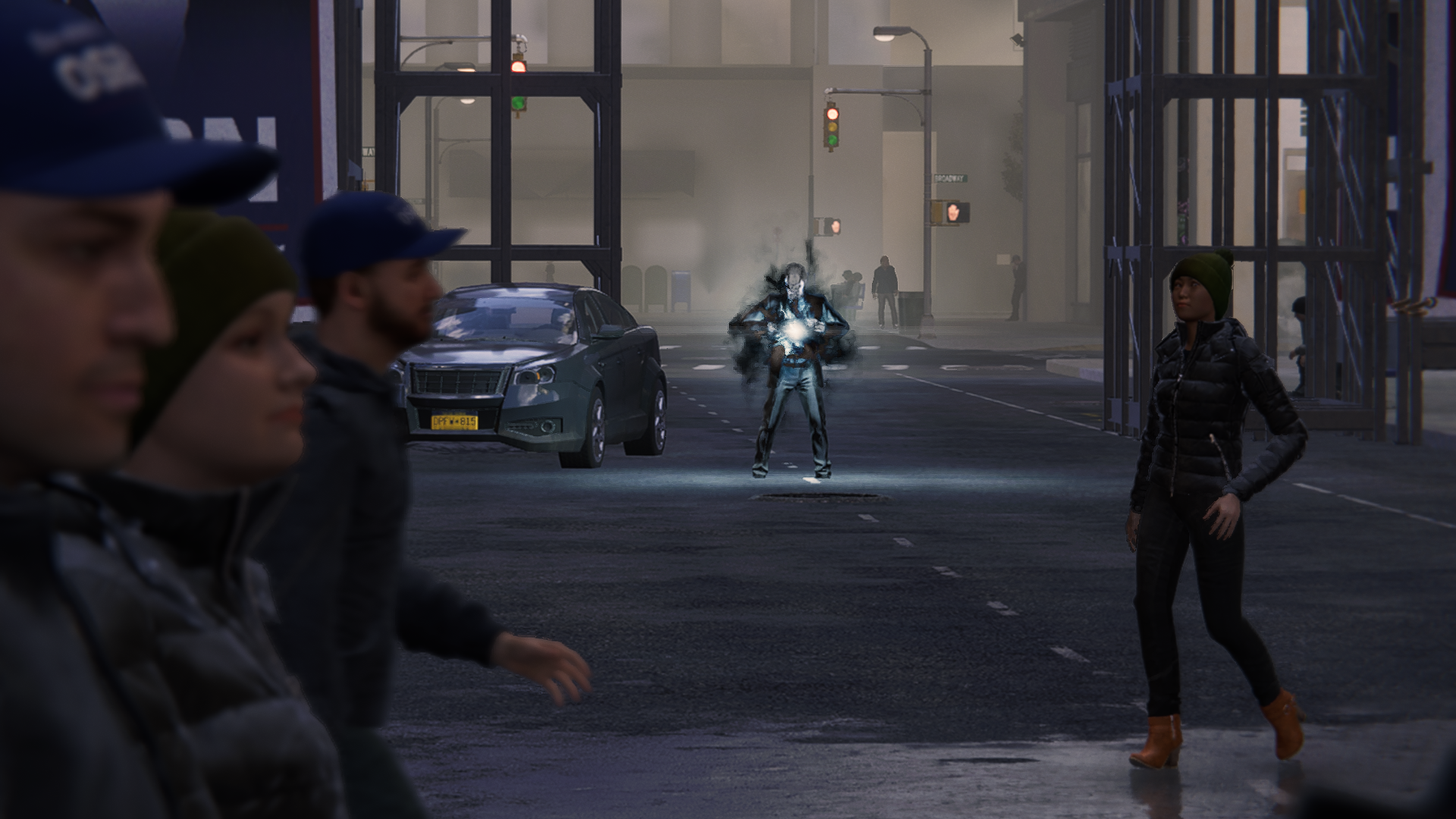 There came a bad man out of a car with a bomb on this chest and he was like changing his color into something metallic.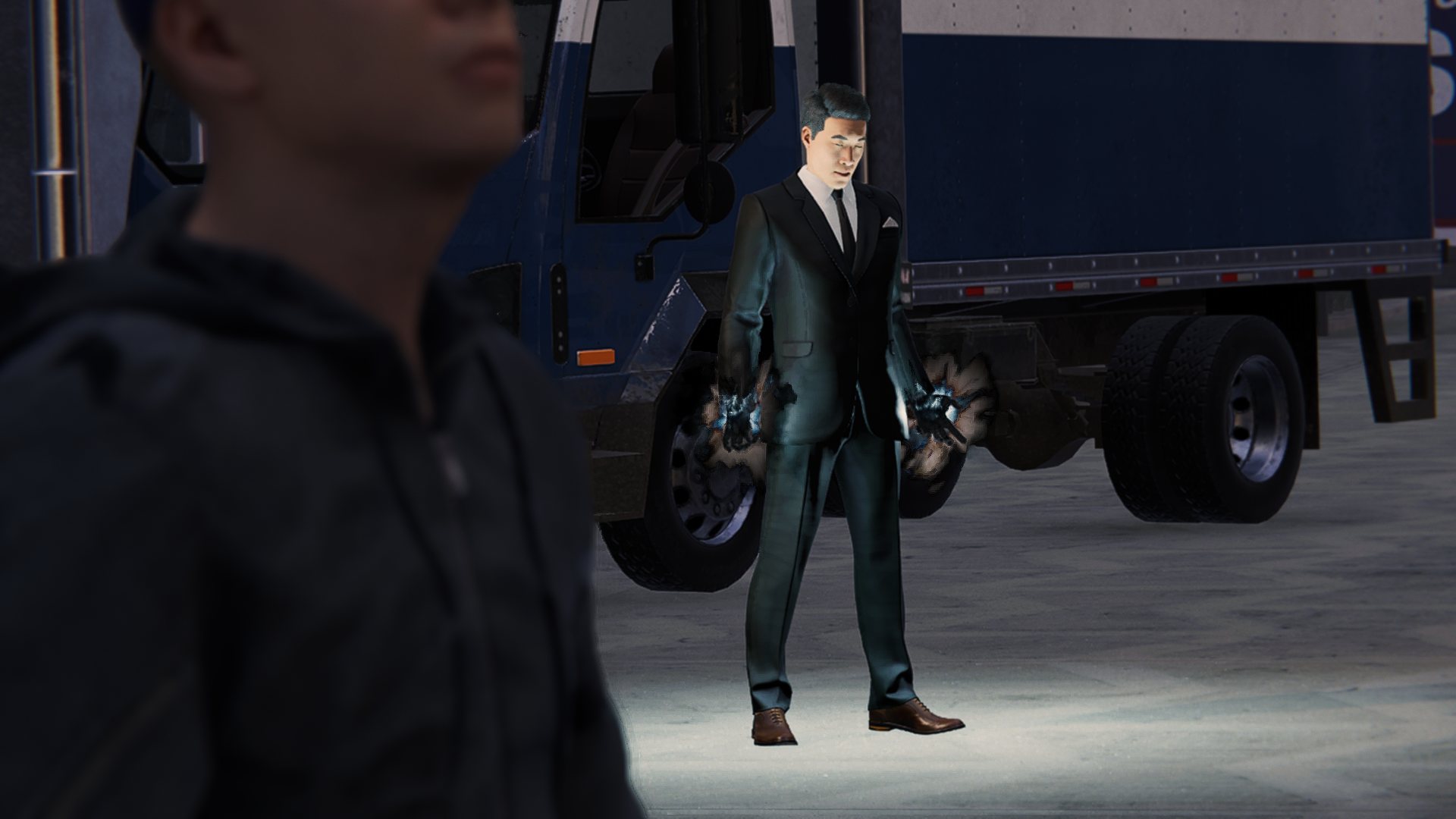 And there was Martin Li from FEAST and he it seems he was also one of the bad guys and everything makes sense why he left his office saying he needs to take care of something.
AND,
The Deputy Mayor is also among the bad peoples which means Jefferson Davis is also in danger as the Deputy Mayor was close to him on the stage.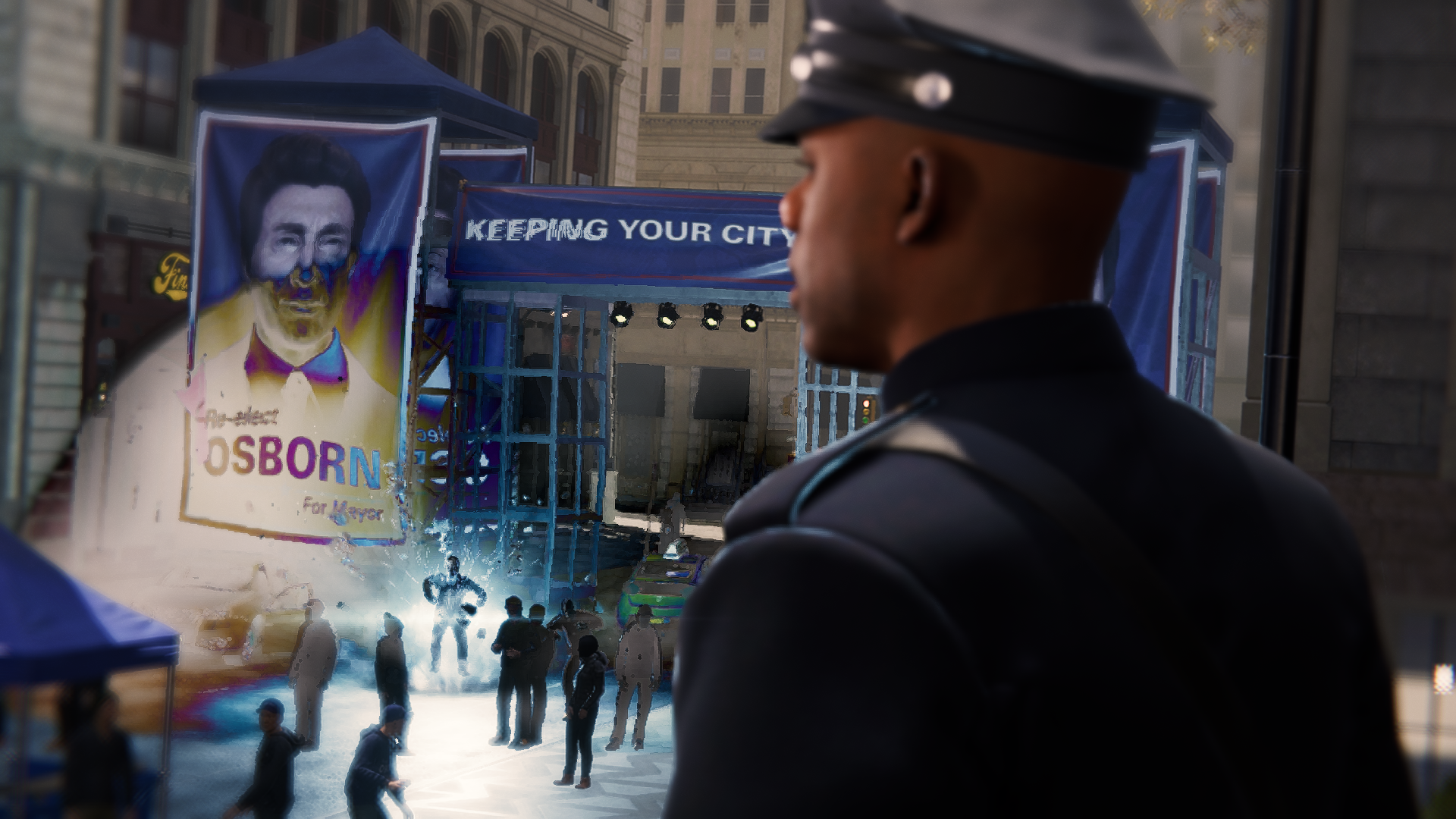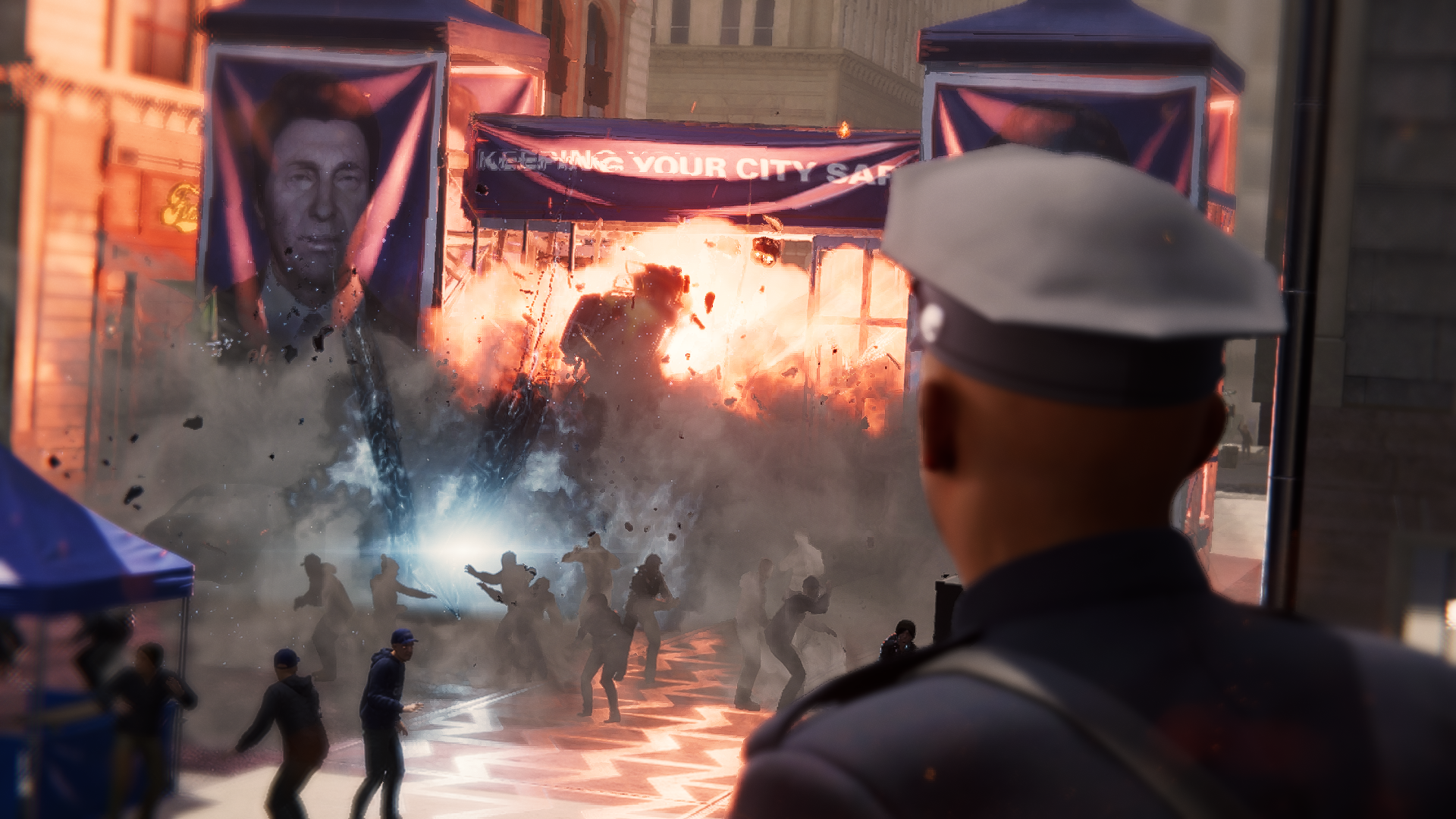 Then the first man who came out of the car, activated the explosive and Jefferson Davis was watching it from the stage.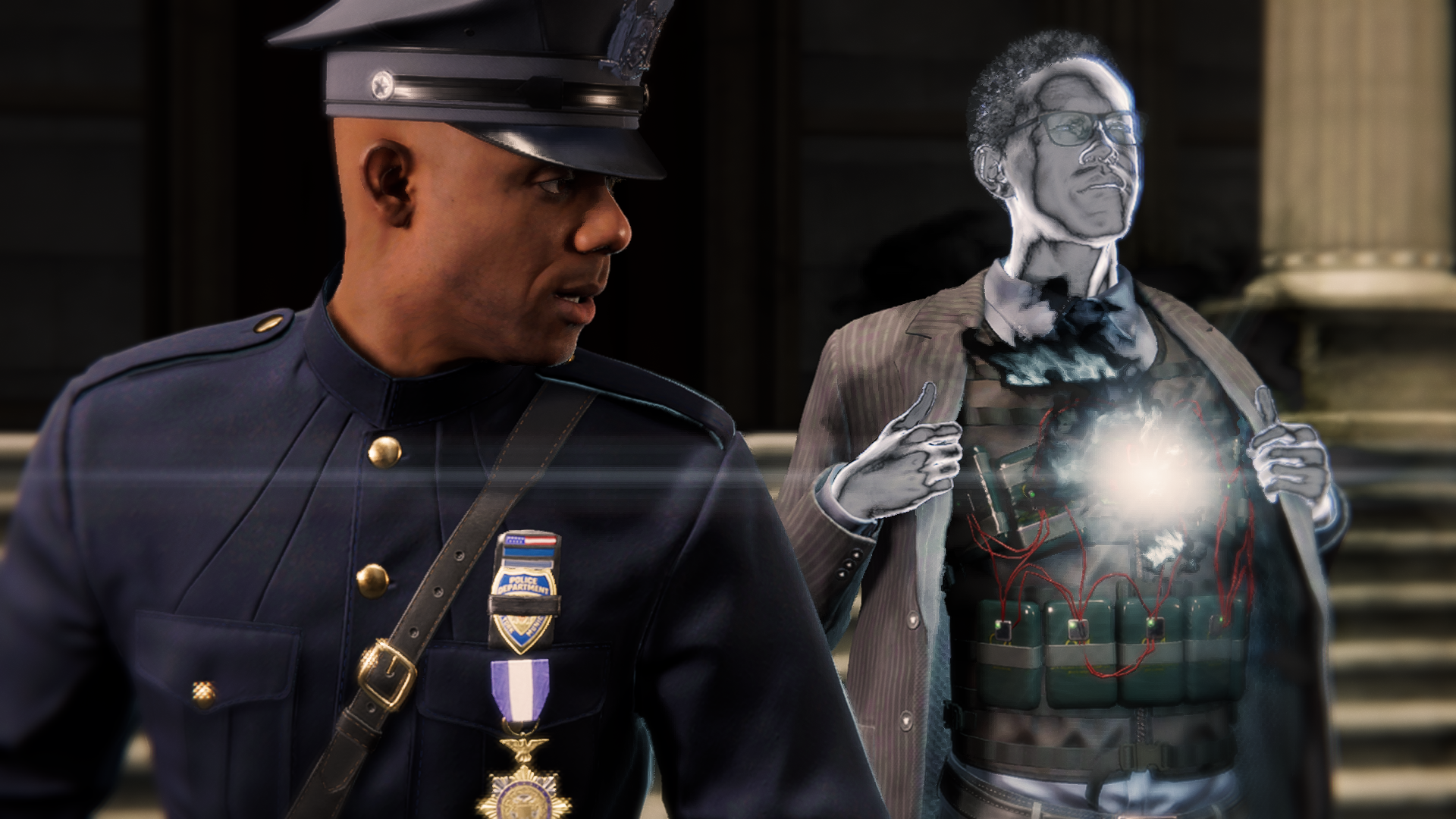 Now its the Deputy Mayors turn.
AND,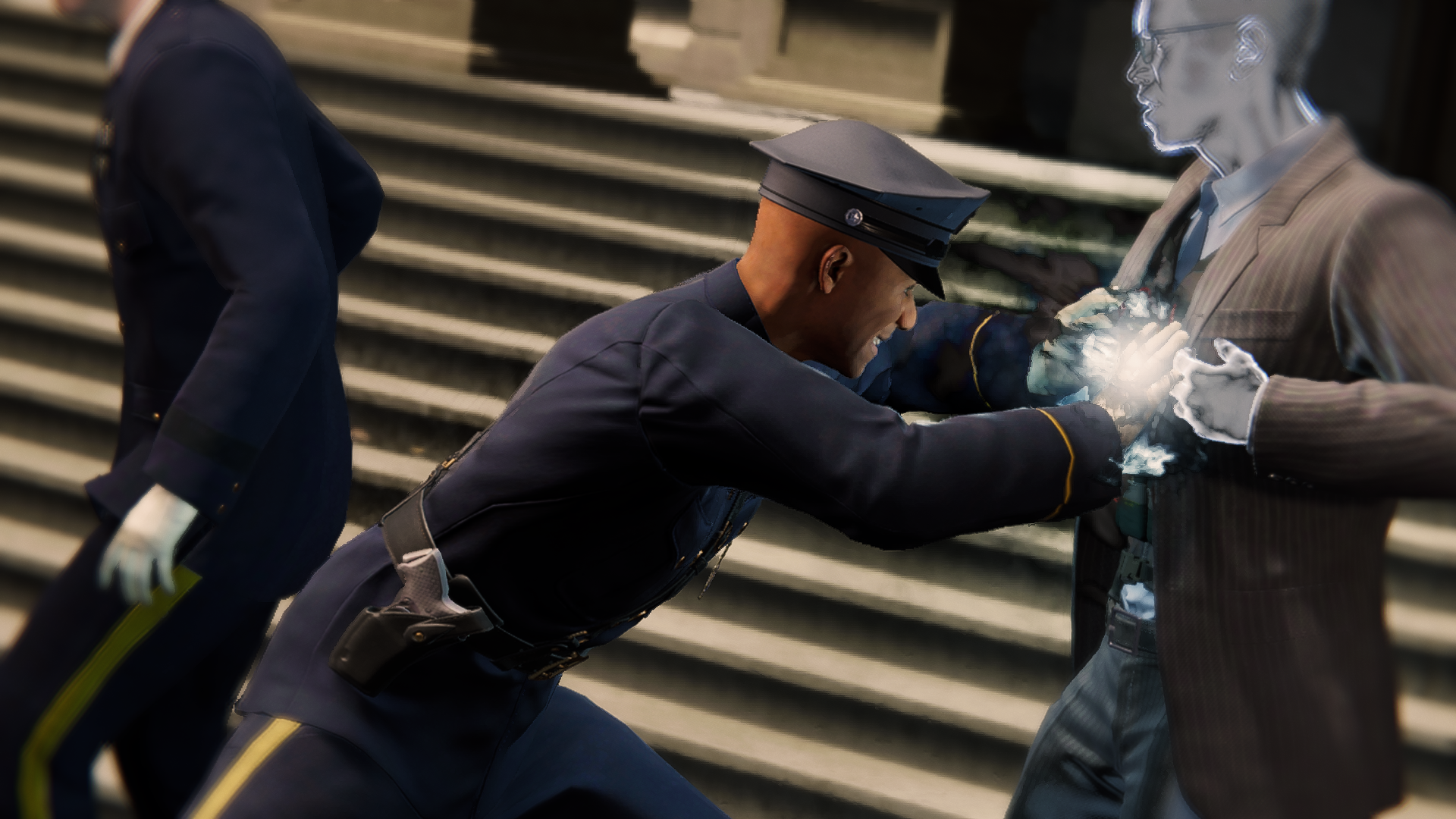 Jefferson Davis pushed him away before he activated the bomb and taking a colleague, Jefferson tried to duck.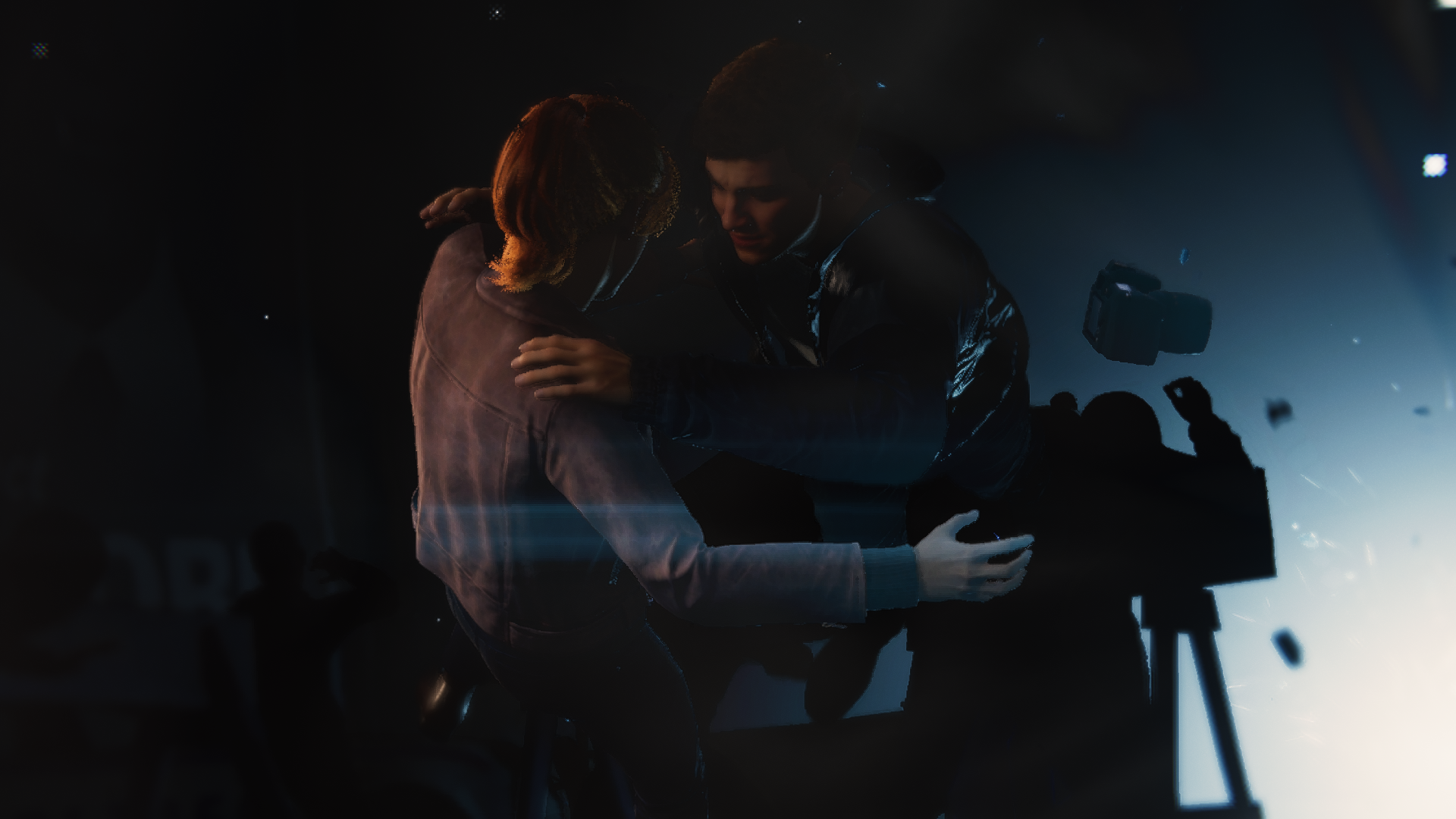 Our Peter decided to save MJ first and pushed her on the ground and Peter himself took the damage to himself.
Now the city is collapsed and I was seeing the city as Miles Morales. Oooooooh I wander if Miles has his power now.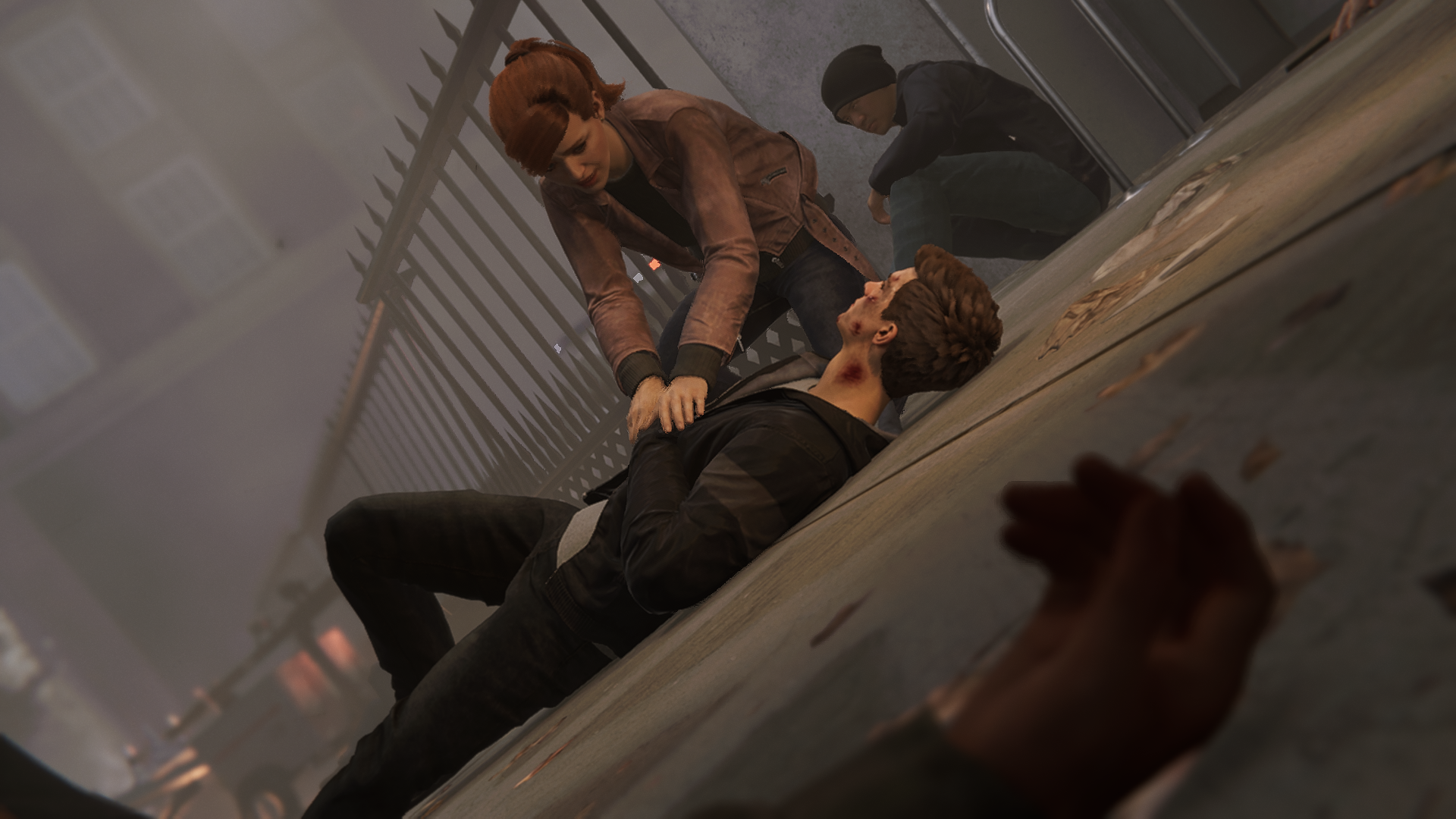 Peter Perfer went unconscious and MJ was trying to wake him up.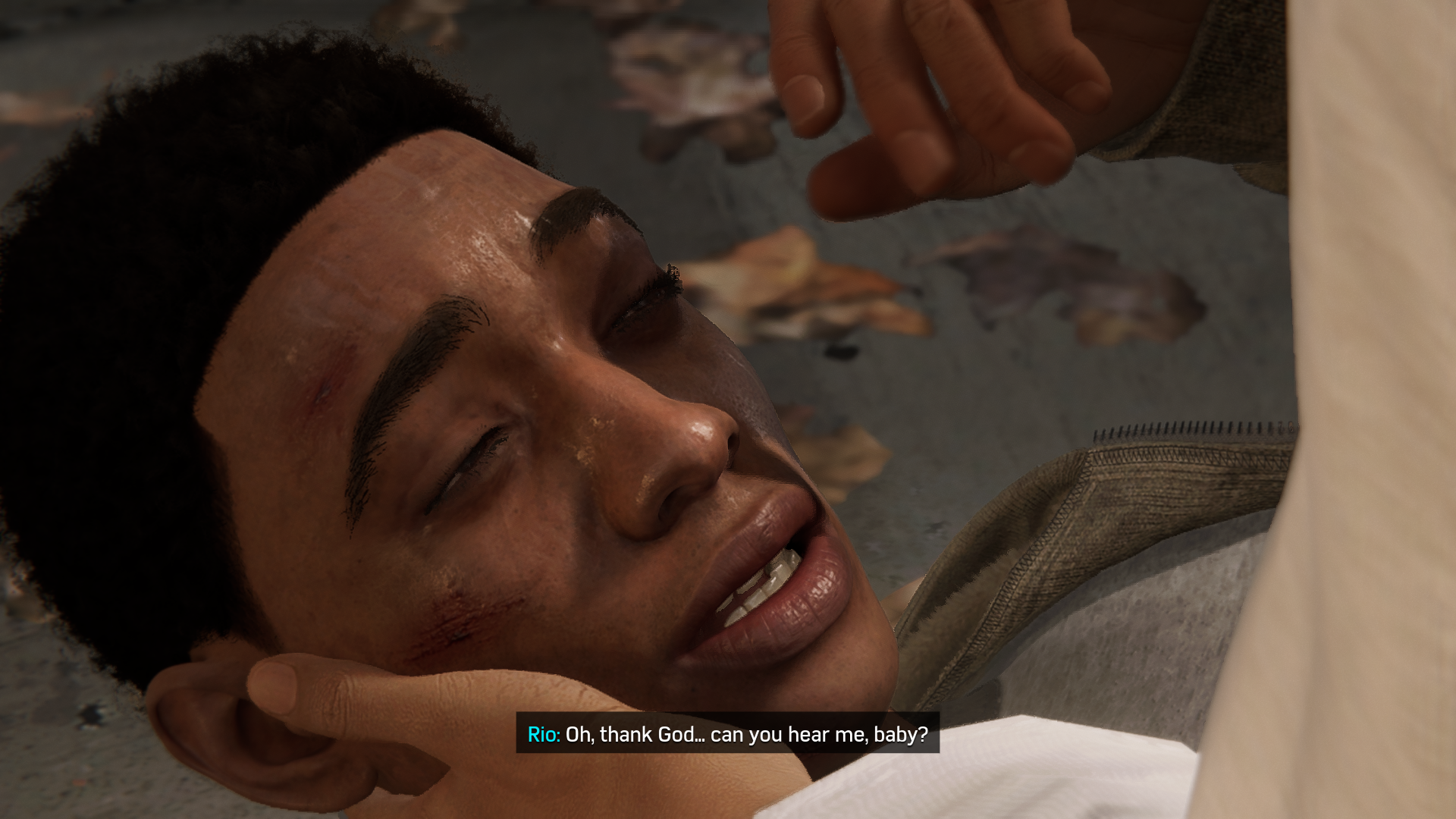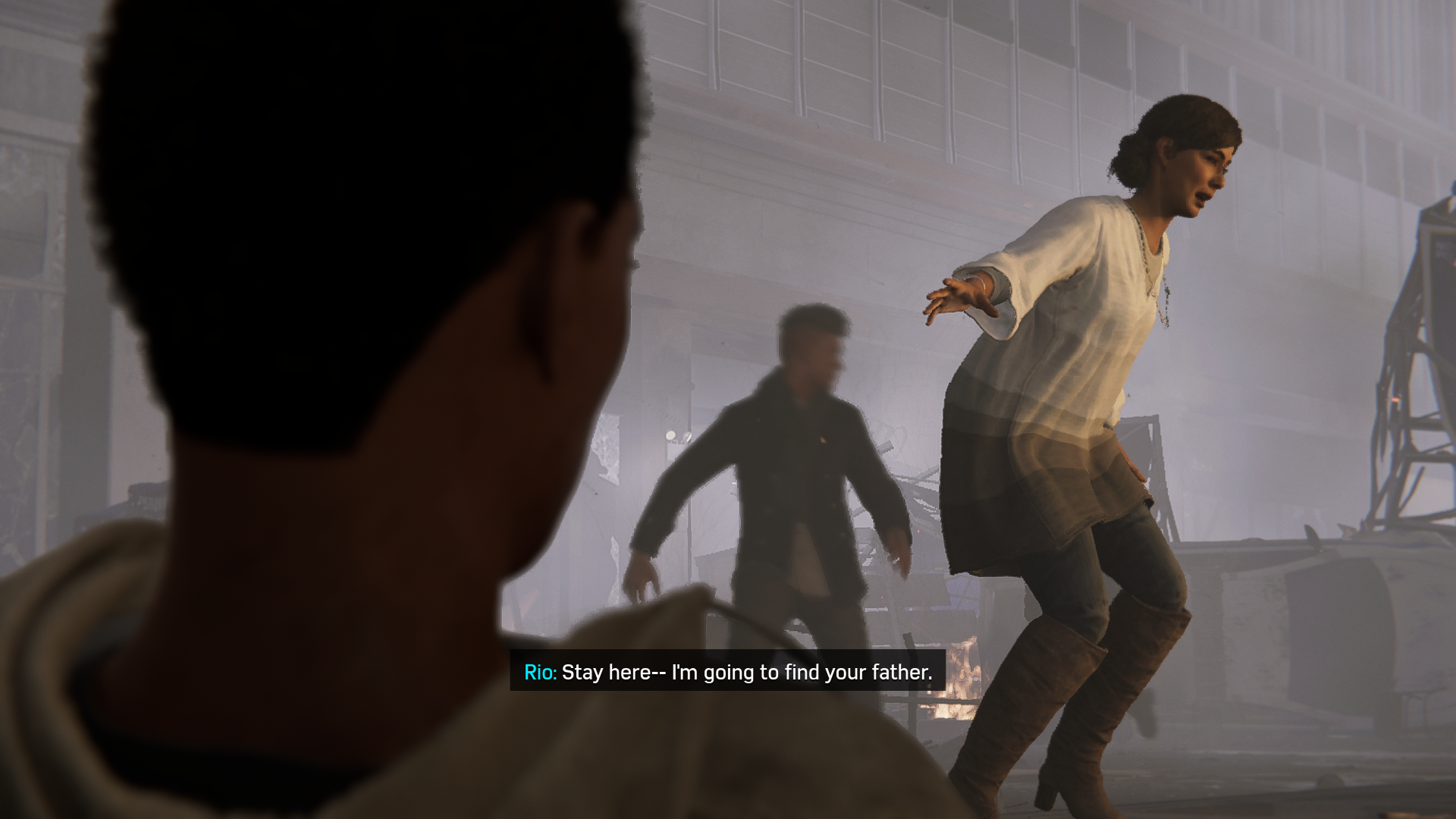 Rio came to Miles and she seemed relax seeing Miles alive and then she asked Miles to stay there as he's going to find Jefferson Davis.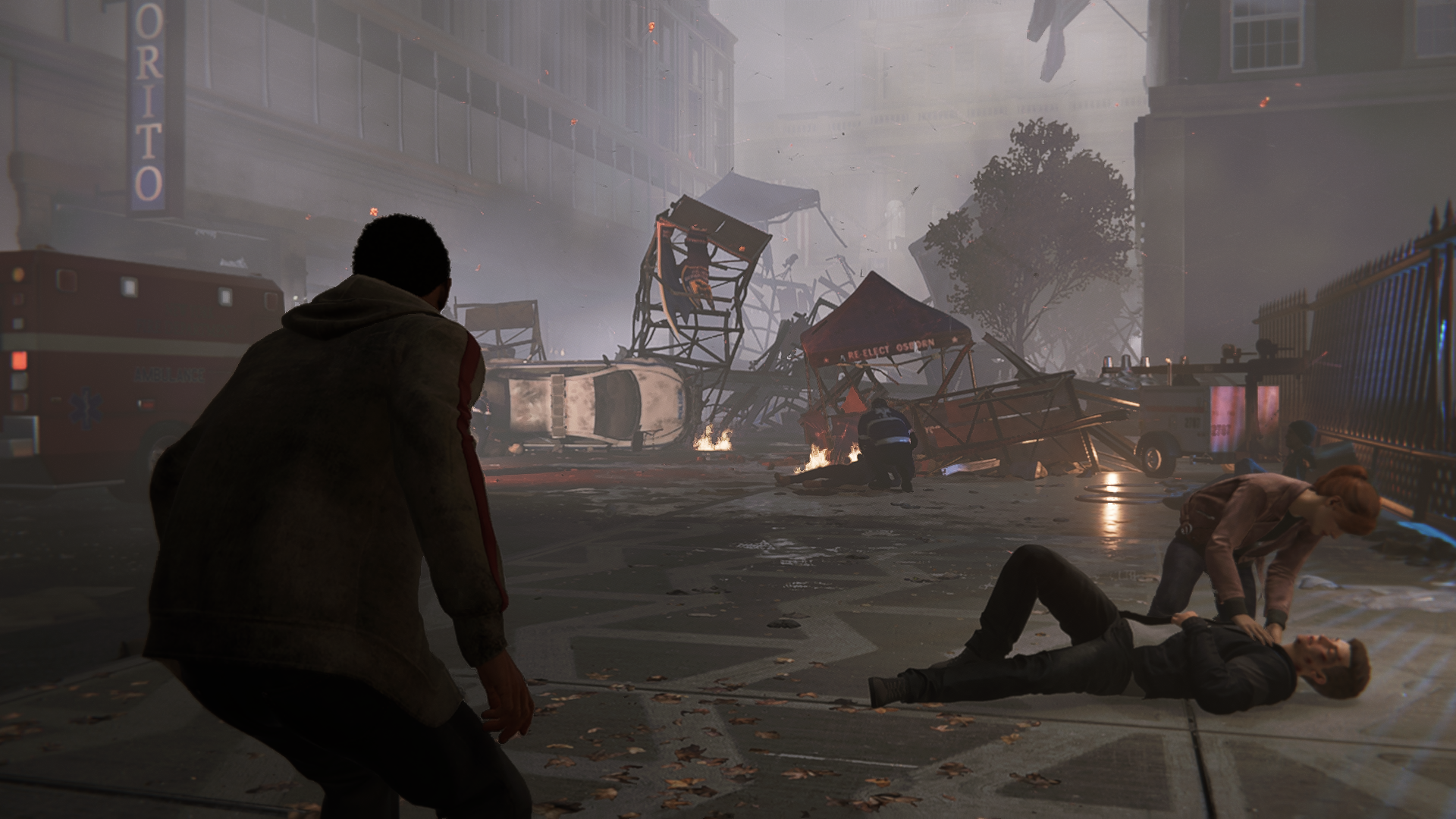 Now I need to walk and look for Jefferson Davis as Miles Morales and Miles looked hurt a he was barely walking and I was clear that he didn't get his power yet.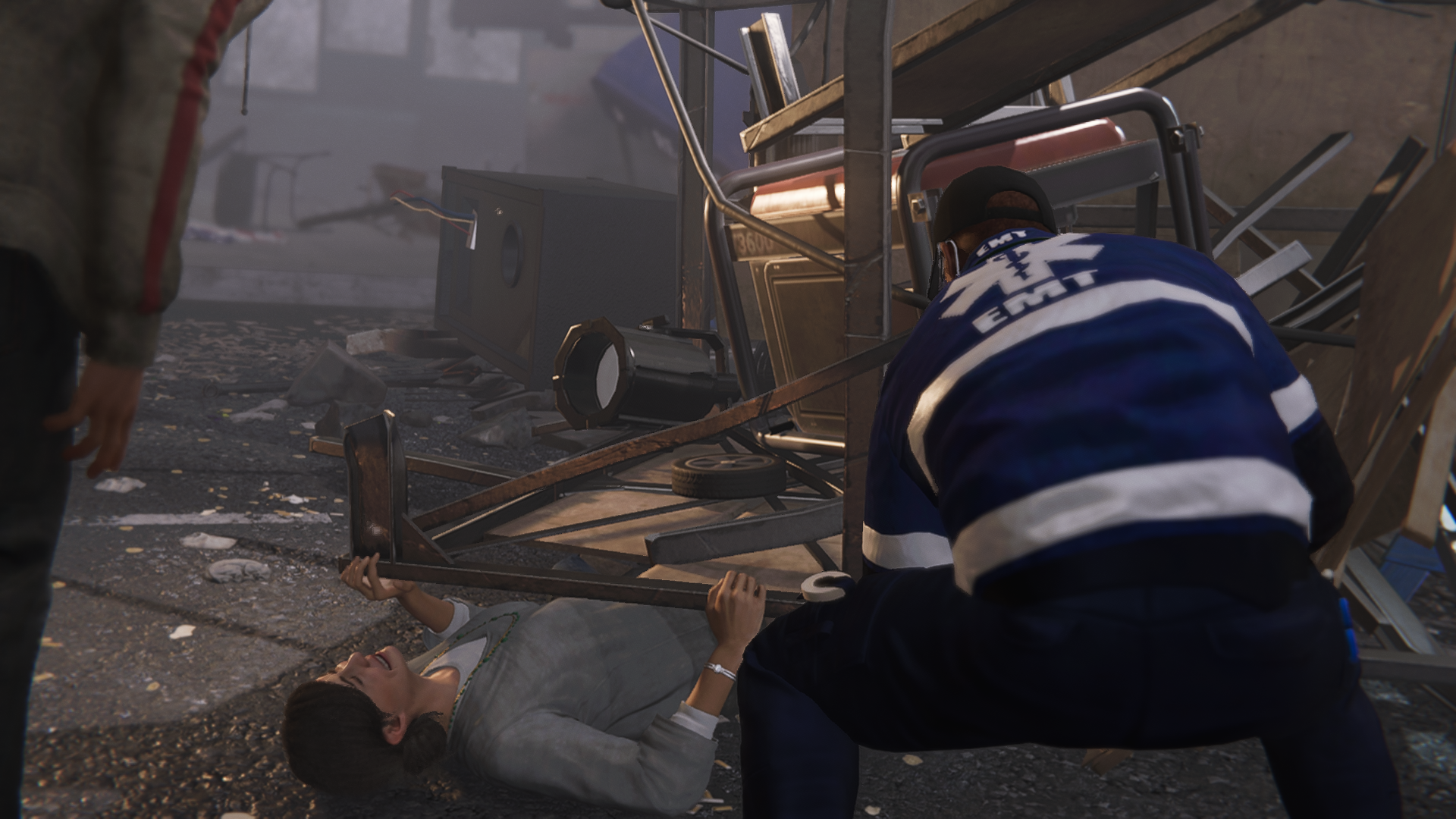 After walking for sometimes, there was Rio stuck under something heavy and a man from EMT was trying to save her but he wasn't able to do that alone.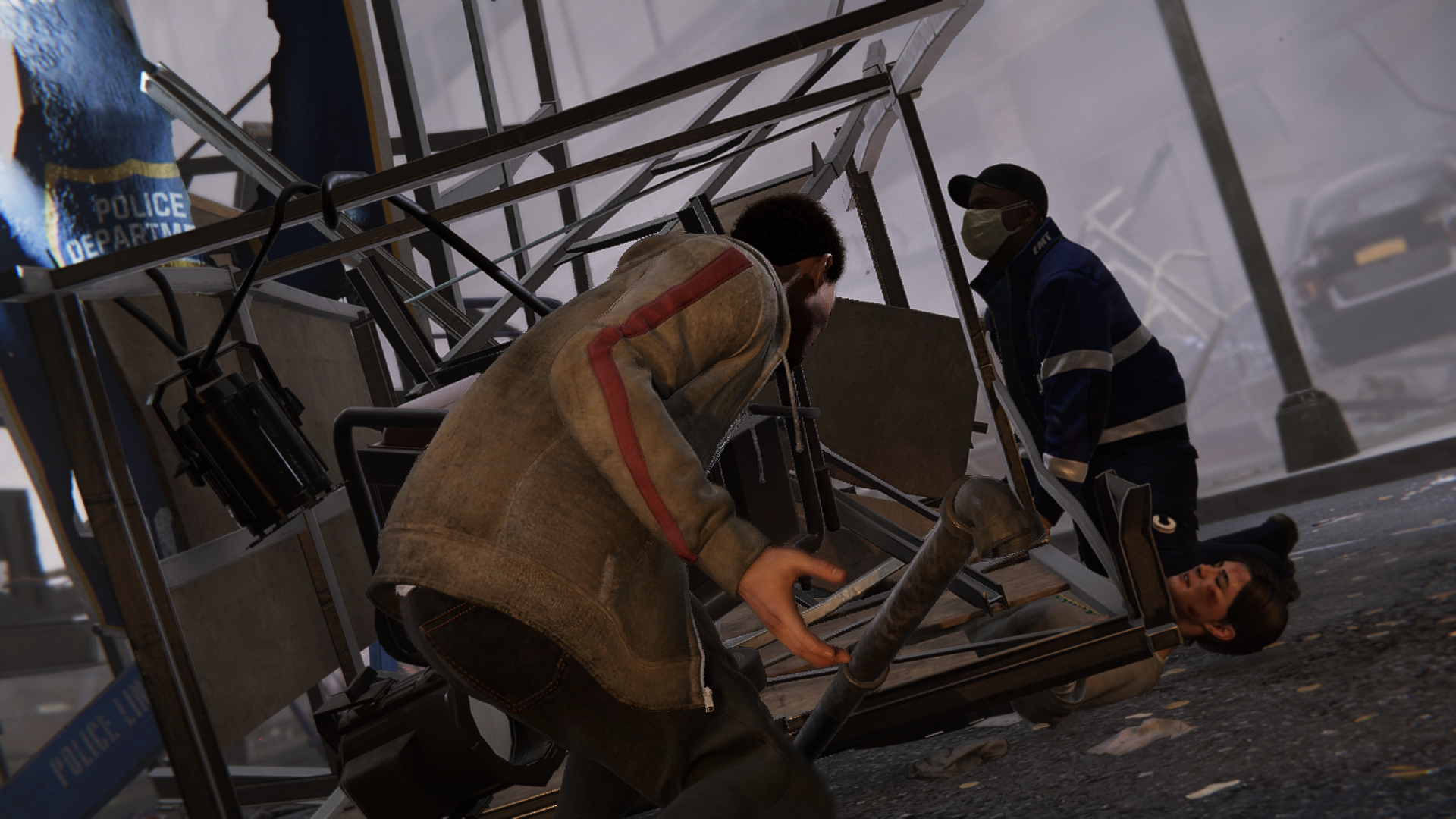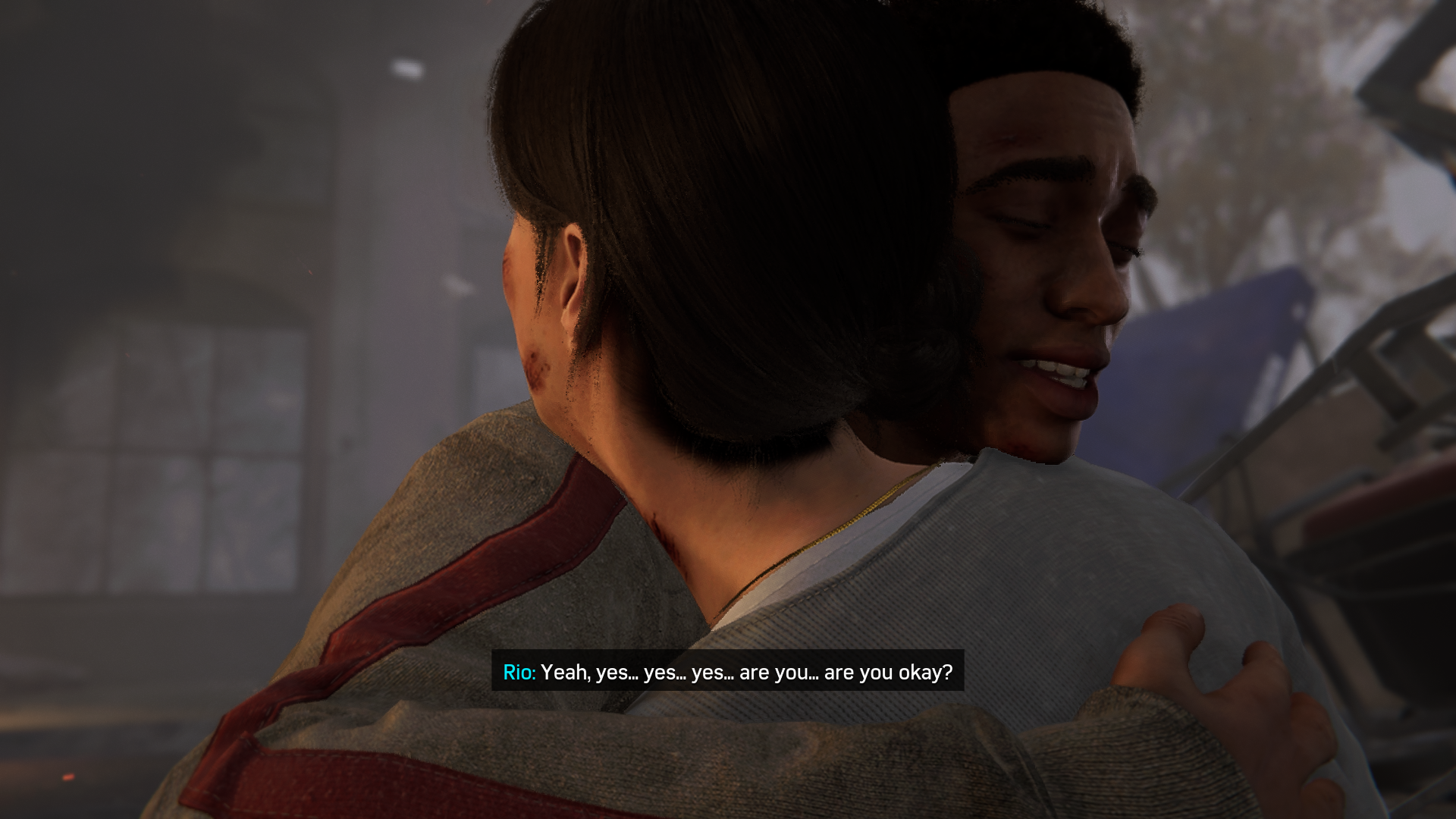 So I helped him save the mother and it looked like I wasn't strong enough to do that so I used a pole as a lever and saved Rio.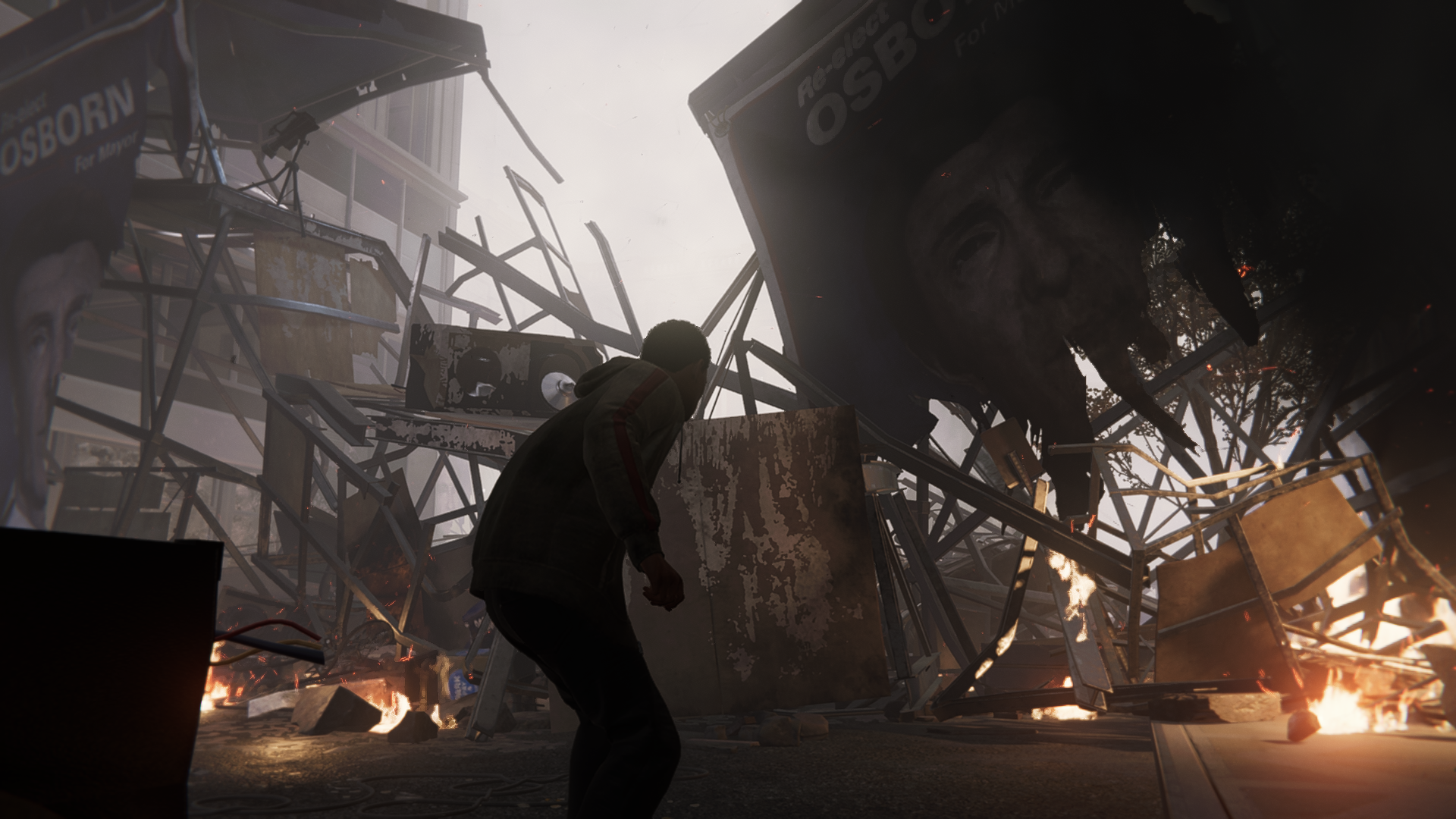 Now that Rio is badly hurt, its only Miles who needs to find his father and we really needed Spiderman right now.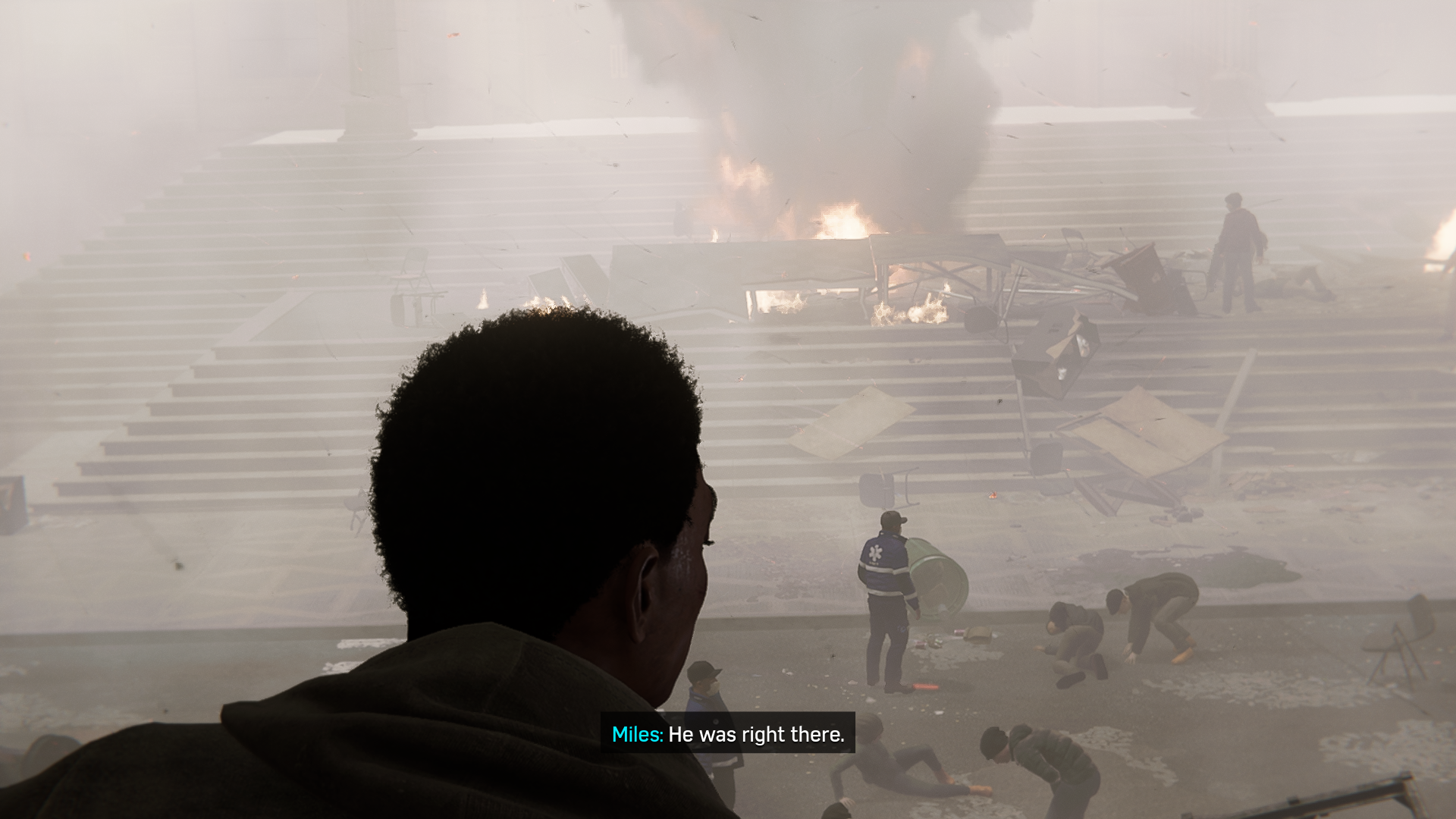 By crawling a bit upper position, the location where Jefferson was at was visible but it doesn't look like Jefferson was there.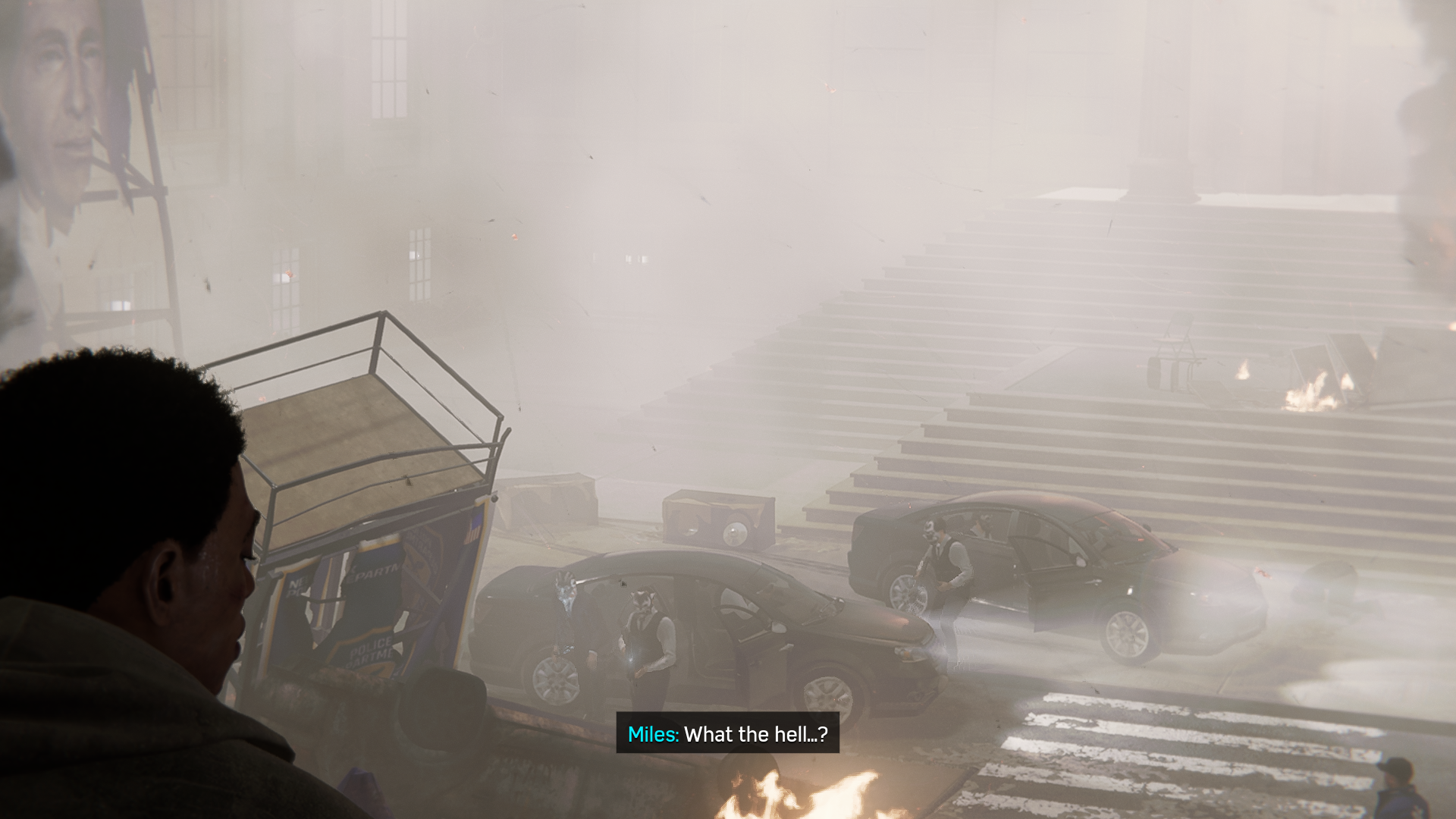 And there came more bad peoples, Demons actually.
Now I need to get close to that location where Jefferson as without getting detected by the demons. I didn't have any map so I needed to trust my instinct and keep moving forward.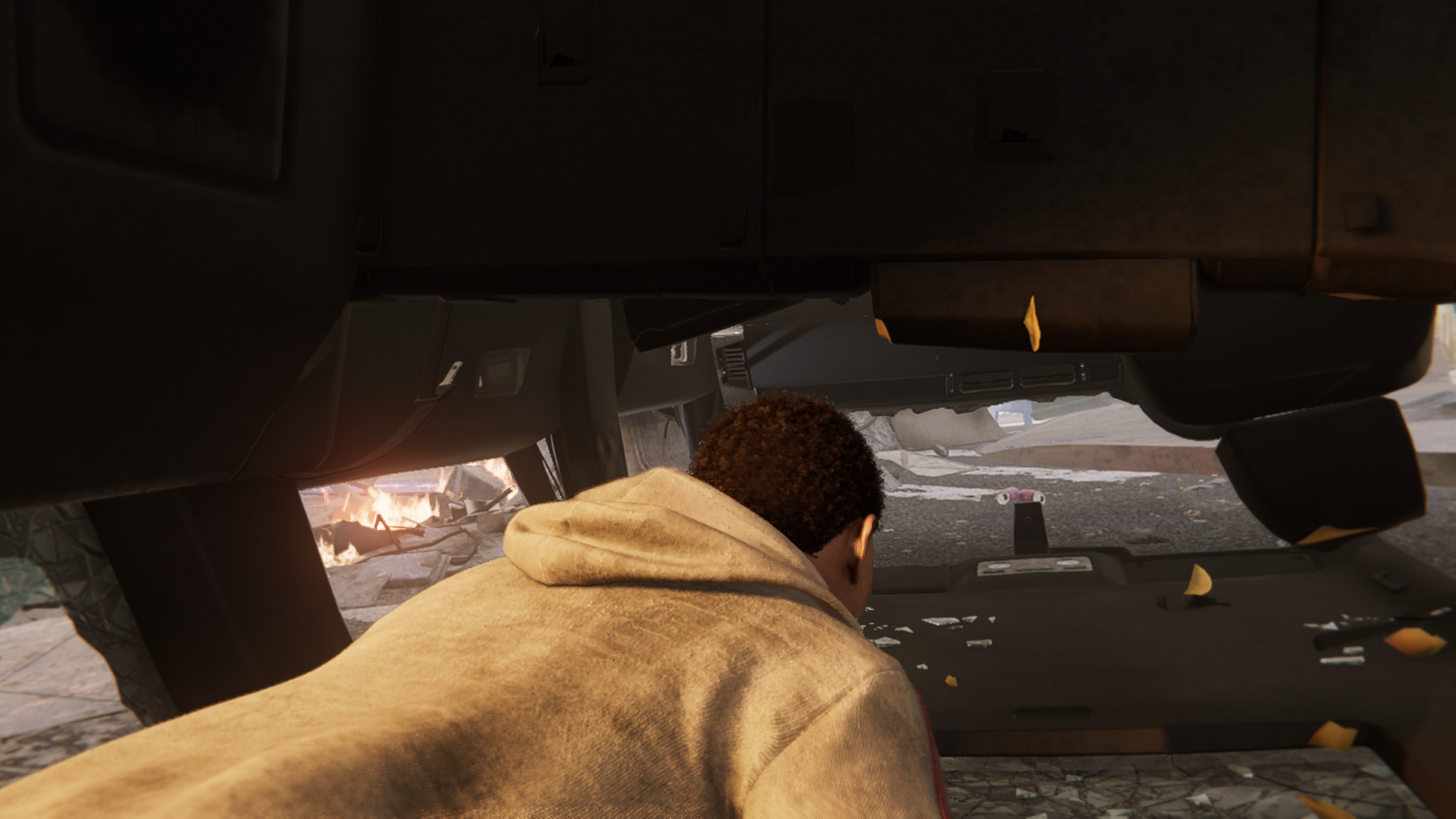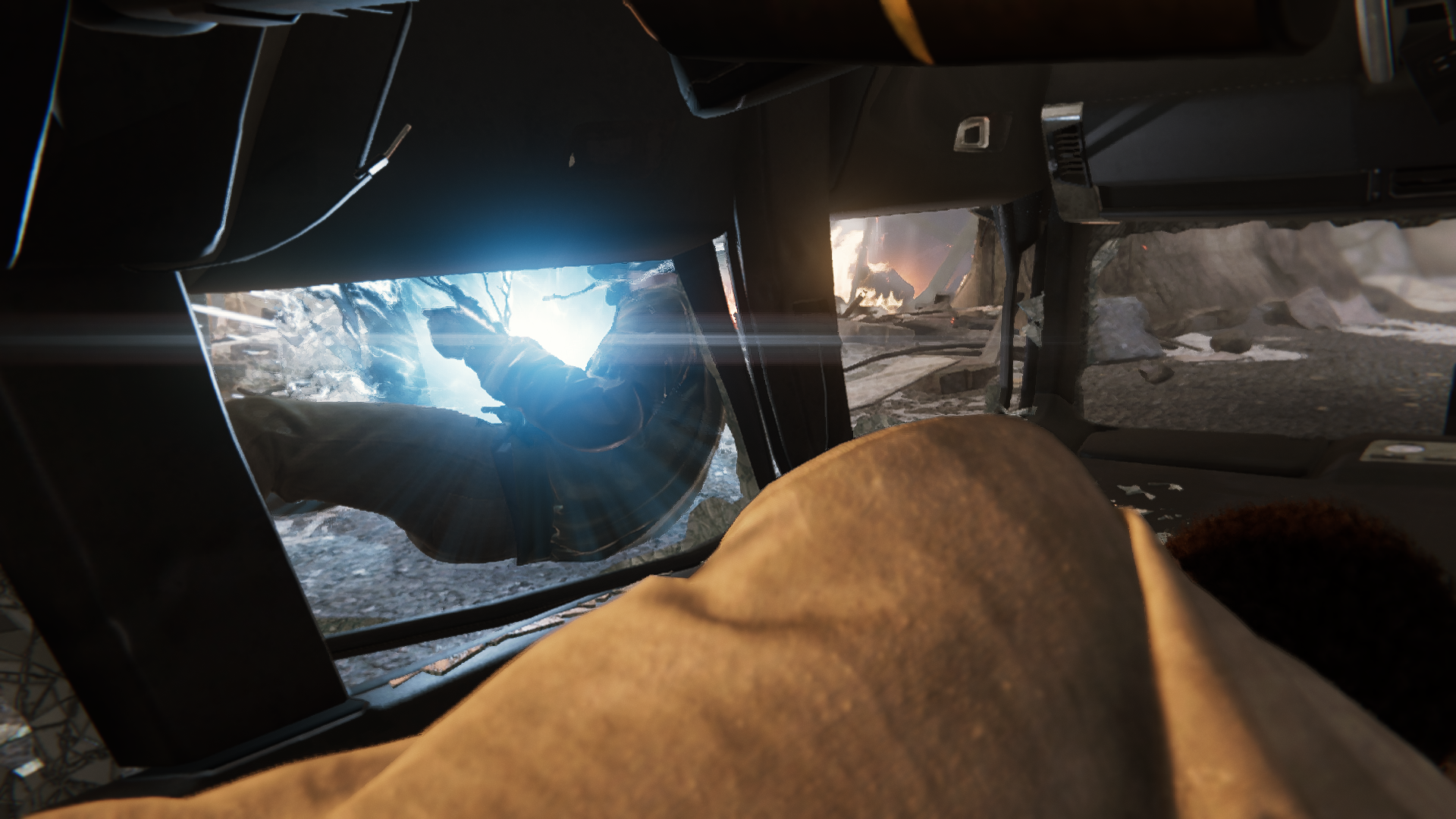 I was moving through an upside down car and I could see Demons killing innocent peoples there and I kept moving.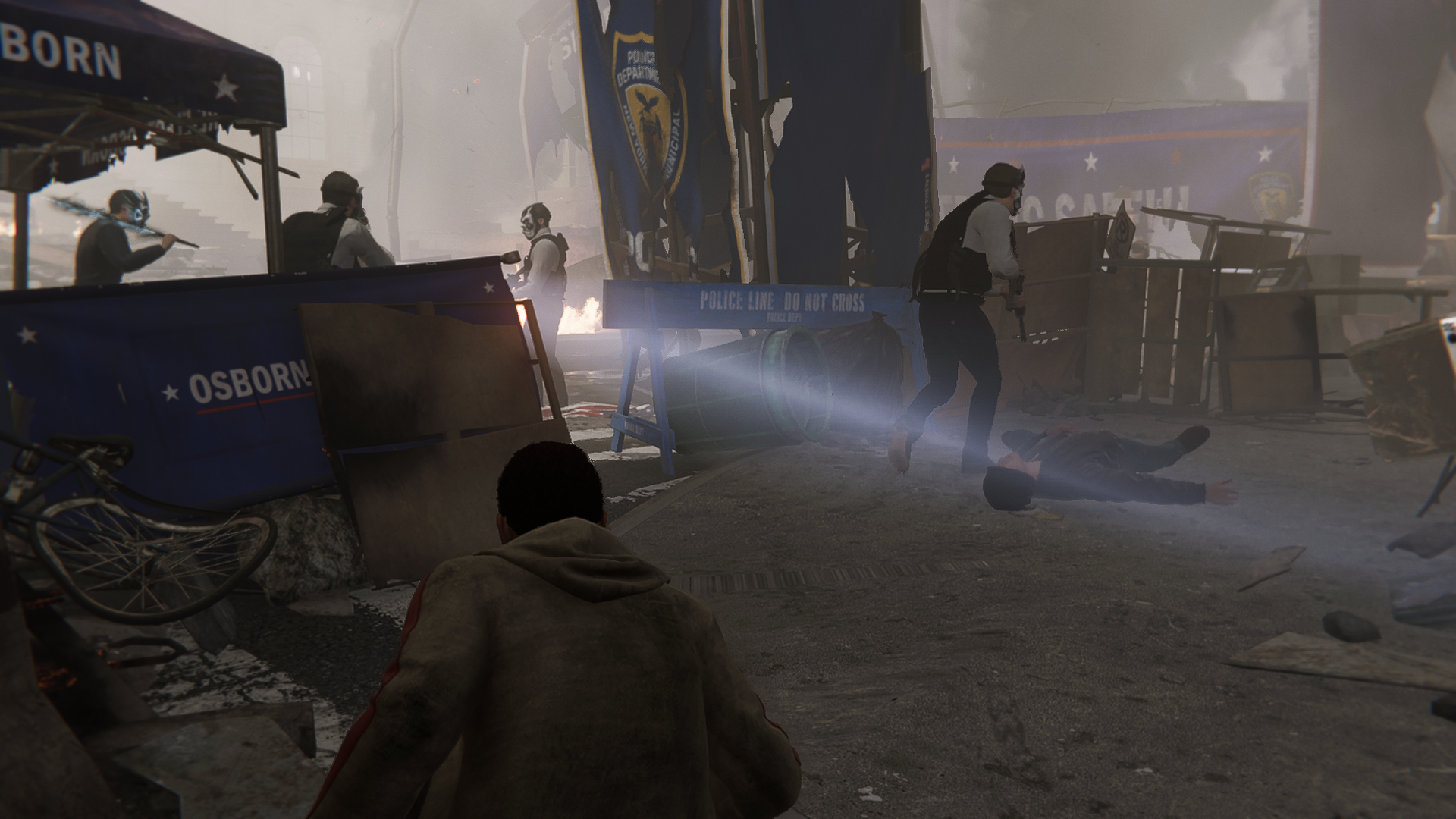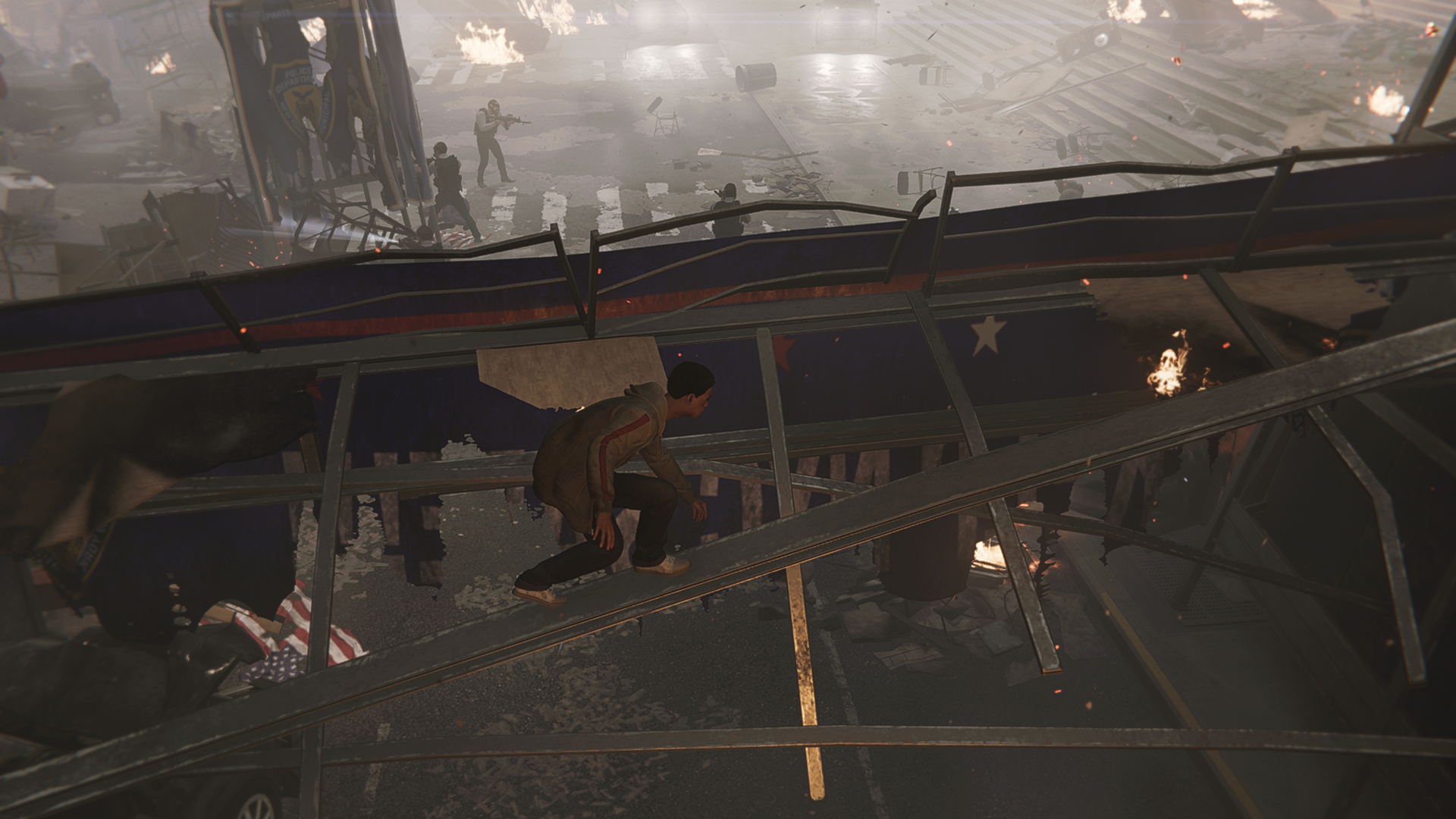 I kept moving without alerting them until I get to the right place and find his dad, although I got caught for sometimes and then I had to retry.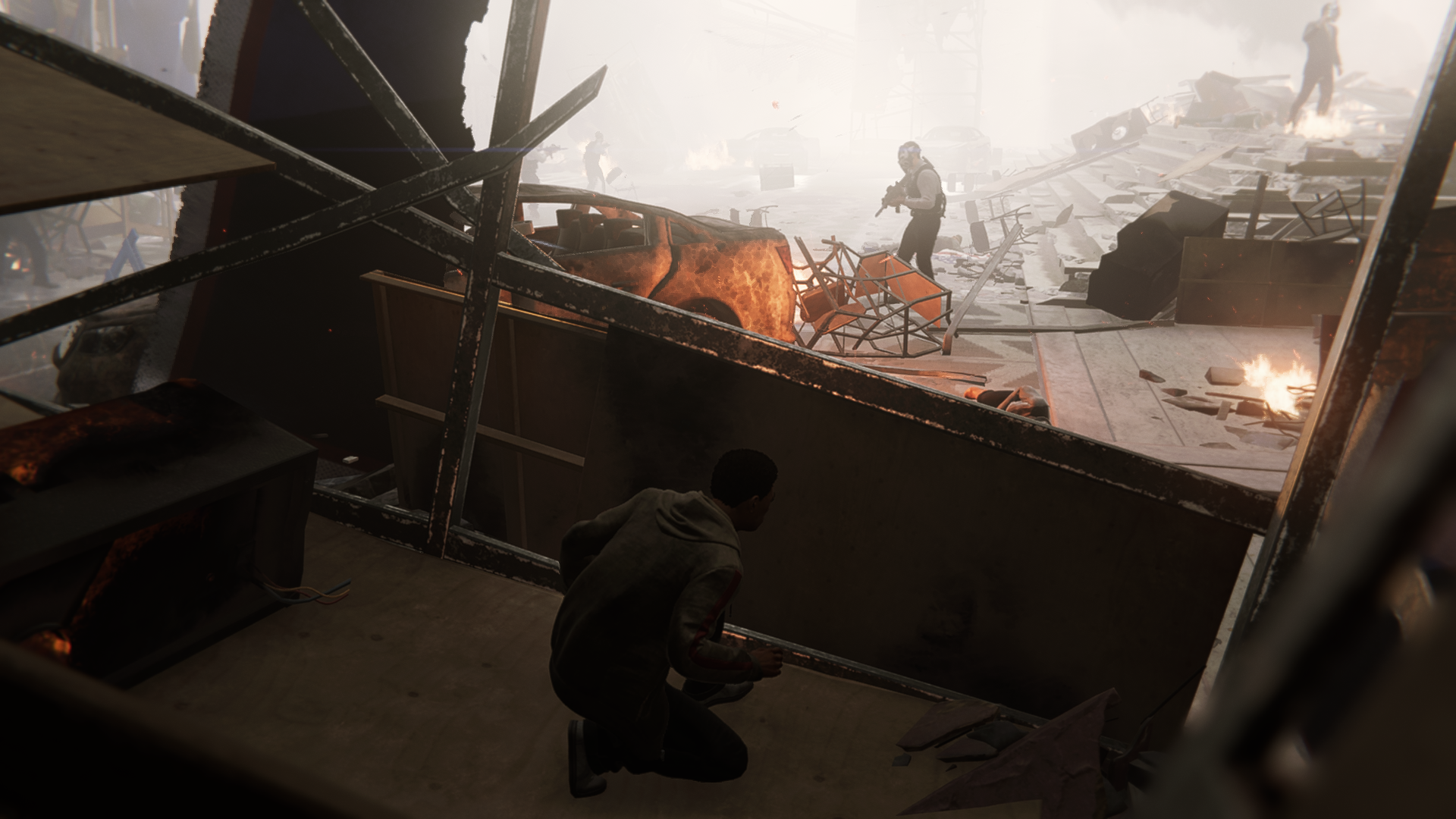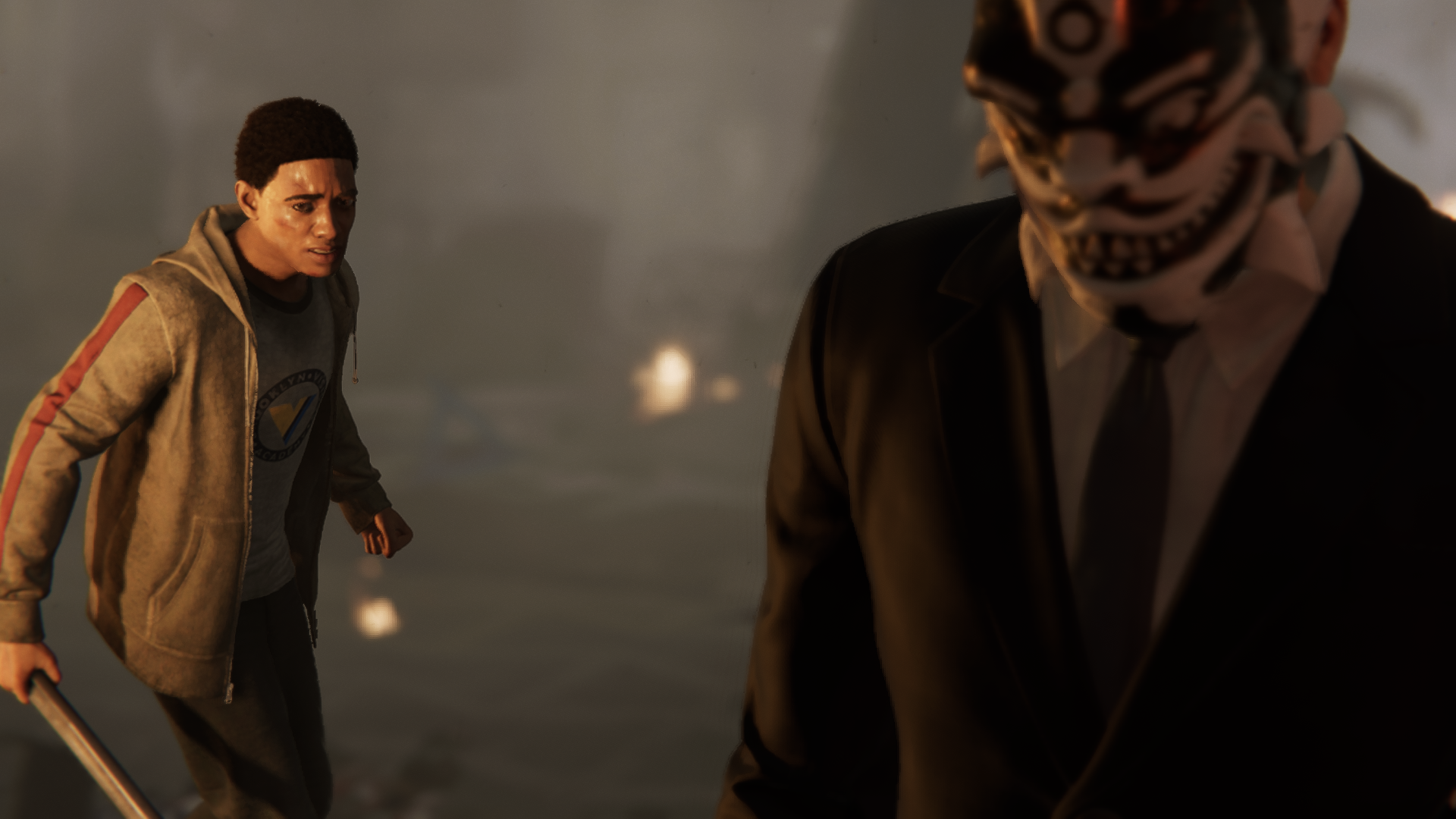 At last I reached there and the brave Miles picked up a pole and was about to hit a Demons.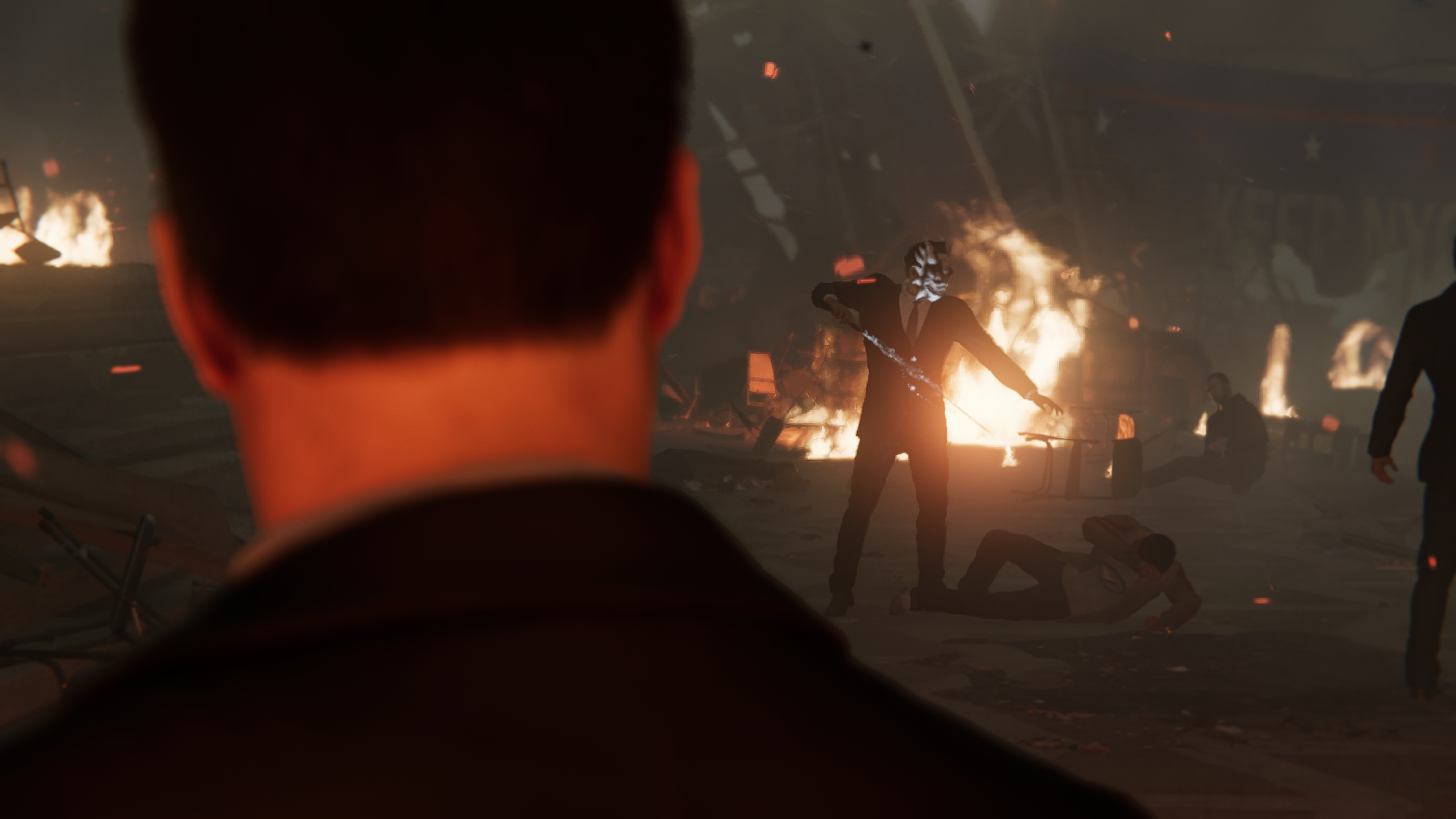 But he failed and Demons was about to kill Miles WHEN,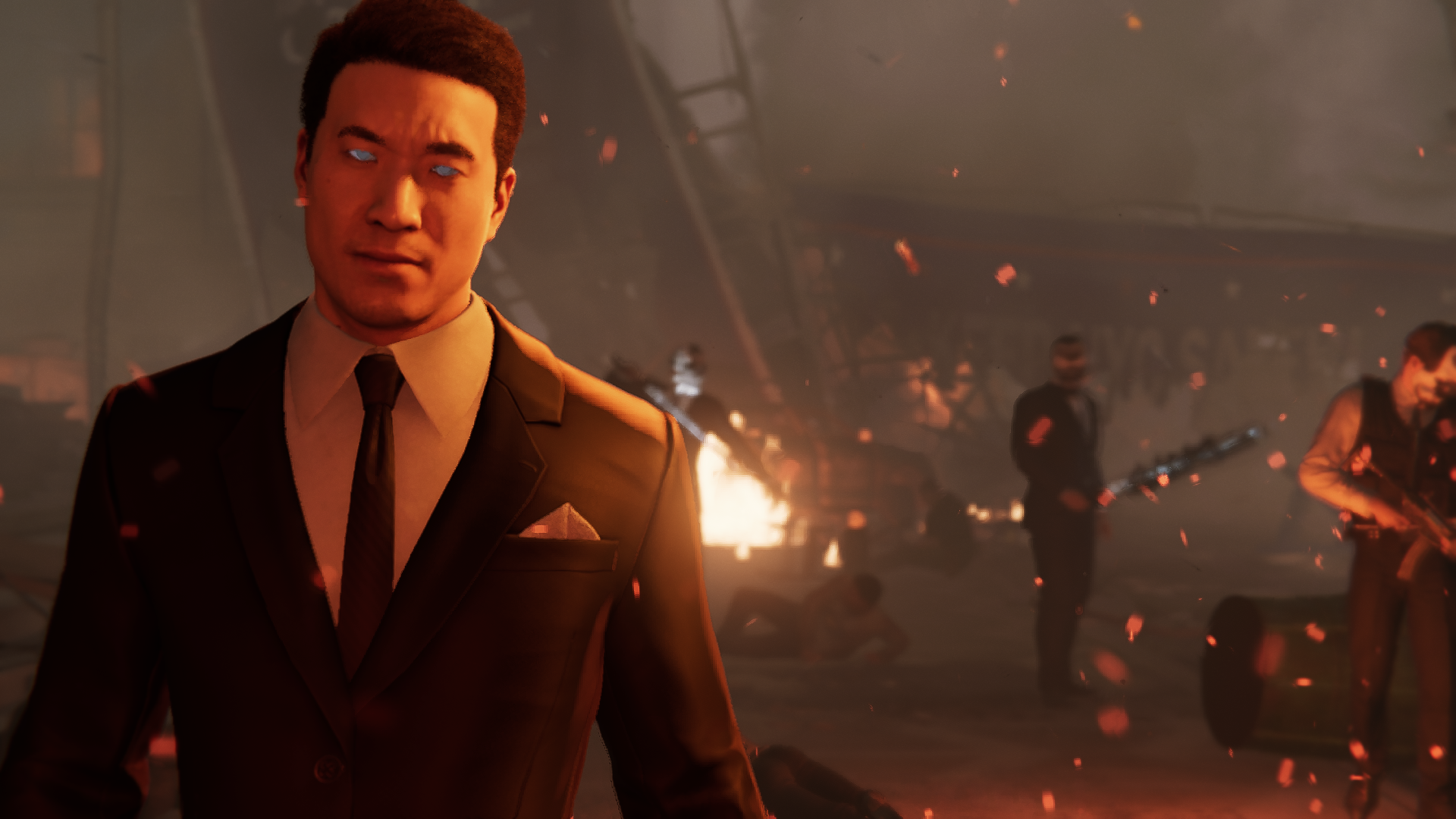 Martin Li told the other guy that they have to leave now and Miles was saved. Yes he was saved to be a hero soon.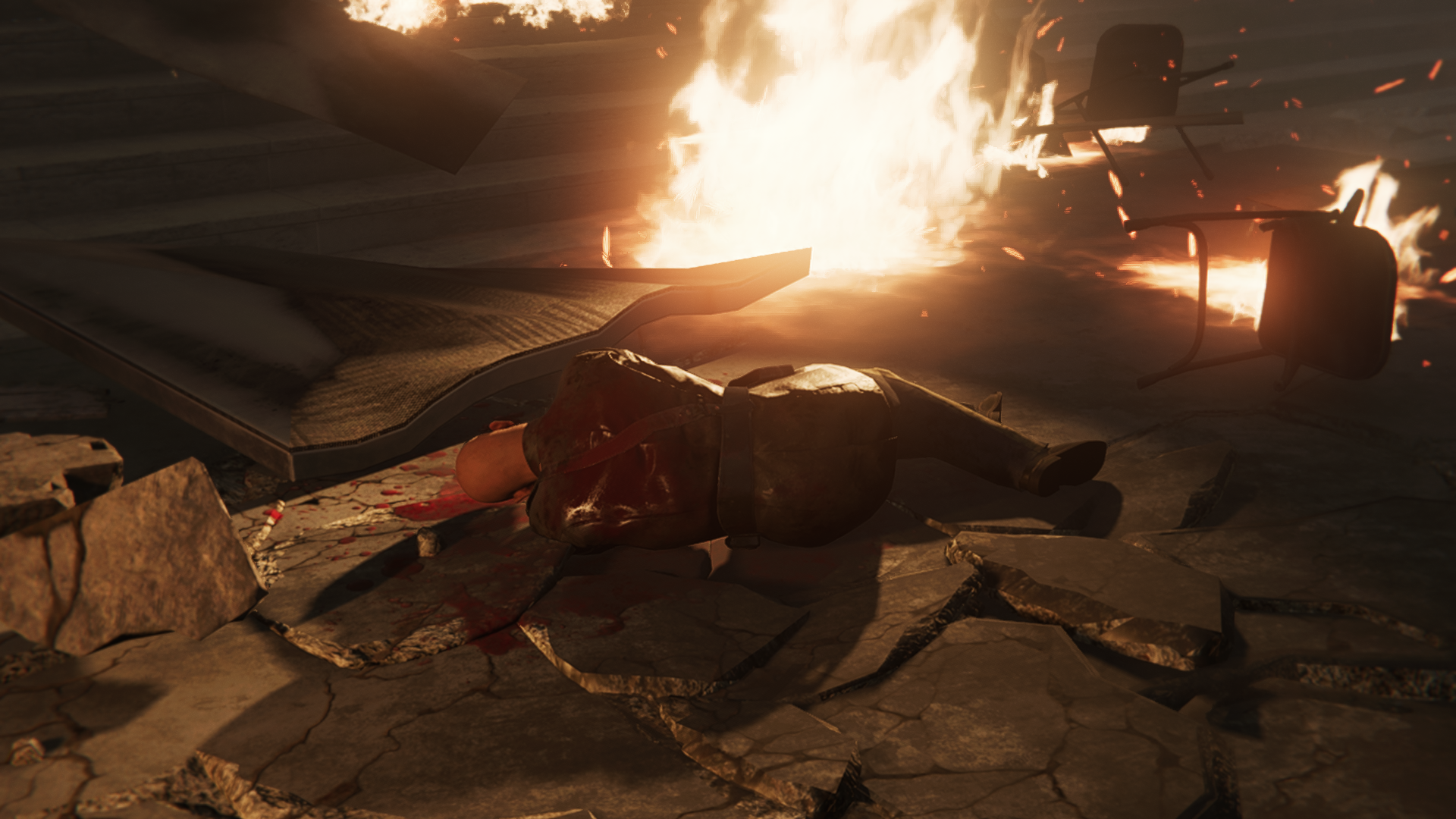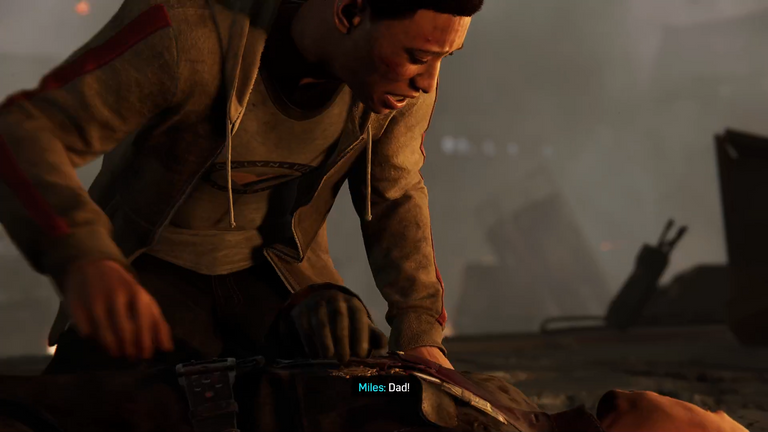 Then Miles has found his dad lying on the floor dead. It was such a heart touching moment.
Every fans of Spiderman knows that every Spiderman has this unconditional moment. Spiderman of Tobey Maguire lost his uncle Ben, Spiderman of Andrew Garfield lost his uncle Ben and the love of his life Gwen, Spiderman of Tom Holland lost his precious aunt May and his mentor Tony Stark and now Miles Morales lost his father.
Spiderman is all about losing someone close to him.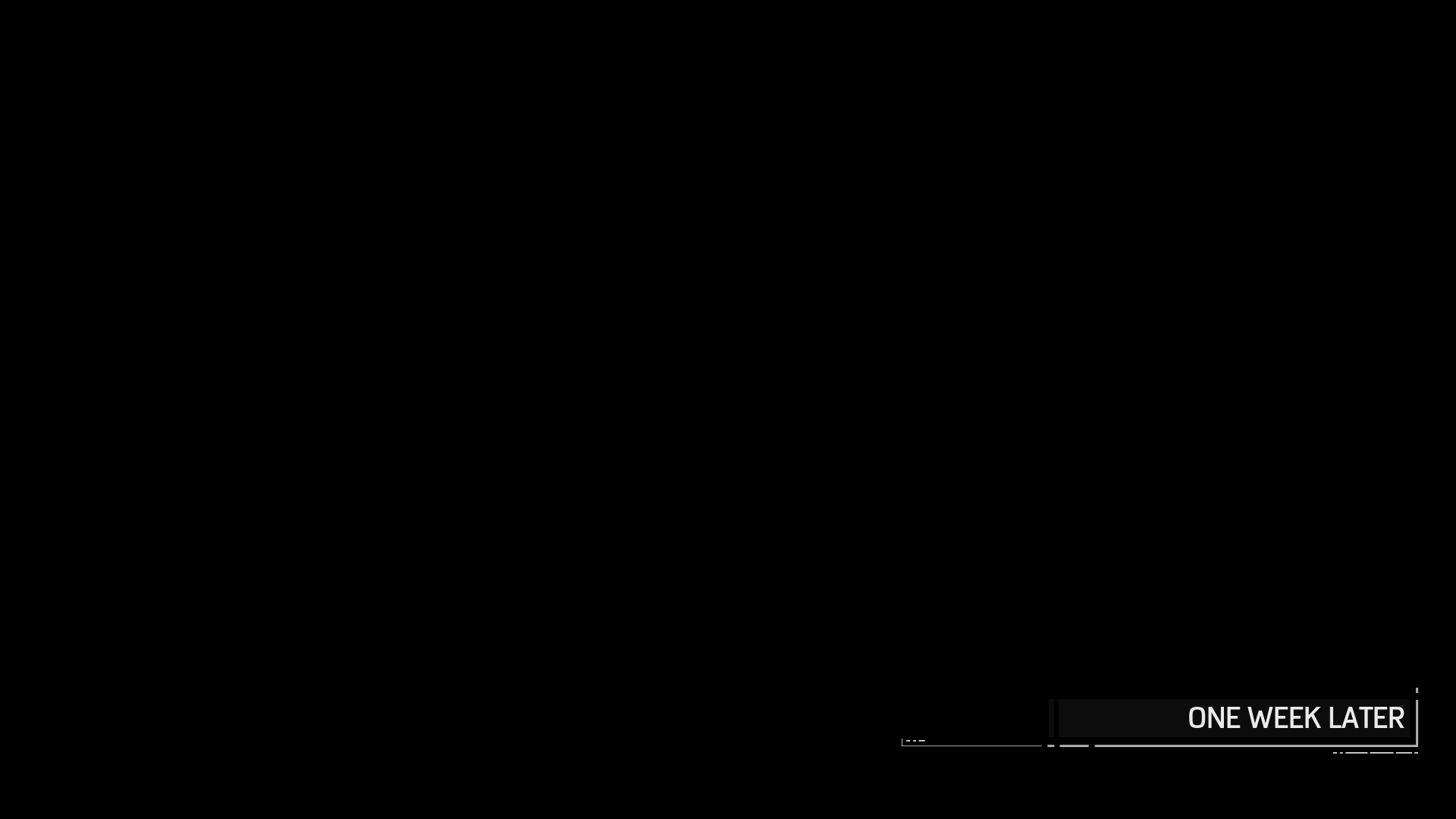 One Week Later,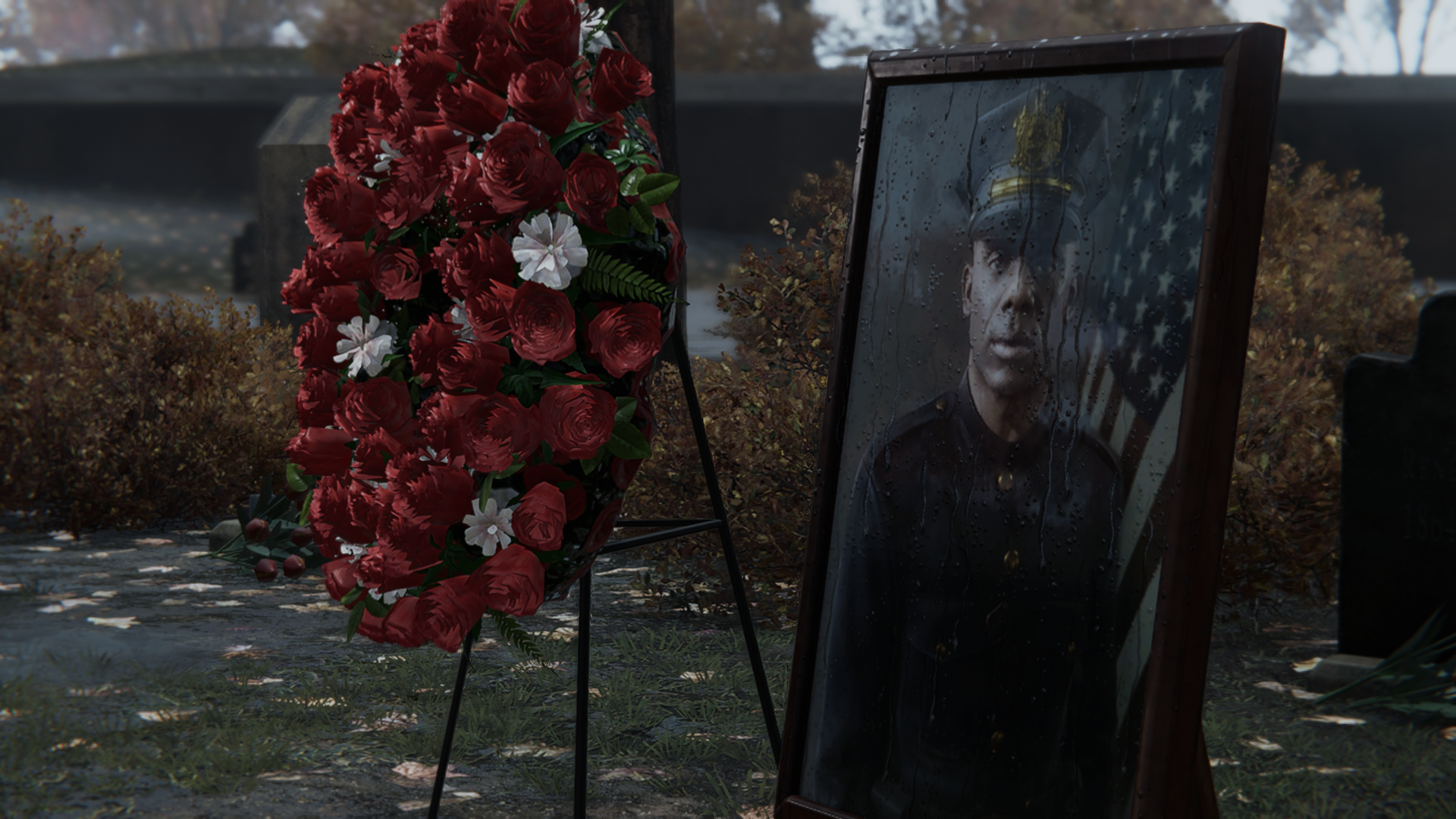 Its the day of honoring Jefferson Davis and saying him GOODBYE.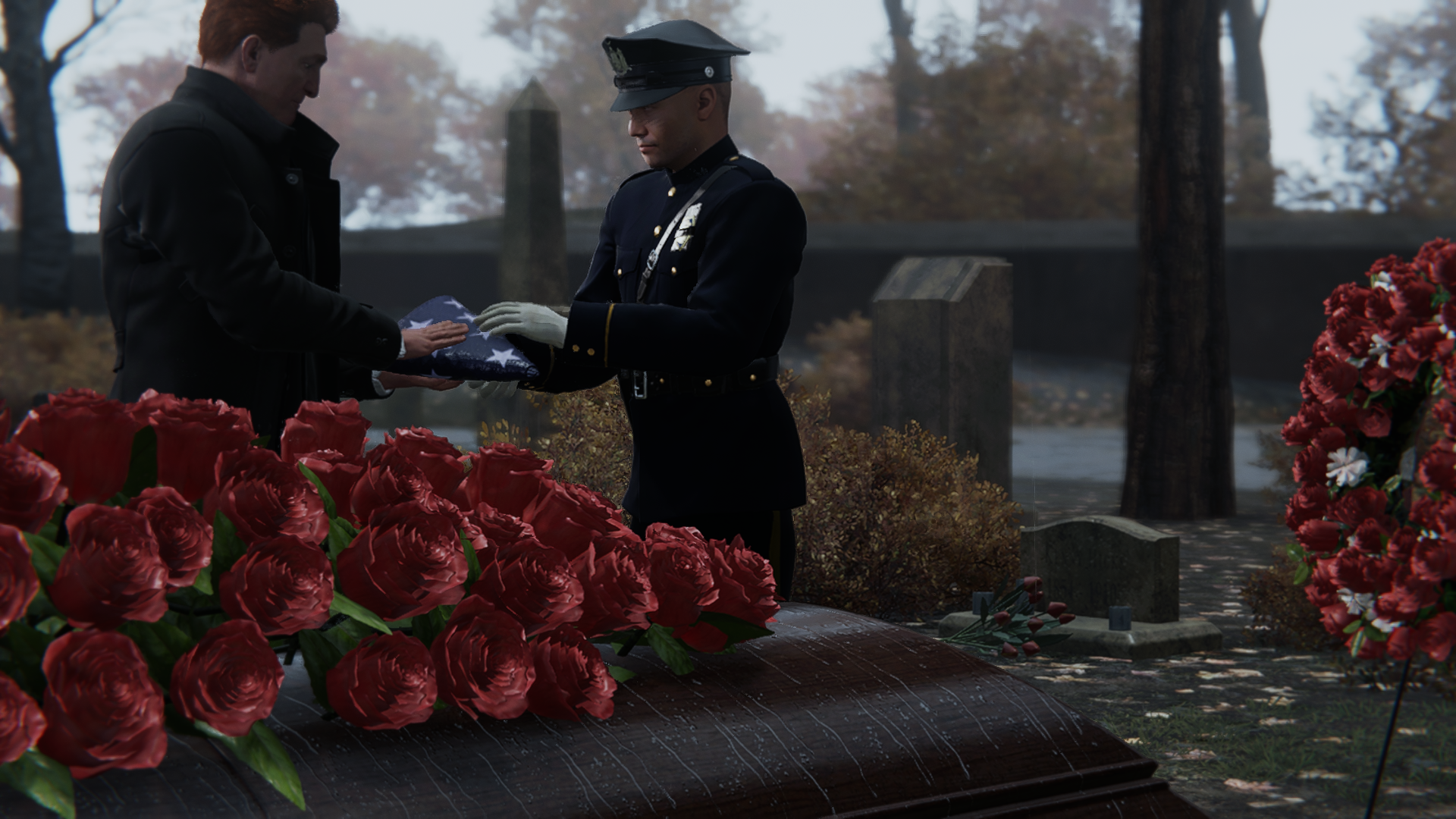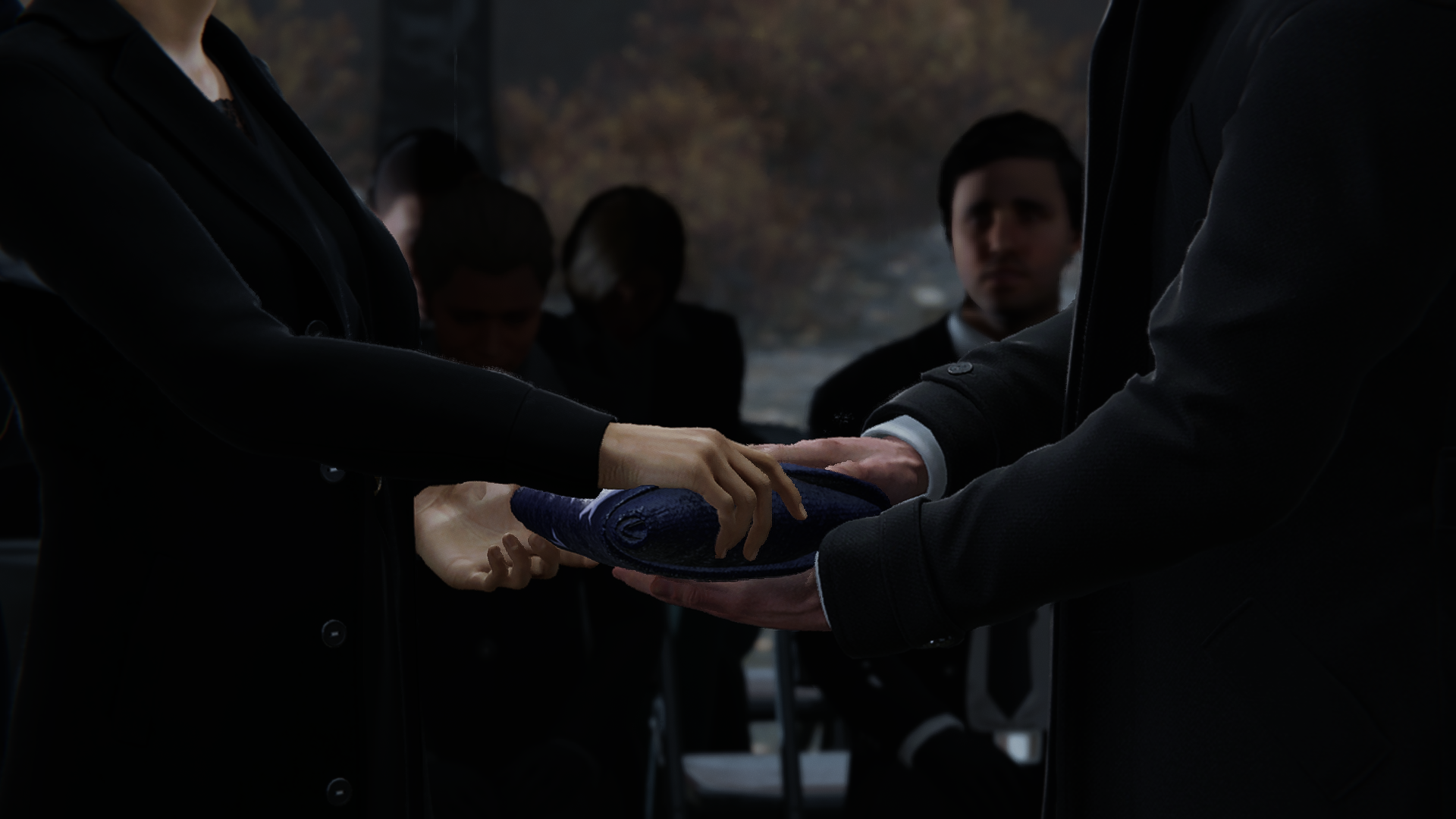 There was Mayor Osborn.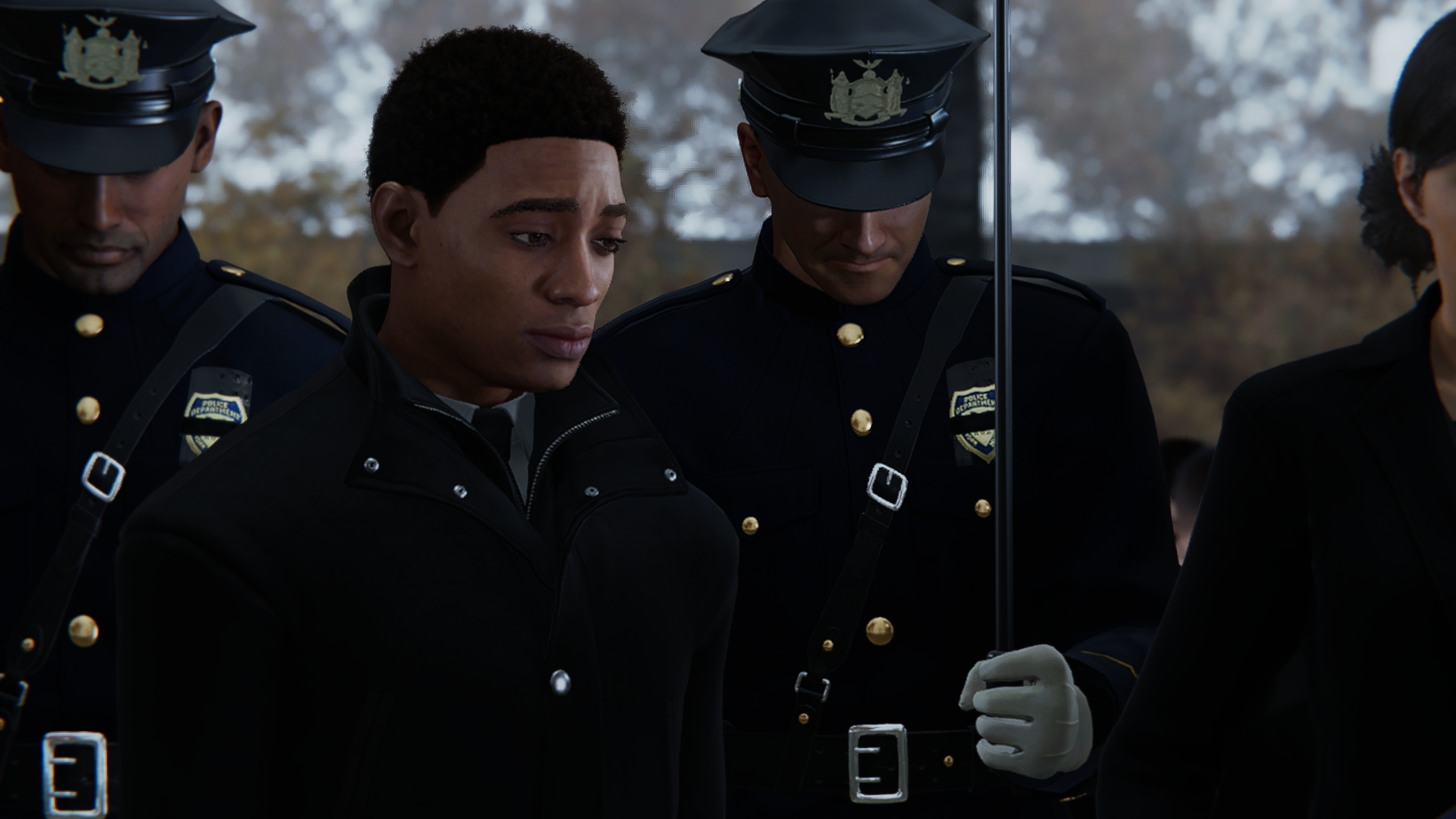 There was Miles Morales looking broken.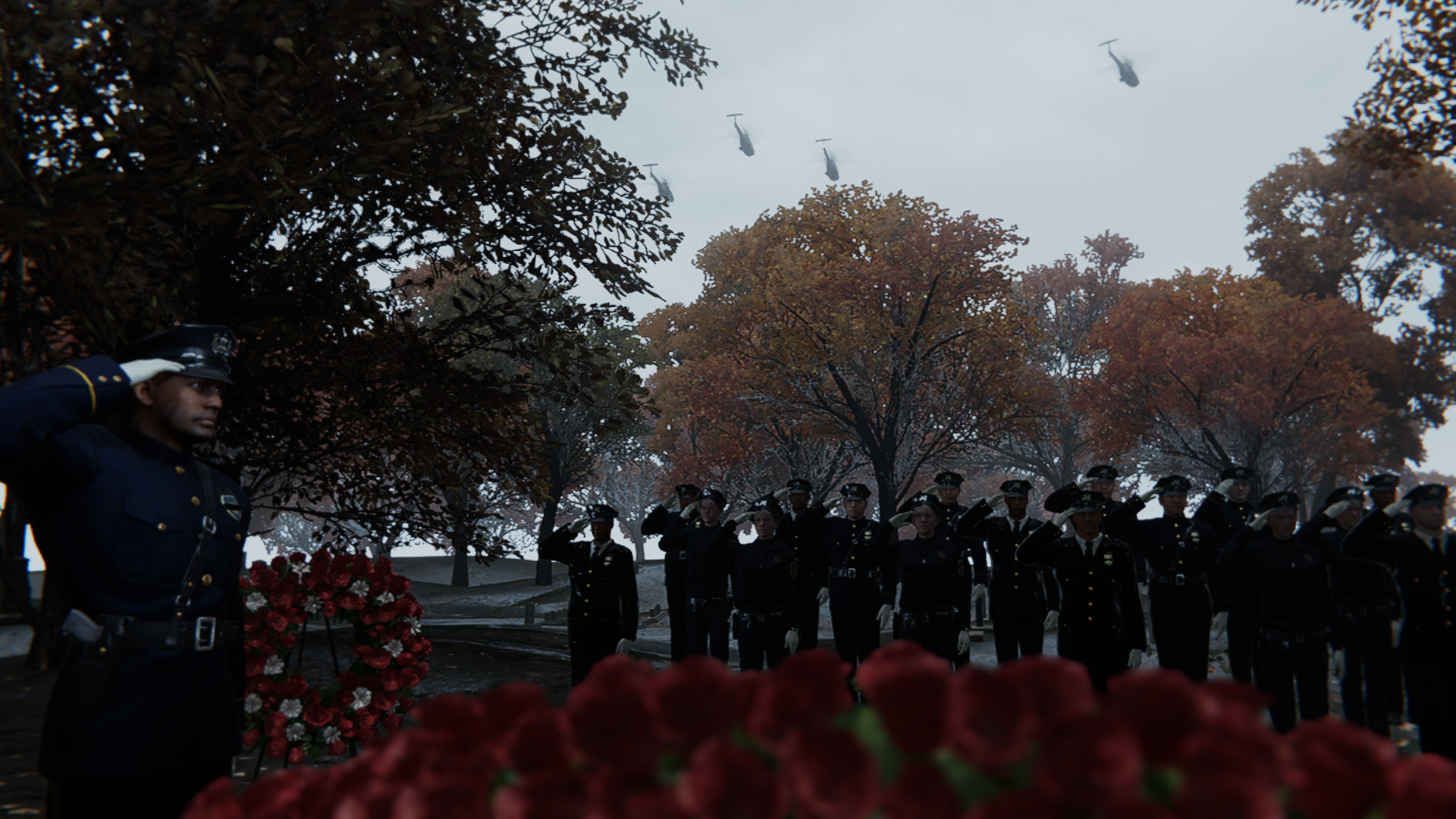 The police team gave the respect that Jefferson Davis deserved. This moment was also heart touching.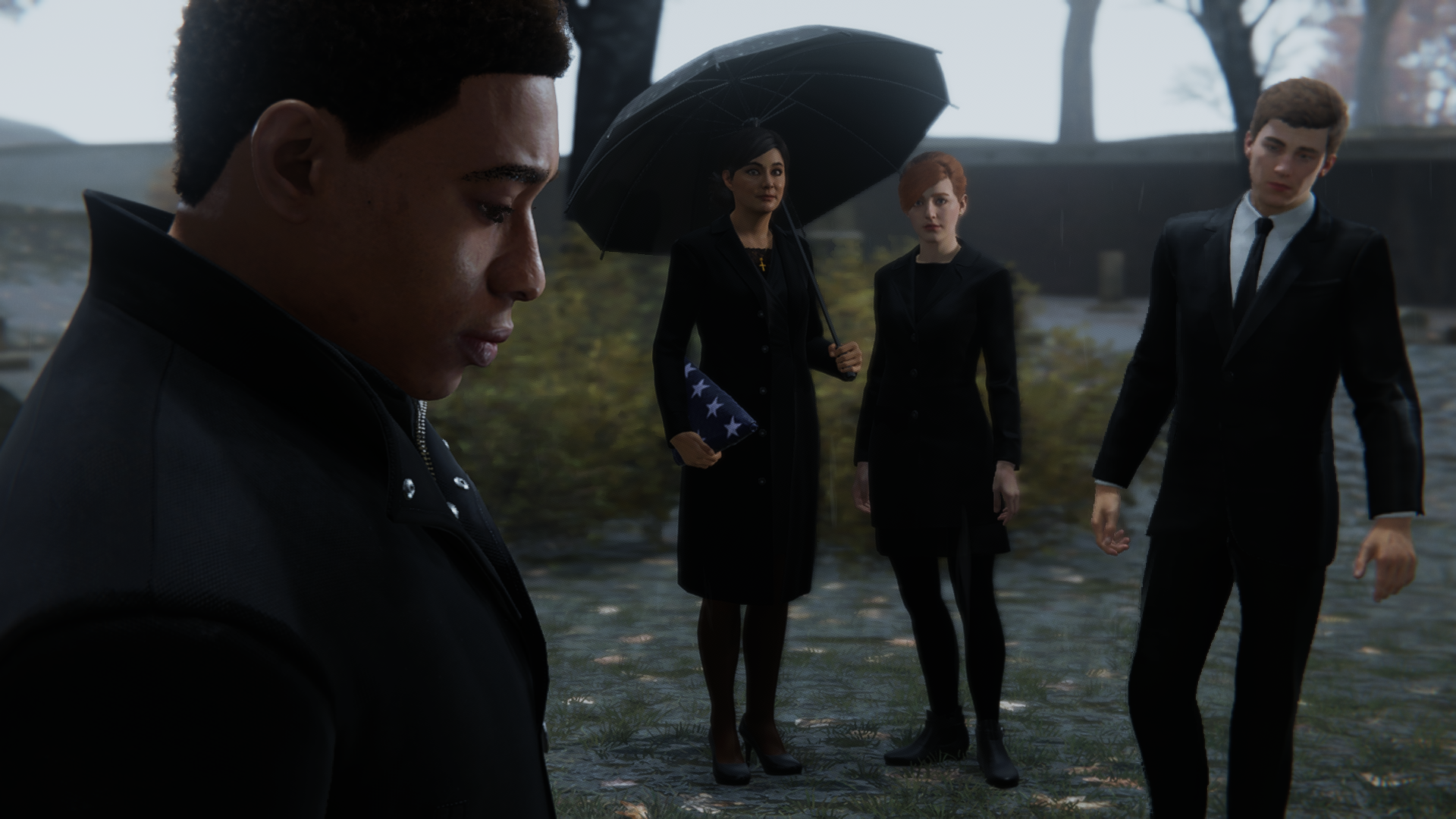 There were Mary Jane and Peter Parker as well.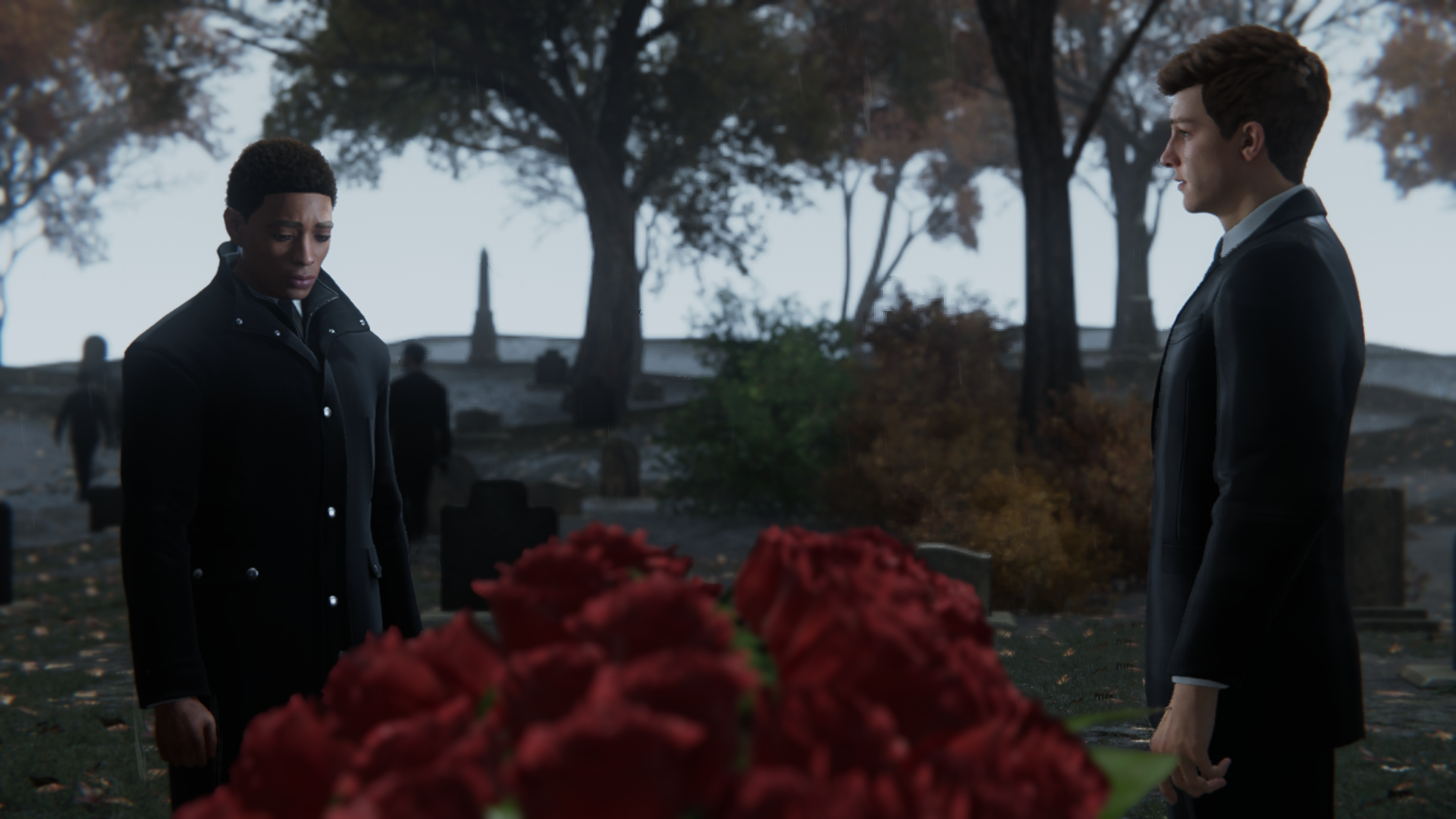 Peter then came close to Miles and was trying to calm Miles down saying he also understands this pain. I wish Miles knew about the loss of Peter as well.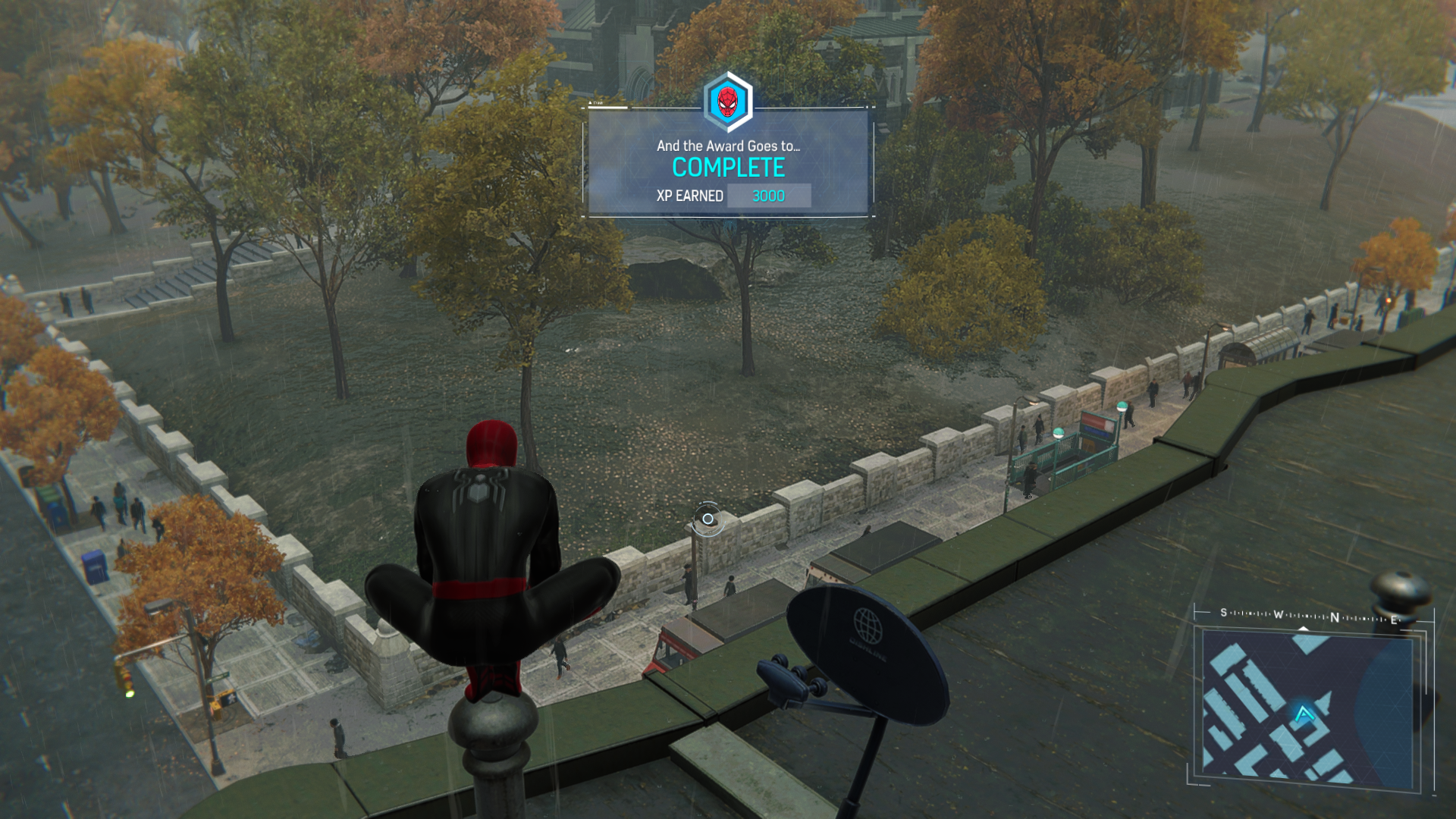 The Event was completed and I earned 2500 XP and went to level 13.
Then I stopped playing for the time being.
That's all for now.
I'll swing again soon.
Be safe till we meet again.
Au revoir/Goodbye.

---
---