Some natural sounds that bring benefits to our health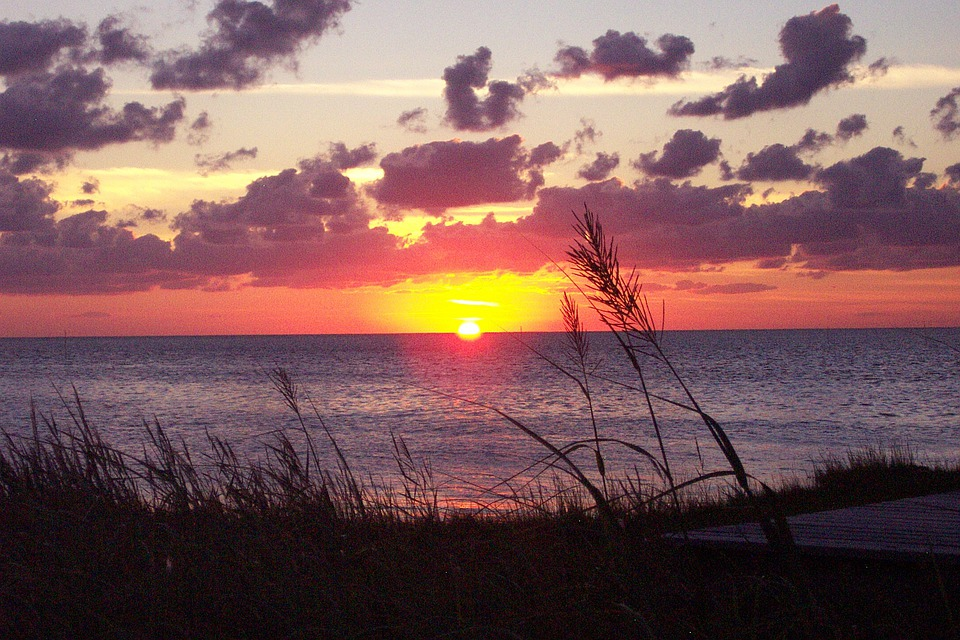 Source
Greetings again my dear friends I hope you are all well, one of our greatest concerns is to bring the greatest benefit to our health, both physically and mentally, which is why in this opportunity to make a small tour on those natural phenomena that bring benefits to our health, as is the case of some natural sounds.
A great number of sounds develop around us and many of them we do not hear or perceive, such as infra and ultrasounds, others that are within our audible spectrum, and disturb us, but there are some that captivate our ears to the point of generating the necessary tranquility to relieve stress, depression or discouragement, and lead us to a sense of relaxation, which allows us to regain our emotional balance, and this is not just anything, because our emotions have great influence on everything we do.
These beneficial effects that some natural sounds generate awakened the interest of science, so many studies have been conducted in this regard, therefore, beyond belonging to our popular culture, these benefits have a more scientific approach, is that science-technology-education are tools of knowledge that are in everything that concerns the life of human beings, and sound is one of them.
The sound is a fundamental phenomenon that develops thanks to the action of certain vibratory motion, without vibration there will be no sound, these vibrations disturb the medium through which the sound propagates to our ears, according to the frequency of sound waves has been determined a spectrum, Before showing this spectrum, it is important to take into account that the frequency is determined by the amount of waves that pass through a certain point (referential), in the time of one second, and the unit implemented is the hertz or Hertz (Hz).
Figure 1. Acoustic spectrum according to frequency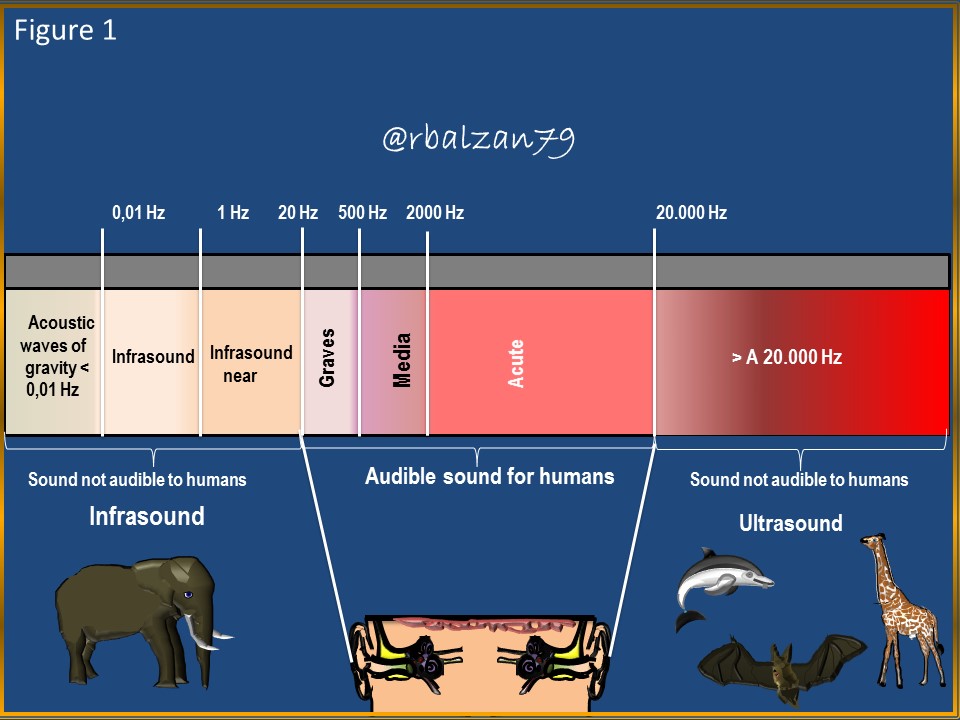 This figure gives us a vision of the type of sound that we can perceive with our ears, located between the spectral fraction between 20 and 20,000 Hz, around us we find or develop sounds of all kinds, and in relation to its frequency, we can locate it in the spectrum indicated above.
Now, for us to be able to relax with some kind of sound, logically we have to perceive it, that is why the intention is to show the audible spectral fraction for human beings, and to have a general visual of the frequency of the sound that our ears perceive, but science, beyond providing us with this spectrum through acoustics, has been concerned in analyzing the effects that these sounds generate in our body, both audible and imperceptible.
In this opportunity we will relate in a general way with some natural sounds that provide benefits to our mind, and with it, to the rest of our body, there is no doubt that people have varied tastes in everything, and the sound does not escape from this characteristic.
Benefits for our mind and body of some natural sounds
At some point we notice how certain natural sounds relax us, and help us to expel from our mind anxieties, worries due to anxiety or stress, we move away from possible moods of depression, and this certainly gives us quality of life, maybe not all of us relax the same sounds, some ears are captivated by the natural singing of some birds, others by the sound emitted by the flow of water, the sound of rain falling on some surface, the whistling wind, among many other natural sounds.
Many of us hear expressions like, I go to the countryside to relax, here I include myself, is that since all our history man has been able to find in nature that space that provides tranquility or peace, and this aspect related to each of the sounds that are generated in nature, entering a state of great relaxation that positively impacts on our physical and mental health.
With the advent of technology we have been able to move the natural sounds that we like to our homes, there are many technological applications that give us the ability to select and play natural sounds that relax us, of course, are recordings of natural phenomena, but that positively influence our mind and body, although when we have free time we must experience the feeling of perceiving these sounds directly.
Sometimes getting away from the hustle and bustle of the cities is good for us, that is, the contact with nature reminds us of the importance we all have for the protection of our environment, there are many years devoted by science to get a logical explanation of the benefits that anyone attributes to natural sounds when they perceive them.
A large number of scientific articles have been published on the subject, and the Internet highway places them at our disposal today, where, they show how some natural acoustic sounds provide effective benefits for our physical and mental health, among some of these benefits are, significantly reducing stress, some body pain, improving mood, and even impacts on our cognitive performance, among others.
The fact of seeing how natural sounds have a positive impact on us, shows that even though the human species has been moving away from nature, contact with it is part of our existence.
Conclusion
In each study conducted, it is increasingly confirmed that listening to some natural sounds are essential for a person to enjoy good health and emotional well-being, the sounds that cause more effect on people are those generated by water, such as the flow of a river, rain, waterfall, without leaving aside the captivating sound of the singing of some birds, if not all of them.
Of course, there are natural sounds that distress us, especially children, such as the roar of a lion, the sound of thunder after a lightning strike, the latter actions or sounds can become dangerous situations, which is why our mind does not process them as pleasant.
Artificially, we also encounter a large number of sounds in the concrete or urban jungle that disturb our peace and quiet, generating noise pollution of all kinds, for example, those generated by car alarms.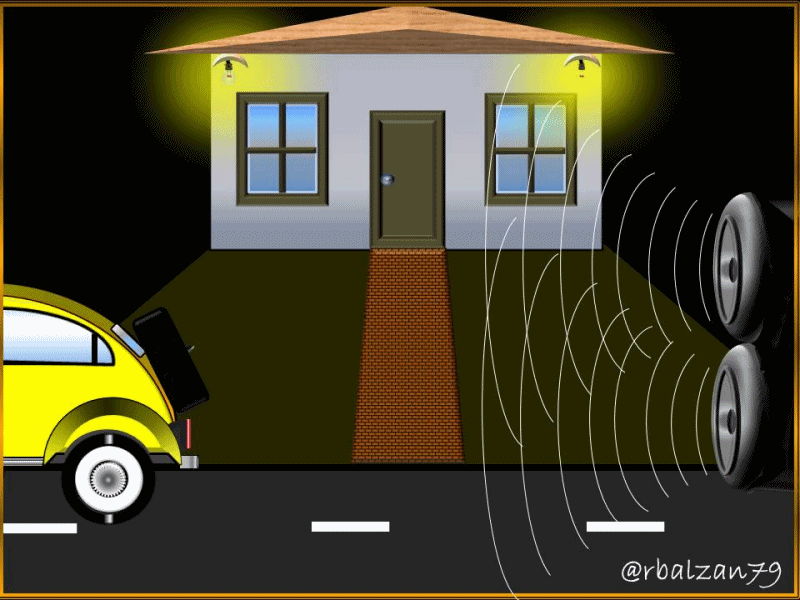 The truth is that studies with scientific approach have detected that those people who enjoy the melody of birds or any other natural sound that pleases them, will probably enjoy better physical and mental health than those who do not have the pleasure of perceiving these natural sounds.
It is important to always relate to all those aspects that can generate benefits to our health, we know that with good physical and mental health we can face life better, and with the best spirits to be happy, and make happy, all those around us.
The natural environment that surrounds us gives us the oxygen to stay alive on this beautiful and unique planet Earth, besides sheltering us, it offers us any kind of natural resources that facilitate our existence and improve our quality of life, hence our intrinsic relationship and sympathy with many of the sounds generated in our nature, and enormous benefits to our physical and mental health.
Until another opportunity my dear friends.
Note: The images that do not have fonts are of my authorship elaborated in Power point and the animated gif made in PhotoScape.
Bibliographic References
[1] Sara Perrins and Dr. Gregory Bratman. HEALTH BENEFITS OF CONTACT WITH NATURE. University of Washington for the Recreation and Conservation Office. Link.
[2] The Healing Power of Nature Sounds in Cities.Link.
---
---