1 Billion Crypto Users : Wen?
Just another friendly reminder that we are still new in this crypto game, so if you are thinking that you are already late in crypto remember that we are 8 billion people in this world and only 4.2% of the world population is into crypto. We still have 10% , 50% and the rest figures to go. A lot has been happening in the crypto world and yet we are just 4.2% of the world population into crypto, imagine how the crypto space would be if quarter of the world population is into crypto. This means that we willl see a lot of utilities created to accommodate these people. No matter how much news we see and how much we are going to be seeing in the future against crypto, we are going to b seeing more and more crypto adoption. We have seen the number of crypto users doubled in a space of 6 months, and this happened somewhere in 2021.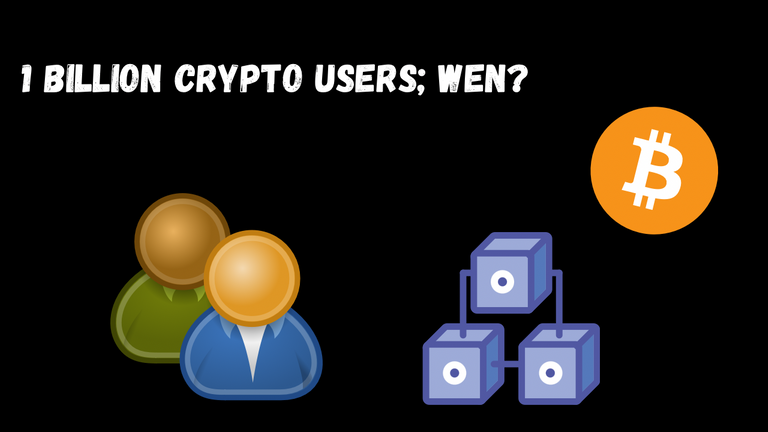 The world population is at 8 billion and for 4.2% of the world population to be over 300 Million, this means that we are growing and all these happened within space of 15 years and we are not yet 15 years since bitcoin creation. Now to the real question is when is this number going to get to one billion, well, its crypto anything can happen. If the number of crypto users doubled last year, its possible that before the next 5 to 10 years we are going to see the number of crypto users get to 1 billion. It makes sense on how this can happen, because, crypto is slowly infiltrating into the world daily use instruments, like how casually people are quick to request for crypto as an alternative means of payment. For instance, today, I heard that the Nigerian bank is currently not accepting or processing International transaction, and the first thing I thought of is, how I wish that International companies and brands will be accepting crypto as a means of payment for countries like Nigeria with so much financial restrictions.
We are currently seeing crypto slowly dominating the game industry with play to ear, although you can't compare it to the regular web2, but you get my point. The word Web 3.0 is becoming popular so is the metaverse word, these are crypto words that will have and take full effect in the next 10 years, it could be sooner than 10 years or later. Adoption rate is expected to sky rocket at this point, and when this happens, what do you think will happen to the crypto market. More people will demand for it, more funds, more liquidity that will lead to market expansion. When this happens, Hive is definitely the coin I am rooting for, because this space is way ahead of its time and has a lot of utilities. This space is the only Web 3.0 social media platform, as far as I am confirm. It will be used to connect with a lot of people on the decentralised blockchain level. Imagine the space with over 10 Million users.
Posted Using LeoFinance Beta
---
---