LeoLegends: If You Need An Additional Reason To Stack Those Leos, Here Is One
Too many utilities and opportunities on the blockchain especially in the Leofinance community. The Leofinance community is expanding so much that it's becoming a special crypto hub on its own. We have all been focusing on the polycub project, especially the Collateralized lending feature which is the feature I am most excited about, all of a sudden there is an NFT play to earn coming to the Leofinance community on the blockchain.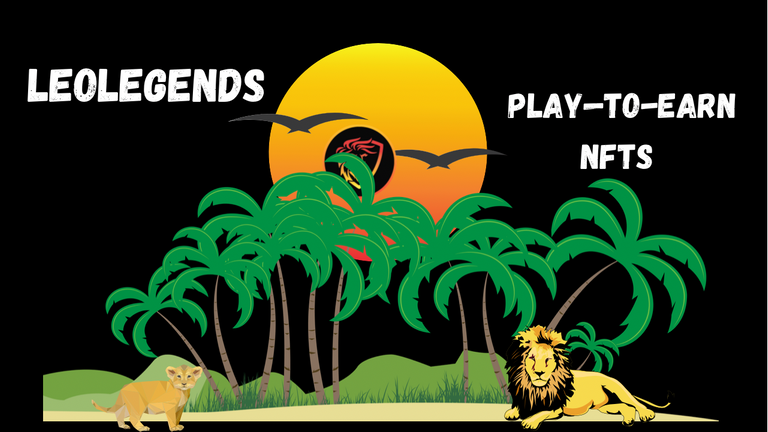 Project blank is the long anticipated project on Leofinance, which is supposed to be Twitter on Hive, from the look of things, this is going to take a while before it launches because, knowing Khal and his team, they seem to be those dev team that never put their brain to rest. Always looking for ways to add value to the ecosystem, which got me thinking, "who will like to spend a day in his head". How wonder how many hours of sleep he gets.
Leo and Value
Before I started stacking my Leo and staking it as Leo power, it seemed just like a regular hive engine token to me where you earn for writing an article in the Leofinance community. After earning it, I didn't know what to do with it, except stake to curate and earn more. But then, I looked at the supply and asked myself, what can we do with our LEO token if it gets mined off the chain. I don't know how possible or when it will take to mine all the LEO token off the chain, but I was more concerned about the utility. This was sometimes in 2021.
Later I on, I discovered wrapping of Leo in the Binance smartchain to give you bLeo and wrapping in the Ethereum blockchain to give you WLEO which can be used to provide liquidity in CUBdefi and other defi platform to yield rewards. This means that at that moment I stopped looking at LEO as just a token you earn from blogging and curating other blogs.
There came the polycub defi 2.0 with amazing yield on the polygon blockchain, guess who could get wrapped on the polygon blockchain to generate yields on polycub? Yeah, Leo to pLeo was possible, giving you more reasons to buy LEO and giving it more utility and use case.
LeoLegends
It's great how the team comes up with such names, so an NFT play to earn is expected to be launched on the Leofinance community. Where Leo holders can mint the NFTs with LEO. This play to earn is going to be great as it will involve a process of growing your Leo cub into a Leo Lion. So initially we are going to be seeing a lot of Leo Cubs everywhere till they are grown into a Lion.
This play to earn is expected to be integrated into the Leo Mobile app and the Leo desktop. I guess we now have an additional use case for our Leo Mobile, aside blogging and earning, you can play games and also earn. The native token of the play to earn should be Leo in my opinion.
You earn Leo from blogging about the ply to earn, use the LEO to buy cub NFTs which can used as profile pictures, I don't know if they are used in the game or May be the NFTs are separate from the assets used in the game. But you get my point, you earn regardless by having fun playing the game and blogging.
What more utilities can we ask for, remember, the LEO token is really cheap right, just over a year ago, 1 Leo Was worth $1. Now it's worth less with more utilities and more reason to get some.
Reasons To Get Leo
Earn Curation Rewards
Use Your Leo To Mint NFTs
They Are Cheaper now
Can be Wrapped & used to generate yields on polycub and cubdefi
Posted Using LeoFinance Beta
---
---