NFTs : The New Money Playground
It's no doubt that the crypto world is creating a new set of millionaires and providing a foundation for creating generational wealth. One thing about wealth creation or being introduced into wealth that one is not used to before, is that it expands your awareness. There comes a level of success you will attain in your life, you start looking for a way to spend your time doing things that will let you have fun and stretch out your network.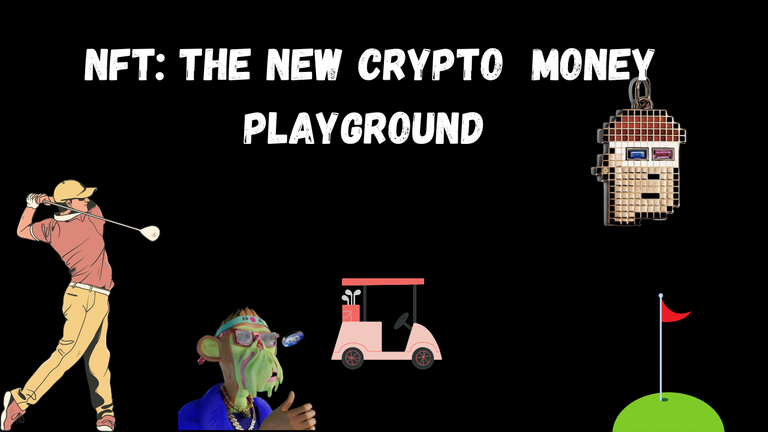 This is something we have seen amongst a lot of wealthy people. When they become extremely wealthy, you see them creating a new playground where they can stretch out their network and meet new people. The wealthy people understand the power of networking so much that they spend a lot of money investing in networking, this makes them create a play ground to expand it. It is known that when creating playgrounds like this to expand their network, they have to make it exclusive, because if they don't make it exclusive just anybody can be part of the network without contributing or adding value to the network only benefiting from it.
So what are the ways they make such playgrounds exclusive? They make them exclusive by making the access expensive, this is one of the ways to filter the wealthy people from the average. When they make them expensive, the average people will obviously not want to join because it's above their worth. This play ground could be expensive wine tasting, golfing, polo clubs and expensive art gallery events. This way they get to filter theirselves and expand their network better, because one thing the rich people like doing is meet more rich people they can spend money with. If you have ever been the richest person in the group you will totally understand. There are things you can't do because you don't want other people in the group to feel you are being extravagant or showing off, but if everyone in the group have money, it will be seen to be normal.
For ages, wealthy successful people have always created a playground to feel comfortable about their wealth and spending it, fortunately crypto is another ground for that and a new play ground on the crypto blockchain has been created for that. Everyday, people join crypto and with time crypto will be creating new sets of millionaires and successful people, these people will want to look for a safe space on the blockchain to feel better about spending their new found wealth. For now the only playground we have in the crypto space is the NFT.
NFT was used as the playground for the wealthy successful people, just look at the bored ape yacht club, a club with a lot of elite people with a discord channel that gives access to only the bored ape holders. There they can meet and chat with each other, they give each other information that will benefit theirselves and look for ways to improve their community by creating more utilities.
Posted Using LeoFinance Beta
Posted Using LeoFinance Beta
---
---