Will The Move2earn Trend Be Sustainable Enough?
It felt like a great idea when I first saw the slogan Move2Earn. I was really excited because, the Play2Earn industry is a good one and giving a lot of people the opportunity to earn while doing what they love. Now, the move-to-earn industry is here and is gradually making a trend. As usual, these sectors have their trend, sometimes based on lack of originality some of them tend to copy each other. For instance, the Cycgo move to earn looks like a copycat of the StepN move to earn. This is why we need to be careful while rushing to invest because we want to be an early investor.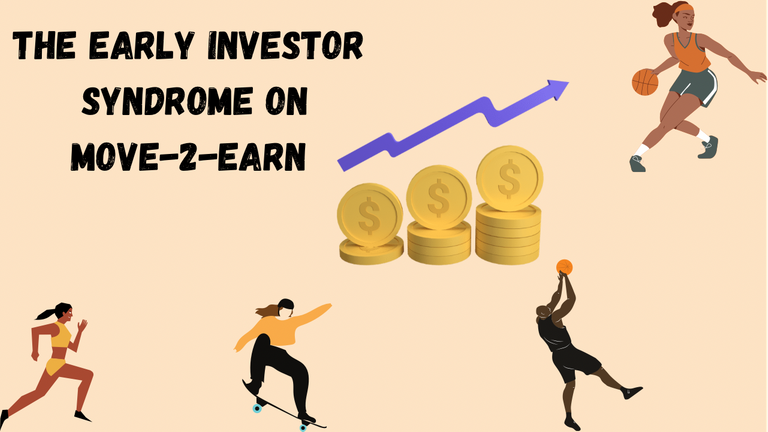 The Early Investor Syndrome
Most of us here missed the opportunity of buying bitcoin at a very cheap rate, I am sure that in 2010 if someone had come with bitcoin offer telling us to buy bitcoin at the rate of $1 per bitcoin, we are going to laugh about it because, it sounded absurd. Now bitcoin is blown and we don't want to miss the opportunity of buying very early because we are using the bitcoin early investors to make most of our crypto investment judgements.
So the bitcoin early era came and we missed it, the Ethereum early era came and we missed that one too, the play to earn early era, we missed it too(although play to earn is still early though compared to the Web 2.0 gaming sector). Now we are diving into the Move To Earn era or trend and the early investor syndrome is dwelling on me right now.
There has always been move to earn but not in the crypto way. Lots of people have been earning and making a fortune from moving, that is sports. People earn a fortune being professional athletes like basketball, football, soccer, tennis and so on. But then, it's restricted to only professional athletes, why not to normal humans trying to get healthy. Because professional athletes get paid for staying healthy, so why can't we get paid for moving or exercising.
Right now, the rewards and the opportunities gotten from Move To Earn is too good to be true that it's being perceived as scam or another pyramid scheme. That's the early stage of acceptance, people perceive it as scam, but is it though? I have no idea, you will never know till you find out. One of the reasons it's being perceived as scam is because you need to buy an NFT shoe before you start earning. Most of the move to earn require buying an NFT shoe or snickers to start earning. These NFT shoes or sneakers don't come cheap, they are extremely expensive.
The early investors are getting beautiful rewards like, making $20 a day, depending on the type of sneaker you are getting or how many sneakers you have. But then, what will the Move To Earn industry look like in the next five years? The rewards generated from these Move To Earn will decrease over time, it's expected, the high reward is to attract a lot of people to come and invest. After a while the reward will start depleting and because it doesn't cost you anything to put on your gps while running or walking or exercising, you won't feel like quitting it.
Posted Using LeoFinance Beta
---
---