Harvesting Kangkung Grown Hydroponically
Tuesday, 2023-01-10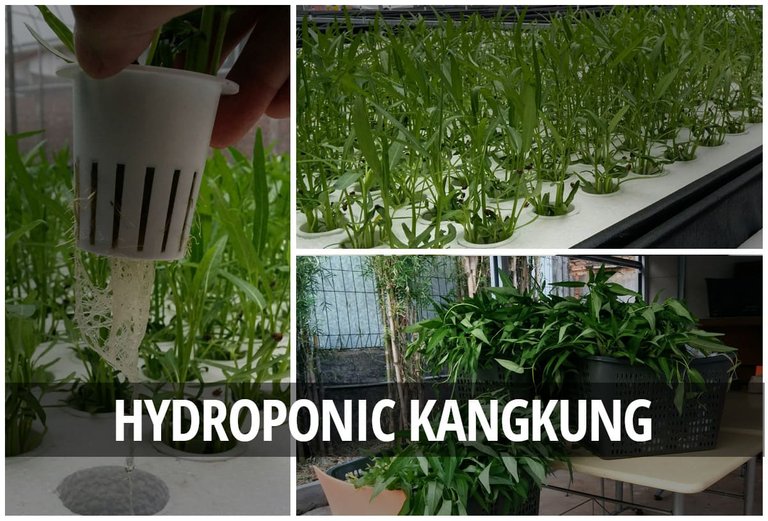 Kangkung, or water spinach, also called morning glory, is one of the most grown and cultivated vegetables in Southeast Asia. Its origins are unknown but generally believed in Southeast Asia. The stems are hollow with arrowhead-like long and slim pointing leaves. It can be found almost everywhere, especially in wet areas. This vegetable is easy to grow and requires almost no care. In every restaurant or street food stall, they will have at least 1 kind of kangkung dish on the menu, that's how popular they are. In Chinatown restaurants in Western countries, the kangkung dish is one of the most expensive items on the menu, and not every restaurant has it since it has to be imported. Kangkung is a tropical plant and it thrives in a climate above 24ºC.
One of the vegetables that we grew hydroponically in our greenhouse was kangkung. We started with designating 2 grow tables (100cm x 200cm) with harvesting time every 20 days from seedlings. Kangkung requires very little care. As long as there's water with enough nutrients, they will thrive. Kangkung grown hydroponically are much bigger and require less time to harvest when compared to kangkung grown conventionally (soil). The stems are bigger and crunchier, and the leaves are also larger. We also noticed a stir-fried kangkung dish would quickly turn into a much darker green shade after about 15 minutes. Hydroponic kangkung, on the other hand, still maintains its light green color even after a day. We know our kangkung dish, so when I mentioned the stem is crunchy, it is crunchier than its soil-grown counterpart.
There are a lot of hobbyists who came to seek advice from us on how to start planting and growing hydroponically. Our advice to them is to start with kangkung as they are the easiest to grow and hence, will build their confidence. We teach them the basics of hydroponic systems, and what and how they work. How to mix hydroponics nutrients, calibrate and read measuring tools like pH meter and TDS/EC meter, and most importantly, a hands-on practice by planting.
Seeds Selection & Germination
Kangkung seeds are big and easy to handle. The selection process is also simple. First, we soaked them in a glass of water for about an hour and dispose of those that are floating. Those floating seeds are basically empty shells, therefore they float. Those that are viable will sink, and they are the ones we use.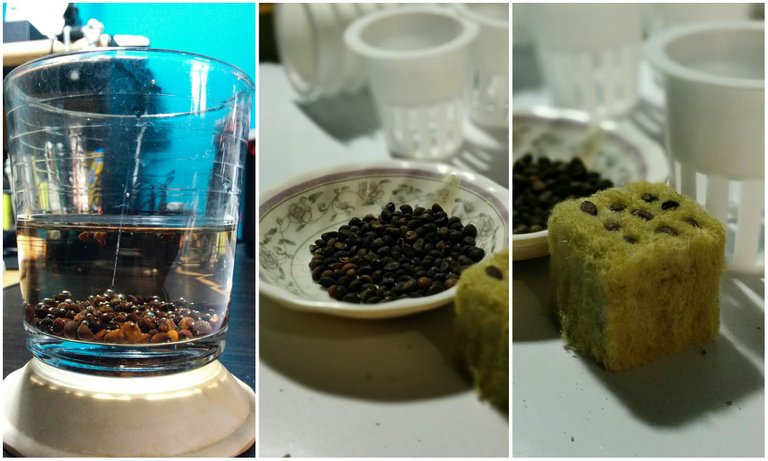 Soaking seeds in a glass of water. A netpot (white plastic thingy in the background of the middle and right picture above) is a small pot with a top diameter of about 5cm and a height of 7cm. This netpot will hold a piece of the Rockwool cube and be placed in a hole in a styrofoam slab that floats on a grow bed filled with hydroponics nutrients. The bottom of the netpot will touch the surface of the nutrients hence the Rockwool will always be wet.
Next, we cut a slab Rockwool (grow media) into smaller cubes (3 x 3cm) and use a toothpick to make 9 small holes on one of the Rockwool's surfaces. Place the good seeds into the holes, and place the cubes in a netpot. Make sure the Rockwool cubes have been soaked in the water so they're kind of soggy. This is to ensure the germination process is successful. Another method of germination is to place and wrap seeds in a wet paper towel and leave them overnight. Once the seeds have cracked showing a new sprout then you can move them into the growing media. We found placing the seeds directly into growing media is much faster and less hassle even though sometimes we have a 5% - 10% failure rate.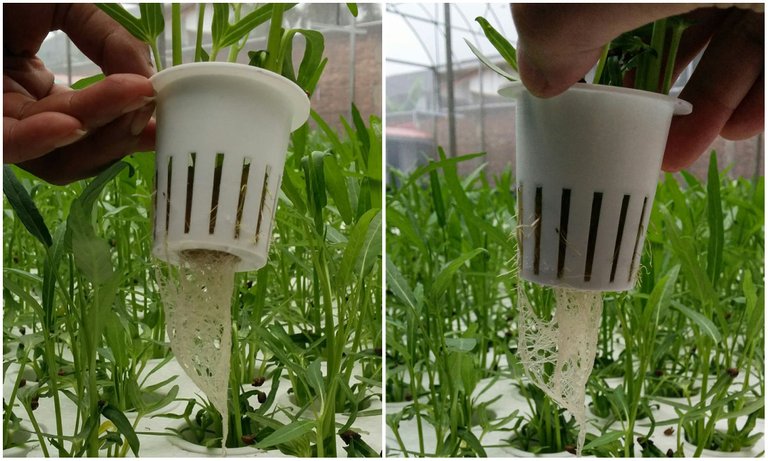 Above: the rooting systems have well-formed and developed. Look how clean they are as opposed to conventionally grown in soil.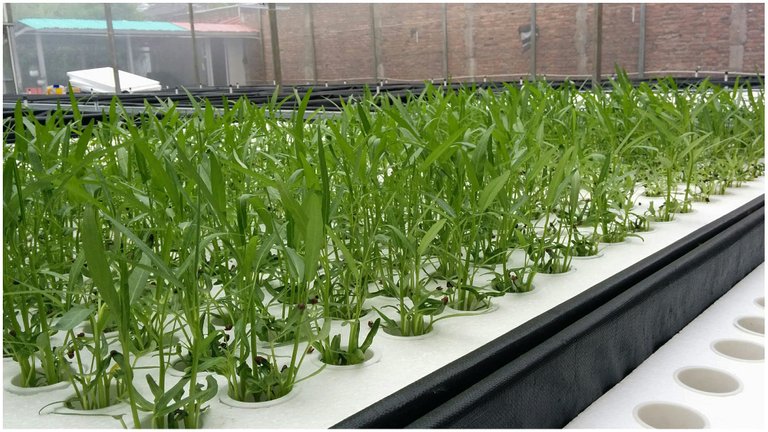 Above: about 8-10 days old. They grow so fast because their rooting system does not have to work as hard to find the source of nutrients. In hydroponic, all macro and micronutrients are already provided.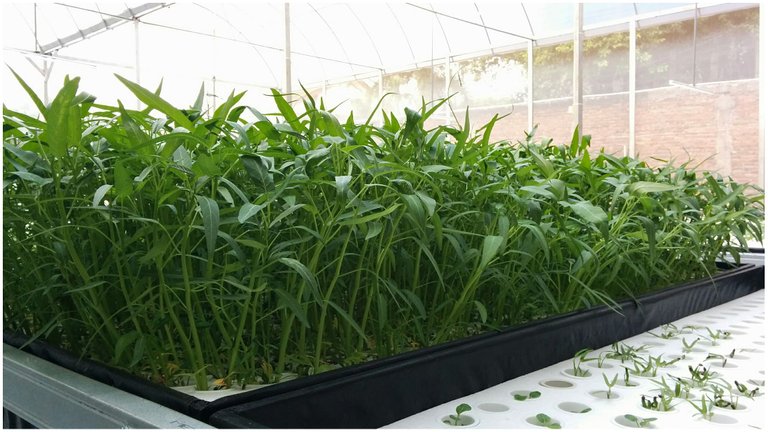 Let's wait for another 3-4 days before harvesting. The grow bed beside it has already started growing.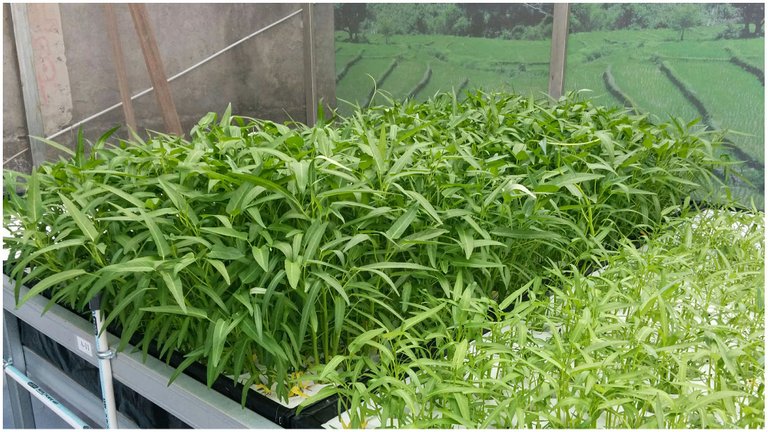 I think they are ready to be harvested. Look at the grow bed beside it.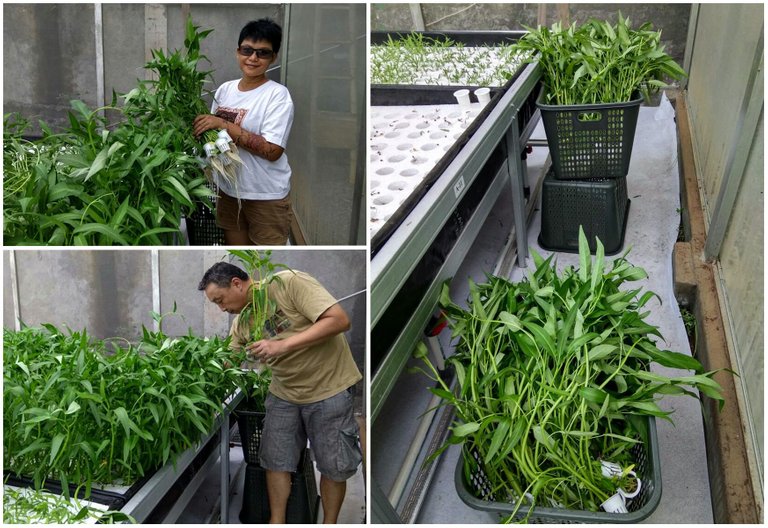 The most awaited moment has finally arrived... harvest time! Each table could produce up to 6 kg.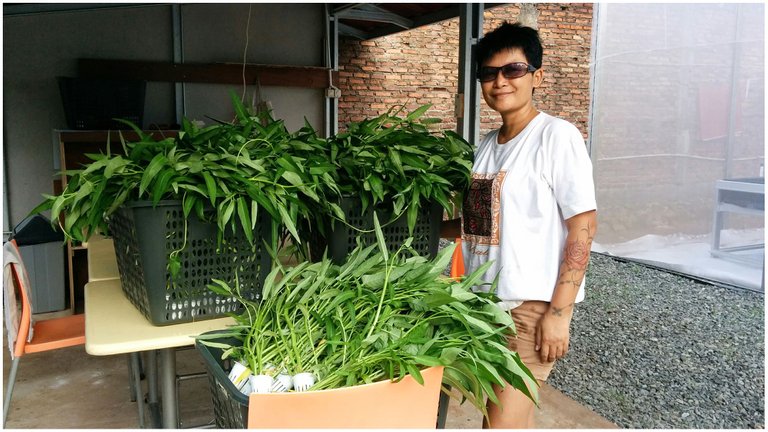 The next step is to clean and pack them.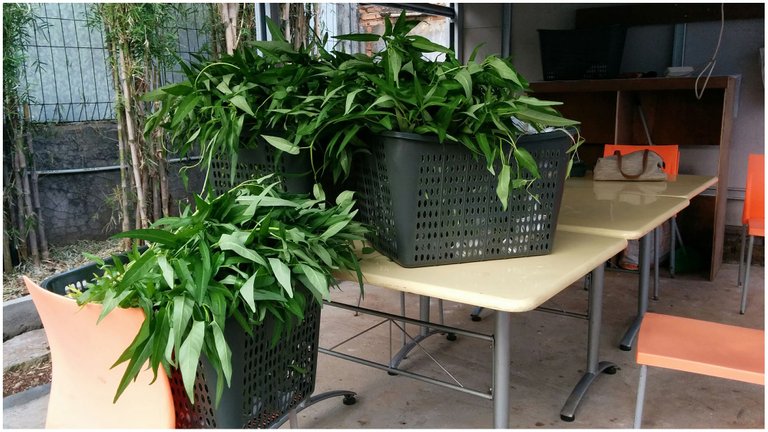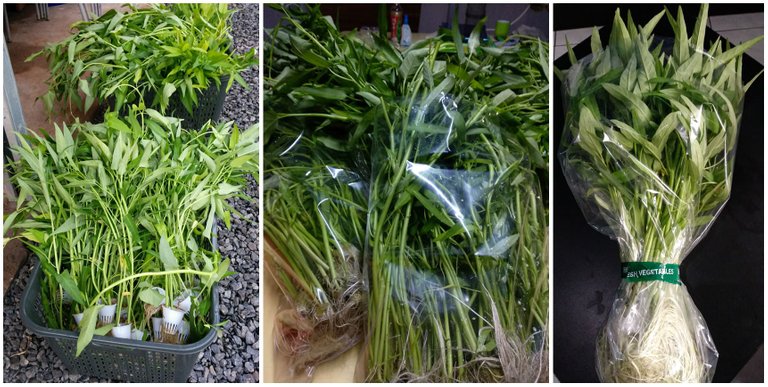 From the garden to the dining table - 250 gr packaging.
Hydroponics is a lot of fun. It can be done vertically and doesn't require a lot of space. One thing for sure is you don't have to worry about watering your plants anymore. Once you have added the right amount of nutrients to your water solution, you are set to go.
If you're interested in hydroponics and don't know where or how to start, here's a tip for you: Hydroponics – Where do I start?
---
Thank you for reading and for your support.
---

All images and/or videos in this post are created by me, otherwise, they will be specified. You can also support me by clicking this link or the image on the right. 🙂
---
| | |
| --- | --- |
|                                 | A baby boomer who's trying to embrace and adapt to the new digital world. Worked for over 30 years in the IT industry before retiring and now run an online vegetable delivery and hydroponics equipment business. Enjoy traveling, cooking, writing, playing pool, and all IT-related stuff. You're always welcome to leave a comment or feedback, and an upvote or reblog is also greatly appreciated. |
---
---