LIL: Contribution to LMAC Gallery – Set #1, 8 Images
Tuesday, 2022-08-16
Hello LMAC community, this is my first image contribution to the LMAC image library free for use for all. I will try my best to contribute all images in the highest resolution and smallest file size possible. To do that, I first need to optimize all images before uploading them and I thought I would share the extra steps I take every time I make a post that contains images.
Why is it necessary to optimize an image for the web? What is image optimization?
The format and size of the images used on your website have a direct impact on the page load speed. The bigger the image file size, the slower the page load. Therefore it's necessary to optimize your image first. Image optimization is about reducing the file size as much as possible without sacrificing quality.
There are plenty of apps and free online tools to help you with image optimization. I use Optimizilla, and I have mentioned it in my previous post.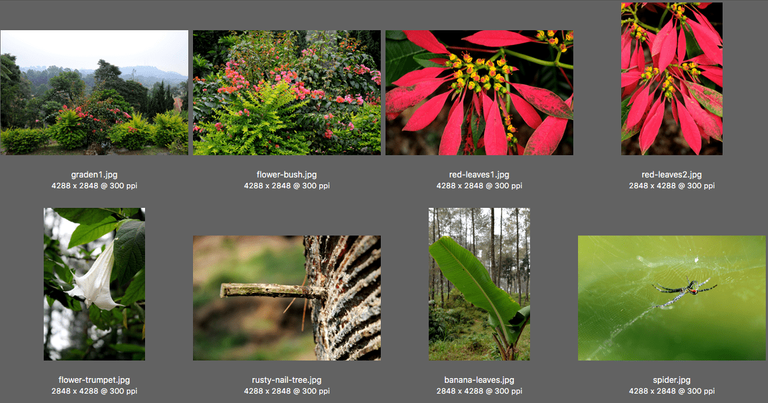 My first set of image contribution consists of 8 images with sizes specified.

File size comparison: on the left is the file size before optimization, and on the right is after optimization. The same images, the same size, but smaller file size.

Optimizilla compression rate 77% - 87%.
---
COMPRESSED IMAGES
| | | |
| --- | --- | --- |
| GARDEN | garden, nature, landscape, plants, shrub, outdoors | |
| GARDEN | garden, nature, landscape, plants, shrub, outdoors | |
| RED LEAVES | plants, red leaves, flower, garden | |
| RED LEAVES | plants, red leaves, flower, garden | |
| SPIDER | web, spider, arachnids | |
| NAIL | nail, tree, object | |
| BANANA LEAVES | tree, outdoors, banana leaves, green | |
| FLOWER | white flower, trumpet, leaves, plants | |
So there you go. I hope those images can help with your next photo collage contest. I need to sort out my image library and will share more images later. Happy collaging!
---
Thank you for reading and for your support.
---

All images and/or videos in this post are created by me, otherwise, they will be specified. You can also support me by clicking this link or the image on the right. 🙂
---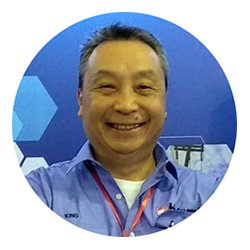 ABOUT ME
A baby boomer who is trying to embrace and adapt to the new digital world. After spending more than 30 years in the IT world before retiring, now running an online vegetable delivery and hydroponics equipment supplies business with his wife based in Jakarta, Indonesia. Enjoy traveling, cooking, writing, and all IT-related stuff. You're always welcome to leave a comment or feedback, and an upvote or reblog is also greatly appreciated.
---
---