One of The Best Noodle Shops in Jakarta's Red-light District
Last Saturday, my wife craved a good pork noodles soup. She wanted to go to Chinatown in West Jakarta, an area called Mangga Besar. This is one of the places I try to avoid going on weekdays as the traffic there is so congested. Even before the pandemic, I had not been to this area for a while, so after checking Google maps and finding out that it was only 40 minutes (10 km), I thought... why not?
According to history, in the 18th century, the area of Mangga Besar became the location of settlements for immigrants, especially from other parts of Java. It was inhabited mainly by the wealthy aristocrats of Central Java who had business affairs with the Dutch East Indies government (VOC). Slowly this area developed into an entertainment center for the deep-pocketed.
---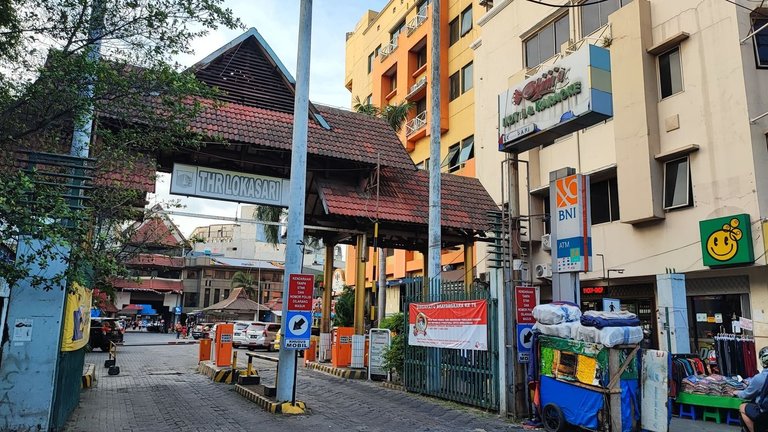 Inside this complex, you will find all your night entertainment needs. Back in early 2000, some nightclubs opened 24 hours during weekends.
---
The name Mangga Besar which means "Big Mango" came from the fact there was once a big mango tree bearing big mango fruits in the area. The neighborhood is a popular nightlife destination in Jakarta. It is a central area for night entertainment, such as discotheques, karaokes, pubs, spas, and even secret gambling dens. Mangga Besar is often known as an area that never sleeps. This area is always busy in the morning, in the afternoon, at night, and even at dawn, crowded. You will also find many hotels along this road that provide cheap rooms for the practice of prostitution. Room rental prices range from 10 USD to 100 USD.
---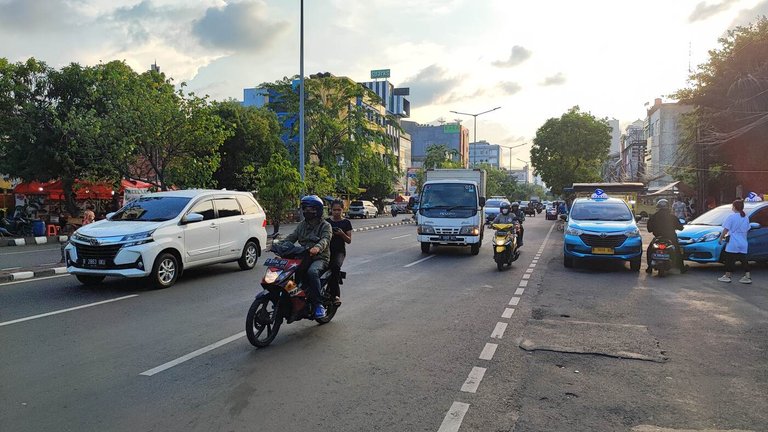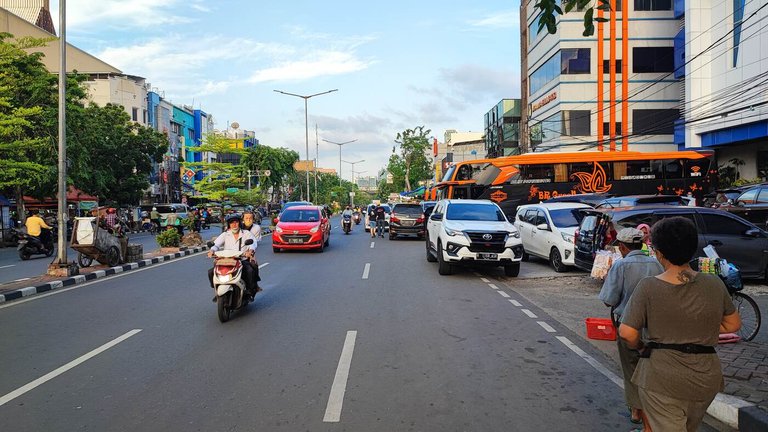 When we arrived around 16:00, the area was not as busy as I had expected. Passing traffic was light to moderate, and we had no problem finding a parking space. We see on the side street people busy preparing and setting up their food stalls. The side street designated for parking space is slowly filled with food and fruit stalls.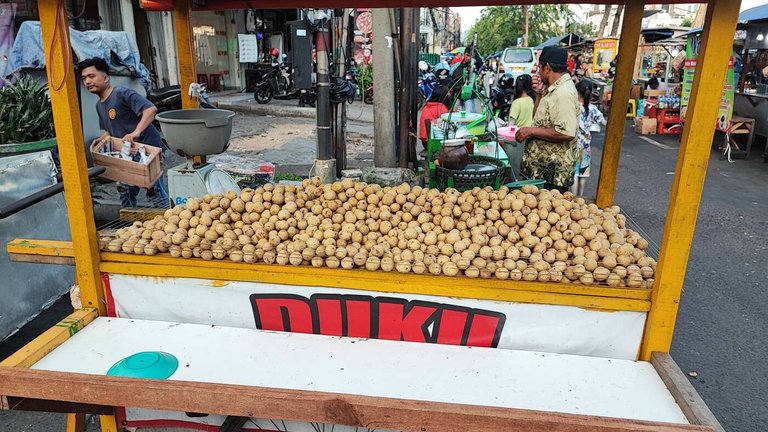 Duku fruit stall.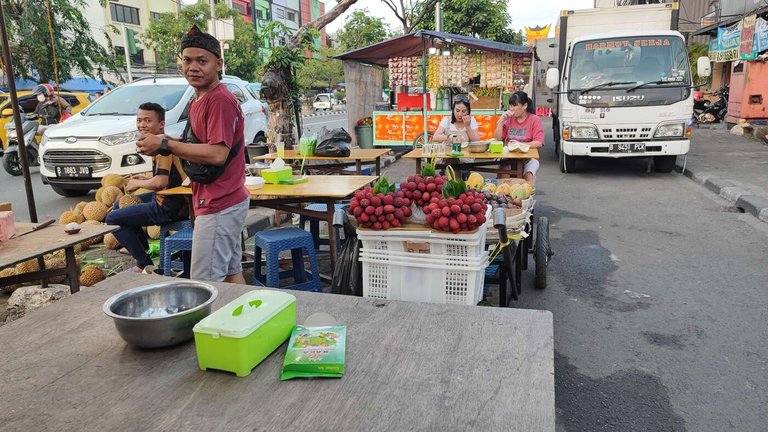 Fruit vendors prepare tables to display their fruits.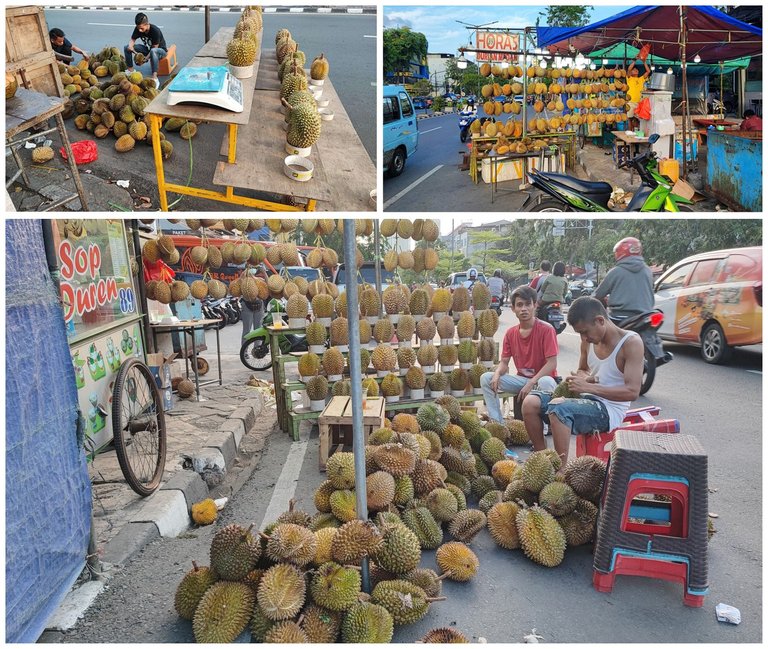 If you like durian, Mangga Besar is the place to go.
We parked right across from the noodle shop we wanted to visit. There were no customers except us as it was still a bit early for mealtime. This noodle shop has a simple and basic setup. No air conditioning, and inside there are about 10-12 seats. I was a bit surprised to find this noodle shop open 24 hours.
---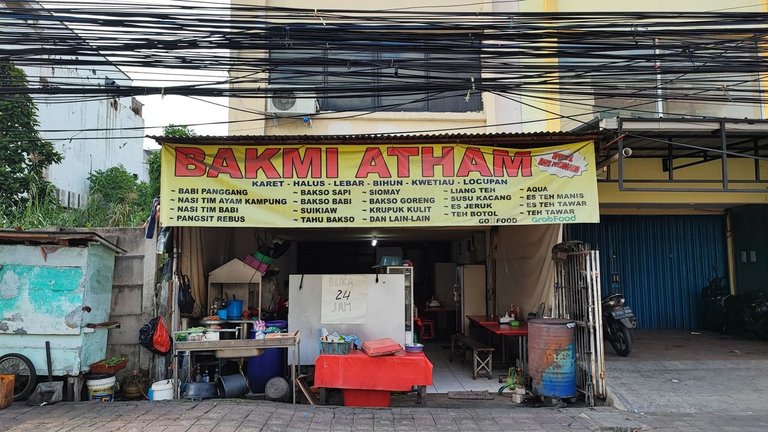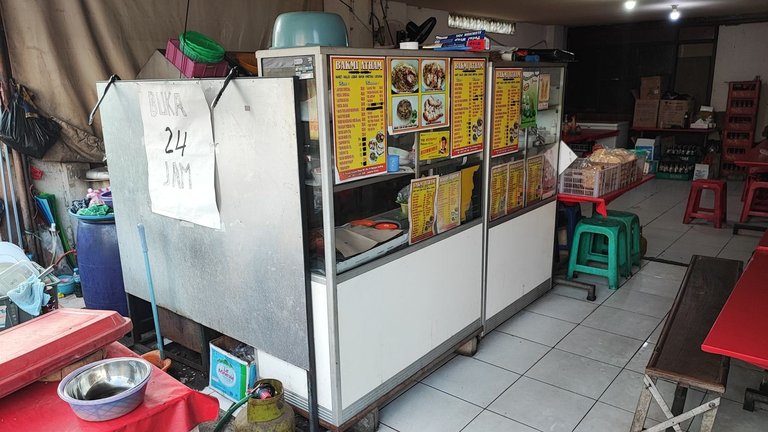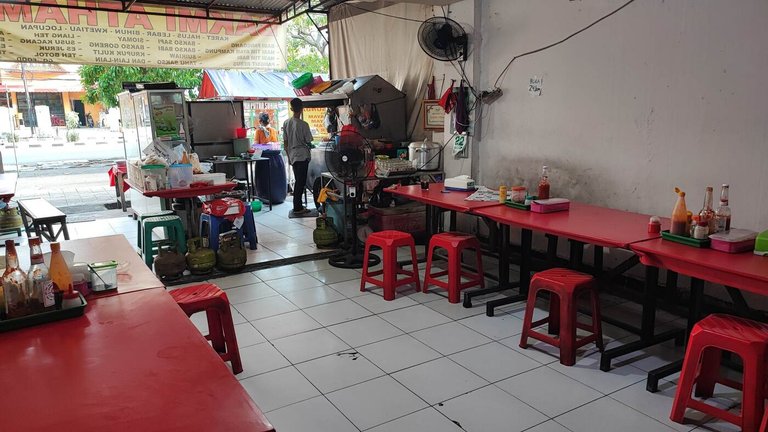 The noodle shop with a simple setup.
They have 3 different kinds of noodles: thin, wide, and thick. We both ordered the thick version which has a chewier texture. We also ordered a side dish that consists of deep-fried pork meatballs and pork/shrimp dumplings (shumai). The special menu noodle we ordered came with 3 different pork flavors: crispy roast pork, BBQ pork (charsiu), and braised pork in soy sauce. It also came with a bowl of tasty broth. Not only the simple noodle dish was scrumptious, but the side dish was also surprisingly good! The whole meal plus a bottle of soft drink cost only 7.00 USD and it was satisfying. A highly recommended noodle place.
---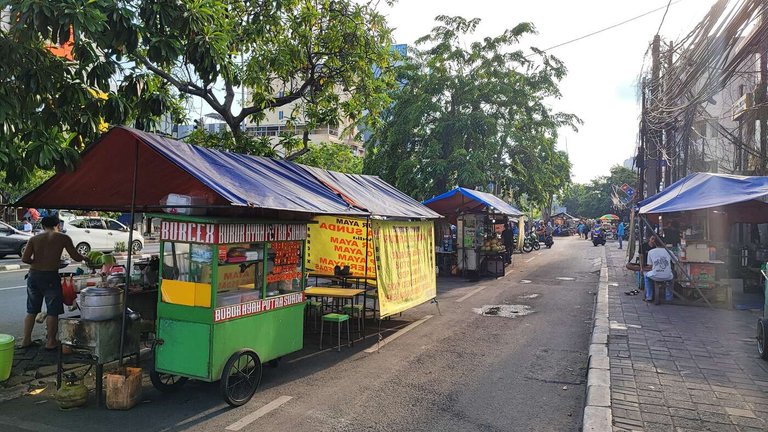 The now looked empty side street will soon be busy with people during mealtime.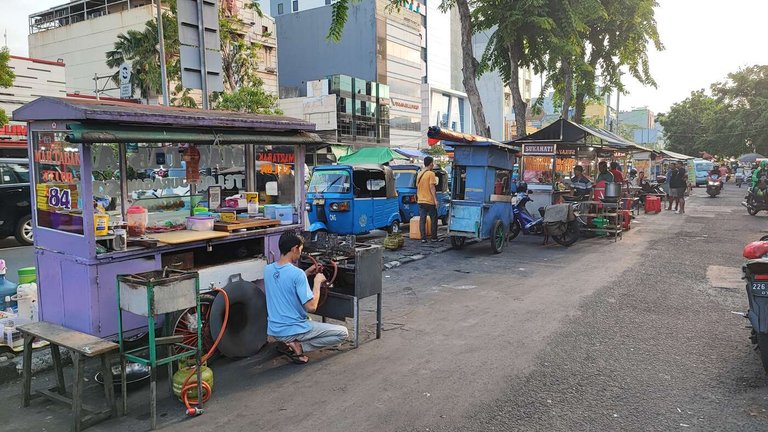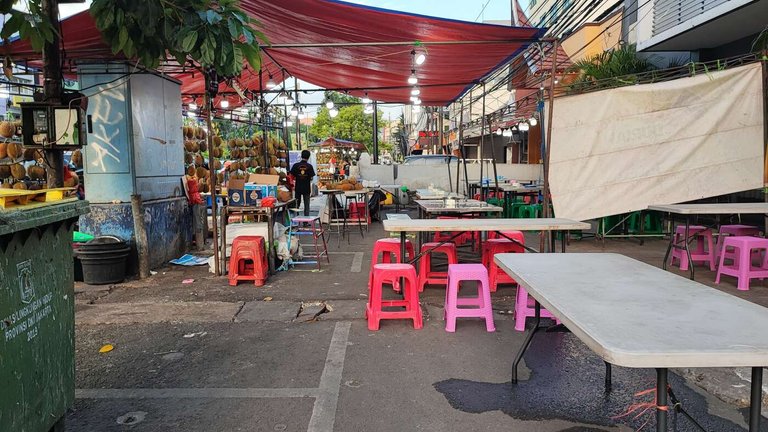 Food vendors prepare their equipment, tents, table, and seatings for mealtime.
---
After having our noodles, we decided to have a walk and explore the neighborhood. We spent about 30 minutes walking around and found nothing changed. The old shops, and Chinese restaurants we used to go to before the pandemic was still there. We don't know what the area looks like now at night, but one thing is for sure we didn't see much of beautiful young women dressed in sexy attires around the area anymore. This proves that the nightly entertainment business has not recovered yet.
---
Thank you for reading and for your support.
---

All images and/or videos in this post are created by me, otherwise, they will be specified. You can also support me by clicking this link or the image on the right. 🙂
---
| | |
| --- | --- |
|                                 | A baby boomer who's trying to embrace and adapt to the new digital world. Worked for over 30 years in the IT industry before retiring and now run an online vegetable delivery and hydroponics equipment business. Enjoy traveling, cooking, writing, playing pool, and all IT-related stuff. You're always welcome to leave a comment or feedback, and an upvote or reblog is also greatly appreciated. |
---
---