Pool, Dominoes and Beers
Wednesday, 2022-10-19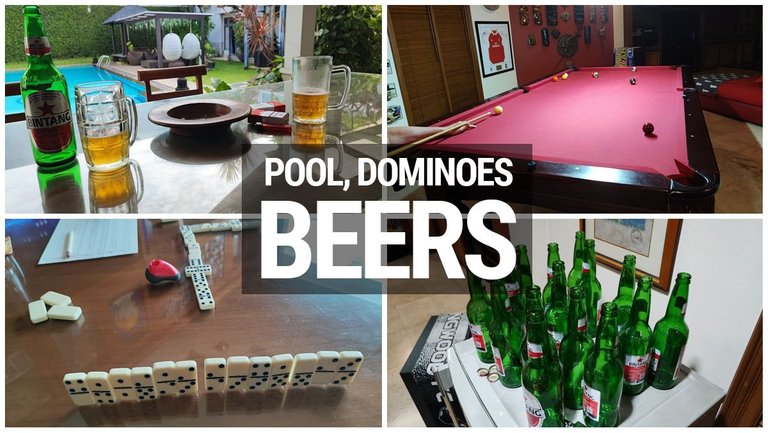 Since the pandemic started, almost all of our routines and activities have changed drastically. One of our weekly routines was playing dominoes and pool all night while listening to music and enjoying alcoholic drinks. One of my favorite drinks is single malt whiskey, especially the one with a "smoky" taste. But lately, I've been drinking more beers when I hang out with friends, as single malt is hard to find.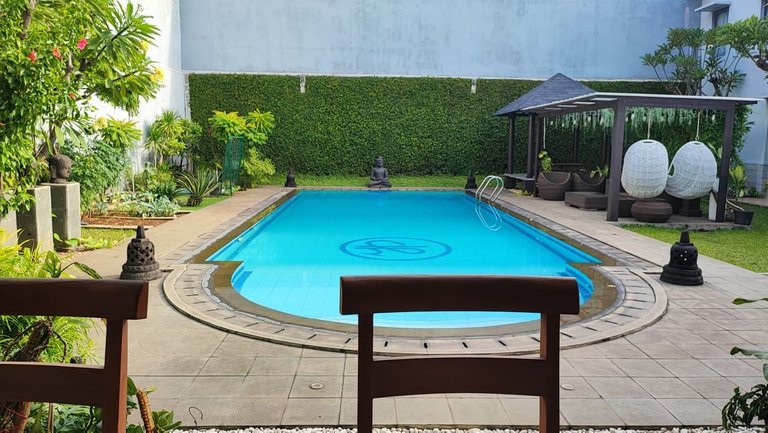 The water is very tempting.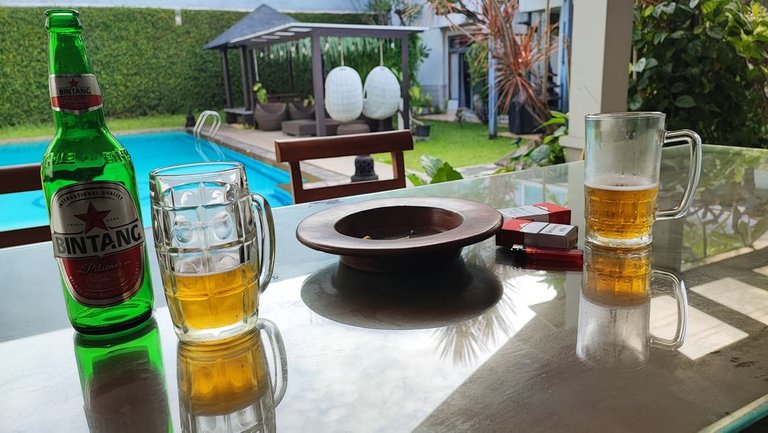 Chilling outside the bar area catching up with recent updates. We started with a 750 ml local Bintang beer. The overhead fan helped with the breeze of otherwise hot and humid Jakarta weather.
Last Sunday, I visited my best friend, a Canadian I have known since 1995, to play some pool and dominoes. I arrived at his house around 14:00. We sat outside in the bar area overlooking the swimming pool, relaxing and catching up with the latest updates while enjoying a beer and a smoke. I have stopped smoking since 2017, but when I hang out with friends and drink, I have the urge to smoke again. Smoking tastes good when accompanied by alcoholic beverages.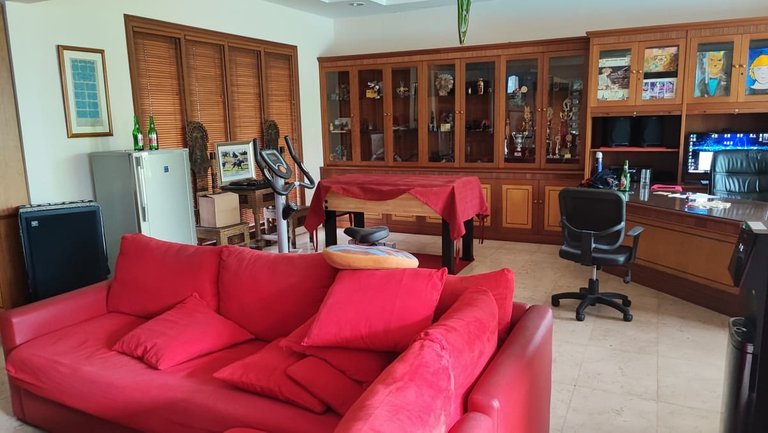 My friend's favorite color is red, so as you can see his man cave is dominated by that color. At the far end is a baby fuzzball table that we hardly use anymore. Notice the 2 empty beer bottles on the fridge, we just started!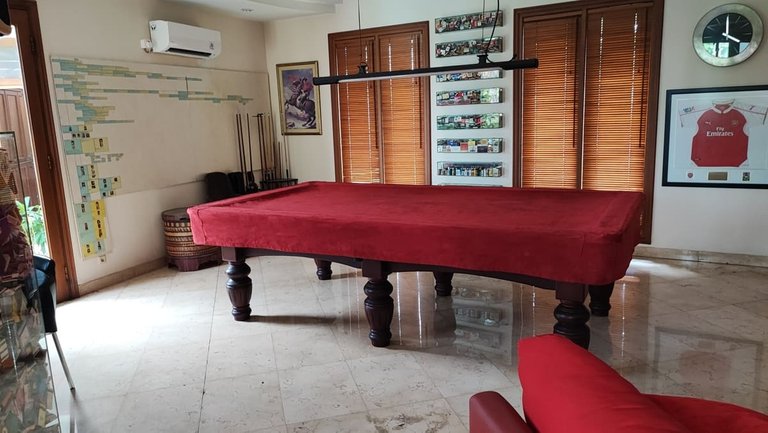 A four-by-nine pool table with a red cover. Can you guess the color of the table cloth?
My close friend's house stands on a land area of ​​1000 m2 and consists of 2 buildings; the main building, and the so-called "man cave" that occupies around ​​100 m2. He bought and built the house in 2000, and I still remember in the beginning, we were still allowed to smoke inside the "man cave" but this changed about 5 years ago. Smoking is no longer permitted in the room because it leaves an unpleasant odor and the smell sticks to the furniture. It also helps in reducing smoking—a good decision.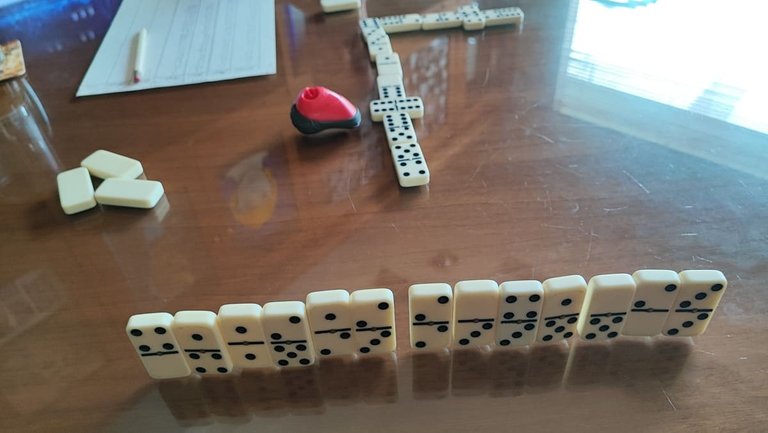 The red "shoe" pencil sharpener on "double 6" is to mark the starting tile. You are allowed to branch out from the starting tile. The sum of the 2 end tiles "4" and "6" at the far end is 10 (divisible by 5), so whoever placed the last tile ("4" or "6") scores 10 points. The next player has to play either a "4" or a "6". Notice the 3 leftover tiles on the left, they are unplayable to make the counting more challenging.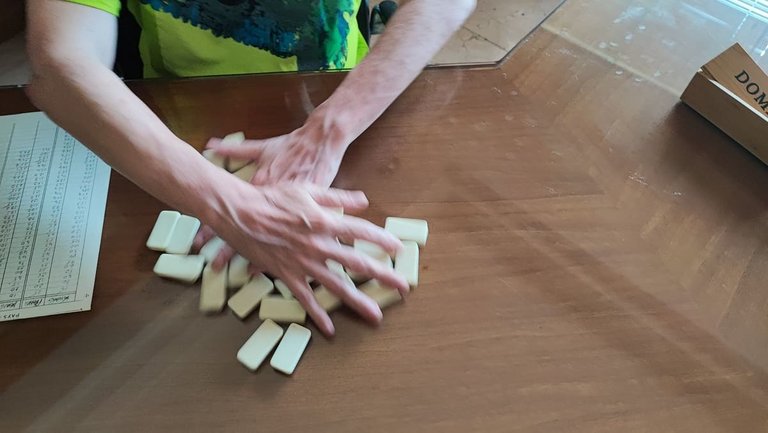 The loser got to shuffle a each round. Notice the score sheet on the left of the picture.
After 2 bottles of warm-up beers, we started the afternoon by playing dominoes. Dominoes are best played with 4 people, but it's very rare we could get 4 people to play it. We slightly improvised the normal game of "dig" when played with 2 players. The objective of the game is to finish your hand first and whoever accumulates a score of 250 points wins. Scoring is done after you play each tile by adding the sum of 2 end tiles. If the sum is divisible by 5 then you add whatever sum of the end tiles to your existing score. Once you have reached 250 points, you subtract your opponent's score from the total points of his leftover (unplayed) tiles.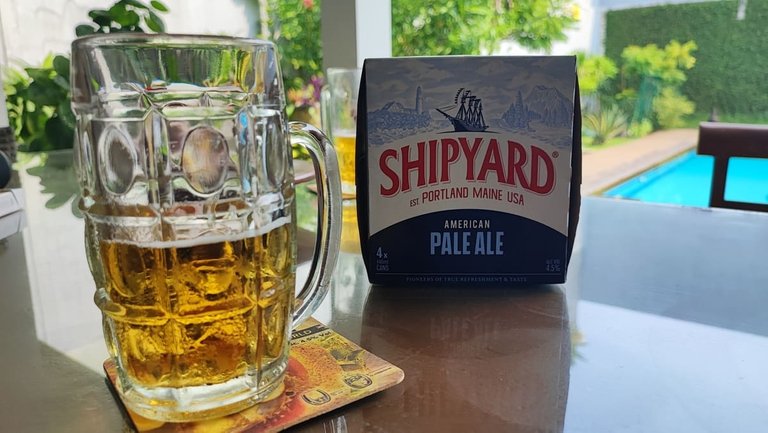 Each game lasts about 60 minutes, and we go outside for a smoke break. This time we tried imported beers my friend got from his mate visiting him from the UK. It tasted a bit fruity with a slight bitterness aftertaste.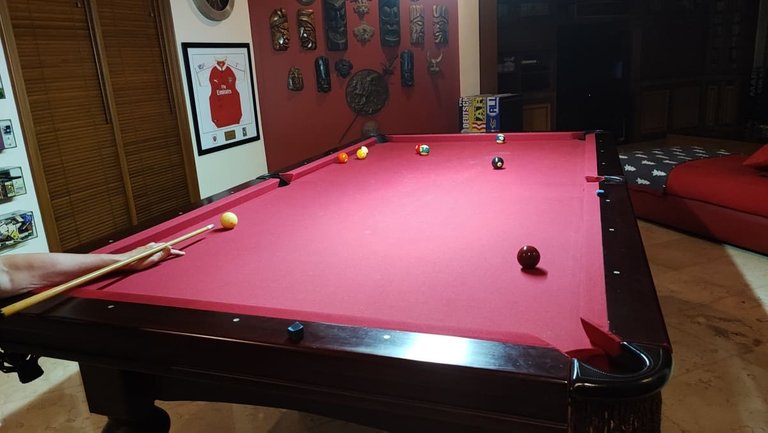 After playing 3 games of dominoes that I won by 2 - 1 we decided to proceed with pool. By then, it was already dinner time but we were already on our high calories liquid diet, beers, so we skipped dinner. We played our usual routines, and take a smoke break after every 5 games (50 - 60 minutes), for a smoke break.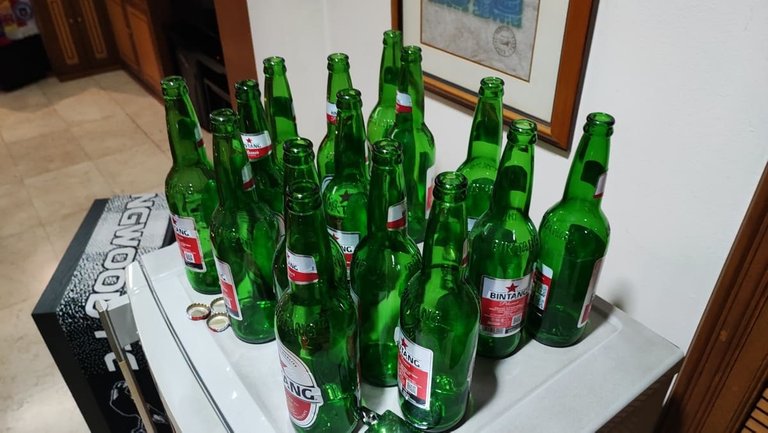 14 bottles later + 4 x 440 ml Shipyard.
We played 15 games of pool and I decided to quit. It was already 21:30, and I felt bloated from all the beers I had drunk. All in all, it was a great Sunday. We had a good laugh and fun playing dominoes and pool and looking forward to the next session!
---
Thank you for reading and for your support.
---

All images and/or videos in this post are created by me, otherwise, they will be specified. You can also support me by clicking this link or the image on the right. 🙂
---
| | |
| --- | --- |
|                                 | A baby boomer who's trying to embrace and adapt to the new digital world. Worked for over 30 years in the IT industry before retiring and now run an online vegetable delivery and hydroponics equipment business. Enjoy traveling, cooking, writing, playing pool, and all IT-related stuff. You're always welcome to leave a comment or feedback, and an upvote or reblog is also greatly appreciated. |
---
---