Sunday Brunch and Exploring Chinatown
Wednesday, 2023-02-01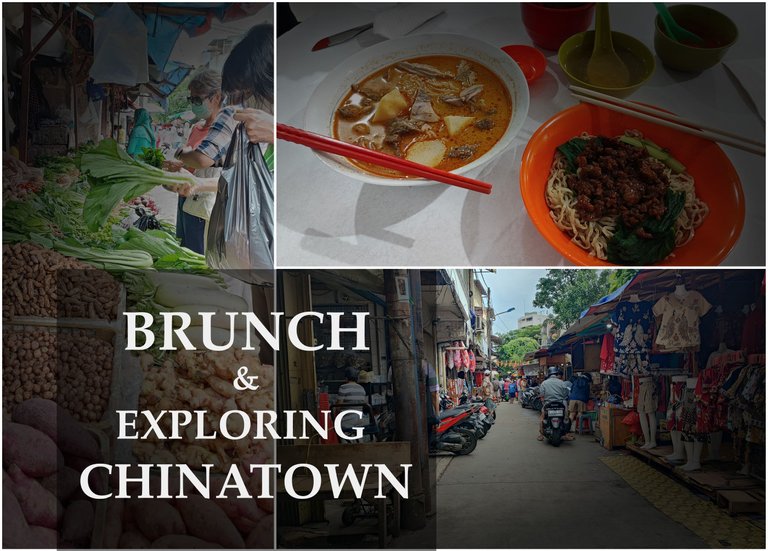 The first thing that comes to every Indonesian mind when I mention the city name Jakarta is "MACET" which means congested traffic. Since August 2016, the local government has implemented an odd-even plate number system for traffic flow during rush hours, from 06:00 - 10:00 and 16:00 - 21:00, Monday - Friday. How does the odd-even plate number system number work? If your vehicle's plate number ends with the number 0, 2, 4, 6, or 8, you can drive it on an even number date, and the same applies to odd numbers. In the beginning, the odd-even system was quite effective in breaking down traffic congestion, and gradually, the coverage area expanded.
This past 2 years, there has been massive construction for Jakarta's subway expansion that runs to Chinatown, and traffic during weekdays is a nightmare. Chinatown has been one of the busiest commercial areas in Jakarta. Chinatown is a commercial area that is always busy in the morning. As soon as the sun is set, the area quickly turns into a redlight district. Here you will find ubiquitous street-food stalls, Karaoke lounges, and nightclubs starting their businesses.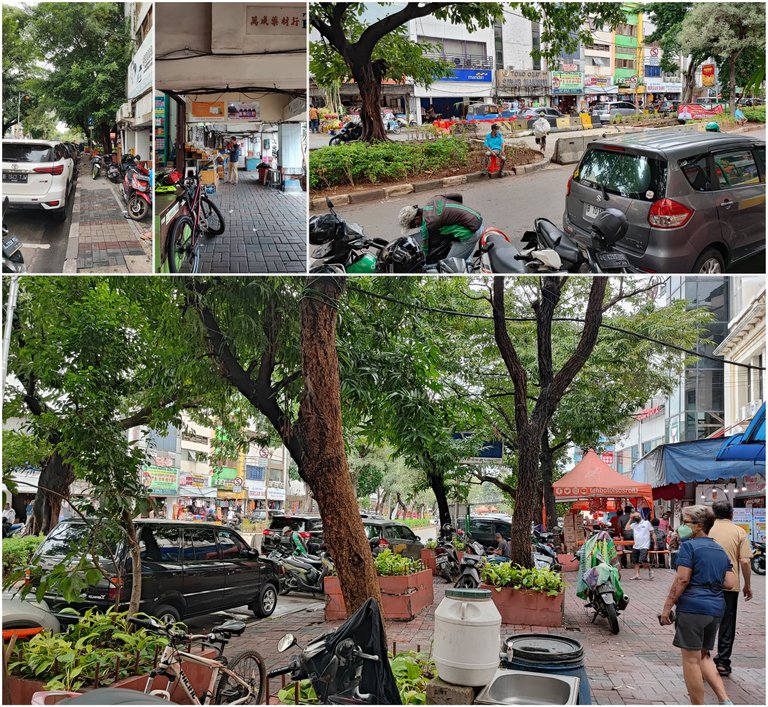 Finding a parking space was not too difficult. There were not many street vendors in front of the shops on this side of the street.
Our weekend engagement last Sunday was to explore and have brunch in the old Chinatown area. Sunday is the only time, when traffic is at the lightest, that I'm willing to go to that part of the city. The last time I visited the old Chinatown was in late 2019, just before the Covid widespread.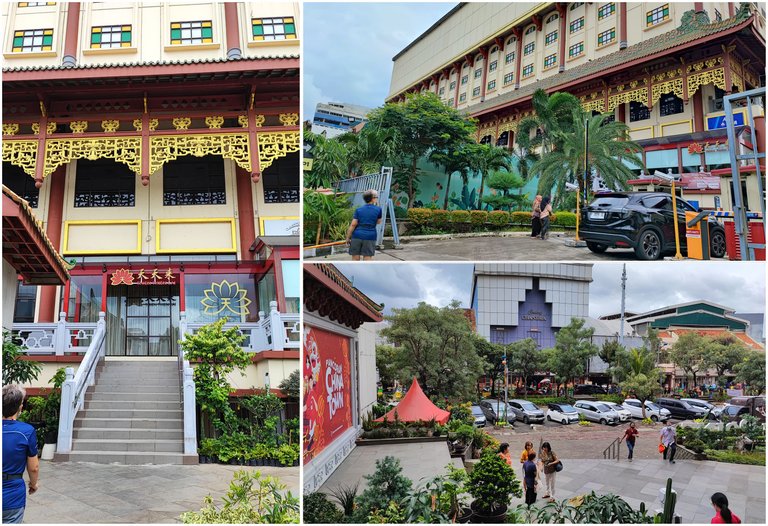 The new Pancoran Chinatown Point shopping center with Chinese architectural style.
Chinatown is about 10 km from where we live, and it took us about 30 minutes to drive there. When we arrived, it was just past 10:00. It was not that difficult to find a parking space at this hour. Initially, we planned to have our brunch at the food court of a new shopping center across the street. The new shopping center is named Pancoran Chinatown Point and opened in September 2018 to replace the former shopping center called Gloria that has suffered a major fire in 2009 and had to be torn down and abandoned for several years. The shopping center consists of 5 floors, and when we arrived, it was just open and still empty. We went inside the shopping center to check it out but did not like the setup. We didn't bother to find the food court and decided to go to the old Chinatown instead for brunch.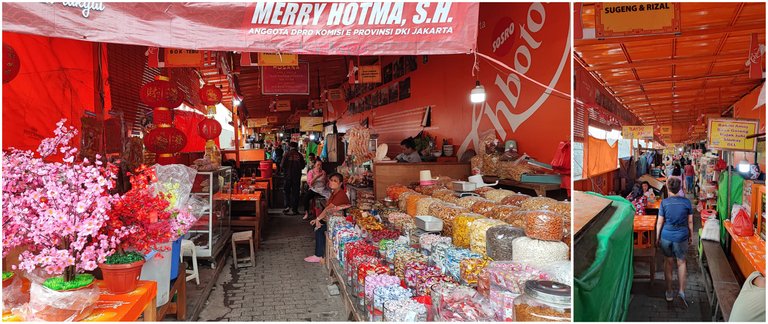 We walked back and crossed the street to where we had parked our car and walked further to one of the alleyways where you would find all kinds of street food. The narrow alleyway is about 3 meters wide where you will find designated seatings on the left, street-food vendors on the right, and you have about a 1-meter walkway in the middle. It's hot, humid and very noisy. Wherever you walk, you will hear the vendors offering their menus and beckoning you to drop by.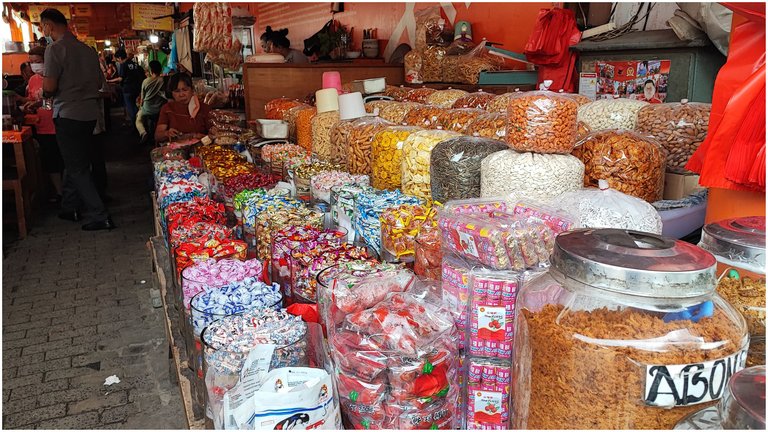 As you enter the alley, you're greeted by the snack vendor who sells an assortment of snacks and candies.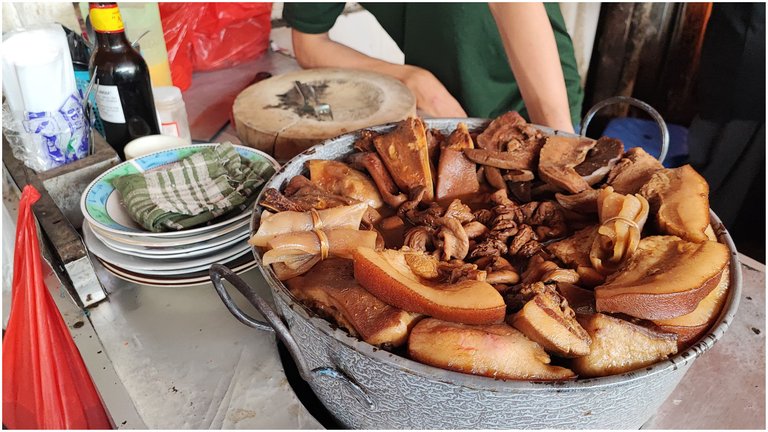 This is a popular street food dish in Chinatowns in Indonesia and is called Sekba, also known as Bektim. It is a Chinese Indonesian dish of pork offal boiled in soy sauce-based soup. It tastes savory, slightly sweet, and salty, with a gravy made of soy sauce, garlic, and Chinese herbs. Customers can choose various types of meat and pork innards in their dishes. The types of pork innards offered in a serving include parts of the ear, tongue, liver, tripe, intestines, and lungs of a pig.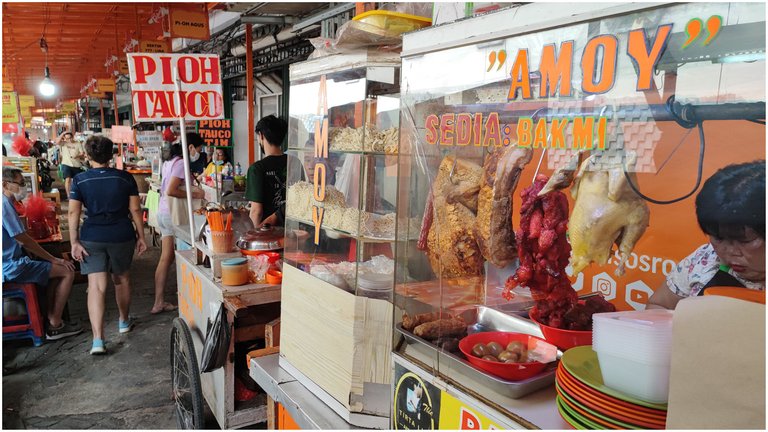 We call it "Nasi Campur" and this is a non-halal rice dish that is one of the favorite menus consisting of slices of roast pork, chasiu (red pork), lapchiong (pork sausage), pork satay, braised chicken, pork crackers, and chunks of boiled eggs doused in a special sauce made from soybeans.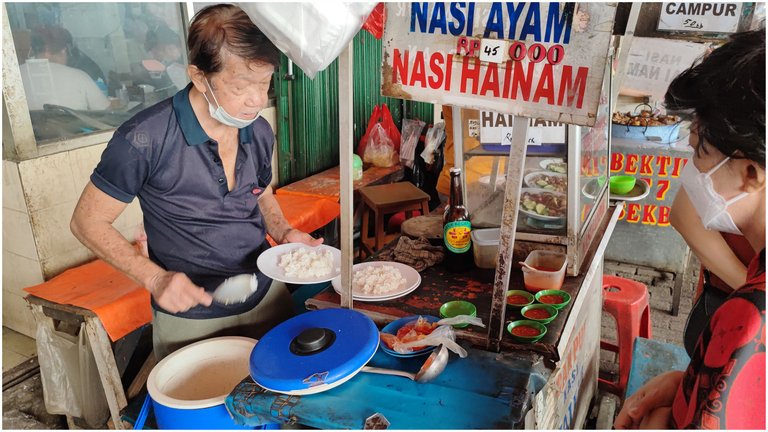 Hainam or Hainanese rice is a dish with rice and braised chicken. It is very popular in Indonesia as well as in neighboring Malaysia, Singapore, and Thailand. Hainanese rice has a savory and delicious taste. Even though it tastes just as tasty as "nasi uduk/lemak" (rice cooked with coconut milk), Hainanese rice is prepared without using coconut milk. The savory taste of Hainanese rice comes from chicken broth. Hainanese rice served with clear chicken stock soup.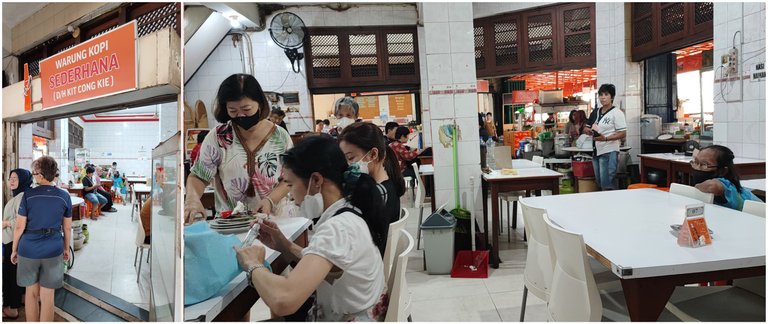 We walked further into the alley and saw a small food court with about 5 different kinds of food. It happened that one of the food vendors sold the beef and chicken curry rice vermicelli she had been craving for. So we stopped and she ordered a mix of chicken and beef curry rice vermicelli while I ordered minced pork noodles from the adjacent vendor. We also ordered 2 pieces of deep-fried pork meatballs as a side dish.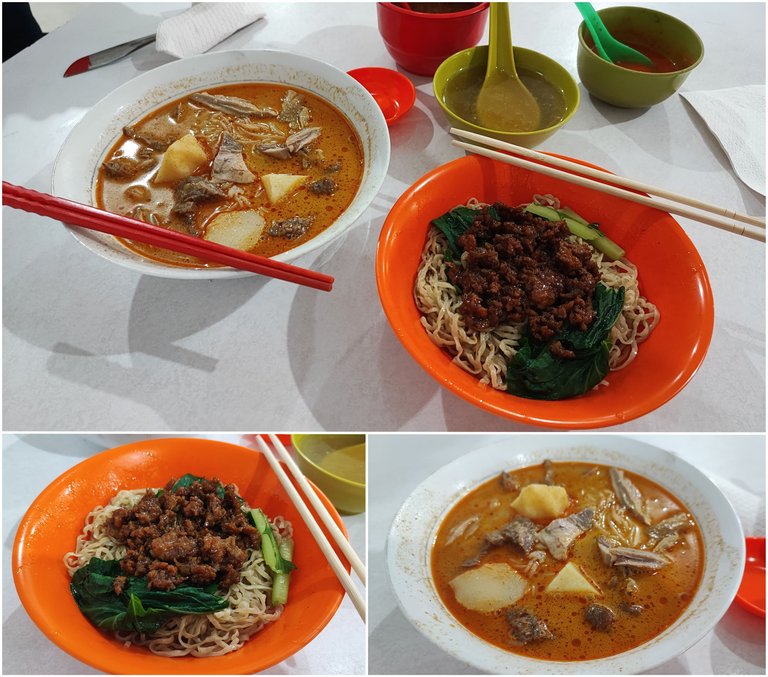 The curry rice vermicelli with chicken and beef tasted savory and delicious, with very generous meat toppings. The minced pork noodles were also delicious and a little on the sweet side.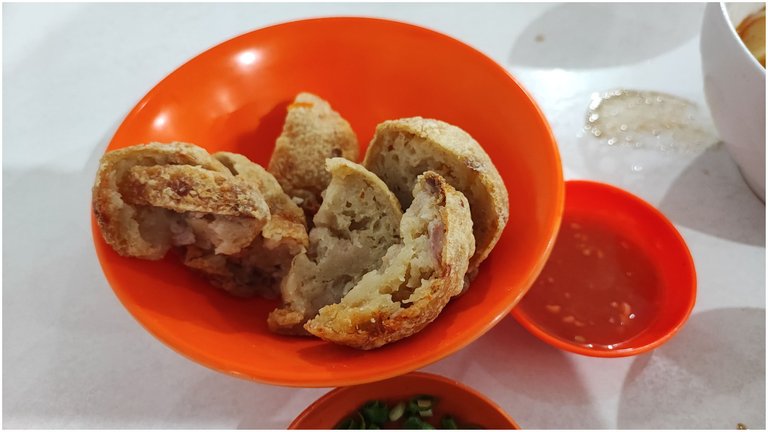 Delicious and crispy deep-fried pork meatballs with sweet chili dip.
We spent about 30 minutes waiting for our orders and finished eating brunch. Once we finished, we decided to explore a little more of the old Chinatown, but on the other side of the street. This is the side that is usually busier and has more variety of shops and street vendors.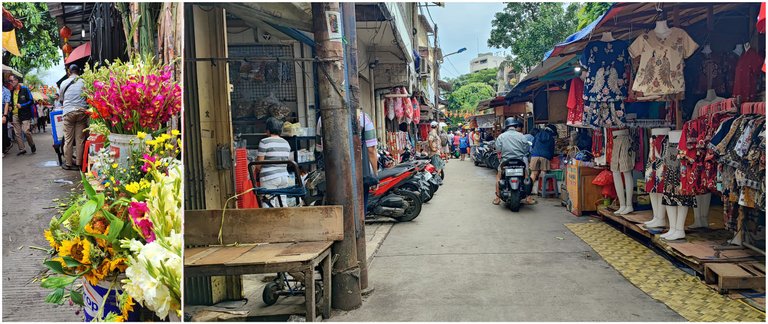 We ventured into one of the alleys across the street where there are more Chinese traditional shops, clothing shops, and fresh produce markets.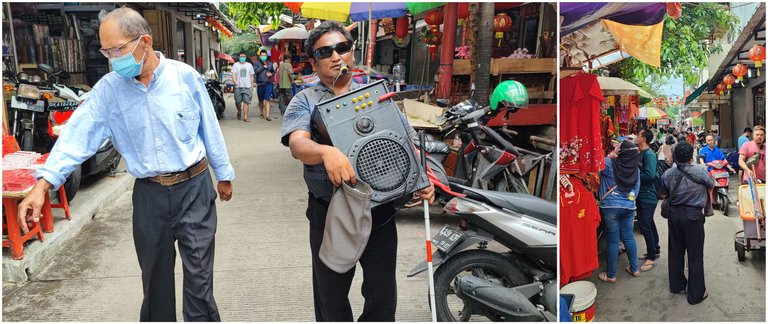 A blind singer carrying a battery-powered speaker singing in the alleyway.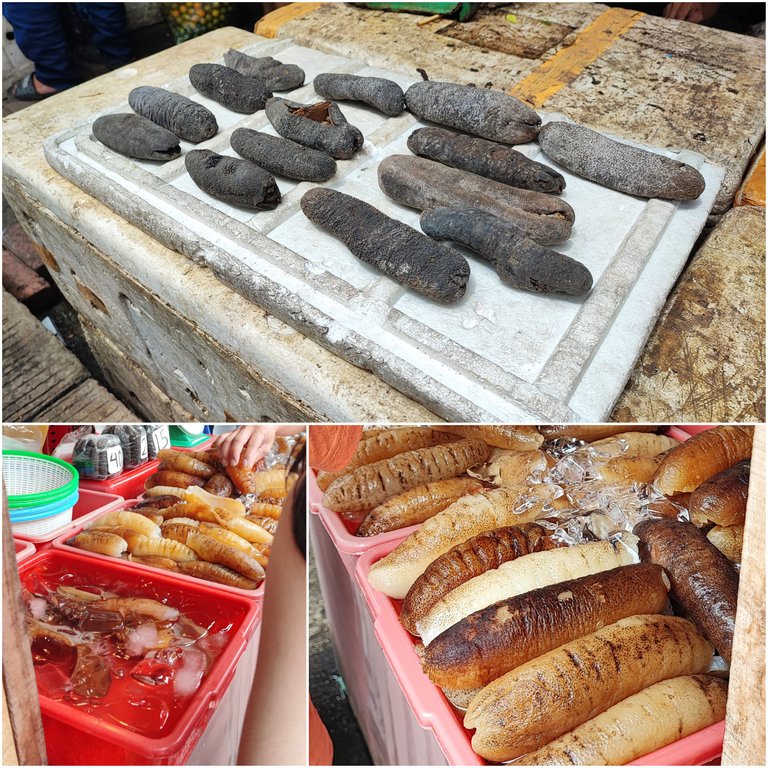 A sea cucumber stall selling dried and soaked sea cucumber.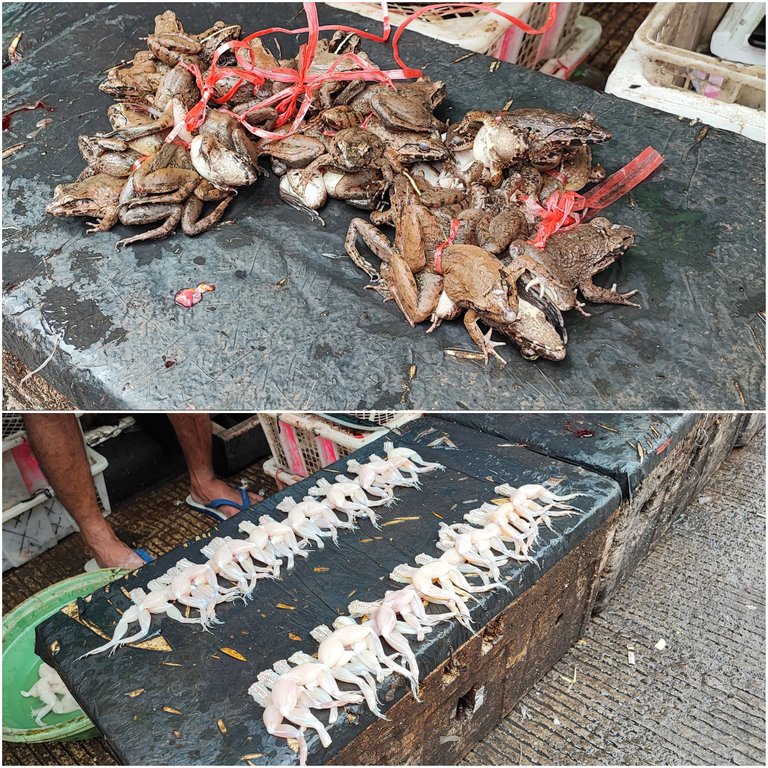 Street vendor selling live frogs and skinned frogs.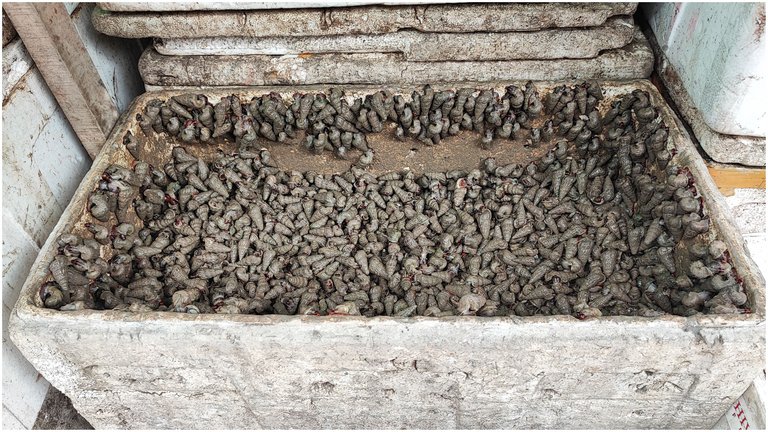 Freshwater snail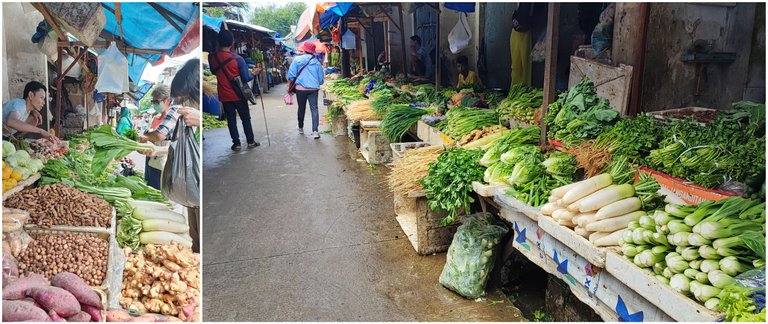 As we walked further into the alley we found a fresh vegetable market on both sides of the alley, but the street was wet and got dirtier to walk on so we decided to head back.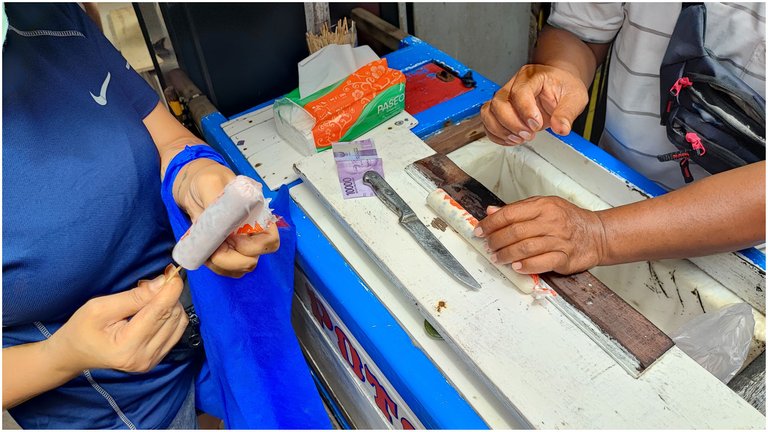 We found a traditional mung bean ice cream stick on the way out of the alley. I remember eating those in my childhood.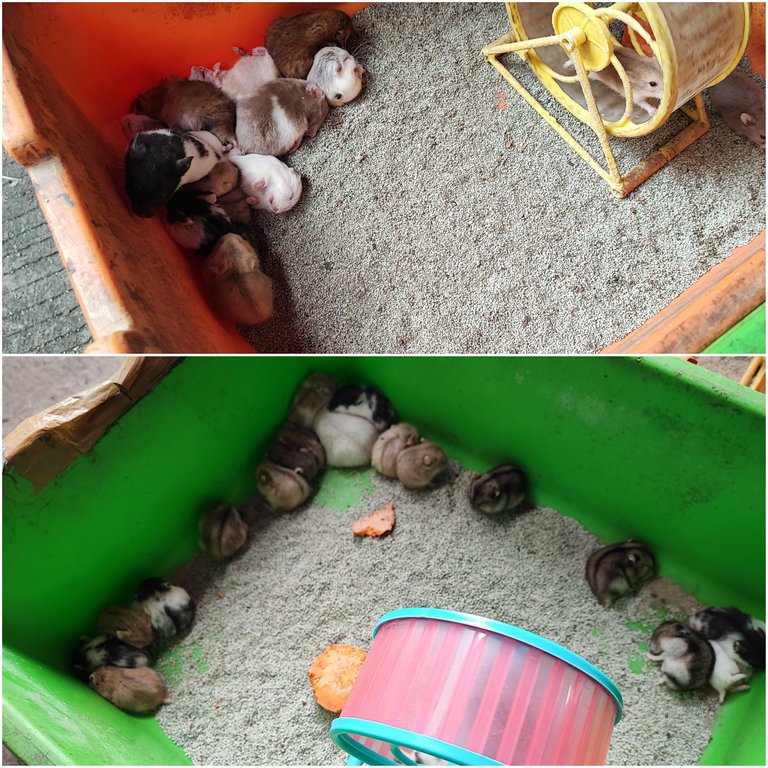 On the main street when walking back towards our car parked across the street we found vendors selling baby hamsters and mini tortoises.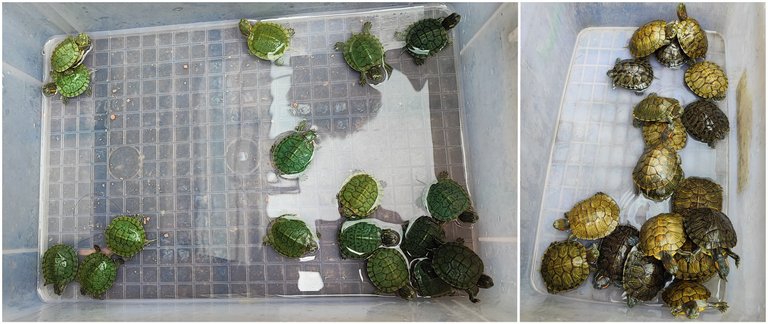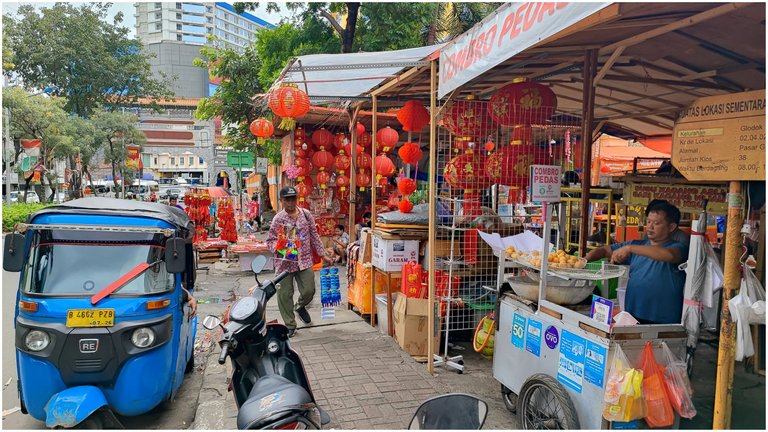 For me, exploring Chinatown is always fun. The hustle, the noise as well as the chaotic environment is part of Chinatown's charm. You could almost find anything there. This is the part of the city that never sleeps.
---
Thank you for reading and for your support.
---

All images and/or videos in this post are created by me, otherwise, they will be specified. You can also support me by clicking this link or the image on the right. 🙂
---
| | |
| --- | --- |
|                                 | A baby boomer who's trying to embrace and adapt to the new digital world. Worked for over 30 years in the IT industry before retiring and now run an online vegetable delivery and hydroponics equipment business. Enjoy traveling, cooking, writing, playing pool, and all IT-related stuff. You're always welcome to leave a comment or feedback, and an upvote or reblog is also greatly appreciated. |
---
---