Beets And More Beets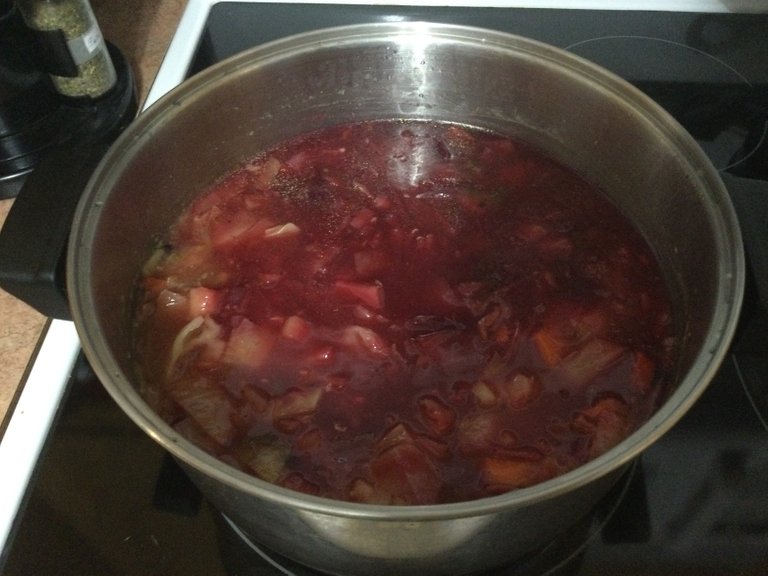 My neighbor phoned and asked if I wanted some beets. She always has a beautiful vegetable garden and was getting it cleared out. I stopped in and she had an abundant of beets for me, with the dirt hosed off them and about 2 inches of stem left on each beet.
Beets can be messy and I was looking for ways to simplify the cooking of them
I cooked all the beets by washing them first and and placing them in a 375 degree oven, on a baking sheet and covering them with tin foil. It took them about an hour to cook as the beets were rather big.
Previously I had cooked beets by boiling but was looking for a better method of cooking them. With boiling many nutrients are thrown out with the water.
After the beets were cooked .. or rather baked, I ran them under cool water and the skins came off easily in my hands.
For a few days Hubby and I enjoyed the beets as a side vegetable with regular meals.
Now what to do with the beets I have left?
The weather had chilled and my thoughts were on making soup to warm up.
Borscht Soup came to mind. It is a easy soup to make, especially since the beets were already cooked.
I used the above large cooking pot and added 8 cups of chicken broth with 2 cups of water. Let the mixture come to a boil and add finely chopped vegetables to the broth.
4 Tbsp. oil (I used sunflower but any edible oil could be used)
2 cups cabbage
1 large onion
3 carrots
2 potatoes
2 Tbsp. dill or dill weed
Dash of vinegar ( I used balsamic but any kind will do)
After this has cooked for awhile add the leftover cooked beets. I had about the equivalent of 4 large beets, making sure to chop finely.
Spices I added were, garlic, basil, salt, pepper, and more dill weed. Add according to your taste.
Simmer the soup on the stove until veggies are tender. I thicken the soup by adding 3 Tbsp. flour dissolved in cold water.
The soup turned a beautiful rose color with the addition of the beets. I made the soup in the evening and left it overnight. The next day all the flavours came together to make a lovely warming soup.
In my bread machine, I made a loaf of white bread to go with the Borscht or beet soup.
If you don't have the fresh beets, canned or bottled ones can be used. Either way enjoy the soup!
The above photo was taken by me with my iPad.




---
---