Crypto Fear & Greed Index Today - #Cryptotoday
Seventeen days ago, I gave the community an update on the Fear and Greed Index of the crypto financial market. At the time, the index had been at 30 for just over two weeks, which showed that "fear" ruled the market. But that isn't the worst we've seen this year, and the Fear and Greed Index for today isn't the worst either. You shouldn't get too excited, though, because it's worse than the last time.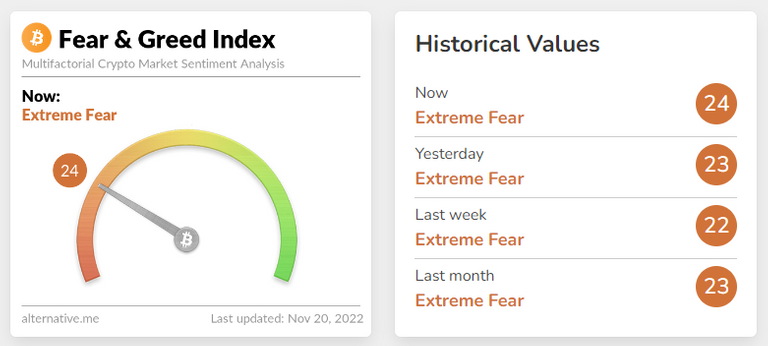 As can be seen from the information presented above, we are currently in an extremely fearful stage, with the Fear and Greed Index currently sitting at 24. In spite of this, it does appear that there has been some progress made in comparison to yesterday, when it was one point lower.
Without a doubt, you should be aware of the factors that have caused the fear and greed index to reach its highest and lowest points at this time. The passing of FTX (Oh, Beloved FTX) is one of the most important developments in the cryptocurrency space that has caused a great deal of havoc. All cryptocurrency assets were driven to their lowest prices by the panic buying, and it may be some time before things return to normal (we are still recovery).
It is interesting to note that Hive appears to be moving in lockstep with the general sentiment of the market; each seemingly insignificant improvement appears to result in some improvements made to Hive as well.
We just try to maintain a positive outlook. So, in the spirit of optimism, gather up some tokens, while you wait for the market to recuperate, and then reward your patience with some good financial incentives.
Posted Using LeoFinance Beta
---
---