My BUIDL strategy with Splinterlands
It seems like yesterday when I started playing splinterlands but the fact is that I am about to complete 3 years in march. I will also be completing 4 years on the hive and my journey on the Splinterlands has been amazing. I never thought that blockchain gaming can be so much fun and I will never be able to build such a valuable account. In the beginning, I was not sure if I will be able to play but later on, I started to learn to understand the process was not tough instead it was so much fun and entertaining. I lost so many battles in the beginning but later things started improving and it gave me more confidence to play more.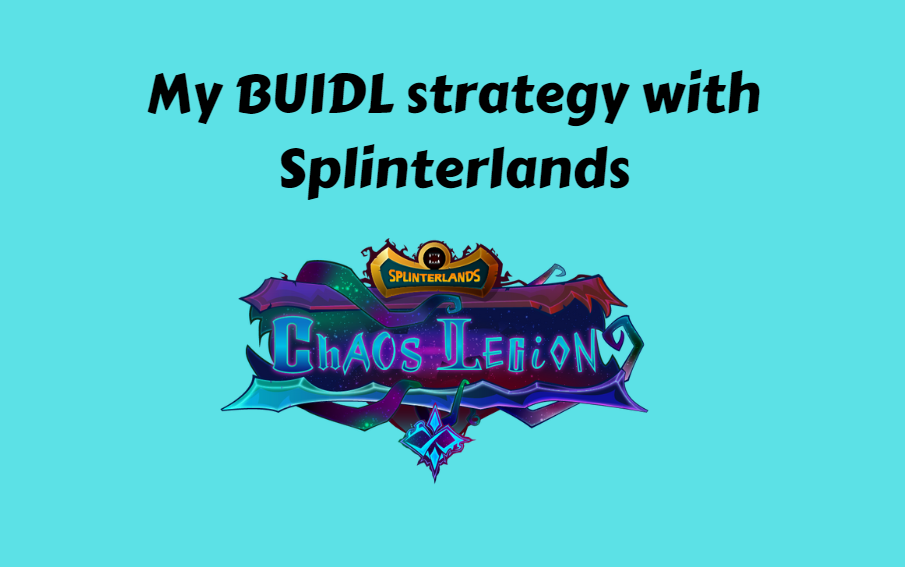 Within the 3 months of joining splinterlands, I was clear that I need to invest in the game for the long run. At that time I was not aware that my assets are going to reward me with an SPS token and even I had no expectation of a higher sps price. When the SPS was launched that was the time when we have seen a great spike in the assets. SPS airdrop has already ended but I am still on it to accumulate as many as sps i5 can because I believe that this is highly undervalued.
I understand that the current price is low but I am sure that this will not stay here for long and things will improve depending on market trends. Even I believe that this is the right time to accumulate as many as coins possible and put them on the stake to earn a decent APR. We need to understand that we are in the bear market and this is not the time when we should be worried about the price instead it is a good time to buy more and grow the holding. We have seen during the Bull run that most of the coins have shown a positive movement and people were able to book profits.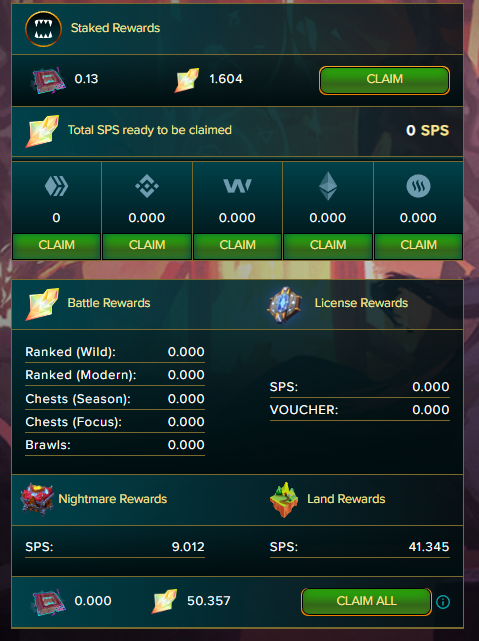 The reason why I believe in splinterlands for the long term is that the team is great and they are working hard to bring a lot of innovation and value addition to the community. Earlier I was focused on growing my cards but now I am equally focused on cards and assets including tokens. I also own a few plots which are helping me to earn more SPS.
Lands in the splinterlands game are going to make things amazing and I am sure whoever is holding these assets will be happy on the decisions are fine. I have been holding lands for quite some time and now even this holding is paying me back in form of SPS. There was no reward for almost 2 years but now that we have it in place so even if the development takes a long then also it is fun as something is coming out of it.
We have a bigger and more active community and this has province in the past where many pre-sale got sold out in less than minutes. This is the power of community where anything is accepted with open hearts because they believe in the team and project. The team has proven this in the past and I am sure they will continue to do the same in the future as well.
I will continue to play and build at the same time. I am confident about the project and hopefully, it will grow even more in the next couple of years. I currently play in silver League but my plan is to move towards gold in the next few months and hopefully, I should be able to do eat because I am renting out my cards to earn a good amount of dec tokens. I will be reinvesting the stokers to buy more cards and upgrade my deck.
Thank you so much
Stay safe
Posted Using LeoFinance Beta
---
---