Splinterlands Tokenomics
As of date anything that we own and hold in splinterlands game is valuable. Be it cards, packs, lands, or tokens, they all carry a significant value and are even in demand. We have the opportunity to earn some cards and DEC tokens but not everything can be earned just by the battles. There are 3 tokens in the splinterlands ecosystem and these are DEC, SPT, and SPS. Today in this post I am going to share some information about splinterlads token economy. Every token has a different use case and offers various options to earn passive income.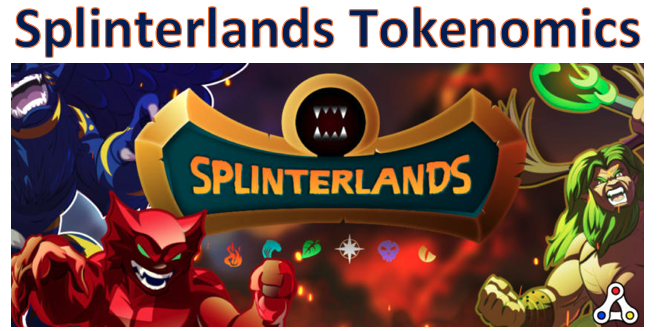 ---
DEC:- Its a currency of the game that we can use to buy anything and its full name is DARK ENERGY CRYSTAL. We can earn his tokens through battles and even through daily quests or season-end rewards. There is also an option to earn if you take part in a tournament. I have never played tournaments but I still accumulate a good number of tokens through daily gaming, daily quest, and season-end rewards. Other than this we always have an option to buy from the hive-engine market and there are various use cases. We can keep in the account to get an increase in SPS airdrop and if we can also be part of the diesel pool with DEC and other tokens to earn additional benefits. These pools are also considered in SPS airdrop and can get you more tokens however its important to keep an eye on the impairment loss. I keep on increasing my DEC holding through battles and also buy when I find low prices. More DEC leads to more SPS daily airdrop so its a good idea o have higher DEC token holding.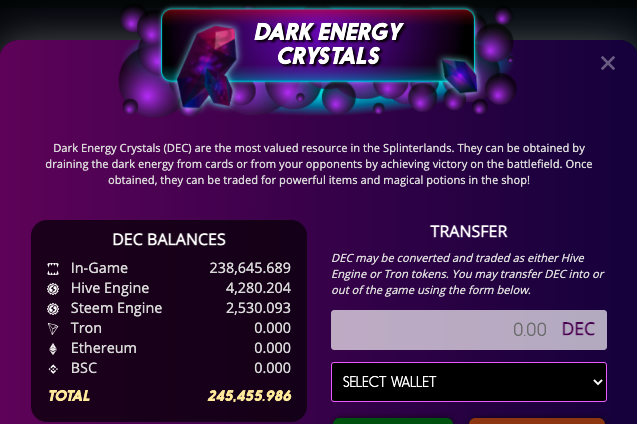 ---
SPT:- SPT is a splintertalk token that we can not earn through the game. When we create splinterland content using tribe front end https://www.splintertalk.io/ then your post is eligible to earn SPT tokens. If anyone who has staked SPT will upvote then you will earn SPT on the basic power of the holder.
As of now, @monster-curator is the biggest SPT curator and they are holding huge SPT power. I have delegated all my SPT power to them and in return, I am getting liquid SPT tokens payout every day. I have been creating splinterlands content for almost one and a half years and now through content creation and delegation, I have earned 111k SPT tokens in total.

I keep on updating my delegation from time to time as I don't do curation and the team behind monster curator is doing a great job. If you are an SPT holder then you can give it a try and it can help you earn a decent earning.
My current SPT holding is 111kwhich is all staked and my current value is USD 784. This is not a small amount and I keep on increasing this number because I have a goal to hold 200k SPT tokens by 2022.

SPS:-
SPS is a well-known name in the splinterland games because every player is earning airdrop. SPS is known as Splintershard and this is a governance token. We can't earn this token through battle or content creation and as of now only way to earn SPS is airdrop or through staking in the game account. This has already been announced that SPS will be part of the reward but it will take some time to happen and that would be great for sure.
I earn daily SPS tokens and I stake it all to earn more. Current apr is 49.42% and I have been staking from day 1 when apr was 500% so I can say that I did nice earning through this and even with this reduced apr rate is 10 times of what I can earn with my bank.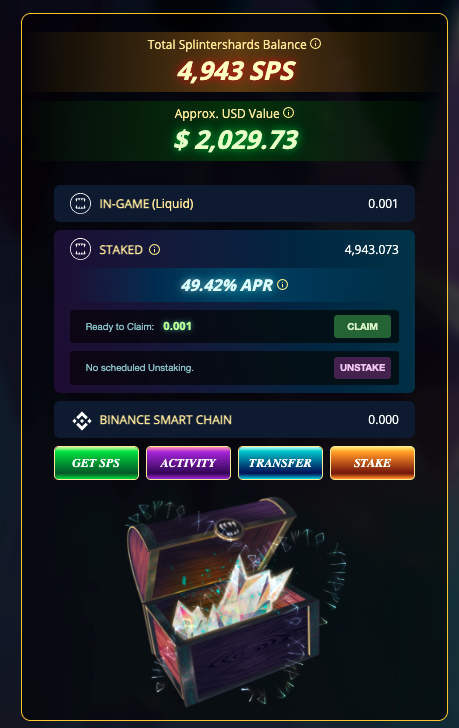 ---
Investment is a journey and its required to follow a discipline and having patience is also important. I am very confident that the game will grow even more and all these tokens will be even more valuable in the next few years. I am in accumulation mode as of now and everything that I earn, I am going to hold for long. This game is not just for entertainment anymore instead it has become a source of passive income and I am trying to make the most out of it.
Thank you so much
Stay Safe
images are taken from splinterlands for this post only
Posted Using LeoFinance Beta
---
---