SPS Price started growing Post Airdrop end
The AirDrop for SPS token got ended two weeks back and now it seems like the price has started recovering. Now since the AirDrop is over so the selling pressure has reduced which is why the prices are going up iron probably more people are buying. It has been observed that during AirDrop most people sell off and book profit. This is why the prices are bound to go down and even with SPS I think the same thing has happened.
This price increase is very good for the people who are seeking the opportunity to sell off tokens but not for me because I am a holder and trying to accumulate more tokens for the long run. This is sad for me because I want to buy more tokens but now for the same price I am going to get fewer tokens which is not good. Its market and we do not know how it will behave in the next moment This is why it is always recommended keep on buying in parts however I did the same but still I am yet to reach my milestone. The below chart clearly shows that the sps has been going up with more speed and seems like this way this token is going to reach much higher however it is difficult to predict that what will be the next price milestone for this token. We usually like this type of chart when the price keeps on going up the side and I hope that the same pattern we can also see with Bitcoin and Ethereum in the coming months and even weeks.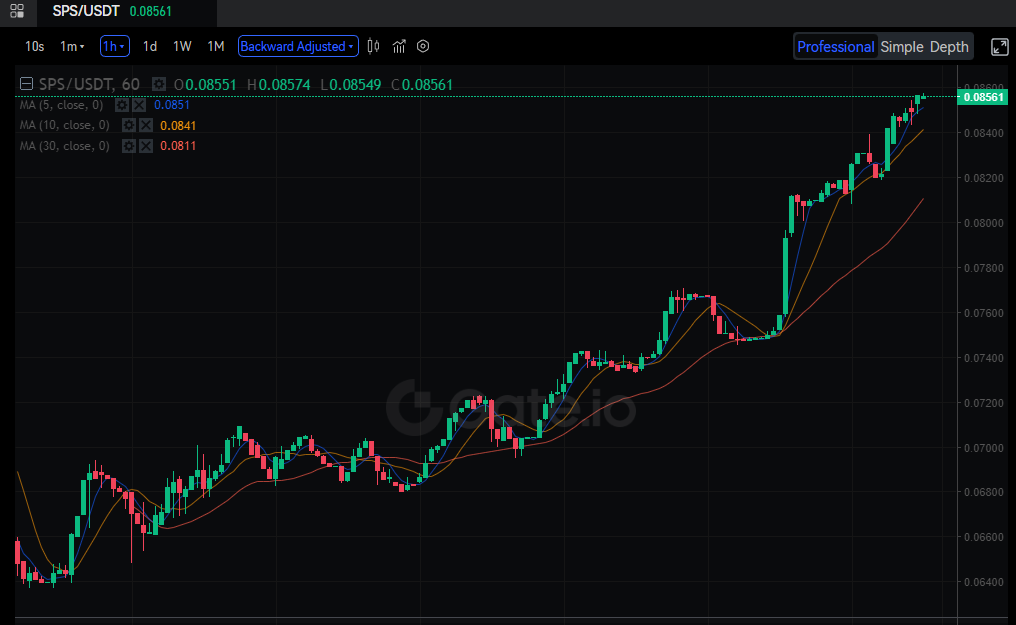 here is my current holding for sps tokens and I am holding over 16K SPS tokens in total. I was able to buy more than 1000 tokens during the high price pump but sadly I did not have enough liquid hive in my account which is why I missed that opportunity to buy a few thousand tokens. I usually do not keep so much amount in liquid form but I think I need to change my strategy further because you never know when the price is going to spike and that's when you will be able to grab the opportunity only if you hold liquid tokens in your wallet. I was holding a very less amount in my wallet and that is something that helped me to have more tokens purchased but I still feel like I could have done even more and now waiting for another pump if it happens soon.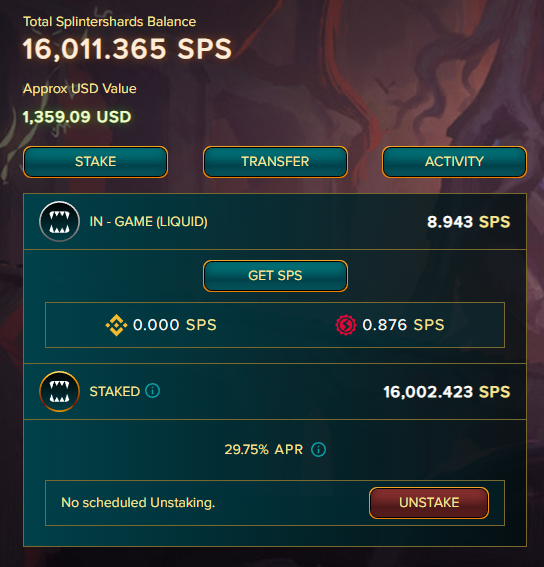 The current value of my SPS holding is approx 1359 USD and this is not at all a constant for me because I have a long-term vision with this token and I know that in the future this will bring a great opportunity to earn a decent passive income through the stake.
Sps is a governance token and even now we can earn an apr of approx 30% which is very good however it includes vouchers as well as sps and this apr is combined of both. Rift watcher packs going to be launched soon and as far as I am aware that sps will only be used to buy these packs. I still remember the time when for the chows legion pax sps was the only payment option and that resulted in a significant price increase for sps I hope that this trend is going to get repeated so before the prices spike further I am trying to buy more sps token and will be holding in my account.
This is not financial advice anyway but if you believe in the ecosystem of splinterlands and if you think that game has been growing significantly in the past then I would suggest that buy some SPS now. If things go well then this investment will surely bring decent returns and that will surely make you happy with the decision that you are going to take now.
Splinterlands is one of my favorite games on the blockchain and this is the only game I am part of because I feel I can create more value for my account here in the long term This is why I keep on investing in various digital stuff within the game ecosystem.
Thank you so much
Stay Safe
Posted Using LeoFinance Beta
---
---