SPS Token or Chaos Pack? Which one to choose first for Investment
I am bullish on the splinterlands game and I have been investing to add more value to my game account for more than one year. For me is splinterlands it's not just a game instead it is a project that I believe for the long term This is why I keep on investing in various digital stuff that includes game cards, packs, tokens, and even other things like lands, etc. I did buy some lands during the sale man it's been more than a year time if I remember correctly but till now there has been no action on that and with every town hall, the updates are shared that things are in process and there will be something interesting and surely worth waiting.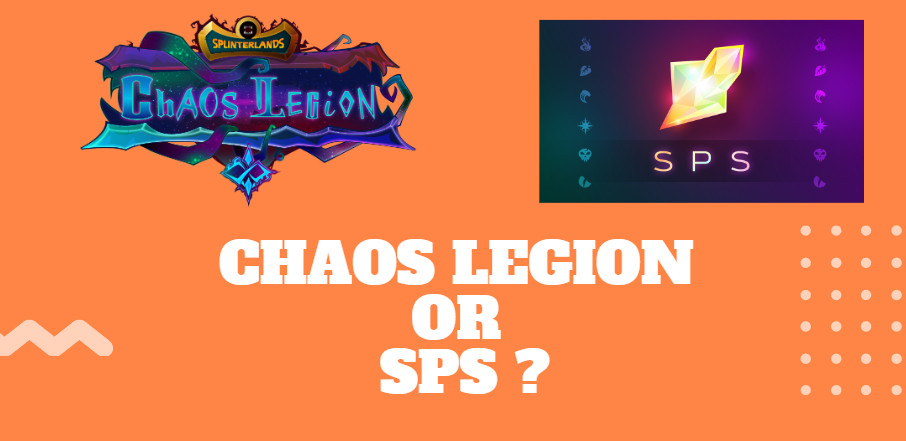 Now it's not easy to buy land or plots because prices had shoot up but I'm happy that I made the right decision at the right time This is why I always say that investment is something that we should always do at the right time but figuring out that drive time is very important. Similarly now is the time to invest in chaos legion packs and even on the SPS token because both are available at the lowest price. If you talk about SPS then its price is at the bottom in the range of five to six cents whereas the all-time high was almost one U.S. dollar so if we do a comparison with it then it's down by 90% for sure. We can also say that this token is available at a 90% discount and right now is a good time to grab as many as we can because if you look at the road map and long-term plan then things are going to be so interesting and it can be a good source of income.
Even Chaos Legion packs are available for 4000 DEC tokens as of now and the token price is quite low that we can get 4000 tokens for 2.5 Hive approx. If we do a rough calculation then we are going to get a discount of 40% easily on the pack so this is also a good time to buy as many as we can but again there is a limit on my side because I have limited funds with me so it is confusing for me to decide which one to go with as of now since both are offering a very good price to buy.
I already have more than 15,000 SPS tokens in my account and all of it is staked so it is earning approx 35% of apr on this and this is very good. The packs that I am planning to buy are to hold for the long term and I do not have any plan to open to see what cards I have received rather I would prefer to buy these cards from the market as most of the cards are available at the cheap price.
I have been doing the same and I have upgraded most of my Summoner to level 6 approx from the chaos edition of cards. After going through both scenarios it seems like now is the time for me to buy more SPS tokens because this is where I get the higher discount which is surely not less than 80% whereas with packs I can get about 40 to 45%.
I also have a plan to power down some high power so that I can invest the same on SPS and this can help me have a bigger holding so let's see how it goes. For me, this time is a kind of when we have many things to buy in the game ecosystem but are left with limited money, and because of this not able to proceed but I will surely invest in one of them.
My goal is to have each asset in my account because the bearish market is the right time and before it starts recovering, I am trying ways to accumulate as much as I can. The right strategy is always needed for further investment and I'm not sure whether it is right or wrong but I'm pretty sure that I am choosing a nice project which is not just growing but also doing a lot in terms of development and that is sure something surely makes a bigger difference when we talk about growth.
Thank you so much
Stay Safe
Posted Using LeoFinance Beta
---
---