JAHMFEST Cancelled Amid Growing Concerns over Covid19 & SteemHostileTakeover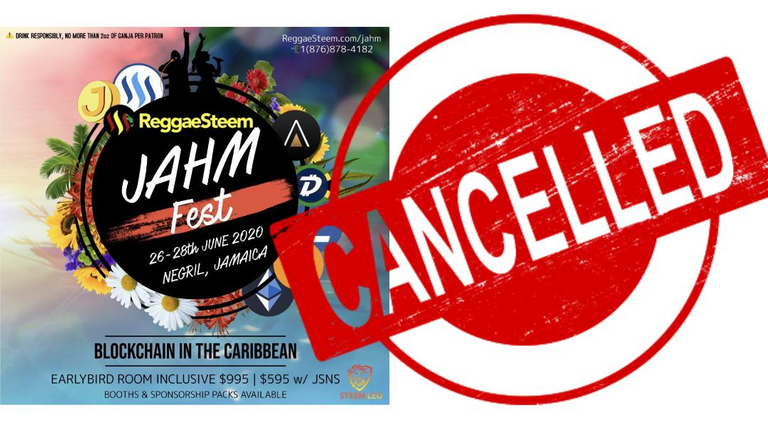 With all the uncertainty taking place around the world in relation to the Corona virus, we have decided to postpone JAHMFEST indefinitely. JAHMFEST is an event that has to be planned for months in advance by those who want to attend, speakers and by us the organizers. We know it is not the type of event that most can just spontaneously attend. While we have the strong urge to carry on, we want to avoid any situation that may be unfavorable to those wanting to attend and to ourselves. At this point, travelling and conferences are not high priority to many and it wont be for months to come.
The Corona virus at this point has forced many events in Jamaica to be canceled, events that have been running for years. To date, there are 10 confirmed cases of the virus on the island. The government is being very proactive and taking the necessary precautions to control the spread at this early stage. The island has imposed strict travel restrictions for individuals from China, Italy, South Korea, Singapore, Iran, Spain, France, Germany, Japan and most recently the UK. Only citizens and exempt individuals will be able to land from these regions and they will be under quarantine. Schools on the island will be closed for 14 days ( effective March 13th) with a review in 10 days. At this point the virus has just started on the island and it is said that it could possibly lock down Jamaica for the next a 3-5 months according to Dr Christopher Tufton, Minister of Health & Wellness.
On the blockhchian, uncertainty also looms with #SteemHostileTakeover. It is an uphill battle of tact and timing to invite guest speakers from Steem, as many of them are highly involved in securing the chain. We honestly have no clue what steem will look like in June. A hard fork - classic Steem? Steem tron? Or maybe even a completely different name and chain?
With all this uncertainty we felt it was best to postpone JAHMFEST indefinitely. Though we have hope that the virus will disappear as fast as it came about, though we believe steem will prevail and reach great heights, we have to be very cautious. We made our decision from a well- being as well as a business perspective.
We are sorry for any inconvenience this cancellation may have created. But it was a decision that had to be made due to the current circumstances.
Please be safe in these uncertain times and take the necessary precautions.


Web | Tribe | Telegram | Twitter | YouTube | Facebook | Instagram
---
Posted via ReggaeSteem | Reggae Culture Rewarded
---
---