Bull Market is back! Now what?
2022 has been the year of hiccups! Rumors, speculations, FOMO everything riled up within the months to follow. Even though, BTC was outrageously building its price towards 100k but the pull back which started the decline in terms of price was noticeable. As a matter of fact, the winter had already begun in late 2021 before we could even realize. Since then BTC has been surprising us at every corner of the months. Initiating a breaking protocol of resistance over the months. 2022, it all started with 50k and crypto experts were gauging their eyes and shouting by saying this is it! A bounce back is imminent! To their surprise, we successfully crossed 40k, 30k and at last we are in 20k.
---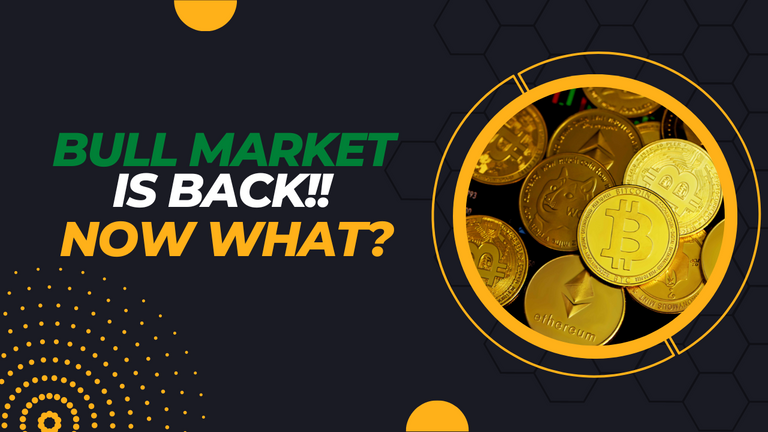 ---
Volatility
The teachings of crypto has been vast! Overnight success is somewhat of a fairytale. Apparently volatility is real! Even though the effect of this phase could be a major disaster in a downtrend market. If you have purchased crypto while it was at its peak, you must be aware of the itchiness of these words of mine. Which is why media, people refers to crypto as SCAM or there is also another notion which is, crypto is not so idle finance system to rely on! Although, in their own believable way they do seem to be correct! If you can not accept volatility, get out of crypto ASAP!
---
Bear Market is at the door!
---
Wow! She came faster than were expecting. But even though we are going to struggle for God knows how many days, months or years BEARS came with gifts! Which is only seen by risk takers, people who seeks opportunities and most importantly those who have patience within themselves.
---
Hive scenario also takes a hit! It is often seen, whenever there is a decline in price of HIVE, many people tend to avoid doing their usual tasks. To start with, many do try to avoid creating contents, as mostly because the rewards got thinner. Whereas, the output seems much lower than the time provided for contents. Can't blame those types of content creators, as NEWB feelings are hard to deal with. Although, there are other types of content creators who somehow gets more active than before. As if they were eager to get a chance to grab this opportunity. It is somehow similar to the fact of being two sides of a coin.
---
The scenario of HIVE this year was quite epic to witness. Price of HIVE going down to less than 10 cents was one of the golden opportunity which many HIVE enthusiast eventually missed. Although, if I had 100k lying around I would have gone all in on HIVE. That might be little exaggerating but when looked at past events in crypto not only HIVE but projects with good fundamentals always bounces back. And once they do they keep that tendency to move forward without looking back.
---
Lessons learned here, crypto millionaires and billionaires are made during the bear market. Although, the results are to be seen once the market shows its actual form and users has cheap coins in their bags. Which eventually shows their true form!
---
Collect your favorite coins when they are available at a cheap price. Bag and tag them and wait for them to 10* or even more.
Long Term vision is a necessity for us. As I have done my share of short term thinking and so far speedbrakers were met along the way. Small risk but more rewards are at long term vision.
I Take Profit. If I would not have done that during the bull market, I would have washed away during this winter season of crypto. Maybe not the whole part of the profit but always a portion!
Whatever goes up, eventually comes down. Need to keep this phrase at my disposal.
Be prepared for every situation at hand! make arrangements, work smarter and build an empire!
feeling disappointed in crypto! take a break, crypto is here to stay! Get back, when you feel like it!
Dollar cost averaging! Yup, one of the best way to build a portfolio over the time!
Diversify! A way to feel safe during hard times. Hardly felt it during this bear season!
Nevertheless, once the market recovers what is your ideal plan going to be? Are you prepared/preparing?
---
---
Best regards
Rehan
---

Posted Using LeoFinance Beta
---
---