Cards Rental Service, Chaos Legion Cards || Splinterlands
If you are playing Splinterlands for some time, you must have used the service of renting cards. It may be via Peakmonsters/Splinterlands or some other rental services that are currently available in the eco system. Sometimes they are very effective and they do come in handy.
---
You might be thinking why would anyone use rental service when they can earn much more via playing with the cards or by participating in tournaments. Well, I suppose there are several reasons for trying to use the rental service and maximize the use case of the free cards at hand. Whereas, utilizing the profits as much as possible.
---
Few reasons why would any one use rental services for their Splinterlands cards
---
Do not have a complete set of cards
Issue of time
Hard to compete
Not using extra cards
---
Among many other reasons few of them are mentioned above! If you are using rental service do let me know which is the reason for you to choose the service.
---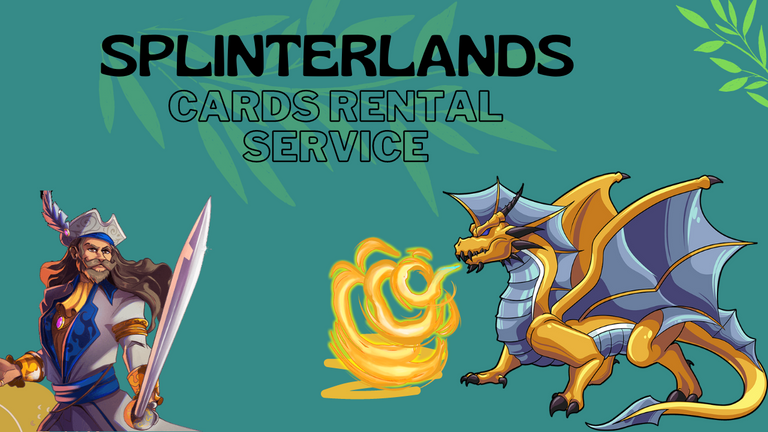 ---
I do not have a complete set of cards in my account and I also have time management issue which makes me quite useless in the game. That is, I can not make proper use of my cards and the cards would be sitting idle in my account. Not a proper use case of the cards in my account. Which is why I am taking the best route that I have available at my hand.
---
Splex.GG Rent Service
---
I suppose there are more than one rental services available atm in the splinterlands eco system. I went with Splexgg because Splinterlands has made it available via their website and I tend to think it a safe bet for the time being. Besides, I am pretty safe with them as because I do not have to share my active key with them. Which makes myself tensed free in this scenario.
---
How can you use the service and what are the benefits of using this rental service and many more questions might be lucking in your mine. All these questions can be answered if you visit the FAQ page of Splexgg service HERE. Also here's a post made by a user. It might help you with the whole process as well.
---
How much is my return?
---
As you can in the invoice below, I must say the ROI is literally nothing compared to all the top users of the game. But considering the fact that I am making something out of my investments in the game that's what makes me quite exciting. As you can see the rental income is not really something to get excited about if you do not have a high value deck. As the rewards are not really that significant. But using this service on a valuable deck it might come in handy.
---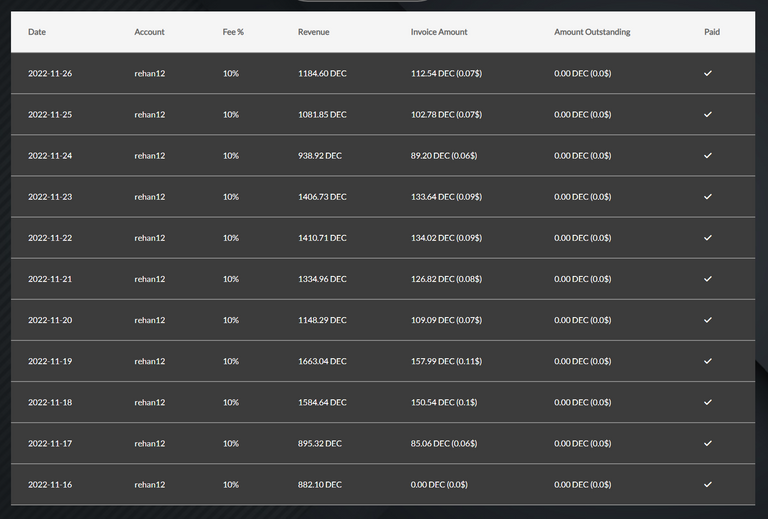 Image source
---
After deducting 10% fee, the rest of the rewards does comes in handy. Since I am getting quite less rewards I am still deciding what to do with the rewards. After some thoughts I cam into conclusions with these four steps
Keep the DEC as it is
Convert them to HIVE
Convert them to SPS
Buy cards back
---
I have been following the first step as of the moment. And once the amount (DEC) grows I will probably decide what to do with it and how to utilize it in the right way.
---
---
How much would a set of Chaos Legion (champion Level) deck cost?
---
At present the price of cards have been falling very rapidly. Well most of the assets of Splinterlands also have been decreasing rapidly. Probably because of FUD and the recent layoffs announced by the team. But tbh we have seen the same scenario in the past as well. With someone dropping thousands of cards into the market with low prices and people were just grabbing those cards. Come to talk about this present moment it is also a nice opportunity to build a deck which would worth thousand more in the next few months.
---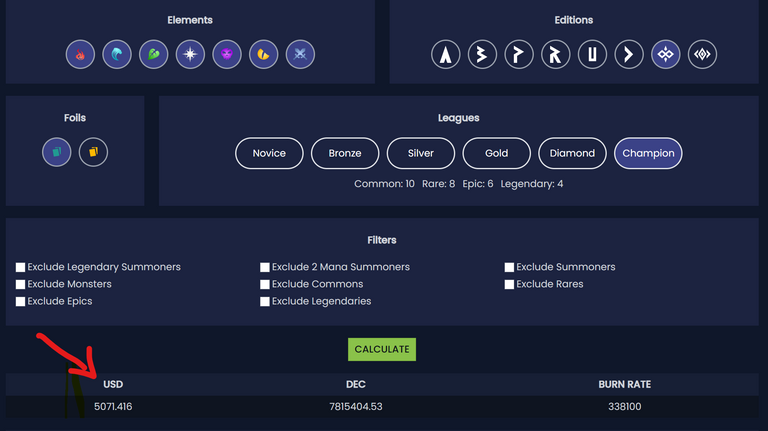 Image source
---
The above cost is an estimated amount. But come to think of it it would cost a little more than it is being displayed here. Still, I would say getting a maxed deck at this point is quite cheap compared to few months ago. I really am getting temped to buy a max deck at the current scenario. If this phase goes on for few more weeks I would probably get a maxed deck and who knows I might even put some more money into SPS as well.
---
Next set on Splinterlands which would be coming into splinterlands is being called Rebellion. Sort of looking forward to that as well. And not to forget In December the chaos packs burning is also going to be initiated. So that might as well be one of the reason for the chaos legion cards prices to spike. As it has happened in the past. Whenever a set of cards was almost out boom, the market exploded and prices of cards went nuts. Thus a healthy profits were to be made.
---
What are your plans in the next coming days for Splinterlands assets?
---
Splex.gg Rental Service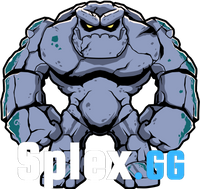 Optimize your time and the return on your Splinterlands assets!
---
---
---
---
---
If you want to play Splinterlands
---

---
---
Best regards
Rehan
---

Posted Using LeoFinance Beta
---
---