I am loving this Ability!!!
Lately, I have been giving enough time in Splinterlands. One of the reason behind it is, to polish my skills in the battlefield! So far I doing so so with the expertise that I have. But I must admit, I have a lot to improve and there are certain aspects which I would like to cover in today's blog.
---
I have been playing in bronze league for the last two season. As I had the idea, this is where I will face competitive opponents within my range and I would be able to improve via playing lower league players. By doing so, I will get introduced to different strategy and be able to learn from other players. In addition to that, I will learn to utilize different cards from different positions and improve my play style along the way. So far, it has been going great! I must say, I am enjoying playing the game.
---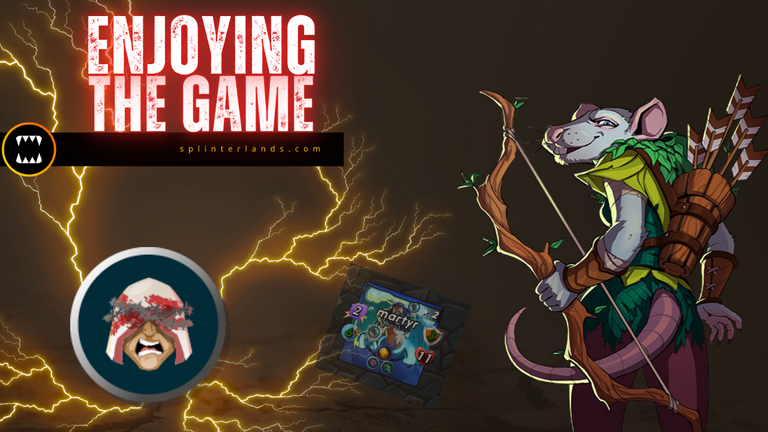 ---
I have to say, things were getting quite great but I wanted to step up the ladder and just push myself to the next step. Which lead to me to explore SILVER league. I honestly, was not expecting this sort of welcome but as far as I can say, Silver league has been serving me real gooooood!
---
On the verge of Silver 1
---

---
Among many abilities I have been exploring and getting to like few abilities which is sort of acting as an amusement to me. Martyr ability is one of them. I have been using some of the martyr ability monsters in my battles and so far they have been performing real good.
---
I have been quite eager to try out opponents who come up with different strategies. Let me share a battle where my opponent sort of thought alik me.
---
---
Armored up : All Monsters have 2 Armor in addition to their normal Armor stat.
Fog of War : Monsters lose the Sneak and Snipe abilities.
---
My goal was to take the match little higher. Since the game also had high mana options it became a plus point for me. My initial thought was to go full magic mode. Since melee and ranged attacks would have a hard time dealing with the opponents monsters armors. So water deck it is.
In addition, I would get +1 shield and also an advantage of speed. So this match is going to have some heavy damage to my tank, since FOG of war rule is out there. I could not think of a better deck than this.
---

---
I knew my opponent would sort of choose the same summoner. I was expecting few monsters as well. Among the opponents line up only the coastal nymph and Scavo Hireling was a surprise to me. As I knew he would come up with a tank which will have a high mana damage ability or would come up with void ability. Also few magic attack monsters was no surprise.
---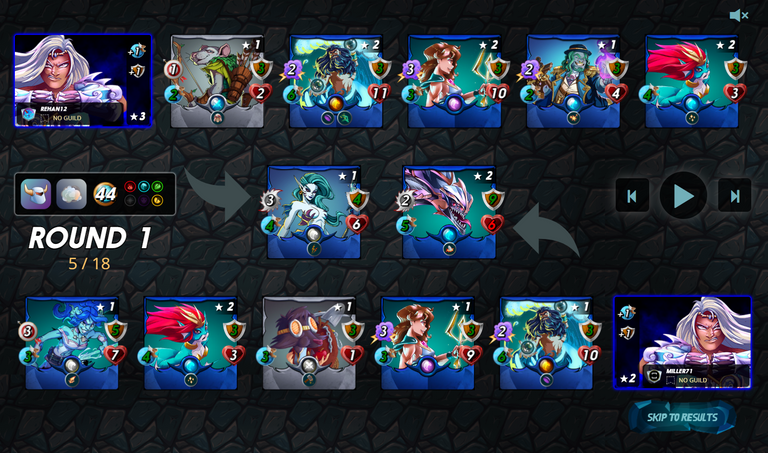 ---
I selected my monsters based on the mana and the abilities which would take an effect after each round.
---
Coastal Sentry : My first choice was Serpent of Eld for the first position but it seemed a little defensive to me, which is why I went out with her and double damage does sounds more intimidating to me.
---
Venari Marksrat : I specifically was looking forward to this monster. Be that it may be a bait but I wanted to see the wrath of this monster after his death. He may not be very useful when he is alive but his death does play a vital role in the game. It does changes a lot of facts within the game.
---
Djinn Oshannus : The monster which I had high hopes on. As this was the ultimatel defense of mine and once the martyr ability kicks in, it will get to show its true form and act as both tank and attack 1x faster with all its abilities. A perfect check mate to the opponent.
---
Nerissa Tridann : With three magic attack and that 10 health, she is a beast. Even if my Djinn gets taken out she can play at least two rounds that I was confirm.
---
Riverboat captain : Another favorite card of mine. I have been using him left and right in my battles lol. With his ability of blast and two magic attacks he can come in handy in battles. So far he has saved me countless times in various battles. But his only down side is his health. Better keep him safe so that he can play two or three rounds and can do maximum damage to the opponent.
---
Merdaali Guardian : Well, when everything is going on, we need a healer in the team. Which is why I selected her at put her up at the back thinking that no one would be able to touch her due to the ruleset of the match. But seems like I was wrong.
---
---
At a point it felt like my opponent had the higher table in the match. As my healer was taken out and also my monsters were less in numbers compared to the opponent in the battle field. But the key point out in here was the high health and the positioning of monsters in the battle. Also not to forget the martyr rule played a vital role for me in this match. As if not for this rule, the game would have turned a different way. Also the opponent could have come up with little more attacks, I mean he was playing more of a defense than offense in this match. And probably was not expecting me to come up with this many magic monsters. But either way I got to learn about Coastal Nymph and her abilities today. I rarely use her. Seems like I was missing quite something! Will try using her in my next matches.
---
Monsters With martyr ability
---

---
So overall, I am enjoying the game. Since, I am not really a person who likes to play games, which is why this is something extraordinary for me lol. But like they say, we can change with time ;)
---
---
---
Image used in this blog are used from Splinterlands & Splintercards. Edited via Canva!
---
Best regards
Rehan
---
Want to play & earn from Splinterlands

---
---
---
---
Splex.gg Rental Service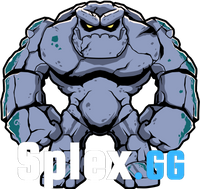 Optimize your time and the return on your Splinterlands assets!
---
---
---
---
---

---
---