Is it Late to collect HIVE?
A dream which strikes me real bad over the course of my Hive journey! It is none other than, the dream of having an XXXXX amount of Hive Power in my account! A lot of achievements to be made over the course of our Hive journey.
---
Did I missed the Train?
It is quite difficult to say what price is best for HIVE! As we have seen Hive crossing $3 at a peak market, while we also witnessed what happened to its price to its lowest. Currently, being on a bear market and still holding the price of over $0.50 can be considered a decent price range at current market. I might sound like a pessimist but if ever the situation arrives and we get to see HIVE at its lowest, I am going to be scooping up as many HIVE as I can at that price range. Which is currently happening in the case for SPS. Which is why, current making the best case scenario for SPS at this current price.
---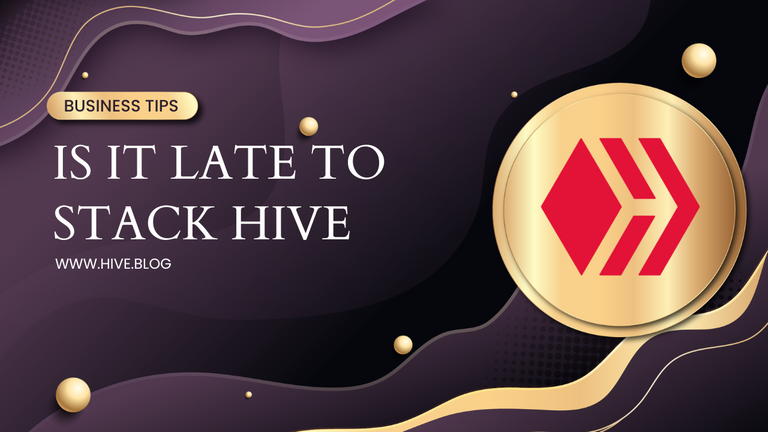 ---
It is NEVER LATE!
---
Grabbing HIVE, is possibly one of the most exclusive task at HIVE blockchain. Compared to various other coins available at the market, HIVE is probably one of those coins which can be easily accessible to a user. There are various ways to make your way up the ladder. Blogging, Vlogging, playing, trading and what not! Whichever you choose, there is a place for yourself at HIVE! If your say is, Not being able to purchase HIVE than invest your time and knowledge, you should be good to go! It might take some time but the longer the run, the more attached you get towards HIVE and the better you become.
---
Currently, I have been setting up few goals for myself. And so far when I am looking at the data for my tasks, I am quite satisfied. Although, I can and need to do much better than what I am actually seeing in those statistics.
---
My last few days account growth!
---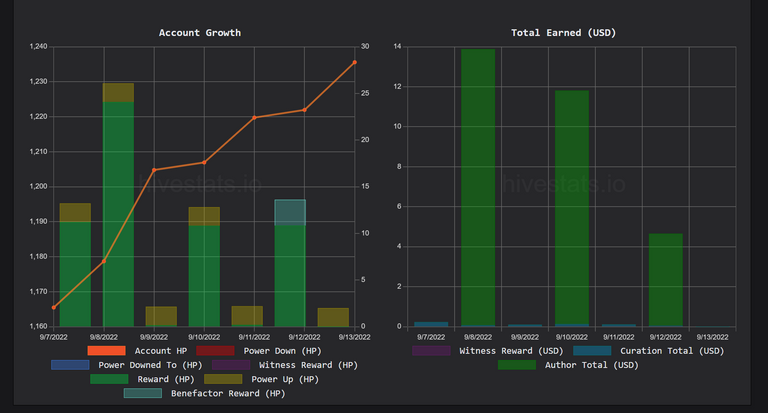 Image source
---
I like the curve that I am seeing on the first part. Although, a steady rise would been much better. But compared to the last six months straight horizontal line, this curve line is much more appealing to me. Although no regrets for my last few months activities as I was busy doing things which mattered to me as well. I am loving the facts about the hard work and putting up all the efforts to make the contents as healthy as possible is working out for me. All these activities just reminds me of my good old days in HIVE!
---
Creating posts is becoming more of a passion nowadays. Which is why going through different articles and reading about different people's opinion is igniting that passion even more. Getting active at different curation projects is becoming productive for myself. Additionally powering up a small amount of HIVE everyday is becoming an everyday routine as well. I should have started that a long time ago. But it is what it is! Nothing can be done. But just go ahead!
---
In addition to that, I am also saving up HBD in my savings account! I know, I know it is a very small amount and I might not end up anywhere with it but it kind of feels good to save up on something which you tend to like a lot. The primary goal to achieve, is the day where HBD ROI will be a decent amount for me which will allow me to use those funds elsewhere in HIVE and create an another money streaming opportunity for me. We should start from somewhere, isn't it?
---
HIVE is still undervalued
---
HIVE has so many ongoing projects, with a great userbase making it one of the most versatile blockchain available in the crypto industry. The fame or the focus should have arrived for HIVE not because of its name but for all the solutions it has provided till date.
---
Fast
Scalable
Free transaction
Powerful
& so many more.
---


Image source
---
In today's crypto industry various projects are entering into crypto by giving out high hopes at the beginning but in reality within few days they are getting washed away just like sand in the water. Whereas, Hive has been growing everyday and creating more and more concrete position for itself to bear the effect of bear market and rise even stronger. Not because of a user of HIVE but after loosing money in DEFI and various projects (which promised Sky and beyond to users like me) vanishing away, I clearly can say, HIVE has played a vital role in switching most of my assets into its eco system. Now I might be wrong or playing a bet it is for you to decide where to be and when to act! As a correct TIMING can change our life! Especially in CRYPTO ;)
---
---
Best regards
Rehan
---

Posted Using LeoFinance Beta
---
---