Splinterlands || SPS || Cards || Blog Post
It is no wonder Splinterlands has become one of the top most NFT based blockchain games. Currently making differences in various aspects in its userbase. With a market cap of $179,882,603 and which is growing everyday. All this was done within a very short period of time. Although, all the hard work and the decisive decision making by the people behind the game and the investors who have invested early into the game are already getting the fruits for their actions. Let's get through what is actually happening in Splinterlands.
---
One of the top 5 blockchain games in NFT gaming
---
According to Dappradar , in the category of games Splinterlands has acquired the second position, although I heard we got to first position few days back (correct me if I am wrong). Although some of the data are yet to be updated on Dapparadar and if we consider those, Splinterlands would definitely be at the top. If we consider the users, it has been increasing on a daily basis, which is one of the most pleasant and much needed item for a game to continue in the long run. The adoption which we talk about all the time, is currently being done in Splinterlands. And as per @aggroed at the end of this year, the number is going to cross a million ;) The way all the things are approaching, this might not be that long!!
---

---
---
As you may see the graph below, how the marketcap has been showing the surge recently and it is rising ever since. Currently standing approx at $180 million. It is more than insane as only 3 months back it was less than $20 million. A growth of 9x even in this bear market of crypto is something to look upon to. This growth has been happening due to the adoption of Splintelands from across the globe. Not only that #playtoearn is being the next big thing in crypto and Splintelands is going to the top no matter what ;)
---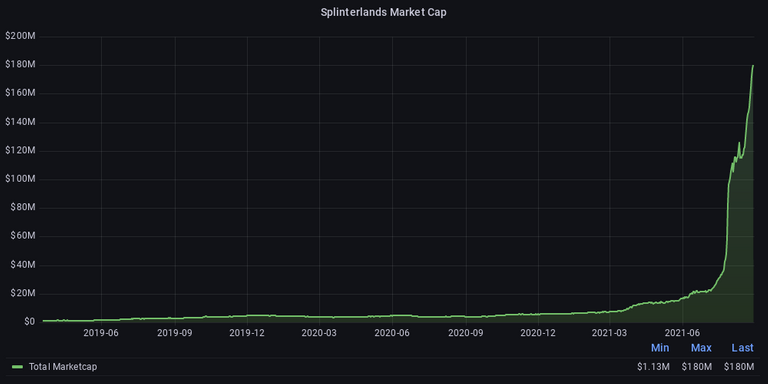 ---
---
Splinterlands has an active NFT market (ingame) where players can buy/sell their cards very much easily. The demand of cards has been rising in an epic volume. The recent surge and attraction of the game has been more than amazing. Everyday the number of users are increasing thus the purchase of cards happening which is making the game even more interesting. In the last 24H VOLUME: 22,884 sales / $319,814. This number is increasing everyday as we speak.
---
There is a rental market in Splintelands. Where if you do not have time or spare cards you can put them in rent and earn the ingame currency DEC as payments. Rental market has been exploding as well after the introduction of it.
---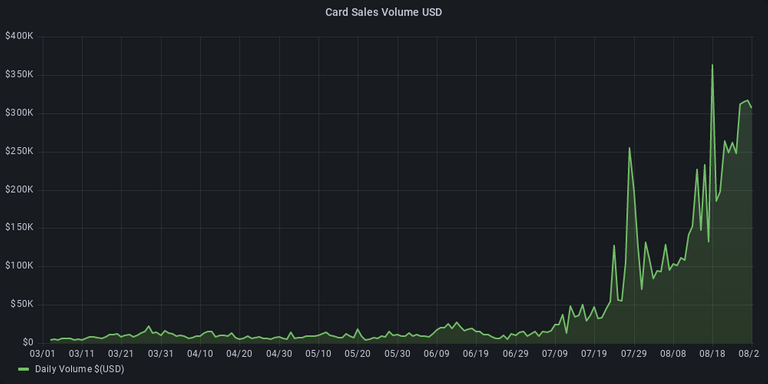 ---
Almost all the users who were holding cards in their accounts their value of their accounts have increased exponentially. From what I can say this is just the beginning of something huge and much more to come.
---
---
---
---
SPS has been the talk of the town. If I am not wrong this one is going to be the next BIG THING for splinterlands in the coming days. So who knows this might be as cheap as the currency can be at and grabbing those as much as we can jk. While SPS os being airdropped to its users via https://sps.splinterlands.com/airdrop this mecanism. Check it our for more detailed information.
---
My current SPS holding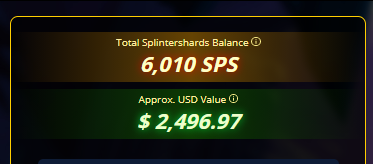 ---
---
Splinterlands is also not about only playing games. There are other ways to interact and get benefited for your tasks. Splinterlands has an active curation Team, who continuously supporting users who are posting Splinterlands related contents in Hive. Infact, there are separate challenge posts in Splinterlands (weekly Twice), where a user can share Splinterlands related contents and get upvoted by steemmonsters accounts, depending on the effort on their posts.
---
Being a member in the curation team of Splinterlands, I must say everyone is doing their best to support users in every way possible. Shoot your posts at us boys & girls, we are here to pick them up and throw you some love!! we are waiting Cheers
---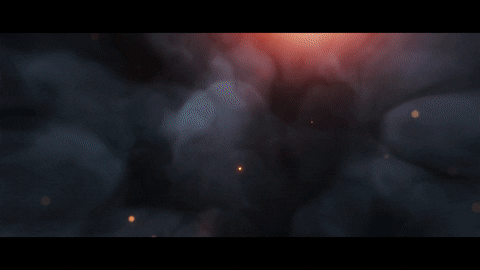 ---
Many more things are coming to us, this is probably just the beginning of something new ;) Keep playing, posting and earning. Who knows what might happen in the coming days.
---
---
---
Best regards
Rehan
---

---
---