Splinterlands Shopping Spree || Trying not to be left out...
Splinterlannds is a game of Addiction! Well, in a good way of course! While, the game is becoming very much costly as days are passing by. Needless, to say if you want a max deck right now of all the necessary cards, it is going to cost a fortune ;) But yet from what I can say there are still chances for players to get into the game and think long term. As this is going to change a lot of things in the future and who knows NFT's could be the next BTC of revolution in blockchain technology.
---
Since user-base of Splinterlands is increasing everyday it is quite certain the big fishes will slowly start to swim in the land of Splinterlands. While this might be just fuzz as well. As crypto is indeed quite uncertain and nobody knows what will happen in the coming days.
---
Keeping that in mind, the big question is how can a new user or even me can get into this game? My easiest answer would be play, buy, repeat! Since this is going to be quite a tough run better try it as early as possible. Which is why, one of the best strategy that I am following right now, is buying reward cards which seems promising. Yep, I am aware of certain things
I might be wrong about certain cards
I might not even use some of those cards
They will be cheap as more cards get printed
---
What if
---
I am right about these cards
I might end up being more active in Splinterlands
Their usability increases thus price gets higher
---
One of the main reason, I am getting hyped about these small purchases from my side is because of the veteran users of Splinterlands. I wish I could turn back the time and do what I was suppose to do! While nothing to do as of now! What's gone is gone! After talking with few players I decided to buy as much as possible with the ability that I am capable of as of now. Which is why I have chosen few monsters from the new reward cards to stack just in case. And once everything settles down, I am going to go for the other needed cards as per my criteria.
---
Pelacor Mercenary
---
---
I am pretty sure, most of the regular players have been using this hyped card in their games. This has probably become the talk of the town lol. I have noticing something while buying these cards that there are some cheap deals available but even though they stay for a very short period of time you might get some chance to buy them 10-20% off the market price. If I am being honest, I was not able to get them even for once lol. They just come and boom taken by the bots. You can not be faster than the bots. But yeah some cheap cards are available you just have to be on the market, keeping an eye as much as possible.
---
Exploding Rats
---
---
Ok yeah, this card reminds me of the last scene of wanted, where James McAvoy attached bombs with the rats and they acted as a great cover for him and helped him to take the revenge that he seek! While talking about effectiveness, this card might come in handy in lots of ways. Such as sneak attack rule, all monsters have same health etc. Since the life issue is going to be one of the drawback of its but there are ways this one can get handy.
---
---
Naga Assassin
                                              Djinn Renova             Gargoya Devil

---
Splinterlands is honestly a never ending investing game jk ;) Once you are good to go, another set of cards gets deployed in the market. You do not want to get the new set but you get too much determined and yet you end up buying them no matter what. The same happened with the new reward cards and I suppose the same will happen with chaos legion as well. The above cards are also in my list and hopefully I will be able to get them before I get to see a price jump of them in the market.
---
Not too much but my recent purchases and hopefully I will keep on going lol. This is what happens when you hangout with splinterlands freaks ;)
---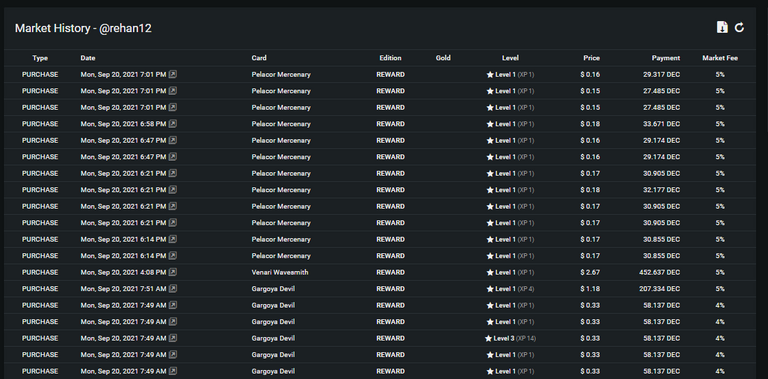 ---
While on the other hand there seems to be a slight pull back on the card sales volume of SL and the price is decreasing. We probably need another update asap and just then another boom is awaiting for us in the coming days. Till then get as much as possible.
24H Market Volume: 57,618 sales / $176,875
Active Rentals: 350,567 / $13,252 daily amount
SPS Price: $0.222 USD / 0.364 HIVE
DEC Price: $0.00536 USD / 0.00879 HIVE
HIVE Price: $0.61 USD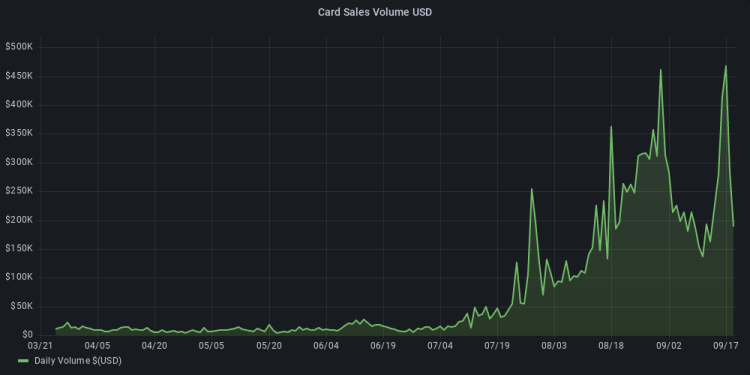 ---
Well above all, what I can say from my personal experience that being consistent is probably one of the best way to go above in Splinterlands. It is never too late to get into anything. Better be late than sorry ;) But it is going to be a tough ride! lets see how far we can achieve.
---
Images used in the post are taken from Splinterlands & peakmonsters
---
Best regards
Rehan
---
Posted Using LeoFinance Beta
---
---